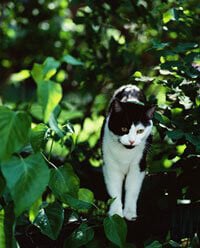 PETA's experiences with trap-alter-and-release programs and "managed" feral cat colonies have led us to believe that these programs are not usually in cats' best interests. We have seen firsthand and have received countless reports that cats suffer and die gruesome deaths because they are abandoned to fend for themselves outdoors.
Many are in "managed" colonies, which usually means that they are fed. Having witnessed the painful deaths of countless feral cats, we cannot in good conscience advocate trapping, altering, and releasing as a humane way to deal with overpopulation and homelessness.
Horrific fates await most homeless cats—they do not die of old age. If you have a cat at home, you know that veterinary care is a necessity. Cats get heart disease, leukemia, bladder problems, ear infections, and more. Imagine if your cat were outdoors and you did not know that he or she was in trouble. Or imagine if, upon seeing an obvious symptom, you could not catch your cat to provide treatment. Contagious diseases such as rhinotracheitis, feline AIDS, and rabies are common in "outdoor cats," who also sustain puncture wounds, broken bones, brain damage, or loss of an eye or limb after they are attacked by other animals or hit by cars.
During winter months, automobile engine fans slice through cats who seek shelter from the cold under car hoods. If cats escape these perils, they may still fall prey to an agonizing death at the hands of cruel people. Our office is flooded with calls about cruelty to animals every day because, across the country, free-roaming cats are mutilated, shot, drowned, poisoned, beaten, set on fire, used in ritual sacrifice, stolen by "bunchers" for medical experiments, or used by dogfighters as "bait."
Advocates of trap-alter-and-release programs argue that feral cats are just as deserving of our consideration as other felines and that it is our responsibility to alleviate their suffering and ensure their safety. We absolutely agree. It is precisely because we would never encourage anyone to abandon their own cats in, for example, a parking lot or a warehouse district that we discourage the same for feral cats.
Although altering feral cats prevents future generations from suffering, it does not protect cats from the litany of other problems that they may encounter. Allowing feral cats to continue their daily struggle for survival in a hostile environment is rarely a humane option.
We believe that it can be marginally acceptable to trap, vaccinate, alter, and release feral cats when the cats are isolated from roads, people, and animals who could harm them, are regularly attended to by people who not only feed them but also provide them with veterinary care, and are kept in areas where they do not have access to wildlife and the weather is temperate. The biggest problem is that most cats, once they are caught to be sterilized, will not be able to be lured by traps again when they are sick or injured.