February is Black History Month, a time to recognize prominent African Americans and a great opportunity to teach your students about the many civil rights leaders who've stood up for both humans and other animals—understanding that pain and suffering don't discriminate based on skin color or species.
Celebrate this month in your classroom with these compassionate activities that will highlight the contributions of civil rights leaders while fostering kindness to animals.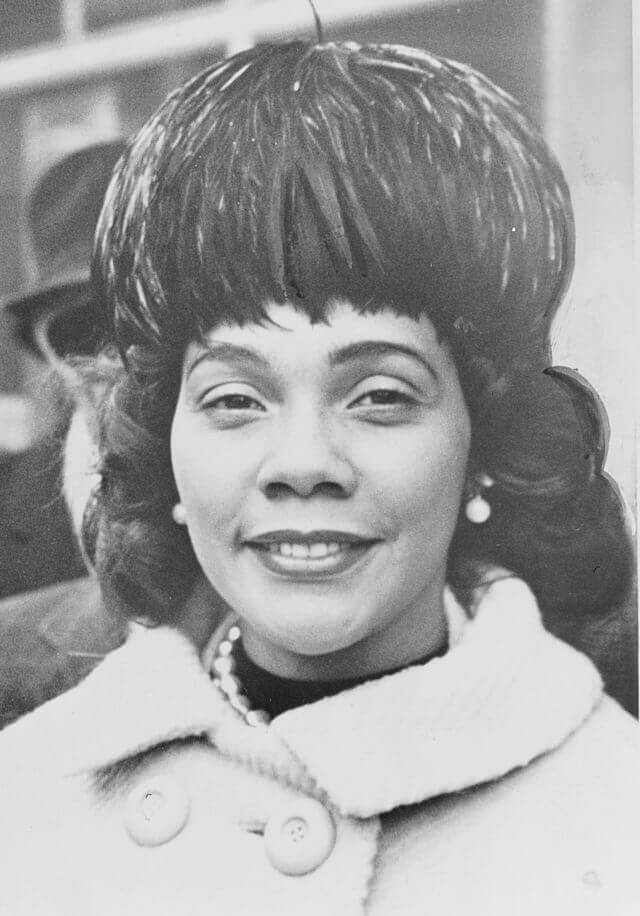 Herman Hiller / New York World-Telegram & Sun
Elementary School
Read books to your class about Coretta Scott King, who played a key role in the civil rights movement in the 1960s as an active voice for the Black community alongside her husband, Dr. Martin Luther King Jr. Explain that she believed that compassion should extend to all living beings and that she went vegan after her son Dexter Scott King convinced her that it was the next logical step toward creating a nonviolent lifestyle. To help young children understand this concept, you can tell them that the Golden Rule ("Do unto others as you would have them do unto you") applies to animals, too.
Many civil rights leaders, past and present, have maintained that as long as one form of prejudice exists, no form of prejudice can be completely eradicated. For example, civil rights activist and entertainer Dick Gregory, who marched with Dr. King in Washington, D.C., and Selma, Alabama, said, "Animals and humans suffer and die alike. Violence causes the same pain …. We don't have to be a part of it." While there's an abundance of information regarding how these leaders stood up for humans, the links below illustrate how they also stood up for other animals. Review them and discuss some examples with your class:
Then have students consider how they can stand up for humans and other animals and complete the "How Do You Stand Up?" worksheet. You can explain that bullying is never OK, regardless of the species of the victim.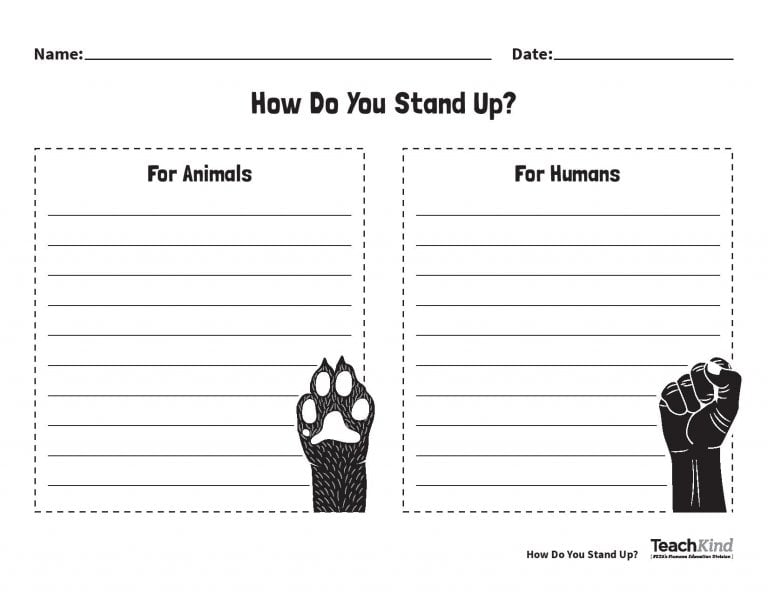 Additionally, if your class is doing a unit on biographies, encourage students who are writing about a Black leader who stood up for both humans and other animals to include information about that person's interest in helping animals.
Discrimination, oppression, indifference, and abuse exist only when one group believes itself superior to another—and animals experience the effects of supremacism every day as they're slaughtered for the dinner table, baited with hooks, slammed into cages, and even dragged along by their owners on quick walks.
Middle and High School
Have students read these short biographies of civil rights activists who recognized that compassion is not a finite resource and should be extended to other animals.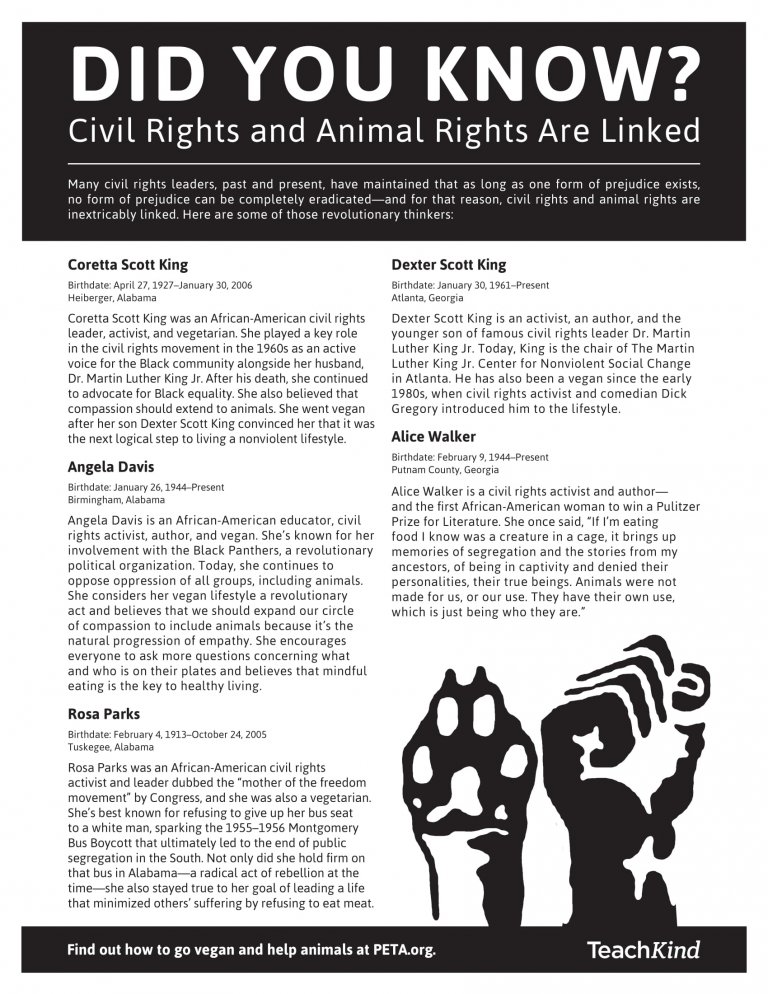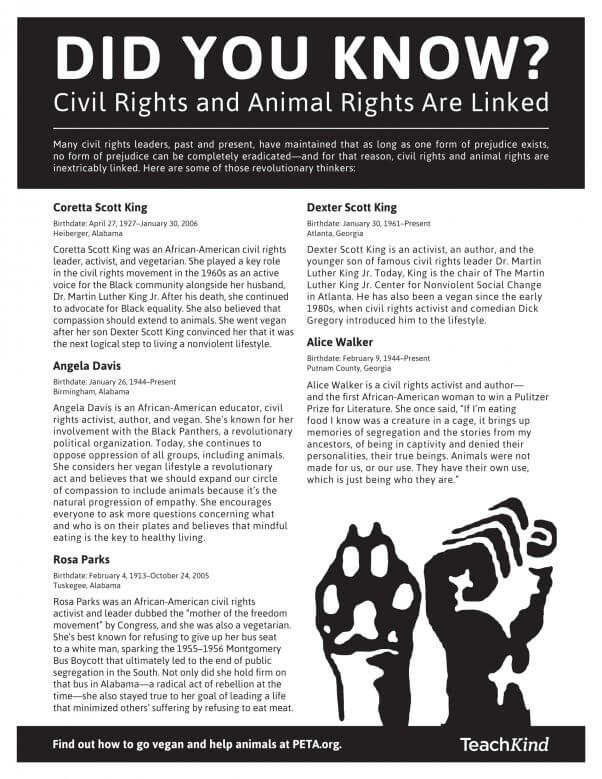 Share with them additional examples of iconic African American vegans and vegetarians.
Heroes like Angela Davis leave animals off their plates as they tackle the issues that plague the Black community, because they understand that in the way that matters the most—our ability to feel pain, love, fear, and acceptance—we're all the same.
Have students watch video footage of Davis speaking at the University of Cape Town in South Africa. In her keynote address, she highlights the connections that exist among all forms of exploitation and oppression. Tell students that they should pay attention to the examples of activism (such as Muhammad Ali's refusal to be inducted into the army) and prejudice (racism, sexism, etc.) that she uses. After the video, have students discuss with a partner why she included those examples.
In her speech, Davis calls for society to end the assault on "sentient beings [who] endure pain and torture as they are transformed into food for profit, food that generates disease in humans whose poverty compels them to rely on McDonald's and KFC for nourishment."
Discuss this statement as a class and ask, "Are civil rights related to animal rights? Why or why not?" Have students complete a writing assignment in which they support their position with clear reasons and relevant evidence.
You can find this activity—and many others like it—in TeachKind's free social justice curriculum, Challenging Assumptions, designed to educate students in grades 6–12 while empowering them to challenge societal norms and inspire compassion and empathy for others regardless of species, race, gender, sexual identity, age, or ability. Use these materials to continue the conversation with your students about the intersections of many forms of prejudice and the ability of our everyday language and actions either to reinforce or challenge ideas of power and supremacy.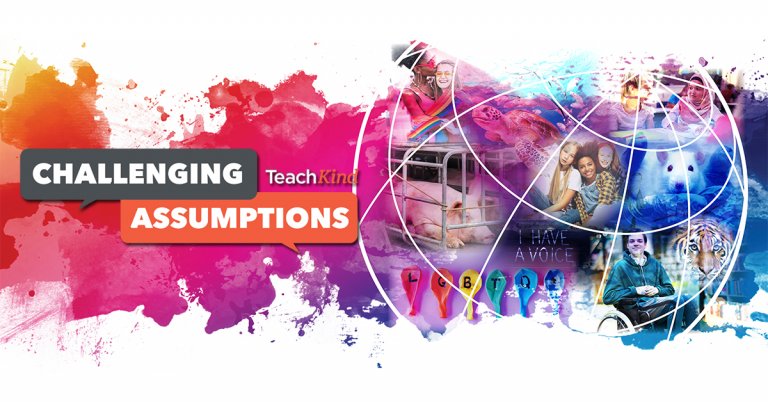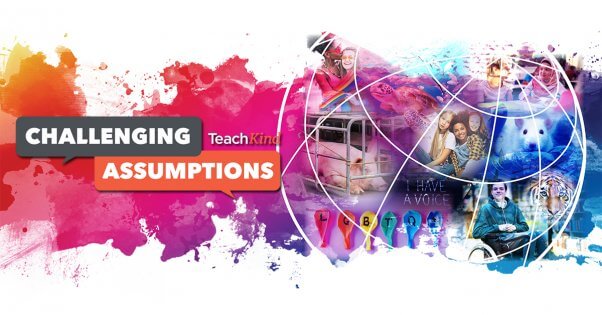 Need more classroom inspiration? Fill out the form below to sign up for TeachKind News.
By submitting this form, you're acknowledging that you have read and agree to our privacy policy and agree to receive e-mails from us.