Autumn tends to be associated with calmness, coziness, reflection, learning, and … empathy? Throughout fall 2022, PETA's humane education division, TeachKind, has been busy helping K–12 teachers connect with respect for animals. By attending, tabling at, and presenting at education conferences around the country, we've focused on outreach to educators, building empathy, and getting the word out about humane, non-animal dissection.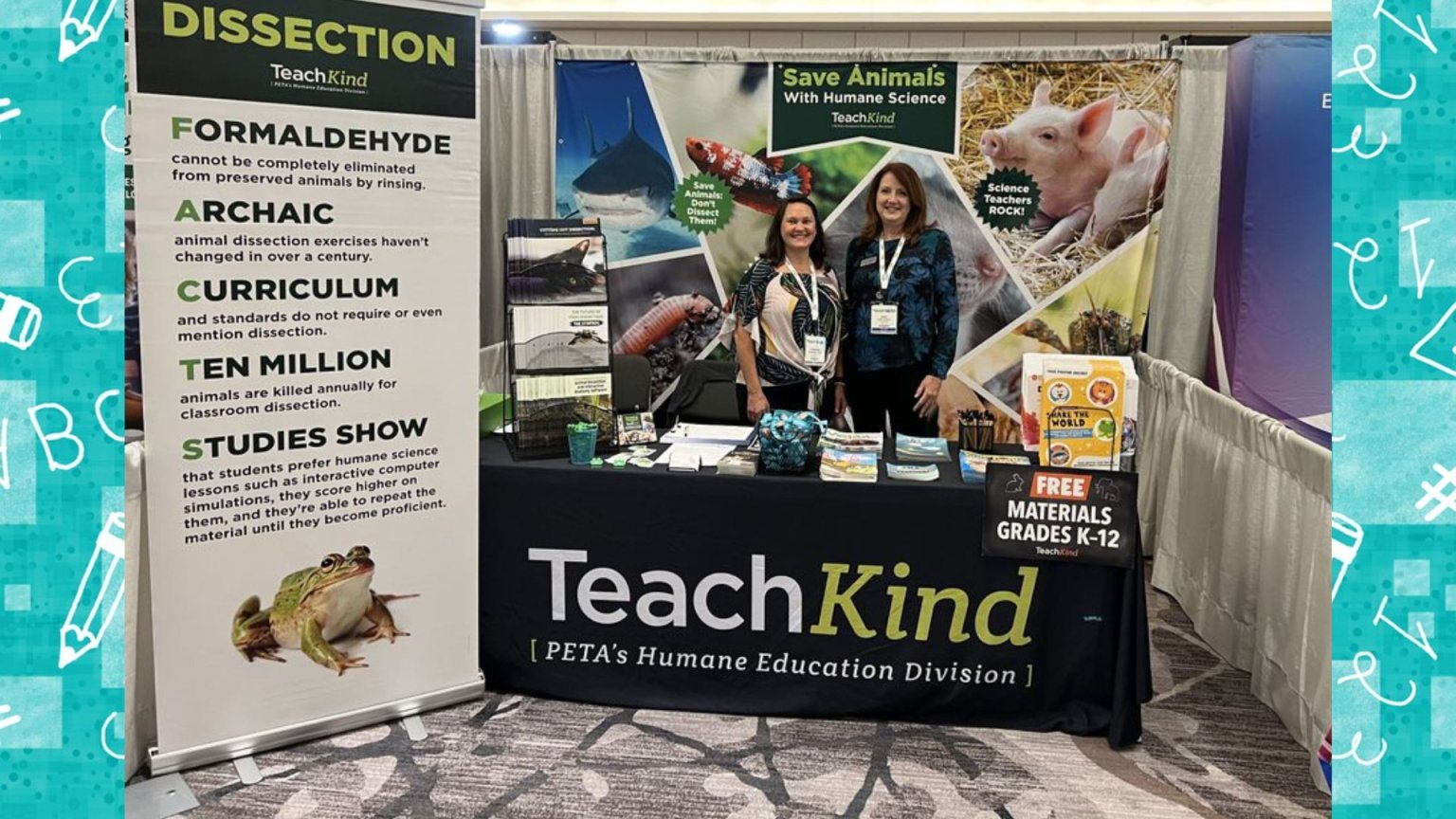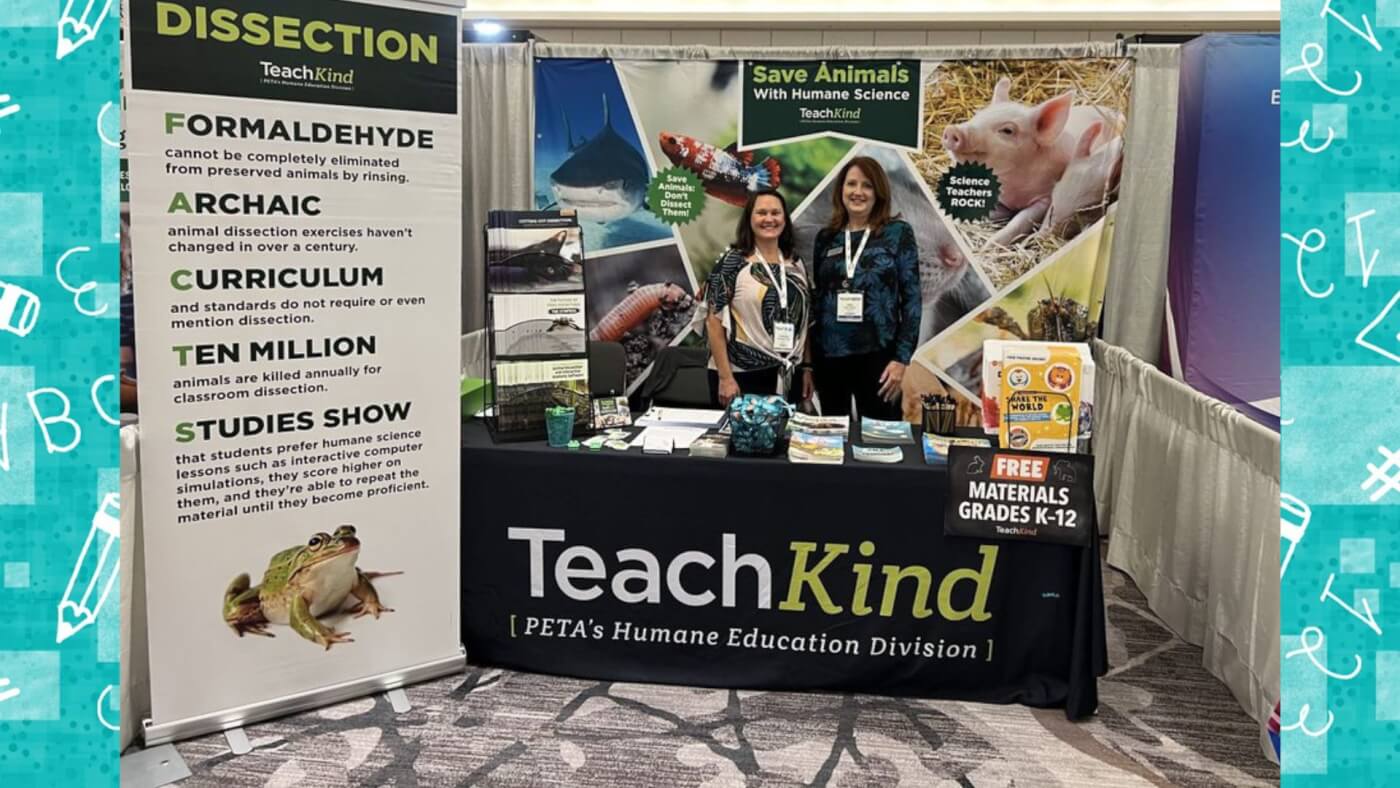 California Science Education Conference Welcomes TeachKind
Furthering PETA's focus on ending experiments on animals, TeachKind exhibited and presented a workshop at the annual California Science Education Conference from October 14 to 16 in Palm Springs.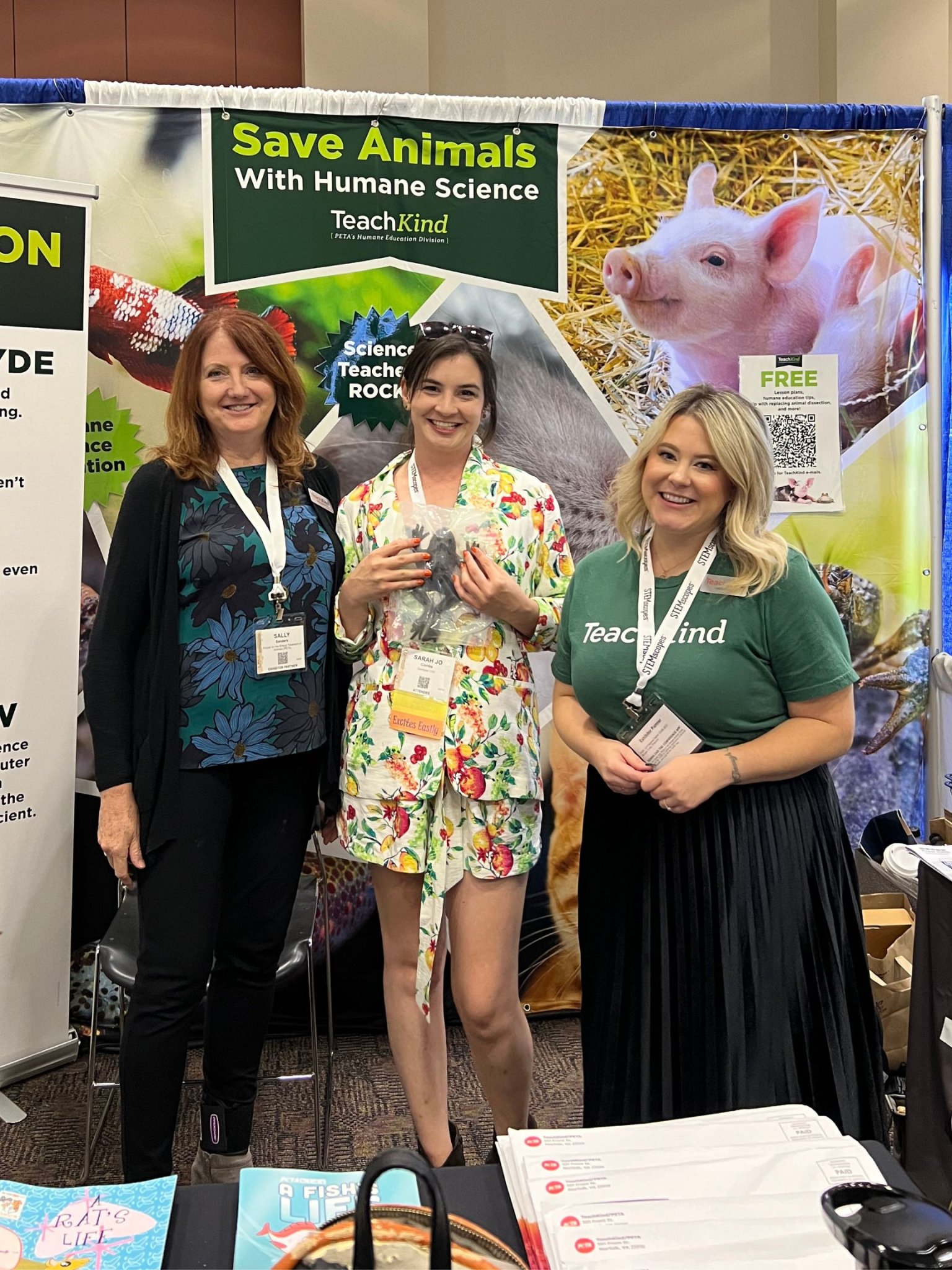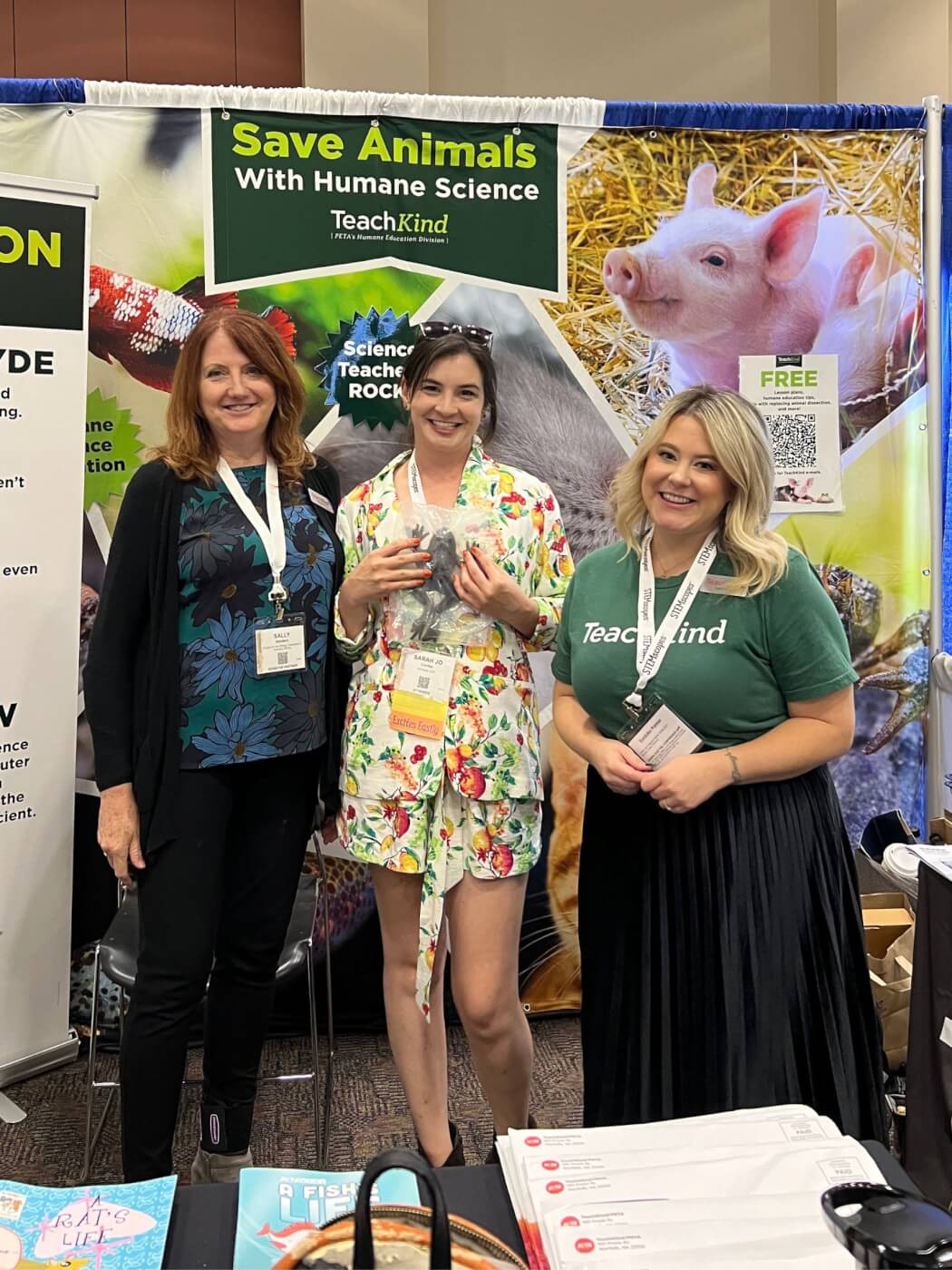 We interacted with teachers from all grade levels who were grateful for free resources supporting empathy in the classroom—including copies of Share the World and Challenging Assumptions, our signature empathy-building curricula for primary and secondary educators, respectively. The first day, staffers Sam, Kayla, and Sally greeted a constant stream of intrigued educators. During the conference, the staff met at least six vegan teachers thankful for our presence.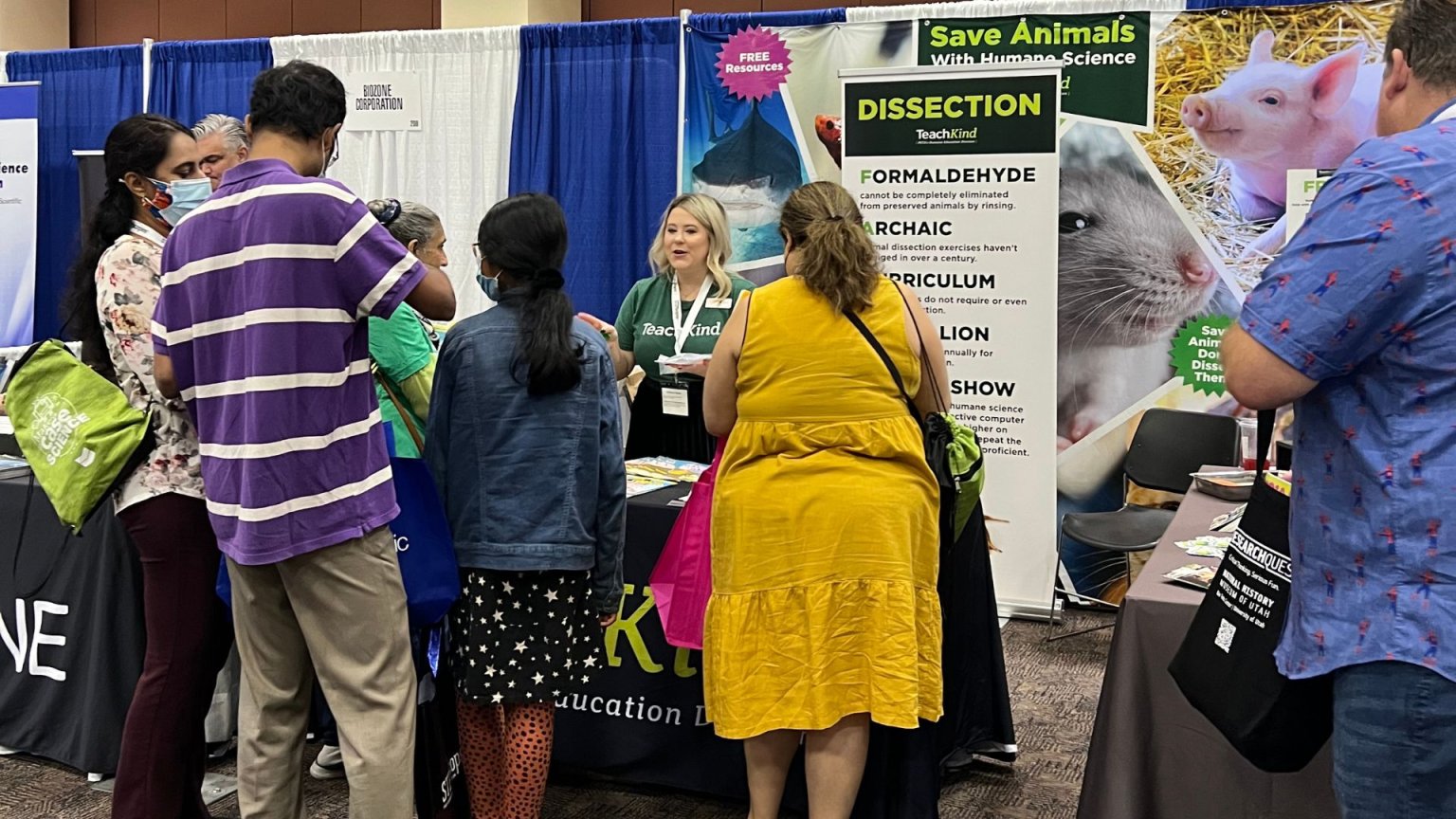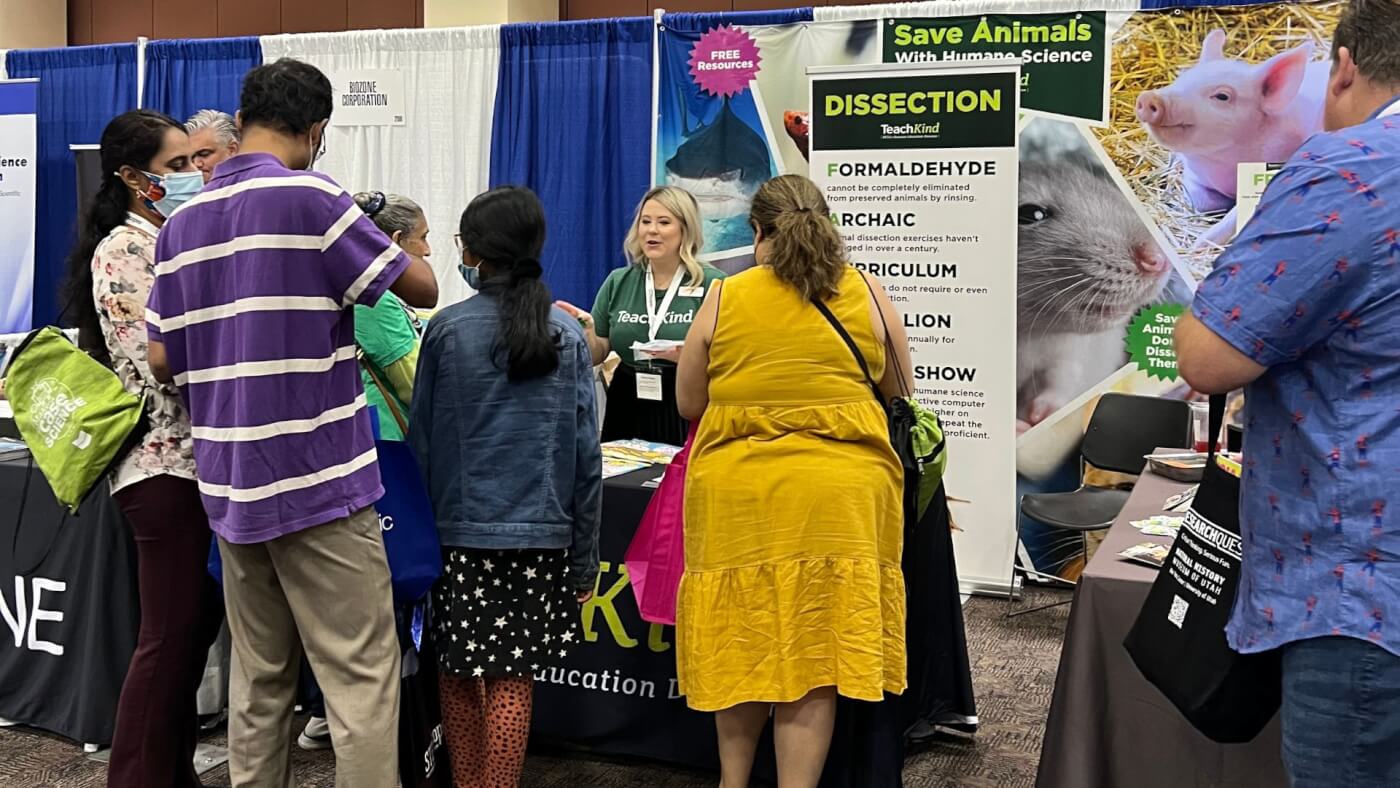 Featuring new, animal-free materials, we attracted many life-science teachers eager to prioritize compassion and replace animals used for dissection. One forensics science teacher said that although her students wanted to dissect animals, she was opposed. The TeachKind staff brought up the link between kids' hurting animals and committing future acts of violence against humans, and the teacher was excited to create a lesson for her students exploring the troubling connection.
TeachKind Sets Up Shop at a Top Florida Education Conference
Next, we attended the 75th annual Florida Association of Science Teachers (FAST) conference from October 27 to 29 in St. Augustine. There, the theme was "75 Years of FAST," celebrating the organization's anniversary and the evolution of science education.
At FAST, TeachKind staffers Sally and Andrew talked with many Florida educators interested in empathy-building and non-animal dissection resources. We also met a few professors who educate science teachers, and we presented a workshop session called Dissection: Evolving Views and Practices to align with the conference's theme. Fourteen science teachers attended our workshop, where two synthetic, whole-body SynFrog models and two "Bringing Home the Bagels" canvas bags—made to promote anti-speciesist language—were awarded as door prizes.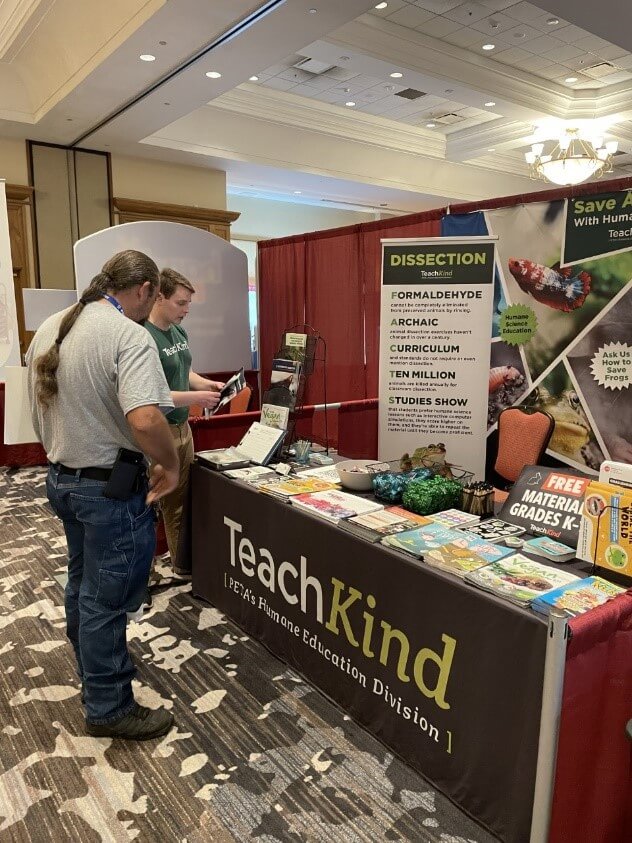 We also had a great interaction with district-level administrators from Florida's St. Johns County School District, where a shark was hung from the rafters of a school earlier this year. TeachKind responded to the incident at the time, and our staffers were able to have a follow-up call with other administrators from this district during the conference.
The editor of the FAST newsletter and journal was especially interested in TeachKind's resources and invited us to submit articles for the annual journal and activities for the quarterly newsletter.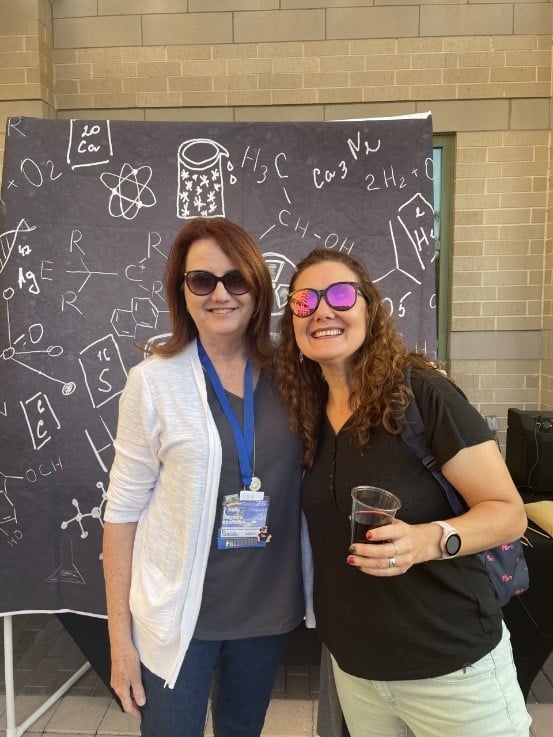 New York Education Conference Hears TeachKind's Newest Animal-Free Dissection Ideas
From October 27 to 29, TeachKind's Kayla and Sam attended the 2022 New York State School Boards Association (NYSSBA) Annual Convention & Education Expo in Syracuse. Here, we gave a presentation titled Building Character and Achievement Through Compassion for Animals.
The conference saw about 2,000 attendees, most of them current NYSSBA members. Tons of people stopped by the TeachKind booth to give thanks for our vital work in preventing violence and helping animals. One notable visitor was a clinical psychologist and board member who was elated to share the animal-free resources with her students and with teachers she knows.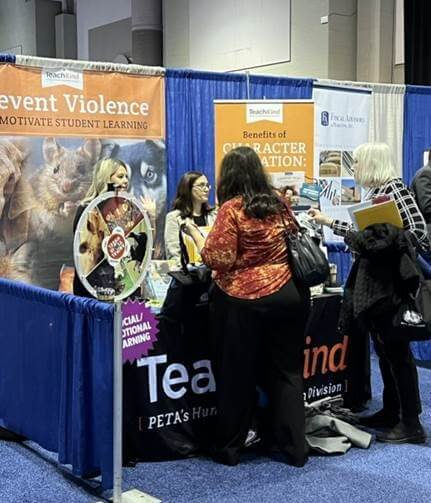 TeachKind Was a Hit at the Indianapolis Biology Community's Education Conference
We then exhibited at the annual Professional Development Conference of the National Association of Biology Teachers from November 10 to 13 in Indianapolis. Staffers Sam and Sally talked with many biology teachers and other science teachers interested in non-animal dissection methods and empathy-building resources.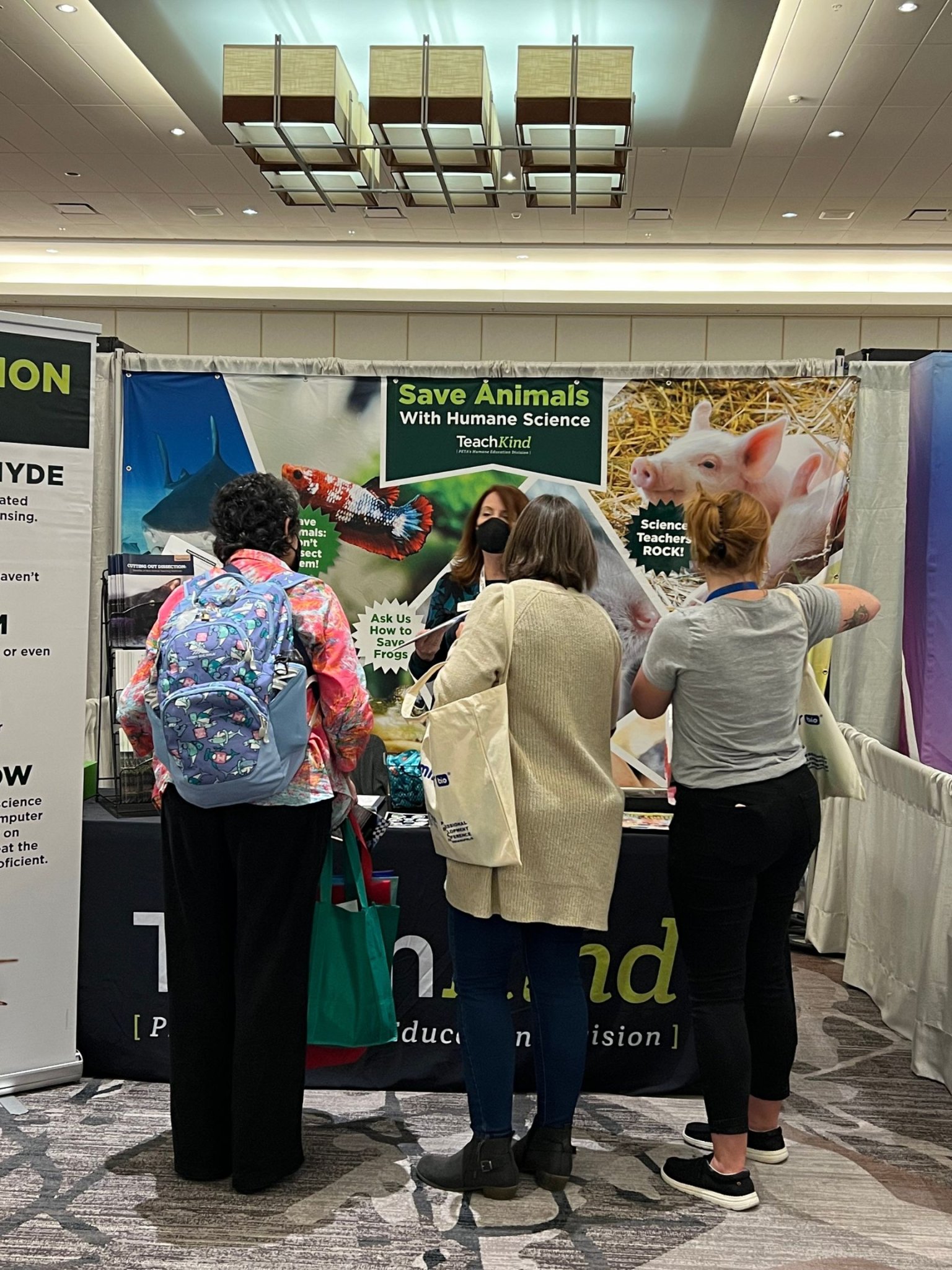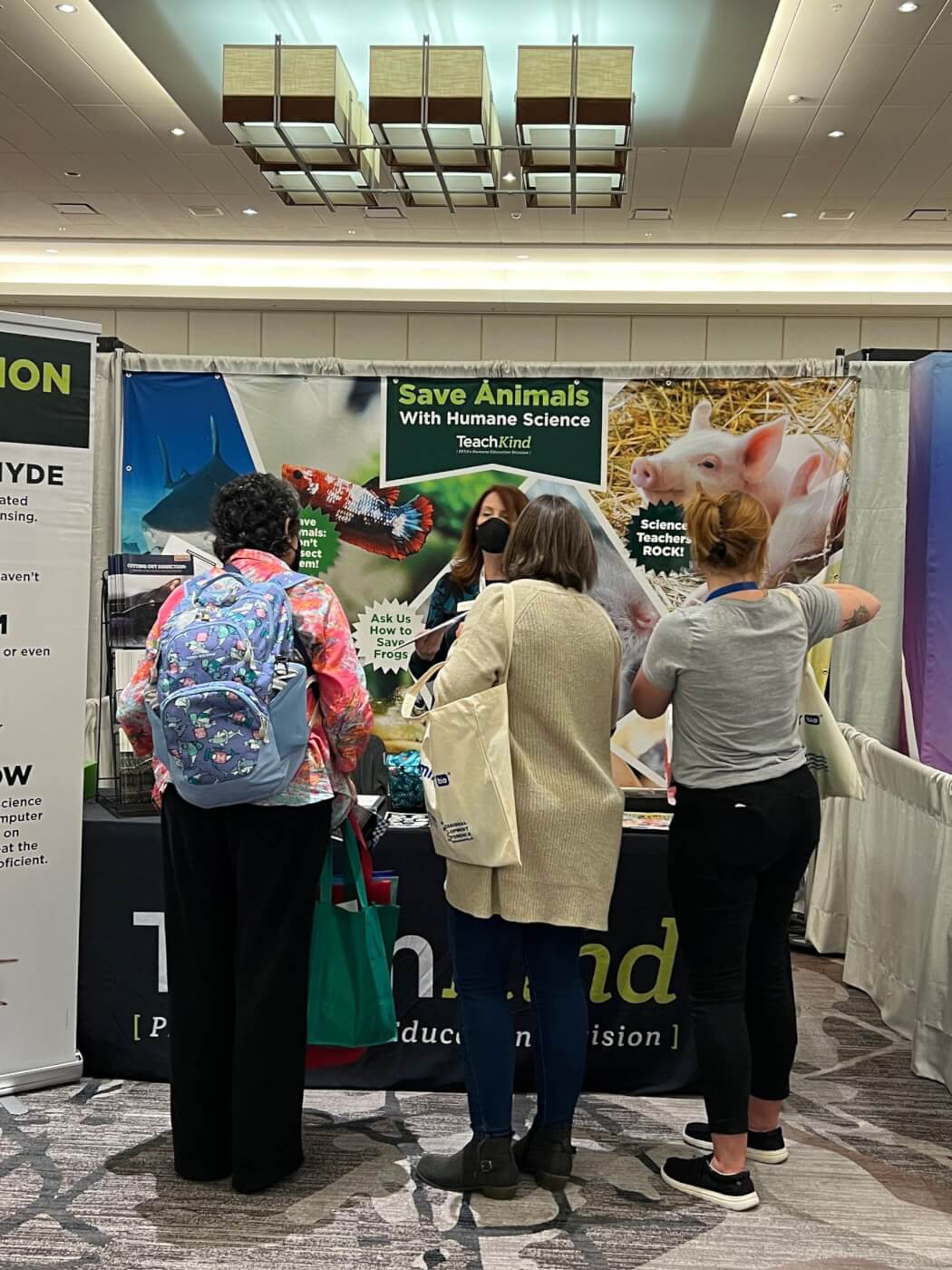 TeachKind was also glad to give away a SynFrog to a middle school teacher who was thrilled to show her students.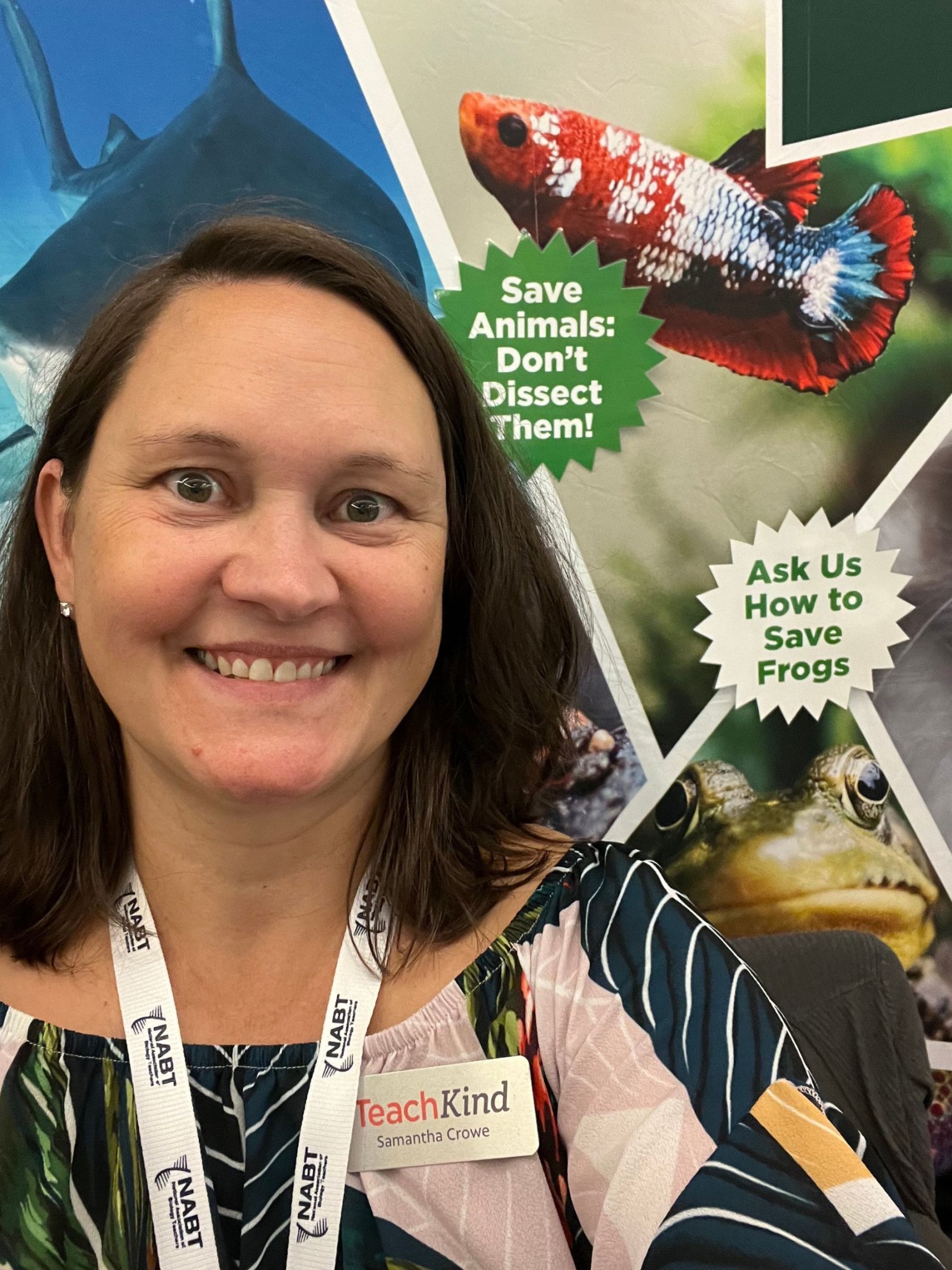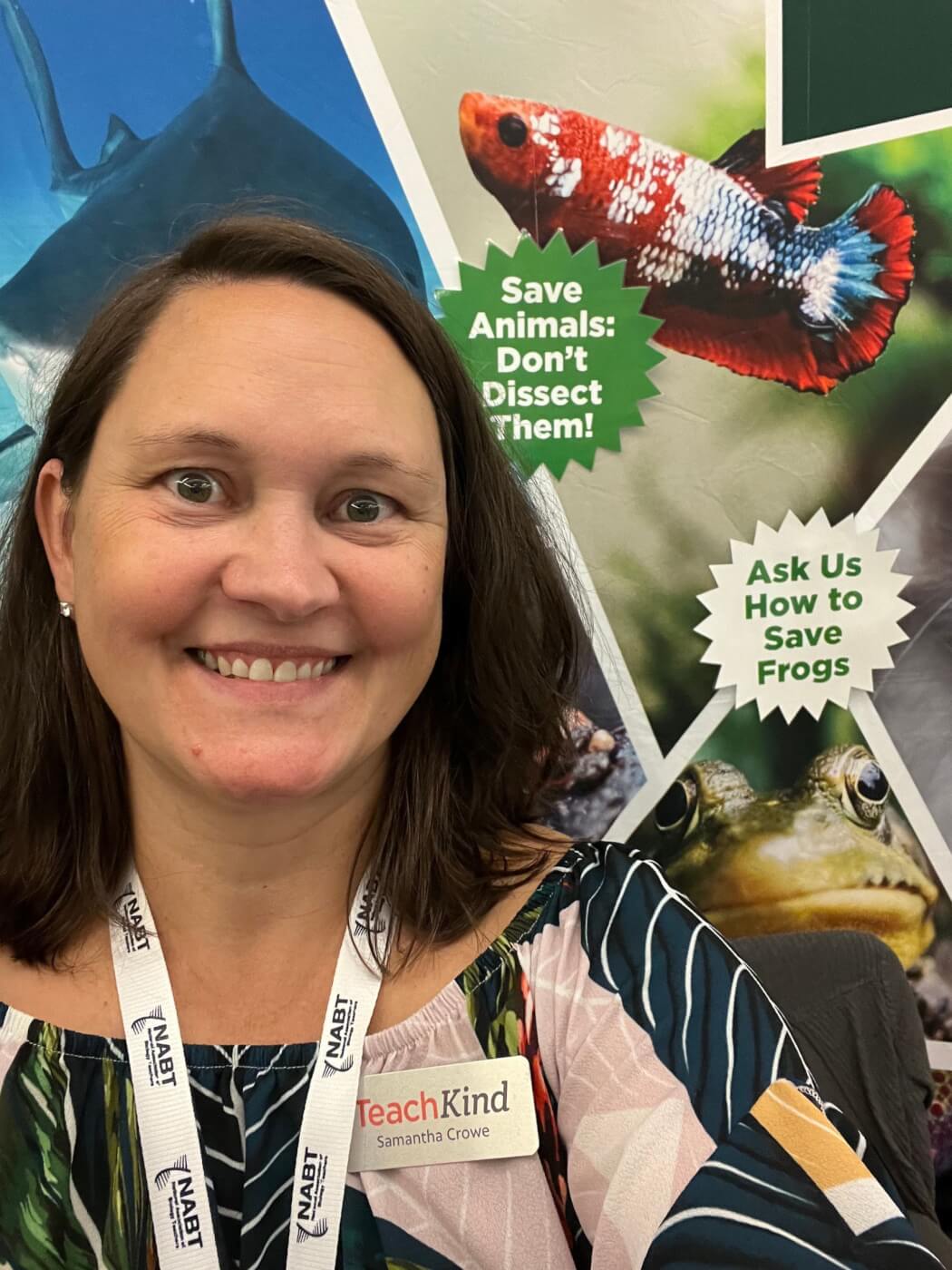 Conferences that TeachKind presented at earlier this year include the Association for Supervision and Curriculum Development's Annual Conference in Chicago in March, where we networked with school leaders from all over the country; the National School Boards Association's conference in San Diego in April, where our popular "Rescue Stories" reading comprehension worksheets made their conference debut; the Mindful SEAD Education Leadership Summit, an online gathering hosted by the Nevada Department of Education in June; and the National Science Teaching Association's National Conference in Houston in July.
Relearn Respect for Animals, and Find Out More About TeachKind
This fall, TeachKind succeeded at sparking compassion for animals, and we look forward to inspiring schools, educators, and parents to do even more to end speciesism in 2023. You can start by signing up for our state-of-the-art science education pilot program that teaches students dissection using more effective, ethical, economical non-animal methods.
Learn more about TeachKind and how humane education lessons help kids and animals: