Schools are closing around the country, students are learning remotely, and teachers are providing online lessons. TeachKind can help you transform your teaching through digital dissection programs that students can access at home. It's a win for students missing instructional time, a win for teachers who may be scrambling to find meaningful educational activities, and a win for animals who won't be dissected!
We can't believe we have to say this, but some teachers still buy dead animals in pails or bags filled with chemicals, use pins to splay them on a tray, and—get this—ask impressionable and naturally compassionate students to cut them apart. Talk about a horror film come to life! The halls are filled with the smell of formaldehyde, and kids are understandably upset—and really, what are they learning beyond how to mutilate an animal killed for dissection who wanted to live? Is this not the 21st century? We can and must do better—for animals and students. Now is the time to stop dissecting animals.
Kind teachers know that animals are not ours to use for science and that classroom dissection is indefensible. Modern science curricula and standards no longer require—or even refer to—animal dissection. The College Board (AP Biology), the International Baccalaureate, and Next Generation Science Standards (NGSS) make no mention of it.
Sure, we want our students to be as excited about biology as we are, but that's no justification for killing and dissecting millions of animals each year in archaic classroom practices. Let's focus on teaching kindness instead of using animals as science experiments.
There's nothing more exhilarating than showing students how human organ systems are similar to those of other animals—which allows us to compare our capacity to feel, use tools, take cues from the environment, and find food with theirs. Fortunately, the humane anatomy tools listed below will satisfy kids' natural curiosity about animals without harming anyone.
💻 Biosphera
Biosphera offers a variety of desktop- and mobile-ready anatomy software modules featuring cats, frogs, cows, fish, and many other species. Through high-quality 3-D imagery and touchscreen technology, students can learn about anatomical landmarks, organs, and organ systems.
💻 Cogent Education
Cogent Education boasts a suite of interactive case studies for biology, providing captivating scenarios that effectively engage students in their learning. Students play the role of a professional scientist tasked with solving a real-world problem. The modules cover topics such as homeostasis and action potential and are recommended for both beginner and advanced students. Shifting the focus from anatomy, the case studies encourage students to view the organism as a whole while explaining detailed physiological processes in a unique and engaging way.
💻 DigiGalaxy
Including human, snake, fish, and tiger anatomy modules, DigiGalaxy ANATOMY 3D Pro++ is a unique learning tool. Also offered are invertebrate and plant modules for a complete biology learning system.
💻 Digital Frog International
The Digital Frog is a downloadable program that integrates comparative anatomy, frog dissection, and ecology. Students are able to review each body system with high-quality animations and digital dissection. In addition, the company offers a Digital Field Trip Series that includes unique instruction on desert, wetland, and rainforest ecosystems.
💻 Expandable Mind Software
Expandable Mind Software offers a web-based suite of simulated dissections and physiology experiments that are highly interactive and aligned with the NGSS. Modules are available for purchase individually and include studies of Mendelian genetics and the anatomies of 10 different animals, including frogs, three types of fish, several invertebrate species, fetal pigs, and cats. Mini labs include various physiological simulations, such as respiratory rate, muscle contractions, and the effects of drugs on heart rate. The software can be accessed on any device with an internet connection.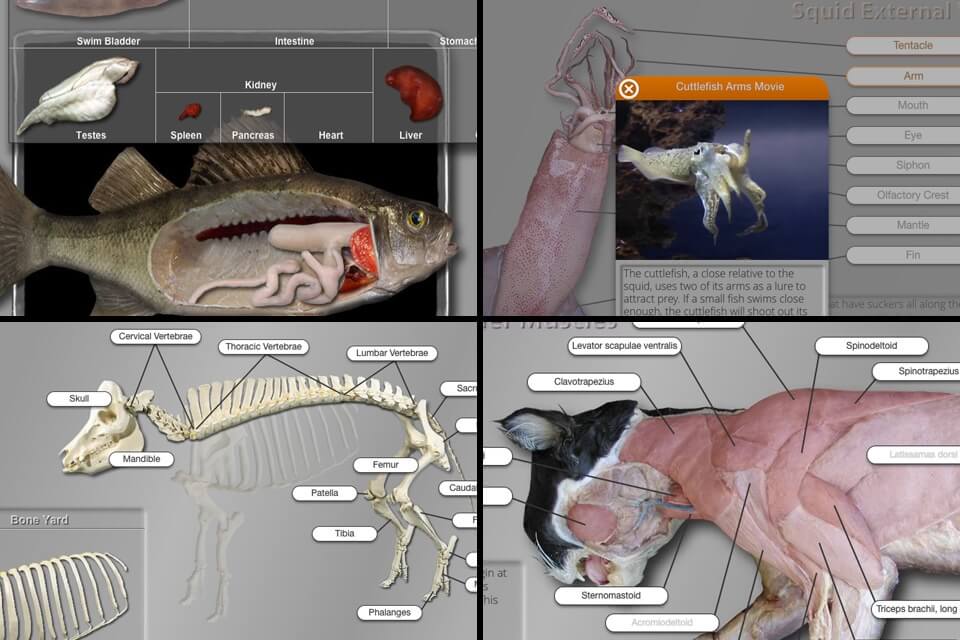 💻 Froggipedia
Froggipedia—which was named Apple's iPad App of the Year for 2018 and has earned its developer PETA's Compassionate Company Award—is available on iTunes and covers the frog life cycle, 3-D virtual dissection, and more in an easy-to-use and engaging virtual reality format.
💻 Froguts Inc.
The Froguts online subscription service includes frog, squid, sea star, cow eye, owl pellet, fetal pig, and Mendelian genetics labs. Students have the opportunity to use digital dissection tools and a microscope, collect experimental data, and complete quizzes. The dissection modules are organized by body system, and each is thoroughly explained.
💻 GraphicViZion
Visual Anatomy—Canine is an interactive visual guide to canine anatomy. GraphicViZion also offers human anatomy guides, and all modules are compatible with mobile and desktop devices.
💻 Leap Motion
Leap Motion's Cat Explorer allows students to reach into a virtual cat and view the anatomy in 3-D.
💻 McGraw-Hill Education
Anatomy & Physiology Revealed boasts full human cadaver imagery with drill-down dissection layers, from superficial to deep.
 💻 Navtek Solutions
Navtek Solutions' Dissection Lab covers sea star, earthworm, cockroach, rat, and pigeon anatomy and more with interactive 3-D dissections, examination of internal anatomy, and assessments. Modules are available in desktop and mobile versions, and a free 15-day trial is offered.
*****
Looking for more humane science lessons? Check out these NGSS-aligned lessons that help animals instead of harming them.