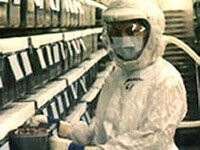 There is much scientific evidence documenting the failure of animal-based toxicity tests to accurately predict human reactions to chemicals. Such errors are not surprising, given the many differences that exist between species in terms of their anatomy, physiology, biochemistry, and metabolism. Such variables make the cross-species extrapolation of test results an extremely uncertain exercise.
The following examples illustrate some of the key shortcomings of animal-based toxicity studies:
The Multicenter Evaluation of In-Vitro Cytotoxicity study examined the results of rat and mouse acute toxicity tests for 50 chemicals and found that these tests were able to predict toxicity in humans with only 65 percent accuracy. In fact, scientists at a recent international conference on acute toxicity testing held in Washington, D.C., stated that they werent sure whether the results of acute toxicity tests in rats were even relevant to other rats! By contrast, a series of four human cell-line tests was found to predict human toxicity with 84 percent accuracy.
Unlike humans, rodents have no vomit reflex. As a result of being unable to clear toxic chemicals from the body, their level of exposure to chemicals is increased, making extrapolation of rodent test results to humans highly questionable.
Rodents only live for two or three years compared to the average human lifespan of 75 years or more. This is highly significant when considering life-long toxicity studies. For example, rats are more susceptible to cancer than humans who, because of their long lifespans, have developed comparatively more defenses against spontaneous cancers. Likewise, different animal species are born at developmentally different stages, making the results of developmental toxicity studies virtually meaningless with regard to human infants and children.
In addition to differences between animal species, there can also be significant differences between sub-species and different strains of the same species. For example, the chemical ethyl carbamate caused high incidences of cancer in certain mouse strains but not in others. Likewise, chloroform has been found to cause liver tumors in various strains of female mice but not in males.
There have also been numerous cases where animal-based toxicity tests have failed to predict birth defects in humans. For example, a series of disinfectants marketed in Italy under the names Mipaphox, Trichlorphan, and Diptorex caused nervous system damage in humans and other animals, yet mice in toxicity studies were fed doses of up to 1,500 mg/kg without any apparent negative effects.
The shortcomings of animal-based approaches are also evident from the results of carcinogenicity studies. Arsenic, for example, was not classified as carcinogenic following animal studies but was later found to cause high levels of lung cancer in smelter workers exposed to arsenic in the air. Similarly, the causal link between benzene and human leukemia was established in 1928; however, 14 subsequent animal studies failed to demonstrate this effect.
The very conditions under which animals are kept in laboratories and the painful and debilitating tests to which they are routinely subjected are in and of themselves capable of affecting every organ and biochemical system in the body. Factors such as noise, restraint, isolation, pain, psychological distress, overcrowding, bedding materials, regrouping, maternal deprivation, sleeplessness, hypersexuality, surgery, and anesthesia can all increase mortality and contact sensitivity.
What experts have said about chemical-testing on animals:
It is simply not possible with all the animals in the world to go through chemicals in the blind way we have at the present time and reach credible conclusions about the hazards to human health.
Dr. Joshua Lederberg, Nobel Laureate in Medicine
It is generally accepted that correlations [between animal test results and human safety] are not good due to species differences.
Frank Barile, Ph.D.
Department of Toxicology
City University of New York
Extensive safety testing on millions of animals will seriously delay the acquisition of important safety information, because many of these tests are expensive, time-consuming, and of dubious scientific value.
Gill Langley, Ph.D.
Du Hadwen Trust
Animal studies of lead, mercury, and PCBs each underestimated the levels of exposures that cause effects in humans by 100- to 10,000-fold. Regulatory decisions that rely largely on toxicity testing in genetically similar animals under controlled laboratory conditions will continue to fail to reflect threats to the capacities and complexity of the human brain as well as important gene-environment interactions.
Physicians for Social Responsibility
Click here to read more about the High Production Volume (HPV) Chemical testing Program.