Everyone knows that bears love to explore and climb, but their lives are much more interesting and complex than that. Bears have been seen using rocks as "exfoliators" to shed excess fur and maneuvering tree stumps to gather out-of-reach food. These large and strong animals can also be altruistic. A bear at the Budapest Zoo was filmed gently plucking a drowning crow out of the water, carefully placing the bird down on the ground, and then going about his business.
But for bears used in traveling shows and on the fair circuit, their worlds are often reduced to cramped cages and reeking tractor trailers. They're typically confined to enclosures with barely enough room to turn around, let alone run, play, or exercise.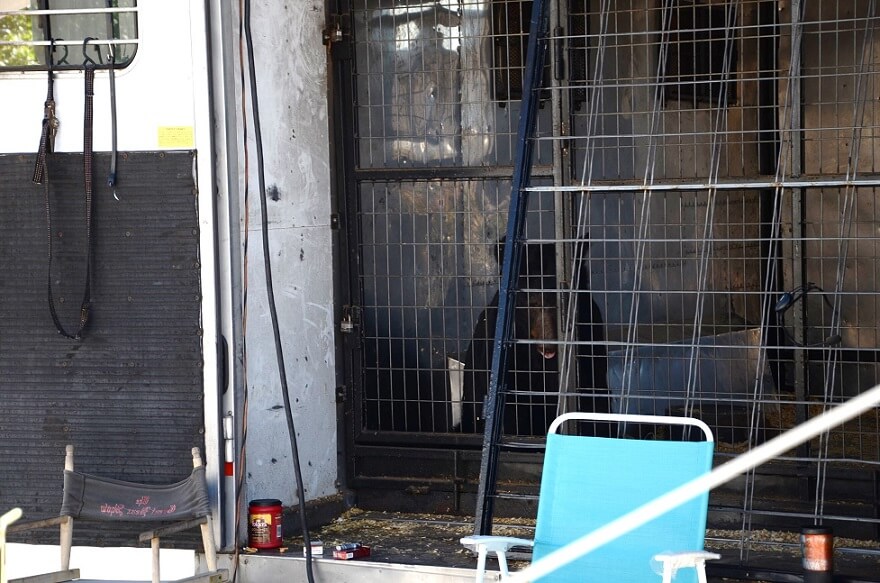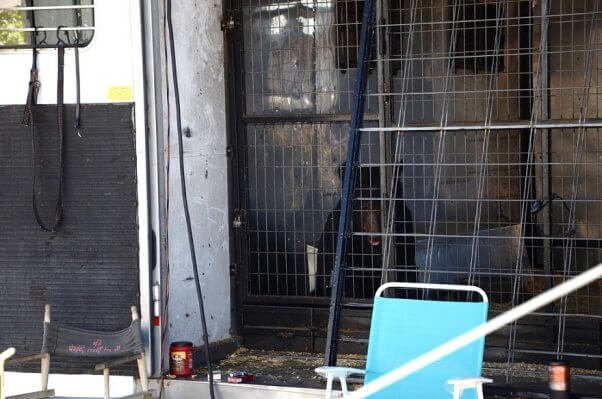 For more than four decades, Bob Steele hauled bears around the country and forced them to perform in "The Great Bear Show." A U.S. Department of Agriculture (USDA) inspector noted that the bears were housed for months in "a rectangular cattle panel enclosure" devoid of any furniture, water tubs, or straw or other bedding—and with no barriers to allow them to avoid each other. In 2018, the bears were retired to an Arizona sanctuary. PETA helped cover the costs of the rescue, including financial contributions to assist in the construction of a swimming pool and shade platforms in the bears' new home.
Trainers often use force and domination to compel bears to perform tricks, such as balancing on a ball or riding a scooter. Chained bears likely comply because they have no choice. A bear being used by Castle's Bears, which has provided acts for Shrine circuses, was filmed urinating in apparent distress when pulled by a leash and forced to walk on her front legs during a performance.
Focused on traveling from venue to venue, operators of these cruel shows often prioritize profit over animal welfare. Bears—who, in the wild, eat a wide variety of food, including grasses, roots, berries, insects, and fish—may not get the nutrition that they need. For instance, Rosaires Bears was cited for feeding bears mainly bread.
Even when not on the road, conditions are often grim. Rosaires Bears was cited by the USDA for housing five bears in a rusty and dilapidated steel shipping container. A USDA inspector cited another exhibitor, Welde's Big Bear Show, for not providing the bears with enough space, writing, "The 8 bears still reside at night and during bad weather in the enclosures built into the truck used during touring."
Veterinary care may also be neglected. Steele has been cited over and over again for failing to get veterinary care for a bear with large patches of hair loss and another who paces incessantly. He hauled an arthritic, aging bear around the country and admitted to feeding the bears Skittles and M&M's.
Welde's, which has forced bears to "play" basketball, was also cited for failing to provide them with adequate veterinary care, and the inspector noted the following: "The program of veterinary care plan lacks the frequency of regularly scheduled visits by the attending veterinarian."
What You Can Do
Never attend a circus using bears or any other animals.
If your local or county fair offers a bear show, voice your objections to fair organizers. Let them know that you'll be spreading the word about the event's support of cruelty to animals.