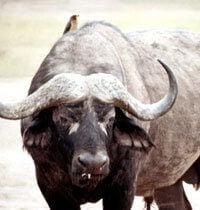 Most hunting occurs on private land, where laws that protect wildlife are often inapplicable or difficult to enforce. On private lands that are set up as for-profit hunting reserves or game ranches, hunters can pay to kill native and exotic species in "canned hunts."
Because these animals are usually kept in fenced enclosures (ranging in size from just a few yards to thousands of acres), they never stand a chance of escaping, fighting back, or surviving. Hunters kill these animals solely in order to hang their heads, horns, or antlers on the wall and eat their meat.
Animals on canned-hunting ranches are often accustomed to humans and may be native to the area, raised elsewhere and brought in, or purchased from individuals who are trafficking in unwanted or surplus animals from zoos and likely even circuses.
Canned hunts are becoming big business. There are an estimated 1,000 game preserves in the U.S. Ted Turner, the country's largest private landowner, allows hunters to pay thousands of dollars to kill bison, deer, African antelopes, and turkeys on his 2 million acres.
Most of these ranches operate on a "no kill, no pay" policy, so it is in owners' financial interests to ensure that clients get what they came for. Owners do this by offering guides who are familiar with animals' locations and habits, permitting the use of dogs, and supplying "feeding stations" that lure unsuspecting animals to food while hunters lie in wait.
Only a handful of states prohibit canned hunting, and there are no federal laws regulating the practice, but Congress has considered an amendment to the Captive Exotic Animal Protection Act that would prohibit the transfer, transportation, or possession of exotic animals "for entertainment or the collection of a trophy."