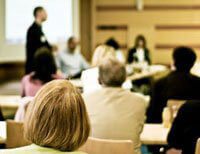 Each school district and state has a board of education, which governs public schools within the region. Private schools have their own boards of directors that perform the same duties for their schools. School board members are either elected by the community or appointed by the city council. It is the responsibility of the school board to establish policies, support school employment, and always place students' educational welfare above all else.
School boards hold monthly public meetings during the school year, which are similar in structure to city council meetings. A portion of the meeting is designated for public comments. Members of the public who wish to address the board must sign up ahead of time. Some boards require you to schedule your talk prior to the date of the meeting (you can call to book a time slot), while others ask that you arrive a few minutes before the meeting and sign up then. Comments are usually limited to about three minutes.
You can learn when and where your local school board meets by checking its Web site or calling the school board (look for "board of education" listings under "schools" in the yellow pages of your phone book).
Even if you do not have children enrolled in local schools, you are still a taxpayer. School boards need to hear from parents and community members in their district who don't want their tax dollars funding cruelty to animals called "entertainment."
Tips for Meeting With Board Members
Familiarize yourself with the issue that you will be addressing so that you come across as confident and knowledgeable.
Prepare a brief talk. Practice giving your speech so that you can pace yourself and are comfortable saying it. Also, time yourself so that it fits the time frame that you'll be allotted at the meeting.
It is perfectly acceptable to read your presentation (you don't need to memorize your talk).
Prepare information packets for each individual board member (call or check the board's Web site ahead of time so that you can label each packet for individual members). Resources for these packets are available here. Provide these to the board of education clerk, and he or she will distribute them to the designated members.
Attend the school board meeting. In instances where you sign up to speak at the meeting, arrive approximately 15 minutes early. Be aware that meetings may last several hours, and the sooner you can speak, the better.
Dress professionally. A well-put-together appearance demonstrates a degree of professionalism.
Be brief and to the point.
Be passionate and confident, but do not be argumentative, hostile, or overly emotional.
Follow up by writing a short letter to each board member within a few days of speaking, thanking him or her for considering your concerns, and ask for feedback.
Ask others in the community to contact the school board and voice objections to school support of animal circuses and other animal acts.