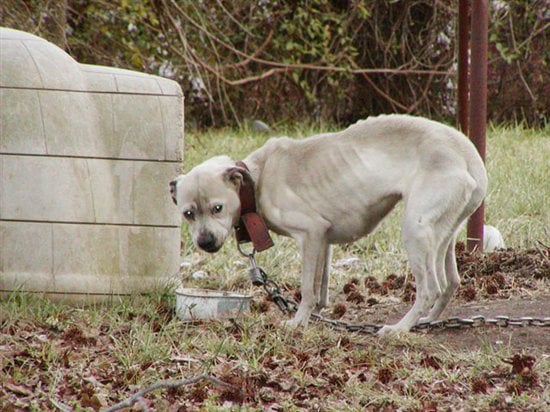 In addition to having their social needs ignored, many chained dogs are deprived of proper food, water, shelter, and veterinary care. These animals' miserable so-called lives have prompted anti-tethering legislation in some areas.
For example, a month after the city of Fairhope's animal control officer rescued a chained dog "so starved his ribs were clearly visible," the Fairhope Courier of Alabama wrote the following in an editorial:
"City officials are currently … exploring the possibility of enacting a total ban on dog chaining within the city limits. … We hope our city fathers take swift action in this regard. This surely is one safety issue that needs little if any debate, not to mention a humane issue that should require no negotiation. A new ordinance would be best for all our citizens as well as all our pets."
Two months later, the city banned chaining.
After the remains of Michelle Wilson's chained dog were found in her Burleigh, New Jersey, back yard in January 2004, activists in Cape May County convinced at least six towns and cities to pass anti-tethering ordinances.
Chained dogs—like all animals who are left outside and unsupervised—are also susceptible to the cruel acts of passersby. Chained dogs are tortured, poisoned, shot, stabbed, stolen, used to "bait" fighting dogs, sold into the abject misery of life in a laboratory, set on fire, and abused in countless other ways. Others freeze to death during cold snaps after being ignored by heartless owners for years.
Examples
In March 2008, a tethered Saint Bernard chewed off her own leg in an effort to break free from the cord she had become entangled in. Her owner, a Madisonville, Tennessee, resident, pleaded guilty to cruelty to animals.
A long-neglected dog underwent surgery in July 2008 after being found with his chain embedded in his neck in Proctorville, Ohio. The owner was charged with a misdemeanor.
A chained dog was beaten with a shovel, soaked with lighter fluid, and set on fire in Montgomery, Alabama, in September 2007. A 20-year-old man was later charged with felony cruelty to animals in connection with this incident.
A chained dog was injured when he was attacked by a coyote near Muncie, Indiana, in February 2005.
The rotting remains of a chained dog—who hadn't been fed or provided with water in 19 days—were reportedly found in the back yard of a Mendocino County, California, man in February 2005.
In December 2004, seven dead dogs and four starving survivors—some of whom were chained—were reportedly found in a Lafayette, Louisiana, yard. The animals' guardian was charged with 10 felony counts of cruelty to animals.
In August 2004, an Oklahoma City family apparently went on vacation but left its chained dogs without any food or water for up to two weeks. Authorities rescued two of the animals, but the third had apparently hanged herself when she tried to jump a fence in search of food.
Also in August 2004, a 9-month-old dog who was kept tethered to the front of her guardian's house was doused with paint and set on fire near Philadelphia. She had to be euthanized because of the extent of her injuries.
A Dania Beach, Florida, woman was charged with cruelty to animals after officials reportedly found her starved dog "near death" and tethered by a 6-inch electrical cord in June 2004.
A 78-year-old man's chained dog was set on fire and killed by vandals who trashed his Pembroke Township, Illinois, home in October 2003. The dog was doused with gasoline and engulfed in flames.
A chained dog was killed when he was stung multiple times by a swarm of "killer bees" in El Centro, California, in May 1998.
This is just a partial listing of the horrific fates suffered every day by chained dogs across the country.