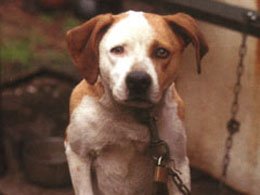 Since at least 1979, tethering has been recognized as a contributing factor in dog attacks. In their efforts to address the public safety hazards associated with aggressive dogs, federal and national agencies have studied dog-bite incidents, including how and why they occur. Some of their more significant findings follow.
Chained Dogs: Nearly Three Times More Likely to Attack Than Dogs Not Tethered
A 1994 study partly authored by two Centers for Disease Control and Prevention (CDC) physicians found that "[b]iting dogs were significantly more likely … to be chained …." According to the study, chained dogs were 2.8 times more likely to attack than dogs who were not tethered.
Federal Health and Veterinary Experts Agree: Chaining Causes Attacks
According to the American Veterinary Medical Association (AVMA) Task Force on Canine Aggression and Human-Canine Interactions, a dog's socialization and behavioral health—both of which are severely compromised by chaining, according to animal behaviorists—are among the factors that determine a dog's tendency to bite. The AVMA advises dog guardians, "Never tether or chain your dog, because this can contribute to aggressive behavior."
The AVMA and CDC agree that reports of dog bites should include information on the animal's degree and form of confinement or restraint—such as being tethered or chained—at the time of the incident so that, in the words of the AVMA, the "risk associated with these practices" can be assessed.
Children Are the Most Common Victims of Chained-Dog Attacks
The most common victims of dog attacks, including those in which the dog is or was tethered, are children. According to Karen Delise, author of Fatal Dog Attacks: The Stories Behind the Statistics, 79 percent of the 431 people killed by dogs in the U.S. between 1965 and 2001 were children under the age of 12. The AVMA agrees: "Children are the most common victims of serious dog bites." A glance at the details of the chained-dog attacks shows how frequently children are involved.
CDC officials found that of 50 children aged 1 or older who were killed by dogs in the U.S. from 1979 to 1988, 28 percent had "wandered too close to a chained dog."
A similar 1996 study, partly authored by CDC officials, found that nearly 30 percent of 38 children aged 1 to 9 killed by dogs in the U.S. between 1989 and 1994 died after "wandering too close to a chained dog."
In her book, Delise suggests that children fall victim to chained dogs so often because they "have … the inability to recognize or comprehend the significance of an aggressive display by a dog." As a child approaches a chained dog, the dog gives a warning sign—such as a growl or a stiffened posture—that the child does not recognize. As the child continues to approach, according to Delise, "the dog may consider this a challenge or a threat. Chained dogs, having no option to retreat, may lash out at this perceived threat or encroachment."