At the University of Massachusetts–Amherst (UMass), experimenter Agnès Lacreuse drills holes into the skulls of small marmosets, threads electrode leads through their abdomens, zip-ties them into restraining devices, and overheats them with hand warmers to simulate hot flashes associated with menopause—which they don't even experience naturally. PETA is urging the university to ditch these crude and painful tests—and you can help.
Ad: Multiple Federal Violations Detail UMass' Definition of 'Love'
October 4, 2021
After Paul Katz, UMass professor and director of neuroscience, claimed that university experimenters "actually love animals a lot," we ran a full-page ad in The Boston Globe revealing gross negligence in UMass' treatment of monkeys. Public records obtained by PETA document federal animal welfare violations in the university's laboratories, resulting in injuries and death for vulnerable marmosets and other animals—a perverse display of "love."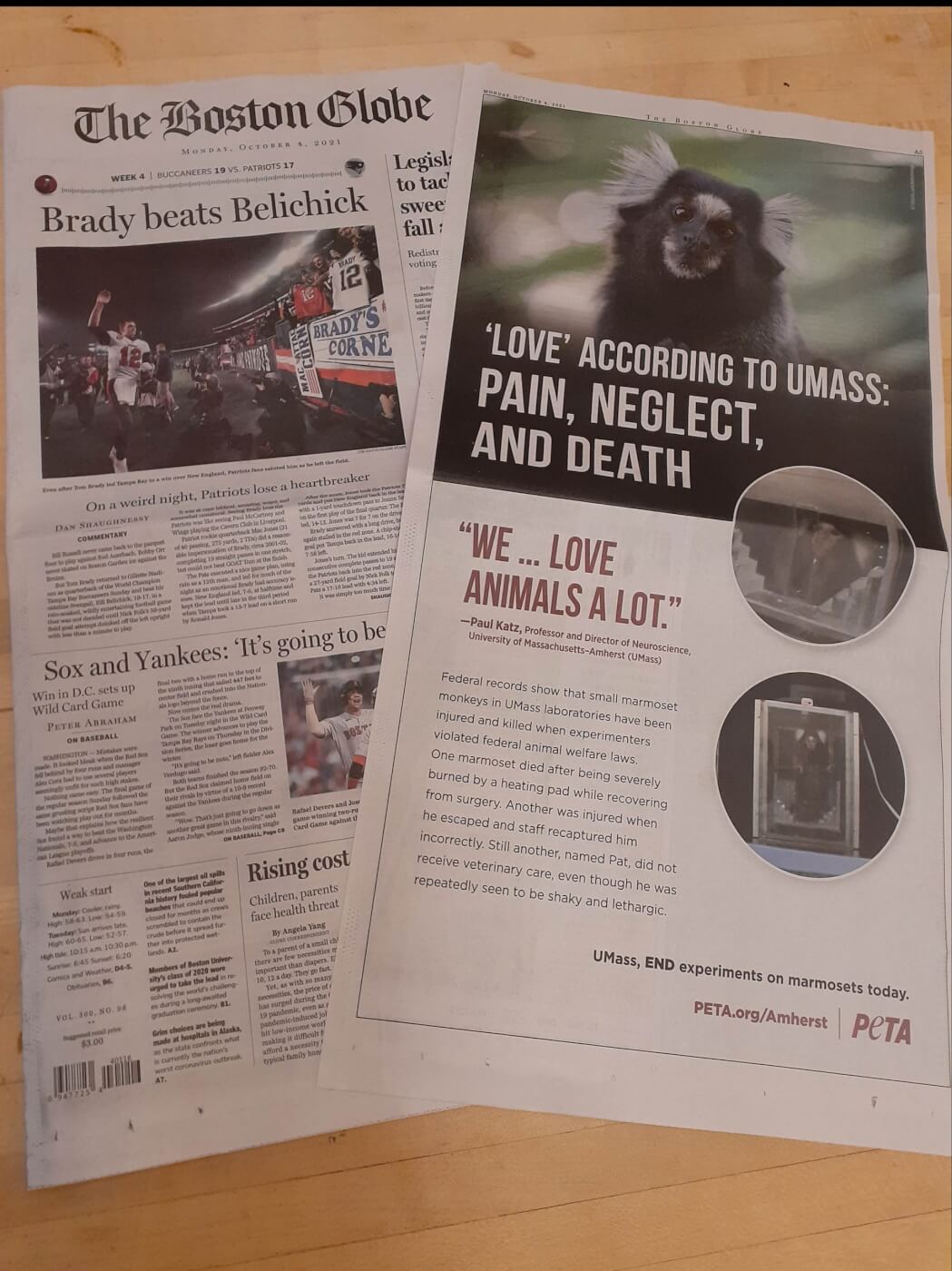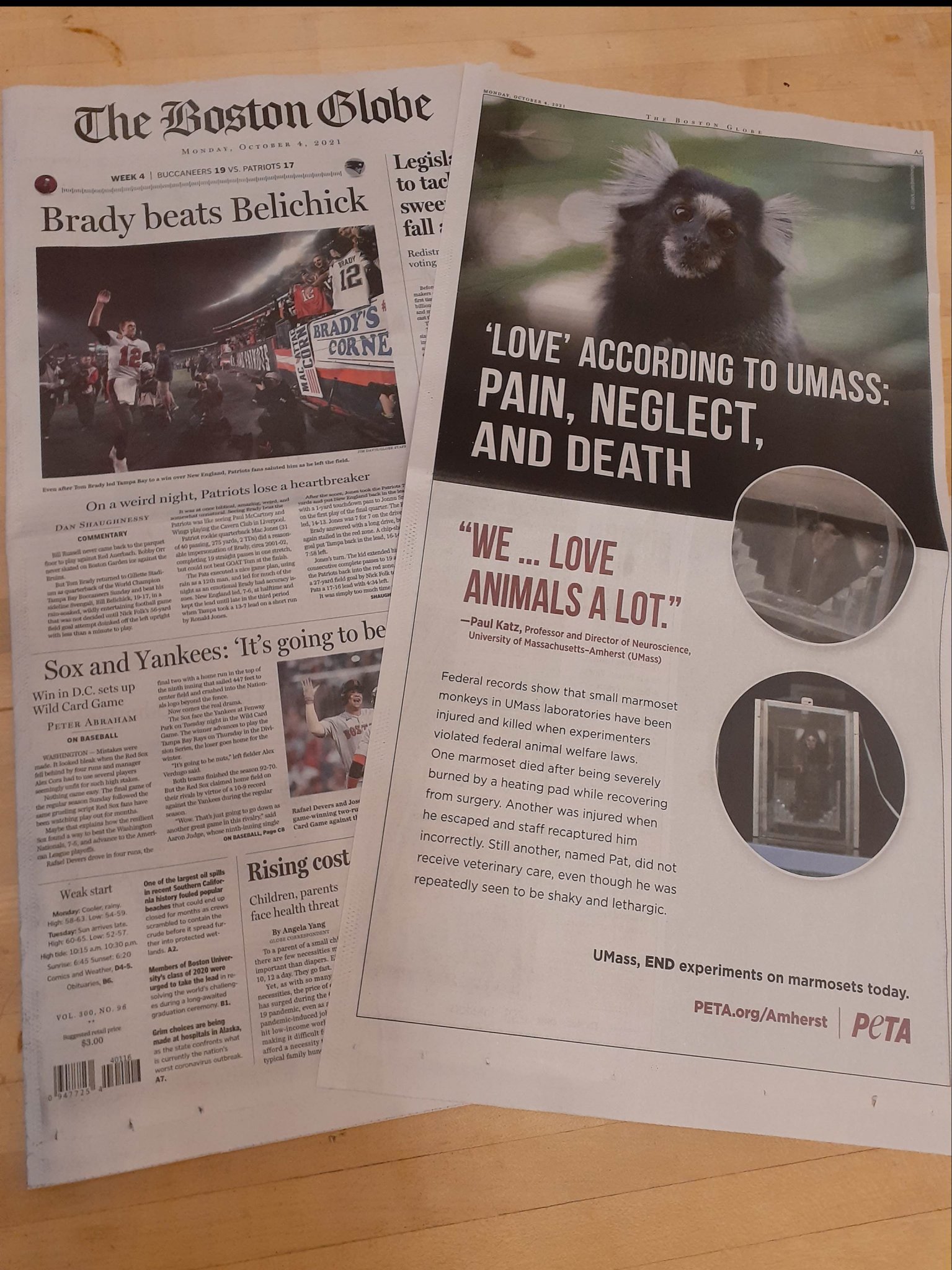 Casey Affleck and PETA Hold News Conference on UMass Campus to Demand End to Painful Marmoset Experiments
September 13, 2021
The World to Come star Casey Affleck and his mother, Chris Anne Boldt, joined PETA at UMass' Student Union for a news conference to demand an end to the school's deadly menopause experiments on marmosets. Immediately afterward, activists marched to the laboratory where the monkeys are being held captive, tormented, and killed. Read more.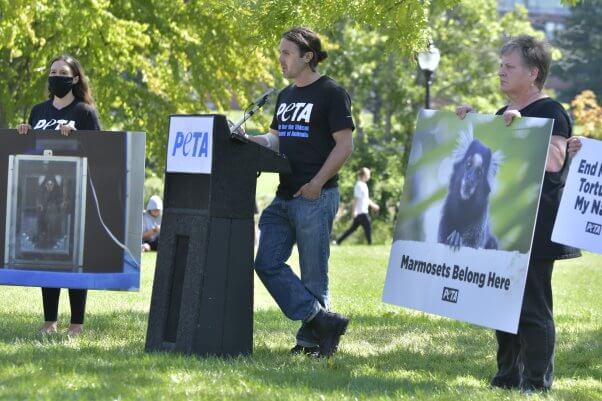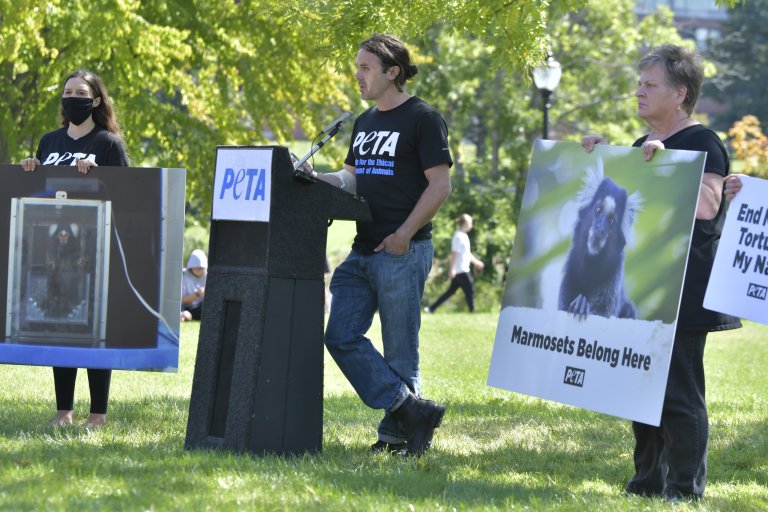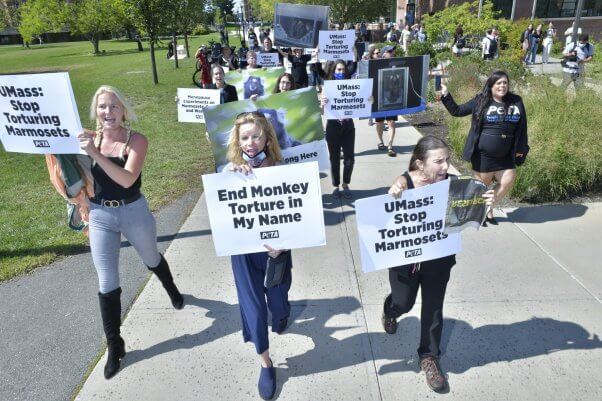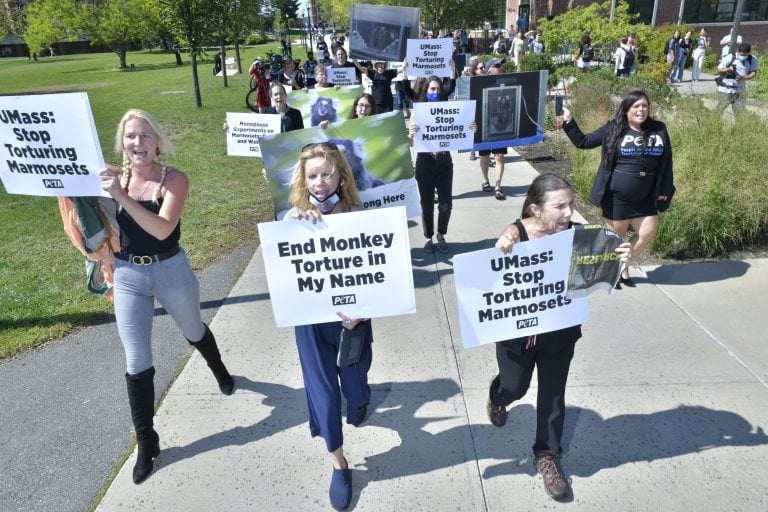 ---
Gruesome Marmoset Tests Earn UMass an F in Scathing Back-to-School Ad
September 10, 2021
As UMass students hit the books, PETA's ad calling out the university for its archaic menopause experiments on vulnerable marmosets hit the pages of the Amherst Bulletin. While UMass struggles to learn the basics—for instance, that faking hot flashes using hand warmers in monkeys who don't experience menopause is patently absurd—other universities have increasingly advanced to using state-of-the-art, non-animal methods.
---
'UMass Murderers!' PETA Mobile Ad Exposes School's Archaic Experiments on Monkeys
August 28, 2021
PETA's attention-grabbing mobile billboard drove through the busy streets of downtown Amherst, Massachusetts, and the neighborhood of UMass Chancellor Kumble R. Subbaswamy, slamming the school for caging, tormenting, and killing vulnerable marmosets in painful and pointless experiments.
---
Baby Mice Drowned, Birds Starved in Devilishly Cruel UMass Laboratories
July 15, 2021
Animals imprisoned in University of Massachusetts–Amherst (UMass) laboratories—aka "hell on Earth"—endure horrors that would make Satan squeal with delight. Day-old baby mice drowned, zebra finches starved, and zebrafish died of overheating because of the negligence and carelessness of UMass employees, as documented in public records obtained by PETA. Read more about the diabolical cruelty in UMass laboratories.
---
PETA Blog: UMass Experimenter's Make-Believe Science Wouldn't Even Pass Muster on the Playground
May 19, 2021
Marmosets don't experience menopause, but UMass experimenter Agnès Lacreuse has hauled in more than $3.8 million in taxpayers' hard-earned money to play pretend. She's devised a trick so preposterous that even the first graders sitting in the sandbox are giving her side eye: She uses hand warmers on the tiny monkeys to mimic hot flashes. Don't miss the whispers in the schoolyard—get the scoop here.
---
Ads Urge UMass to Stop Clinging to Medieval Methods and Embrace 21st Century Research
May 15, 2021
PETA's incisive full-page ads in The Boston Globe and the Daily Hampshire Gazette, which were seen by Massachusetts residents perusing their morning paper the weekend of May 15, pressure UMass to resume negotiations with PETA about swapping its archaic animal experiments for modern methods. University officials had previously met with PETA scientists to discuss reducing suffering in their laboratories but then slammed the door on further dialog.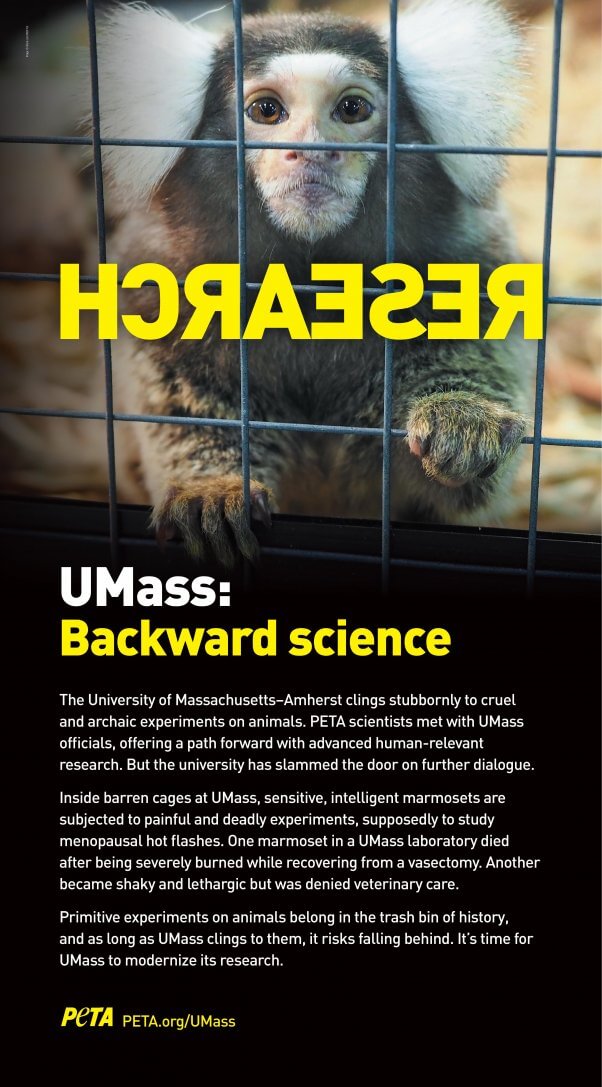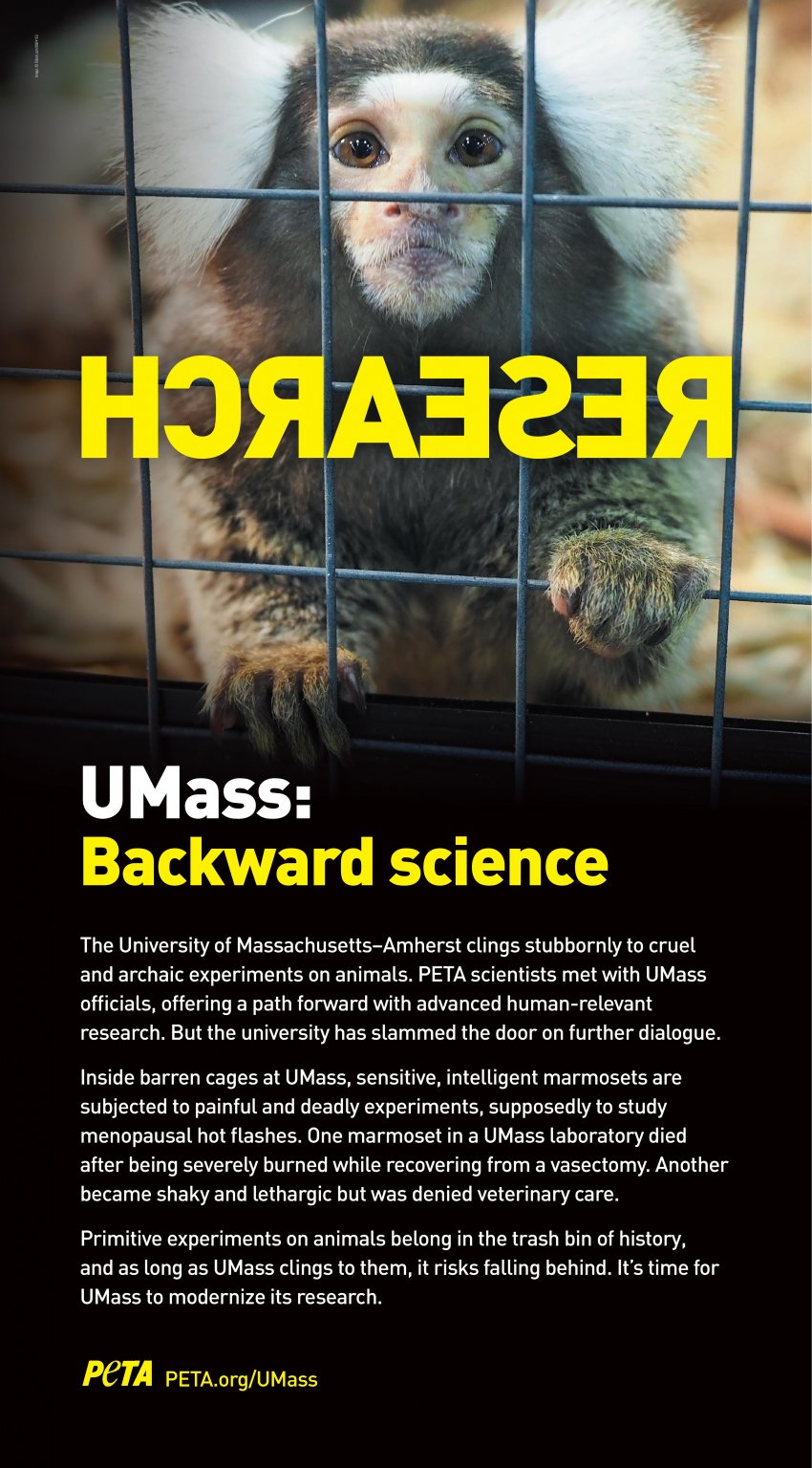 ---
PETA's Exhibit Highlights the Plight of Nonconsenting Animals Exploited in Experiments
May 6, 2021
Spotlighting the stories of animals who have been cut open, poisoned, maimed, and killed in a century of painful and deadly experiments, PETA's "Without Consent" exhibit challenges institutions—including UMass—to rethink this exploitative, expensive, cruel, and archaic idea of science and replace it with state-of-the-art, animal-free research. The traveling exhibit dropped by the Amherst North Town Common, but you don't have to be anywhere near Massachusetts to view it virtually.