At the University of Massachusetts–Amherst (UMass), experimenter Agnès Lacreuse drills holes into the skulls of small marmosets, threads electrode leads through their abdomens, zip-ties them into restraining devices, and overheats them with hand warmers to simulate hot flashes associated with menopause—which they don't even experience naturally. PETA is urging the university to ditch these crude and painful tests—and you can help.
PETA Slaps UMass With Lawsuit for Attempting to Hide Public Records
September 13, 2022
UMass is trying to keep the public in the dark about the grisly marmoset monkey experiments being conducted in experimenter Agnes Lacreuse's laboratory, going as far as refusing to provide public records that PETA requested. PETA filed a lawsuit with Suffolk County Superior Court in Massachusetts to demand transparency of the taxpayer-funded experiments, including videos of monkeys in stressful social separation tests and a video in which hand warmers are forcefully held on the monkeys' abdomens. Read more here.
---
Brand-New UMass Students Shown the Truth About Monkey Tests on Campus
September 6, 2022
PETA made sure all the new students starting fall semester learned about the university's appalling monkey menopause experiments. Video footage from the laboratory was displayed on a mobile billboard, and posters were put up all around campus. We raised awareness at the New Student Convocation event, where we passed out leaflets and our reusable "UMass: End Marmoset Experiments" cups to hundreds of students. Students were disgusted to hear about the experiments being conducted at their new university and were eager to learn more about how they could help end the monkeys' suffering.
---
PETA Activist Confronts UMass Chancellor About Monkey Experiments
September 3, 2022
Immediately following Chancellor Kumble Subbaswamy's free-speech presentation on campus, an activist asked him why he had abruptly shut down talks with PETA scientists about ending the university's gruesome menopause monkey experiments and shifting to a human-relevant, animal-free research program. Subbaswamy had the chance to practice what he preaches, but he refused to discuss the matter. It appears that when experiments rake in over $4 million in taxpayer funds, the chancellor stops caring about free speech. See his reaction here.
SHAME ON @UMassAmherst Chancellor @KSubbaswamy!

After he finished giving a speech about free speech, an activist approached him about his REFUSAL to reopen discussions with PETA about @AL_marmo's horrifying experiments on marmosets—you have to see his reaction. pic.twitter.com/Qc5ZZhmWyt

— PETA (@peta) September 3, 2022
---
New UMass Faculty Educated About Monkey Experiments at Orientation
August 31, 2022
PETA activists disrupted UMass Chancellor Kumble Subbaswamy's presentation during the annual New Faculty Orientation to teach the brand-new university staff about the monkey torture experiments being conducted at their workplace and to demand that the chancellor call for an end to the experiments before he retires at the end of June.
---
PETA Depicts Menopause Monkey Lab: The Dark Side of UMass
August 18, 2022
There's a dark side to UMass, where greed, secrecy, and killing abound. UMass experimenter Agnès Lacreuse was pulled into it, like a real-life Darth Vader. There's no doubt the tiny marmoset monkeys, whom she named after Star Wars characters, viewed her as a villain when she drilled into their skulls, cut them open, and forced hand warmers onto their bodies before killing them. Read the full story of Anakin, a marmoset imprisoned and killed in the UMass lab, here.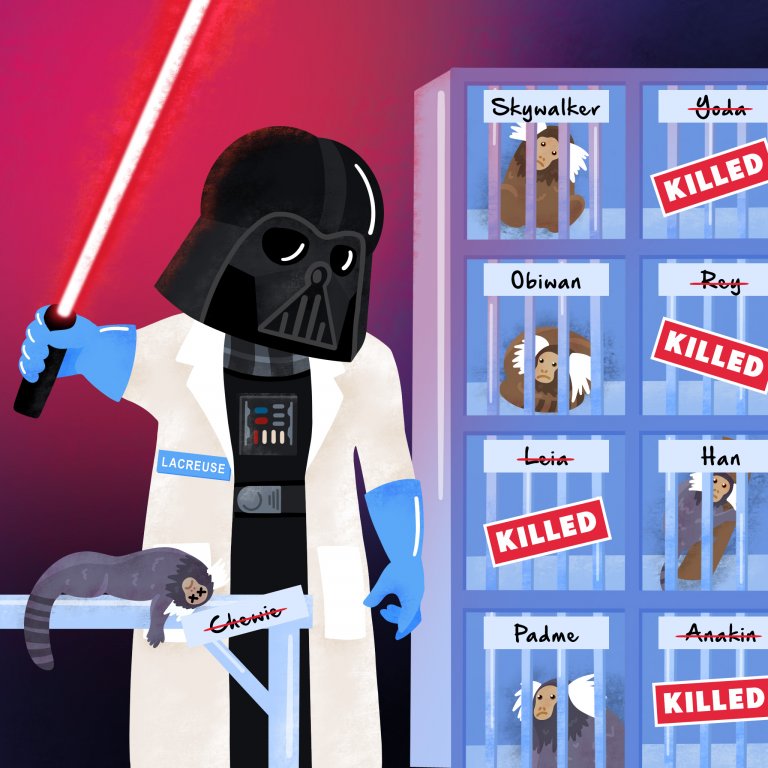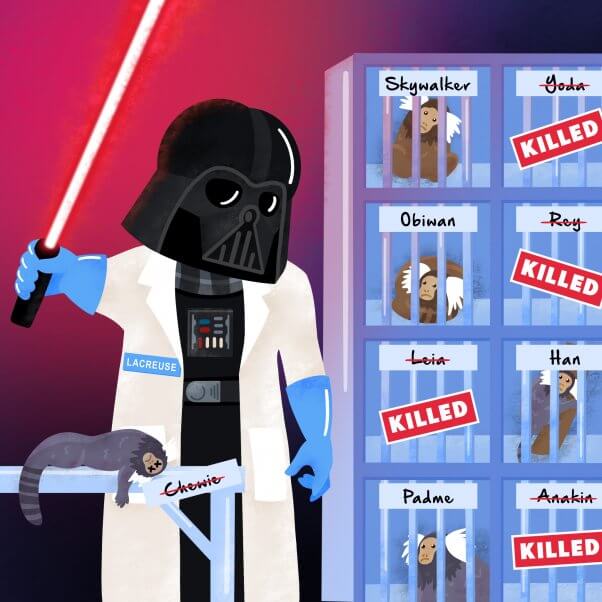 ---
'UMass Chancellor, Retire the Monkey Lab on Your Way Out,' Says PETA
June 30, 2022
Following the announcement that UMass Chancellor Kumble R. Subbaswamy will retire in June 2023, PETA has urged him to retire the school's shameful marmoset monkey laboratory, too, and release the monkeys to reputable sanctuaries. The chancellor should take advantage of his remaining time at the university and seize this opportunity to leave a legacy that confirms his stated commitment to "create a better, more just world."
---
Animal Advocates Storm UMass' New York City Alumni Event
June 21, 2022
PETA supporters, led by protesters with firsthand knowledge of menopause, crashed through the doors of the UMass alumni reception at Chelsea Piers in New York City—moments before Chancellor Kumble Subbaswamy took the mic to address the attendees—demanding an end to the monkey menopause experiments. They held signs reading, "Chancellor Subbaswamy: Ban Cruel Marmoset Tests" and "End Monkey Torture in My Name," while exposing the torment inflicted on monkeys at UMass. Watch the full video here.
---
Local Activists Surprise UMass President During Conference Presentation
June 17, 2022
PETA supporters speaking out against the monkey menopause experiments paid UMass President Marty Meehan another surprise visit—this time at a higher education summit in Boston. During his keynote presentation, "Higher Education and the Quest for a Better Tomorrow," supporters marched right into the meeting room and confronted Meehan through a bullhorn about why he continues to allow cruel monkey experiments at his institution. Until he truly seeks a "better tomorrow" by ending the monkey torture at UMass, he will continue to hear from animal advocates.
---
Monkey Crusaders Line Entrance to 'UMass in the City' Alumni Event
June 8, 2022
PETA supporters greeted attendees at the entrance of the "UMass in the City" alumni event in Washington, D.C., to shine a light on the university's cruel and deadly monkey experiments. While UMass served appetizers and drinks to guests on a rooftop bar, advocates spoke up for the monkeys locked in Lacreuse's laboratory, who are enduring the same fear, isolation, and loneliness that they've experienced their entire lives.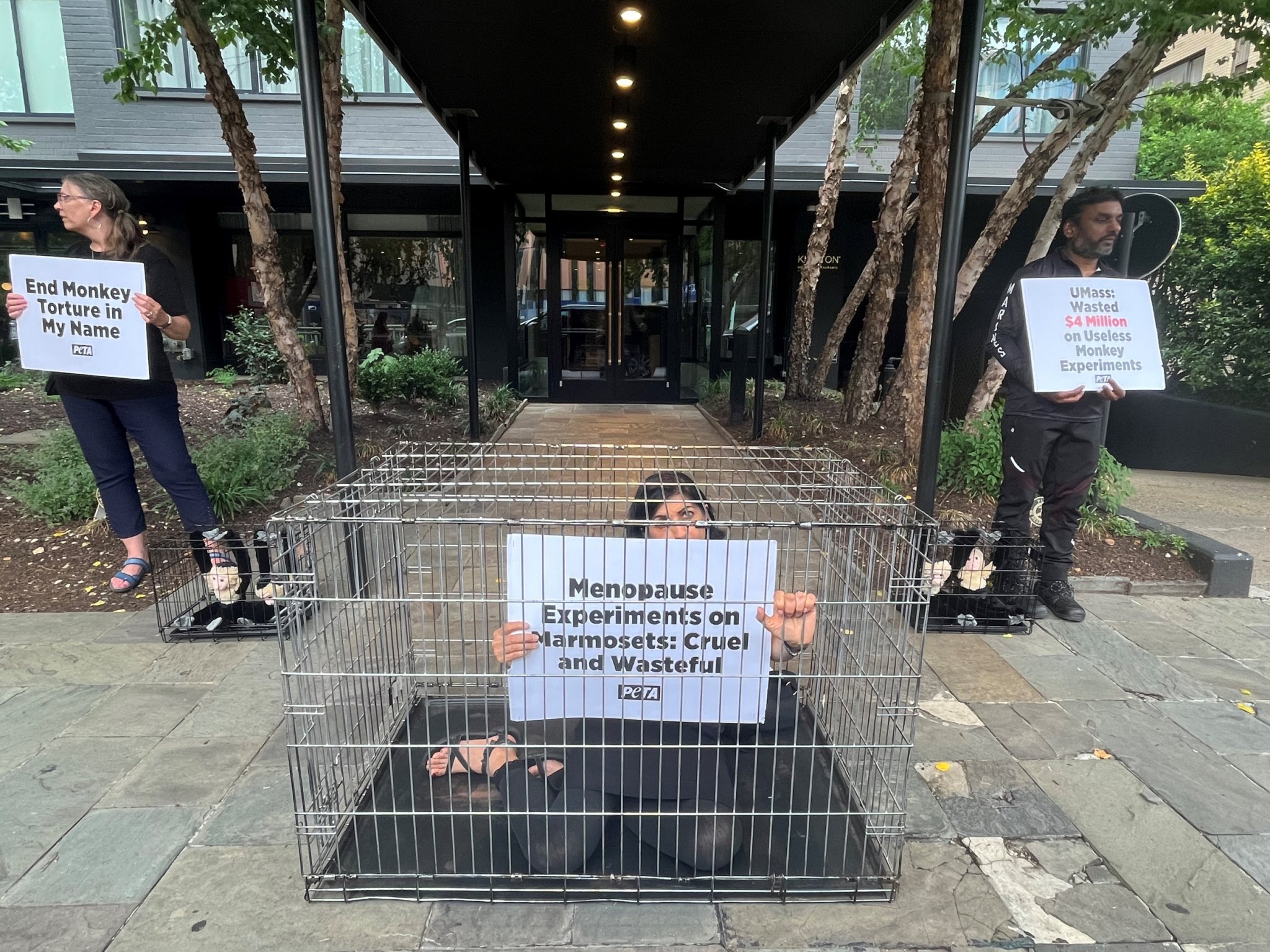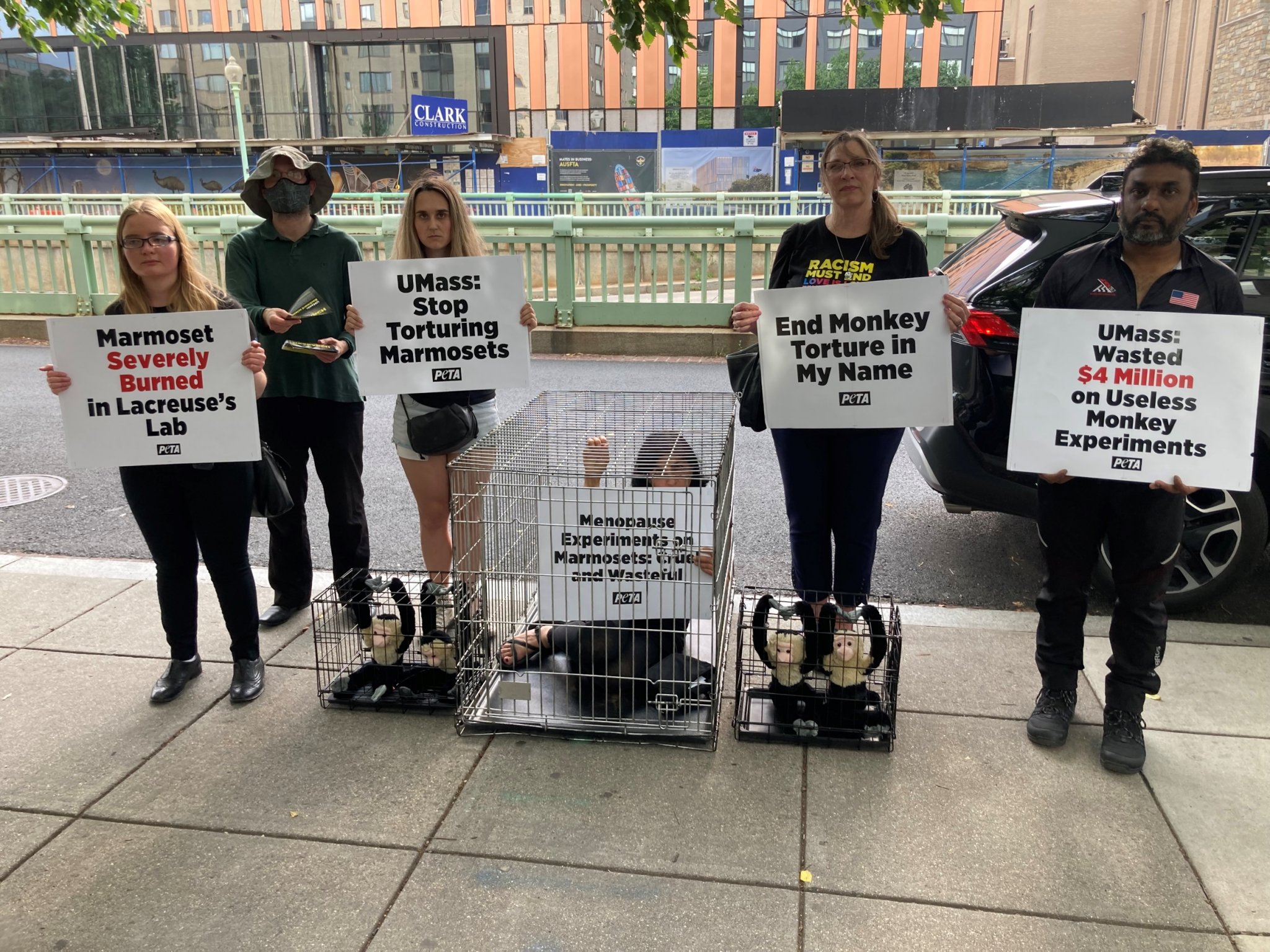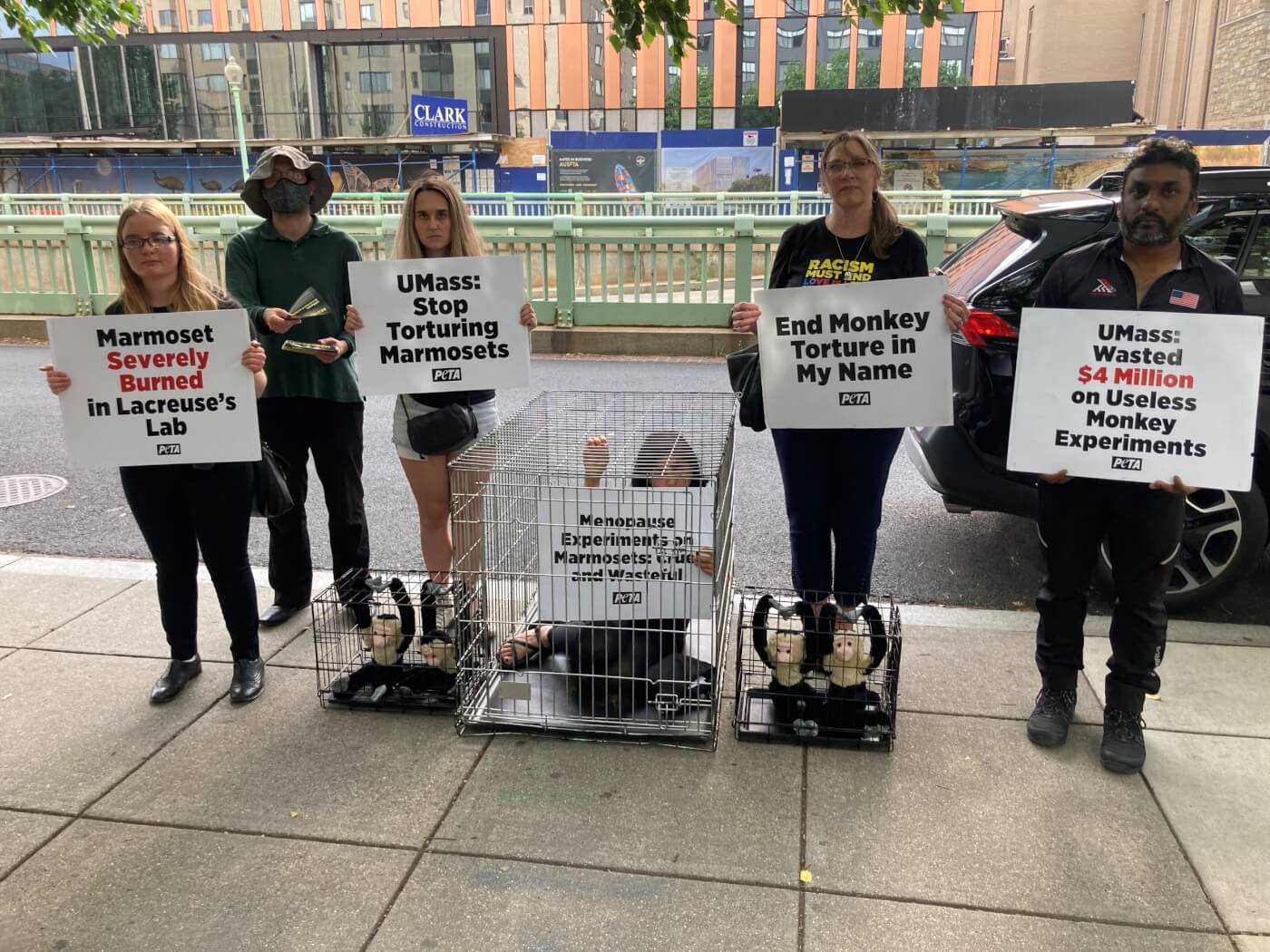 ---
UMass Monkey Escape Hidden From Feds; PETA Files Complaint
May 26, 2022
Records obtained by PETA reveal that a marmoset's escape in the UMass laboratory in 2017 went unreported to federal agencies—and that the mishandling of primates has only intensified since then. PETA filed complaints with the U.S. Department of Agriculture and the National Institutes of Health, urging them to investigate the school's possible violations of animal welfare regulations and guidelines as well as its failure to comply with reporting requirements. Read more about UMass' incompetency here.
---
Caged PETA 'Monkeys' Rattle UMass' Graduation Ceremony
May 13, 2022
In solidarity with the marmoset monkeys who are locked inside Lacreuse's laboratory, two PETA supporters caged themselves alongside 21 caged stuffed monkeys right outside UMass' graduation ceremony. Commencement attendees couldn't miss our striking visual and expressed utter disgust with the grisly menopause experiments.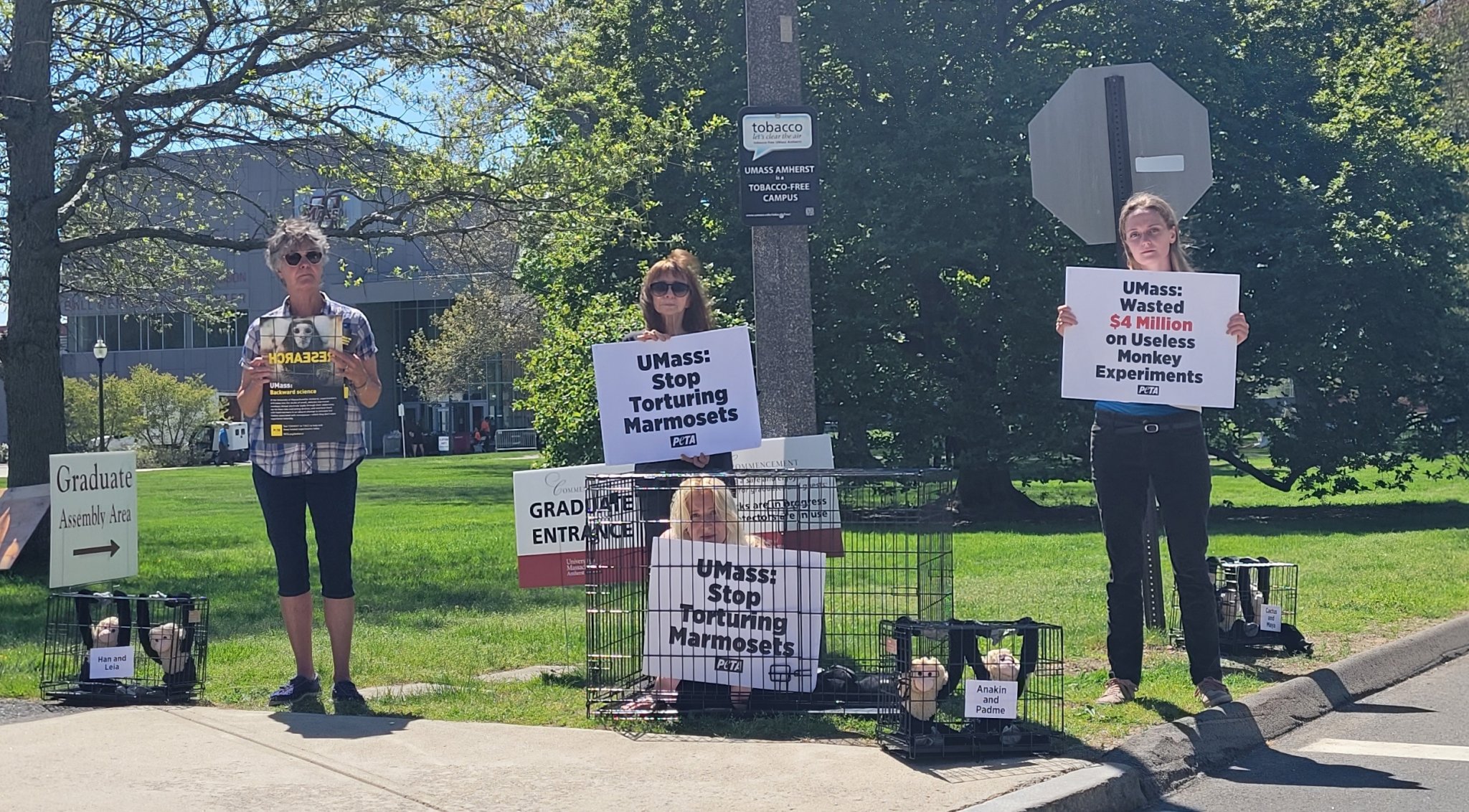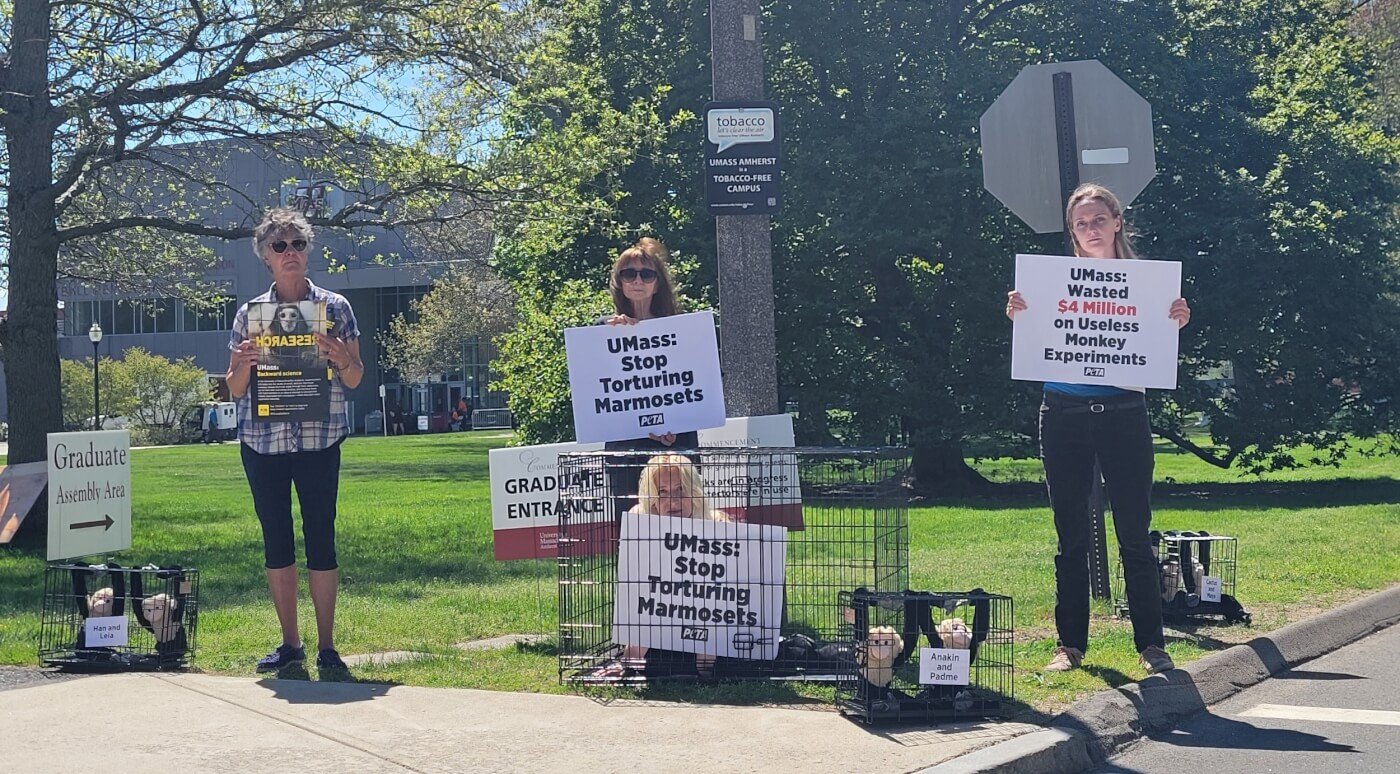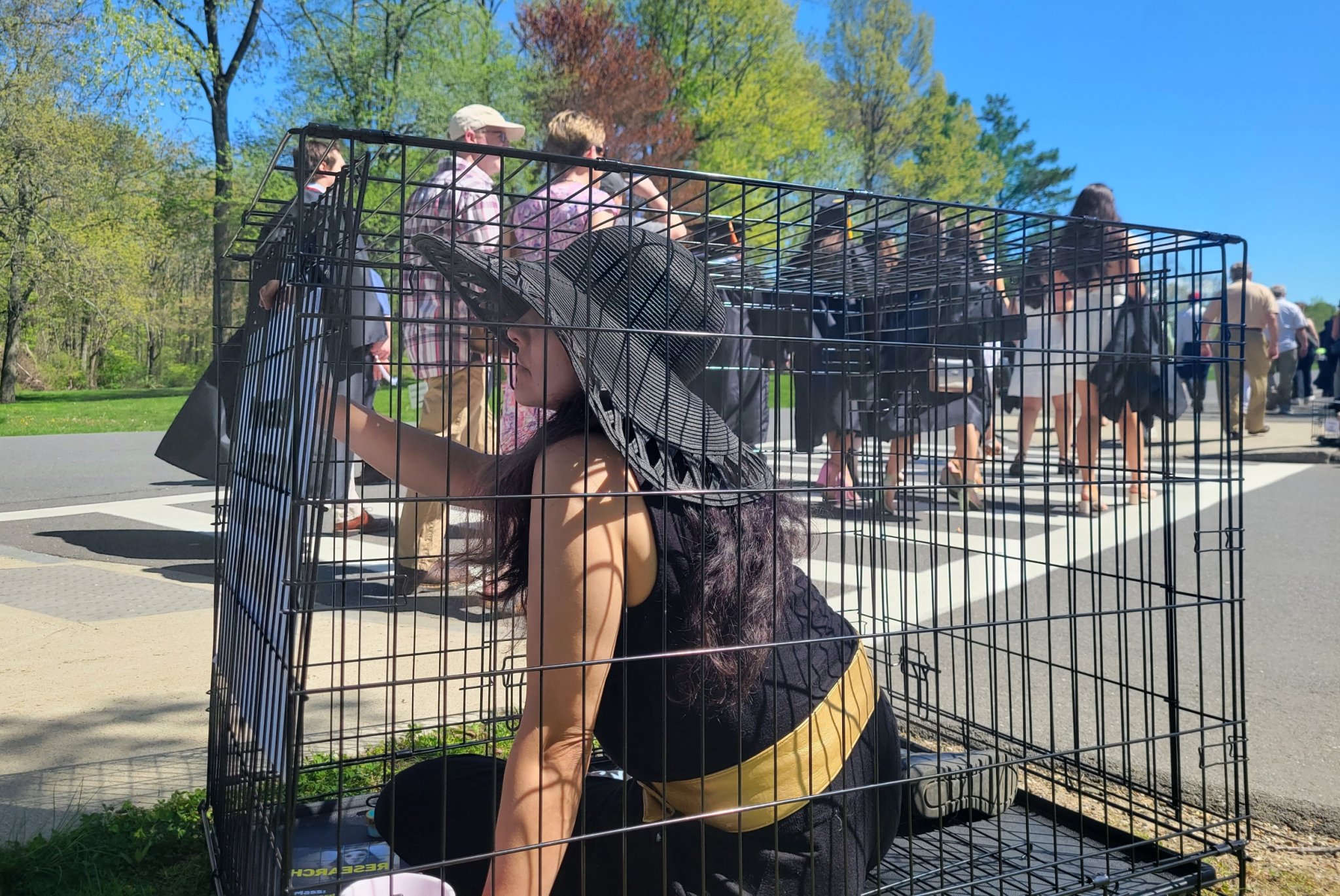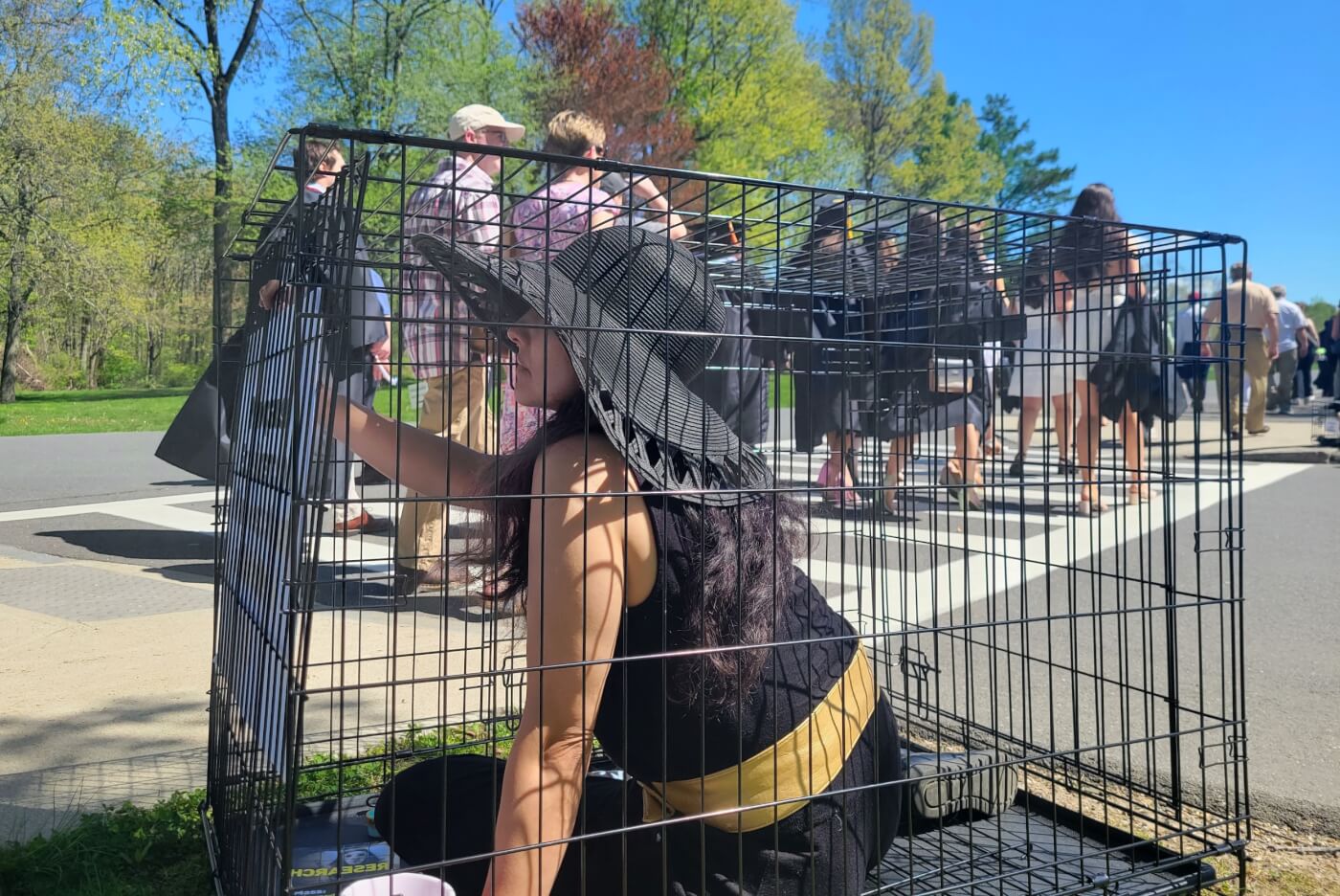 ---
'Monkeys' Invade UMass 'University Without Walls' 50th Celebration
April 14, 2022
PETA supporters wearing monkey masks welcomed alumni, students, community leaders, and Massachusetts legislators Sen. Ed Markey, Rep. Jim McGovern, and Rep. Kate Hogan to the University Without Walls (UWW) celebration on the UMass campus. The "monkeys" exposed the shameful menopause experiments at the school and highlighted that although the nontraditional online UWW program is progressive, UMass' experiments on monkeys are still in the Dark Ages.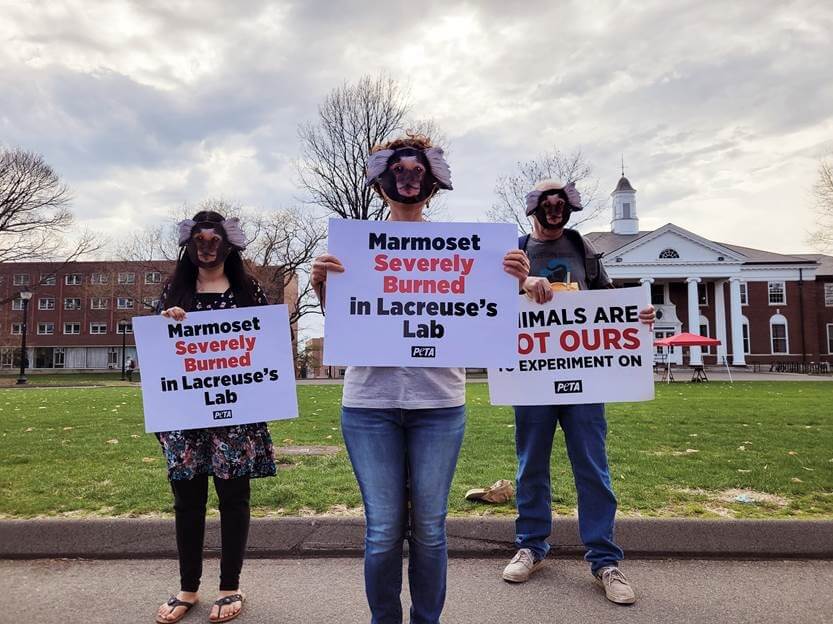 ---
Sustained Pressure to Shut Down the Monkey Lab Continues on UMass Campus
April 5, 2022
Local groups UMass Students for Animal Liberation and Western Massachusetts Animal Rights Advocates continue to expose Agnès Lacreuse's torturous monkey menopause experiments by holding protests and distributing leaflets on campus. Students, faculty, and visitors have been shocked to learn about the suffering marmosets at UMass. Take action to end the experiments here.


---
PETA Supporters Disrupt Alumni Event Over UMass' Monkey Menopause Tests
March 7, 2022
UMass President Marty Meehan was noticeably startled when concerned animal advocates confronted him during his speech at a Florida alumni reception to demand an end to the cruel marmoset monkey experiments. PETA supporters told the attendees about the current torture tests at their alma mater while urging the president to shut down the lab. Watch the full disruption here.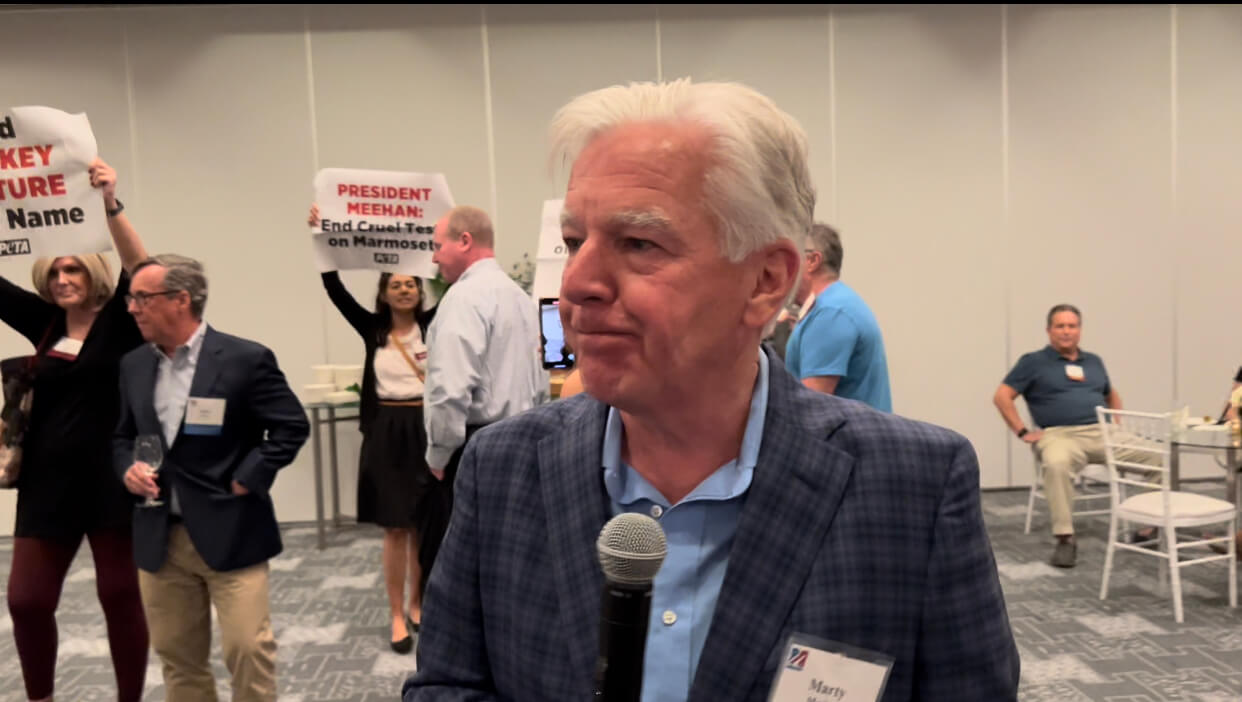 ---
Women Send Powerful Message to UMass: 'Talk to Me. Stop Hurting Marmosets!'
March 1, 2022
UMass experimenter Agnès Lacreuse inflicts symptoms of menopause on defenseless marmoset monkeys—who don't naturally experience this human condition—by removing their ovaries, giving them hormone-manipulating drugs, and using hand warmers to mimic hot flashes. Women everywhere are demanding an end to these ridiculous experiments by saying, "Talk to me. Stop hurting marmosets!" Watch the powerful video here.
---
Dear UMass, Show Some Love for Monkeys by Shutting Down the Lab
February 14, 2022
PETA celebrated Valentine's Day by sending cards to UMass Chancellor Kumble R. Subbaswamy, President Marty Meehan, and other university officials, encouraging them to show marmoset monkeys some love by ending Agnès Lacreuse's heartless menopause experiments.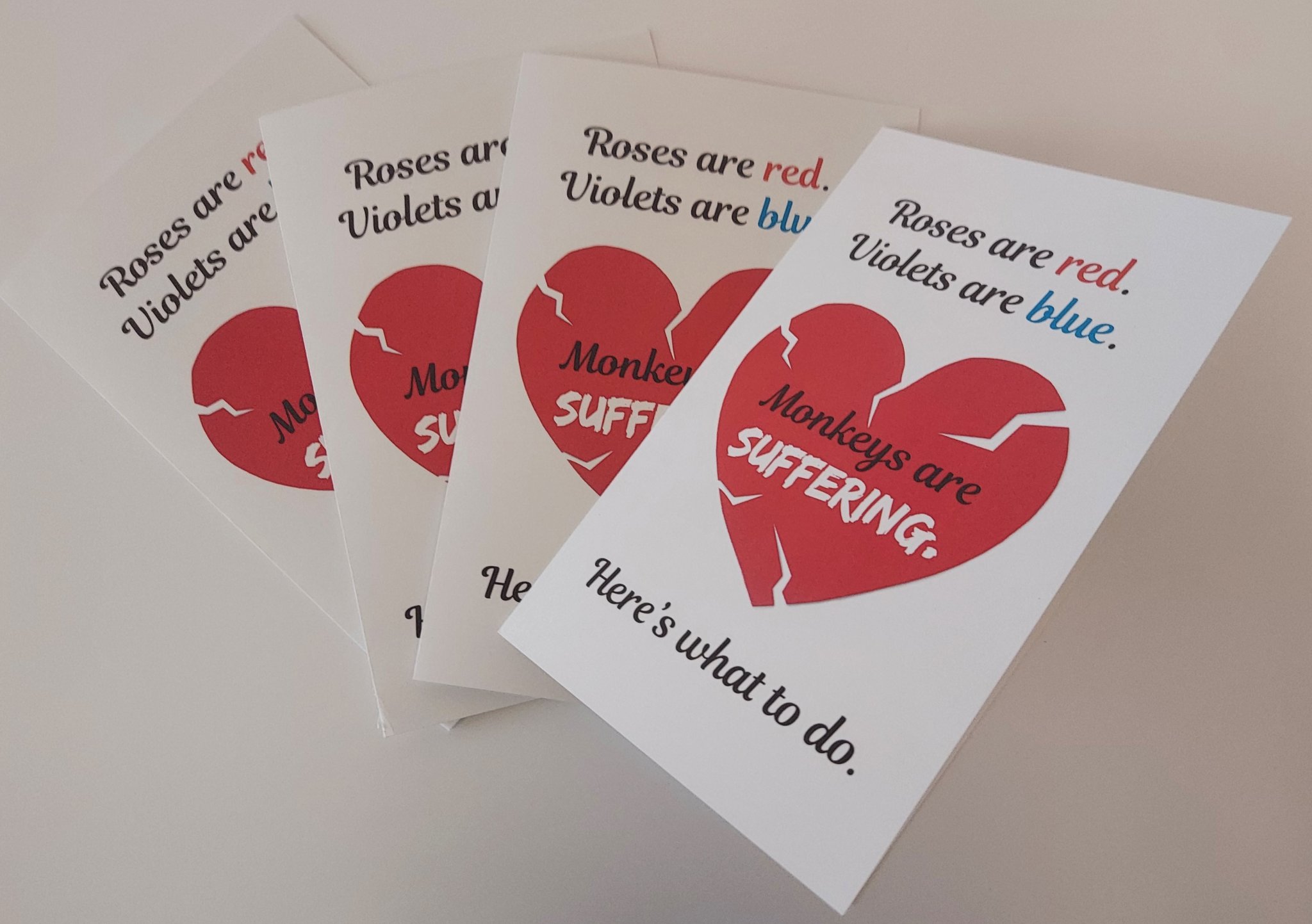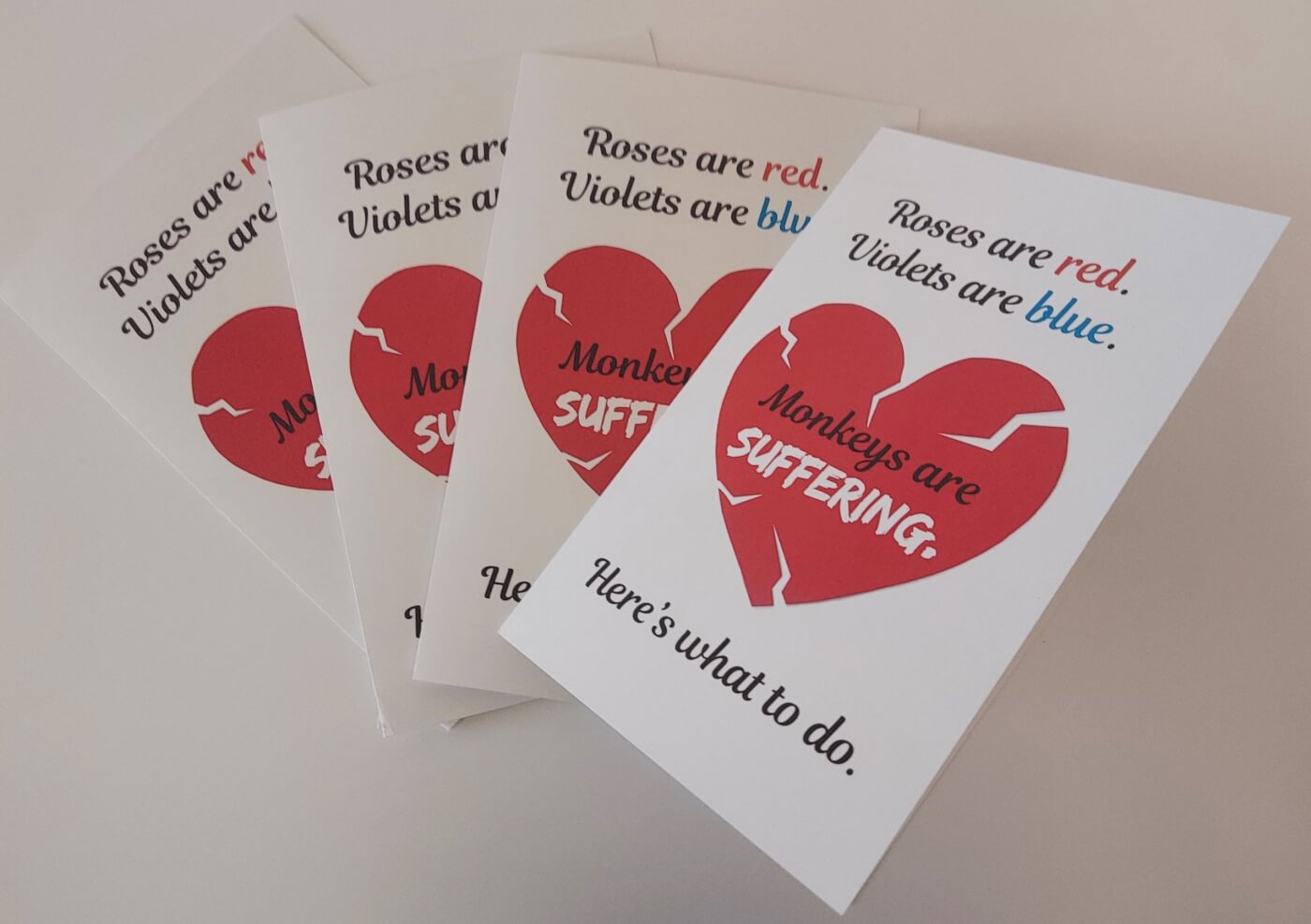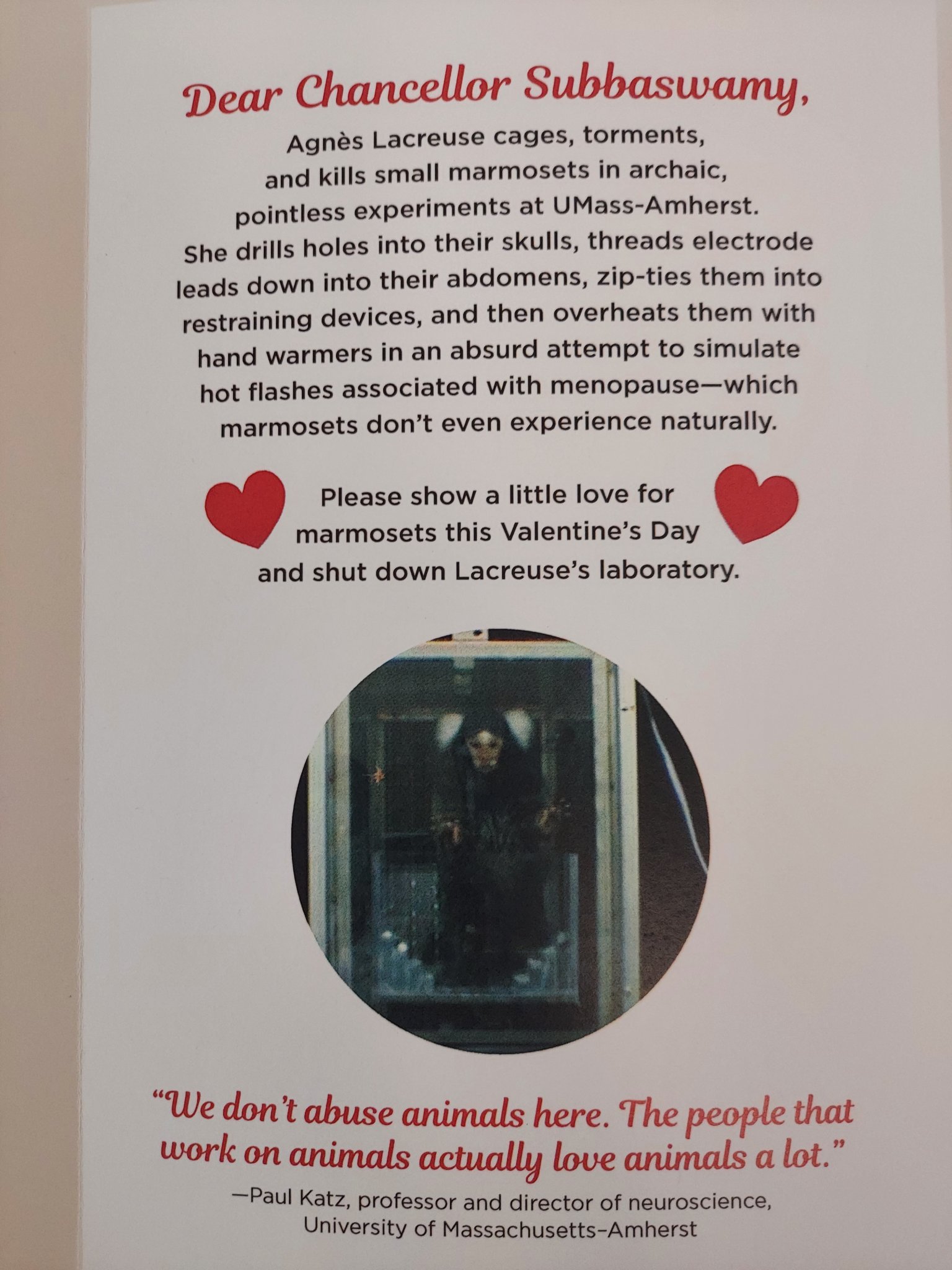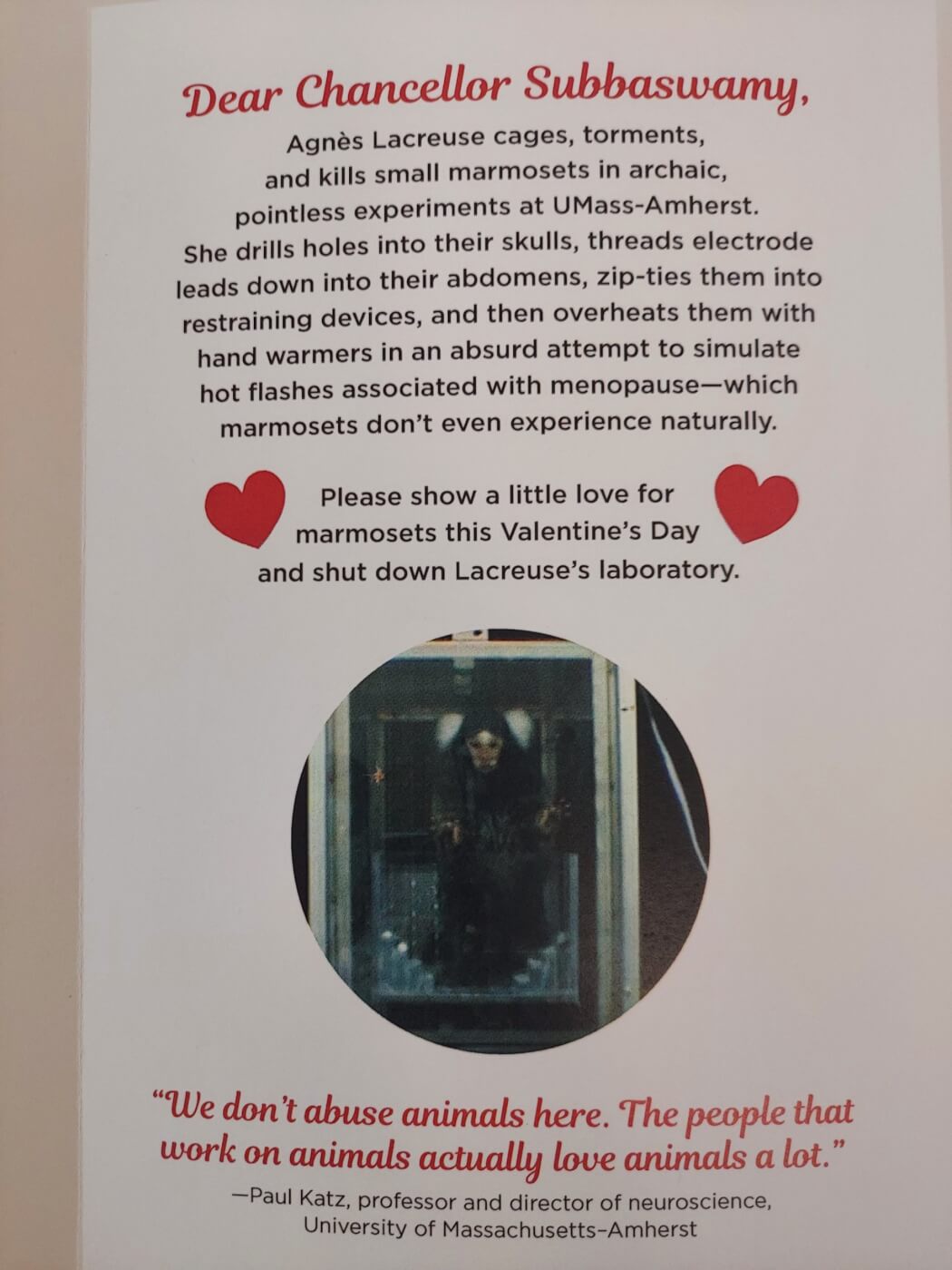 ---
UMass Students and Local Group Speak Out Against the Experiments on Monkeys
February 9, 2022
Students with UMass Students for Animal Liberation, members of Western Massachusetts Animal Rights Advocates, and PETA supporters mobilized at the Student Union to demand an end to useless and archaic experiments on marmoset monkeys. Protesters held eye-catching signs and passed out leaflets to students who were horrified to learn about the cruelty being inflicted on animals on their campus.
---
Great News! UMass Apparently Nixes Request for Monkey Sleep-Deprivation Experiments
February 8, 2022
Could UMass finally have had enough sense to say NO to one of experimenter Agnès Lacreuse's heinous experiments? Let's hope so. Records obtained by PETA show that Lacreuse's new torture test—in which she planned to blast monkeys with sounds as loud as a lawn mower for six minutes every 15 minutes throughout the night—will not be taking place at the university. Urge UMass officials to shut down the marmoset monkey lab here.
---
Shocking Marmoset Monkey Lab Video Footage Blasted on UMass Campus
January 27, 2022
Experimenter Agnès Lacreuse and UMass students were welcomed back to campus for the spring semester with a mobile billboard revealing video footage of Lacreuse's cruel, pointless, and deadly experiments on tiny marmoset monkeys.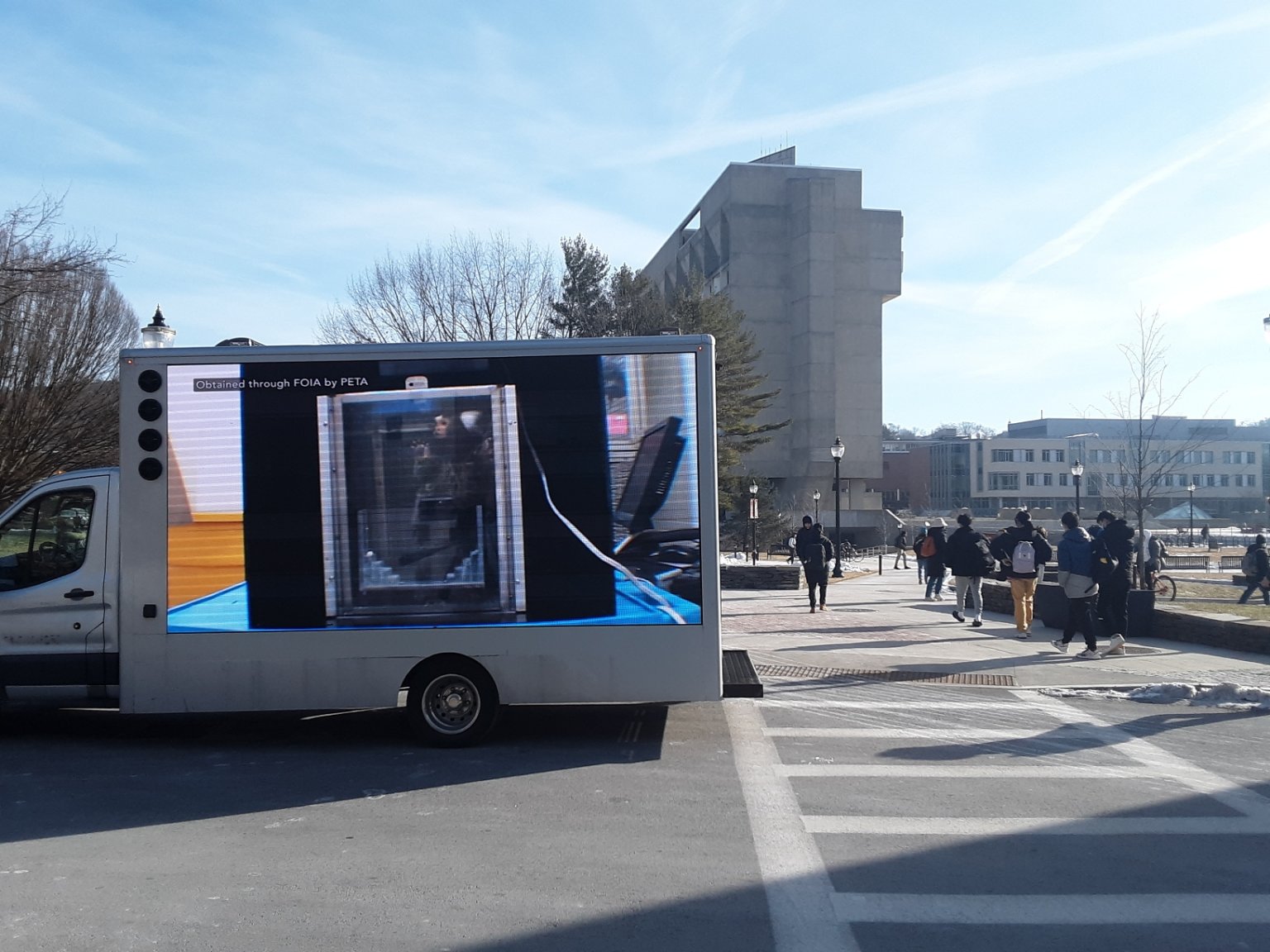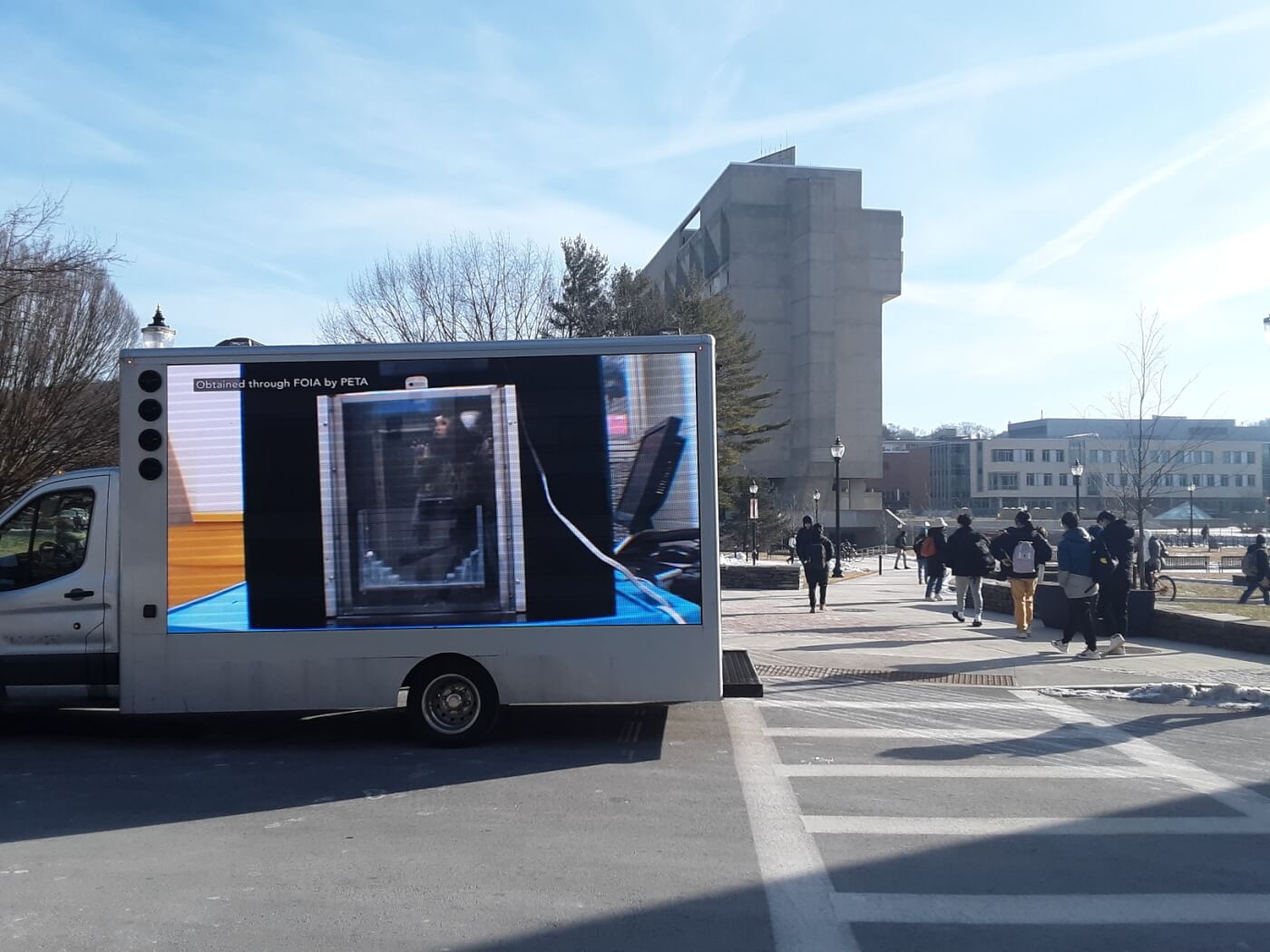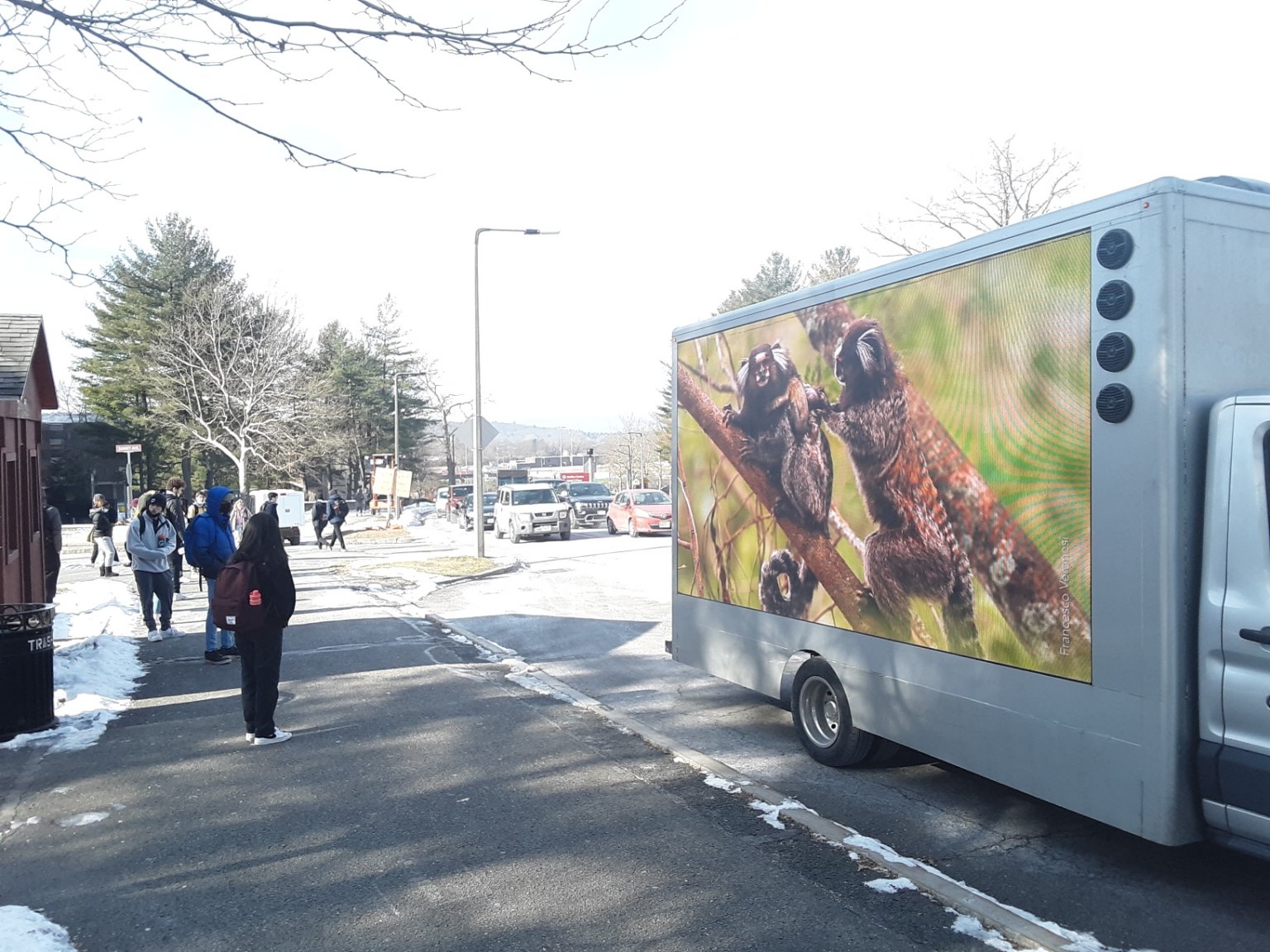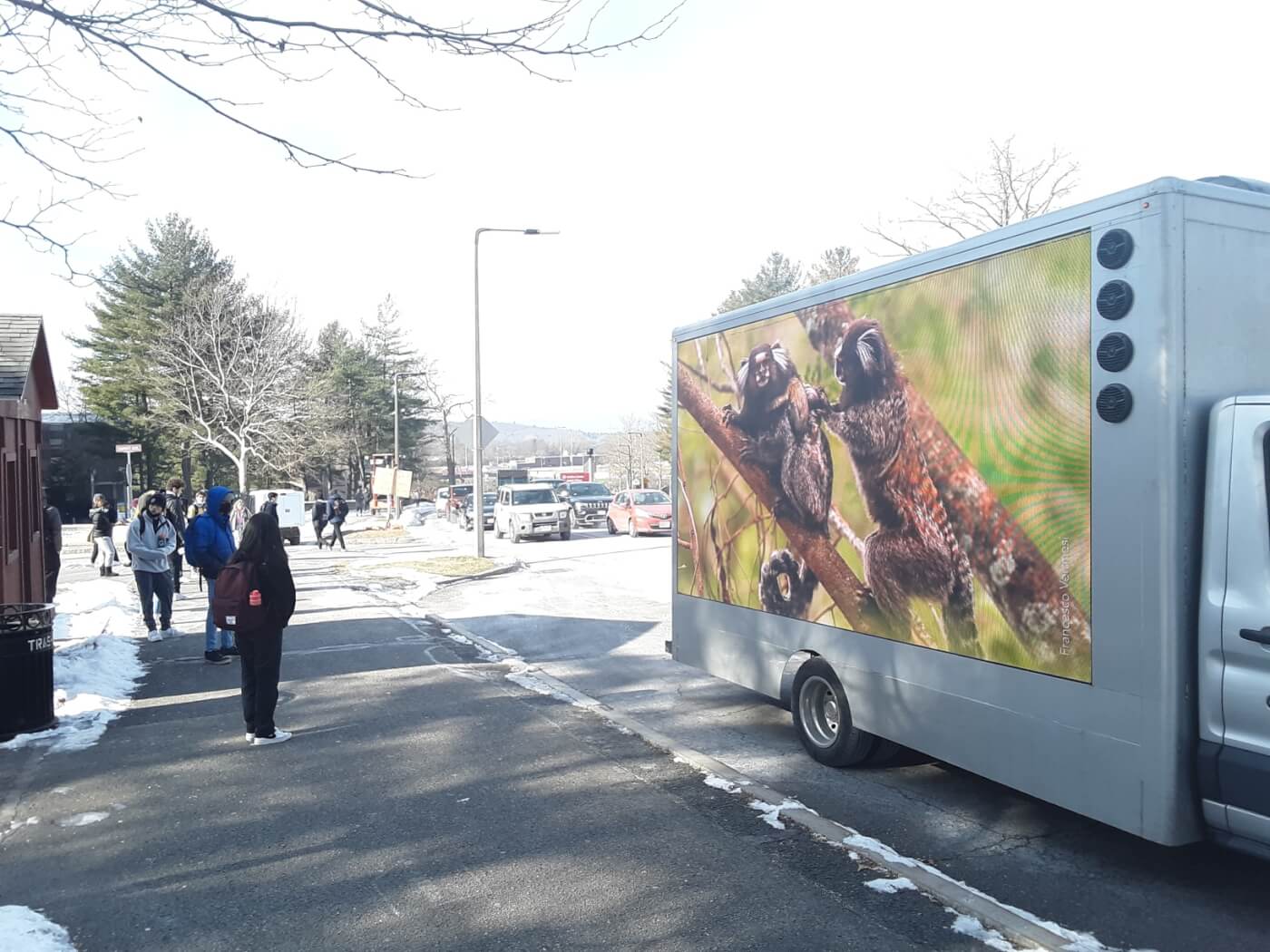 ---
Ringing in the New Year With Chancellor Subbaswamy
January 10, 2022
The phones in the Office of the Chancellor at UMass were ringing off the hook this week from PETA supporters calling on Chancellor Kumble R. Subbaswamy to end the torment of marmoset monkeys in Agnès Lacreuse's laboratory. We filled up his voicemail multiple times with messages urging him to end the torturous experiments and allow the monkeys to live the rest of their lives free from unnecessary pain. Use your voice today to call for an end to these archaic experiments.
---
Attempt by UMass to Stop PETA Protest During Homecoming Fails
November 5, 2021
UMass representatives informed PETA that our supporters would not be allowed to protest peacefully on the school's public campus during this weekend's homecoming events. But their attempt to silence us failed. A group of 20 supporters of PETA and Western Mass. Animal Rights Advocates gathered at a busy intersection and exposed the torment that monkeys endure in Lacreuse's laboratory.
---
Ad: Multiple Federal Violations Detail UMass' Definition of 'Love'
October 4, 2021
After Paul Katz, UMass professor and director of neuroscience, claimed that university experimenters "actually love animals a lot," we ran a full-page ad in The Boston Globe revealing gross negligence in UMass' treatment of monkeys. Public records obtained by PETA document federal animal welfare violations in the university's laboratories, resulting in injuries and death for vulnerable marmosets and other animals—a perverse display of "love."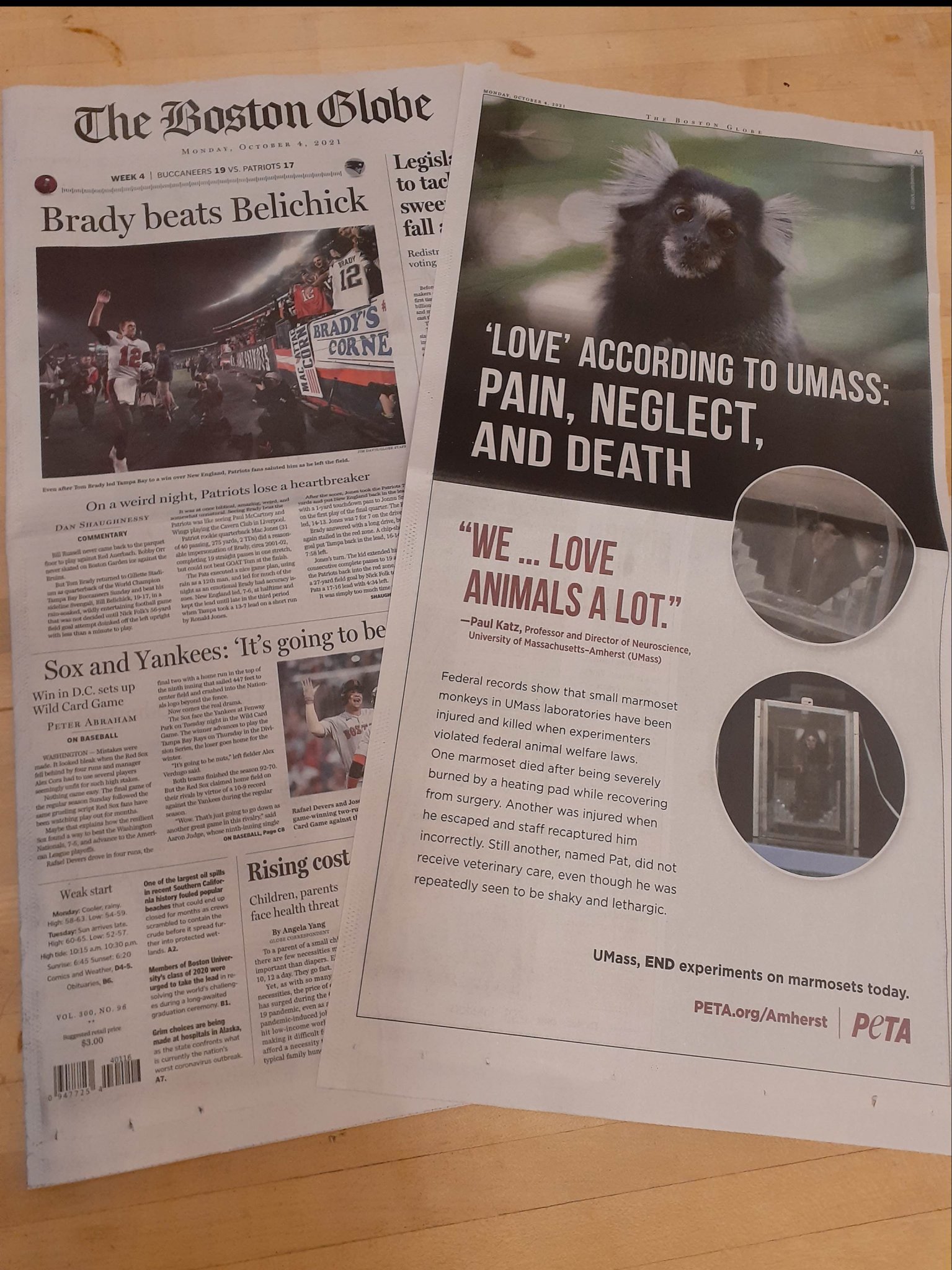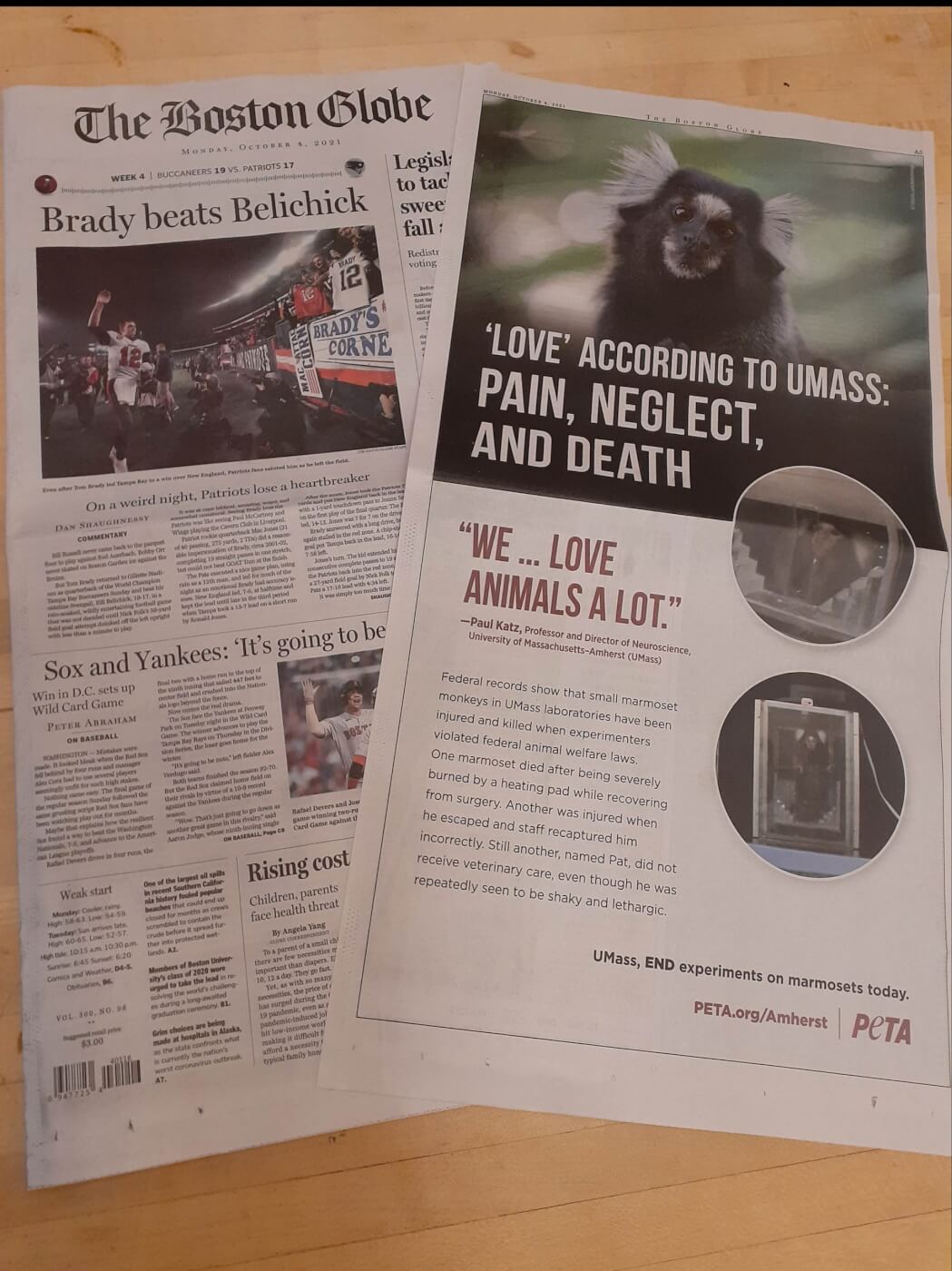 ---
Casey Affleck and PETA Hold News Conference on UMass Campus to Demand End to Painful Marmoset Experiments
September 13, 2021
The World to Come star Casey Affleck and his mother, Chris Anne Boldt, joined PETA at UMass' Student Union for a news conference to demand an end to the school's deadly menopause experiments on marmosets. Immediately afterward, activists marched to the laboratory where the monkeys are being held captive, tormented, and killed. Read more.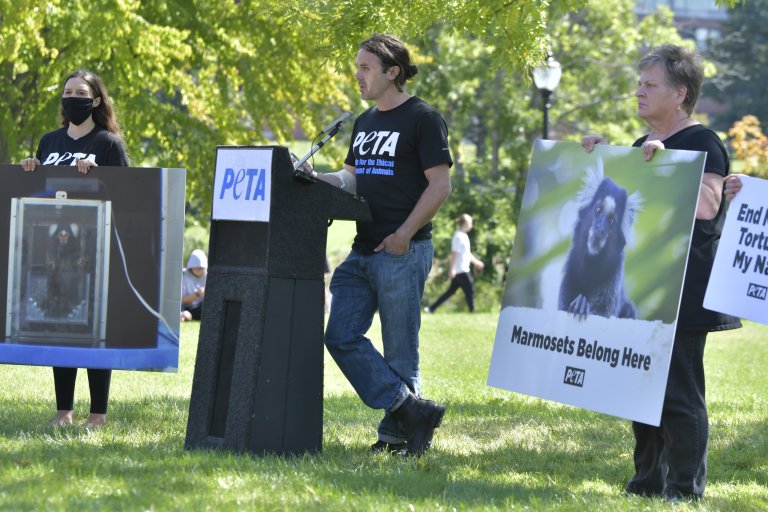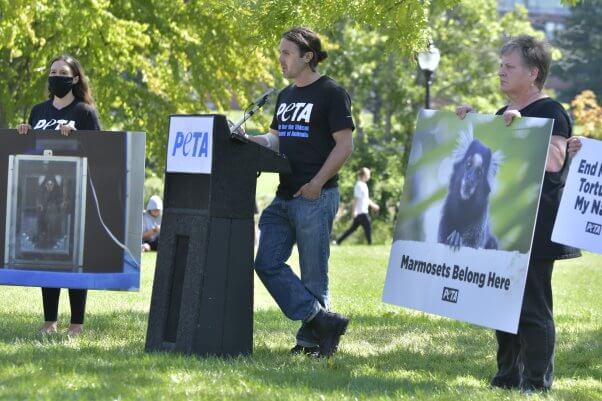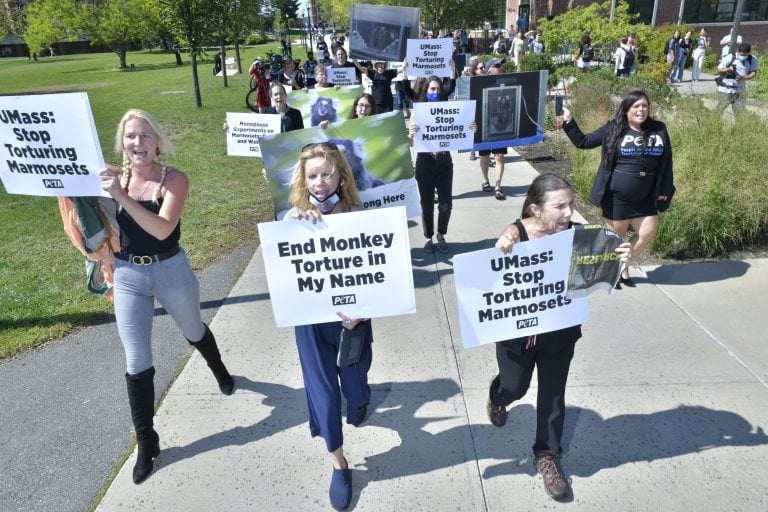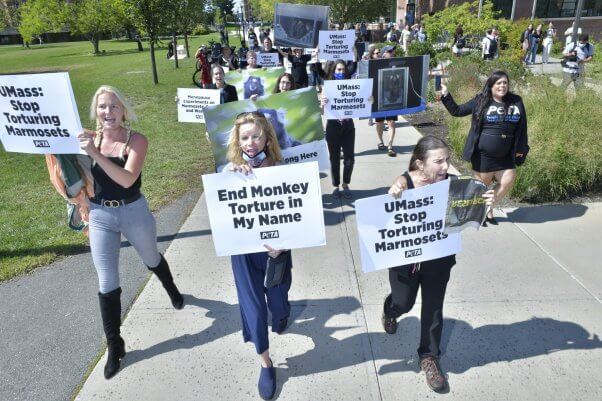 ---
Gruesome Marmoset Tests Earn UMass an F in Scathing Back-to-School Ad
September 10, 2021
As UMass students hit the books, PETA's ad calling out the university for its archaic menopause experiments on vulnerable marmosets hit the pages of the Amherst Bulletin. While UMass struggles to learn the basics—for instance, that faking hot flashes using hand warmers in monkeys who don't experience menopause is patently absurd—other universities have increasingly advanced to using state-of-the-art, non-animal methods.
---
'UMass Murderers!' PETA Mobile Ad Exposes School's Archaic Experiments on Monkeys
August 28, 2021
PETA's attention-grabbing mobile billboard drove through the busy streets of downtown Amherst, Massachusetts, and the neighborhood of UMass Chancellor Kumble R. Subbaswamy, slamming the school for caging, tormenting, and killing vulnerable marmosets in painful and pointless experiments.
---
Baby Mice Drowned, Birds Starved in Devilishly Cruel UMass Laboratories
July 15, 2021
Animals imprisoned in University of Massachusetts–Amherst (UMass) laboratories—aka "hell on Earth"—endure horrors that would make Satan squeal with delight. Day-old baby mice drowned, zebra finches starved, and zebrafish died of overheating because of the negligence and carelessness of UMass employees, as documented in public records obtained by PETA. Read more about the diabolical cruelty in UMass laboratories.
---
PETA Blog: UMass Experimenter's Make-Believe Science Wouldn't Even Pass Muster on the Playground
May 19, 2021
Marmosets don't experience menopause, but UMass experimenter Agnès Lacreuse has hauled in more than $3.8 million in taxpayers' hard-earned money to play pretend. She's devised a trick so preposterous that even the first graders sitting in the sandbox are giving her side eye: She uses hand warmers on the tiny monkeys to mimic hot flashes. Don't miss the whispers in the schoolyard—get the scoop here.
---
Ads Urge UMass to Stop Clinging to Medieval Methods and Embrace 21st Century Research
May 15, 2021
PETA's incisive full-page ads in The Boston Globe and the Daily Hampshire Gazette, which were seen by Massachusetts residents perusing their morning paper the weekend of May 15, pressure UMass to resume negotiations with PETA about swapping its archaic animal experiments for modern methods. University officials had previously met with PETA scientists to discuss reducing suffering in their laboratories but then slammed the door on further dialog.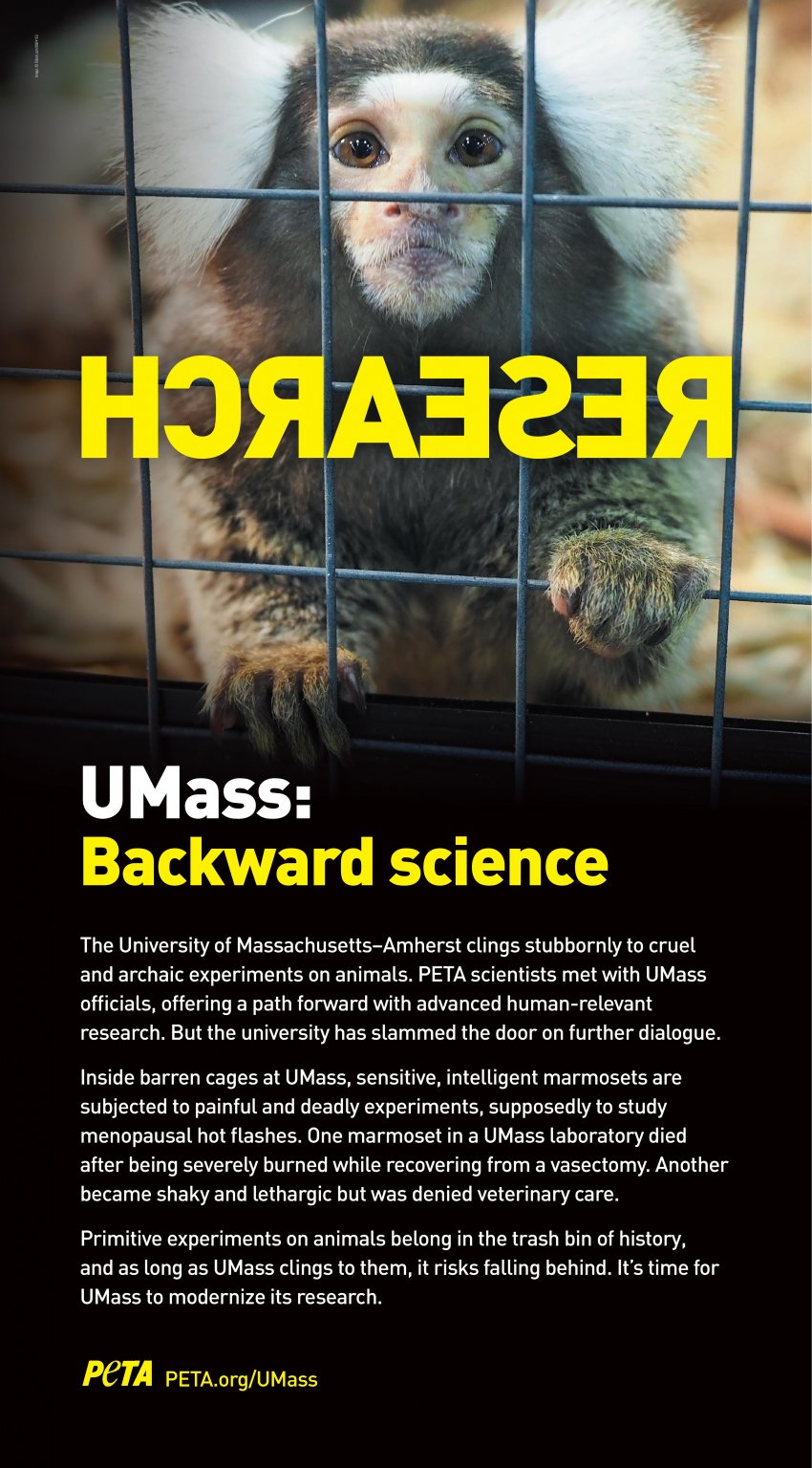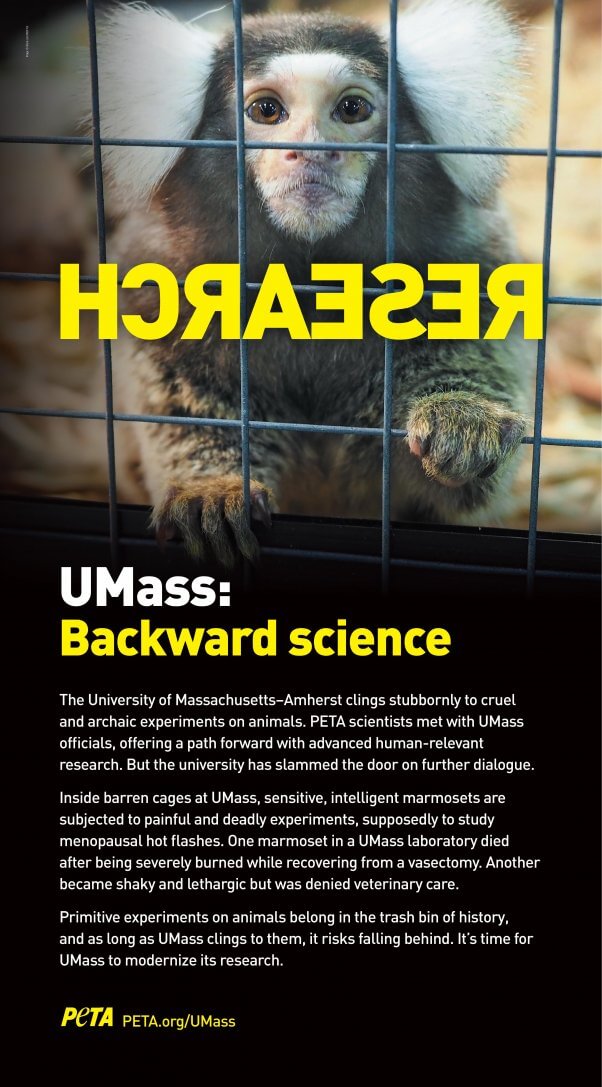 ---
PETA's Exhibit Highlights the Plight of Nonconsenting Animals Exploited in Experiments
May 6, 2021
Spotlighting the stories of animals who have been cut open, poisoned, maimed, and killed in a century of painful and deadly experiments, PETA's "Without Consent" exhibit challenges institutions—including UMass—to rethink this exploitative, expensive, cruel, and archaic idea of science and replace it with state-of-the-art, animal-free research. The traveling exhibit dropped by the Amherst North Town Common, but you don't have to be anywhere near Massachusetts to view it virtually.