Notorious University of Massachusetts–Amherst (UMass) experimenter Agnès Lacreuse may have lied on a recent application for taxpayer money to fund yet another deadly experiment on monkeys, and PETA is calling on two federal agencies to investigate.
PETA is urging The Office of Research Integrity and the National Institute on Aging to investigate whether Lacreuse—known for strapping hand warmers to marmosets to mimic hot flashes in preposterous menopause experiments—lied on a grant application to the National Institutes of Health (NIH) for a "sleep fragmentation" experiment.
Marmosets in the experiment would be blasted with sounds as loud as a lawn mower for six minutes at a time every 15 minutes throughout the night in the study that purports to research Alzheimer's disease.
Lacreuse's application appears to be riddled with falsehoods, and the experiment appears to be a retread of at least eight other non-animal studies.
To justify tormenting the marmosets, Lacreuse's application says that the experiment is impossible using non-animal methods and that no human data are available on the role that sleep fragmentation plays in Alzheimer's disease. But at least eight NIH-funded studies on human volunteers have investigated this same connection, suggesting that Lacreuse may have deliberately overstated the import and novelty of the study to secure taxpayer money.
Lacreuse also secured the taxpayer funds by assuring NIH she would conduct the experiments at UMass. But at the last minute, she claimed she didn't actually have enough marmosets there and switched the location of the experiments to the University of Wisconsin–Madison's Wisconsin National Primate Research Center (WNPRC), a site that lacks the necessary equipment.
A Hot Mess at UMass
In addition to carrying out Lacreuse's absurd experiments on marmosets, who don't experience menopause naturally, staff in UMass laboratories have repeatedly failed to meet minimal animal welfare and care standards. Monkeys have repeatedly escaped and others were physically harmed because of staff negligence. The school also hid one of the violations from federal agencies.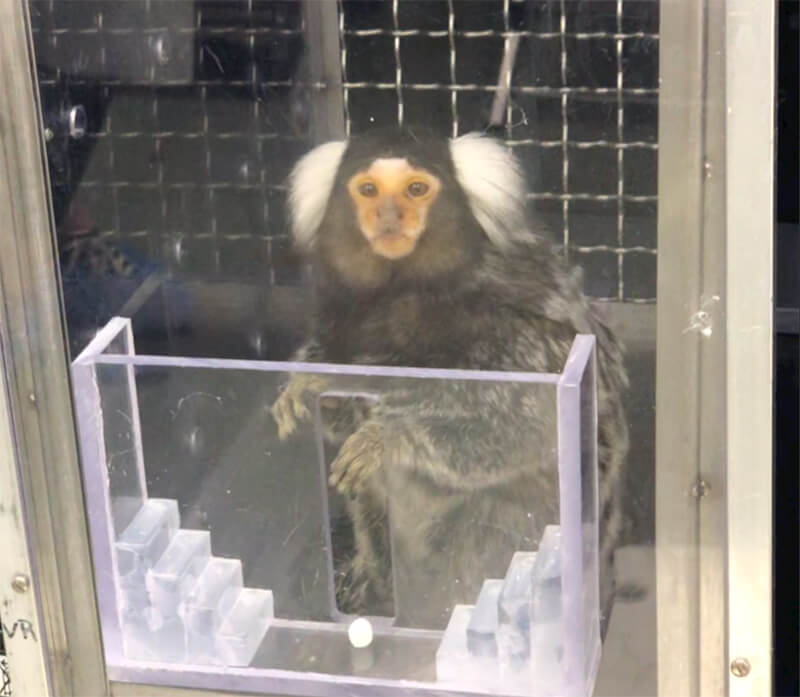 Obtained by PETA through public records law
The WNPRC Is No Better
The location Lacreuse moved her new experiment to is a hellhole for monkeys—federal documents show that a worker broke the femur of a marmoset through improper handling and that the small monkey's leg had to be amputated. Another monkey lost part of his tongue and fingers after two monkeys freed themselves from their cages and fought.
What You Can Do
Please take a minute TODAY and TAKE ACTION to urge UMass to stop Lacreuse's preposterous experiments on marmosets.