It's hard to imagine that what we know about the sordid trade in monkeys destined for laboratories could be any worse, but the animal experimentation industry never fails to shock.
PETA has obtained and analyzed documents revealing that in the midst of a global pandemic, nearly 2,000 lab-bound monkeys crisscrossed U.S. highways in apparent violation of federal laws designed to protect animals and the public from dangerous diseases.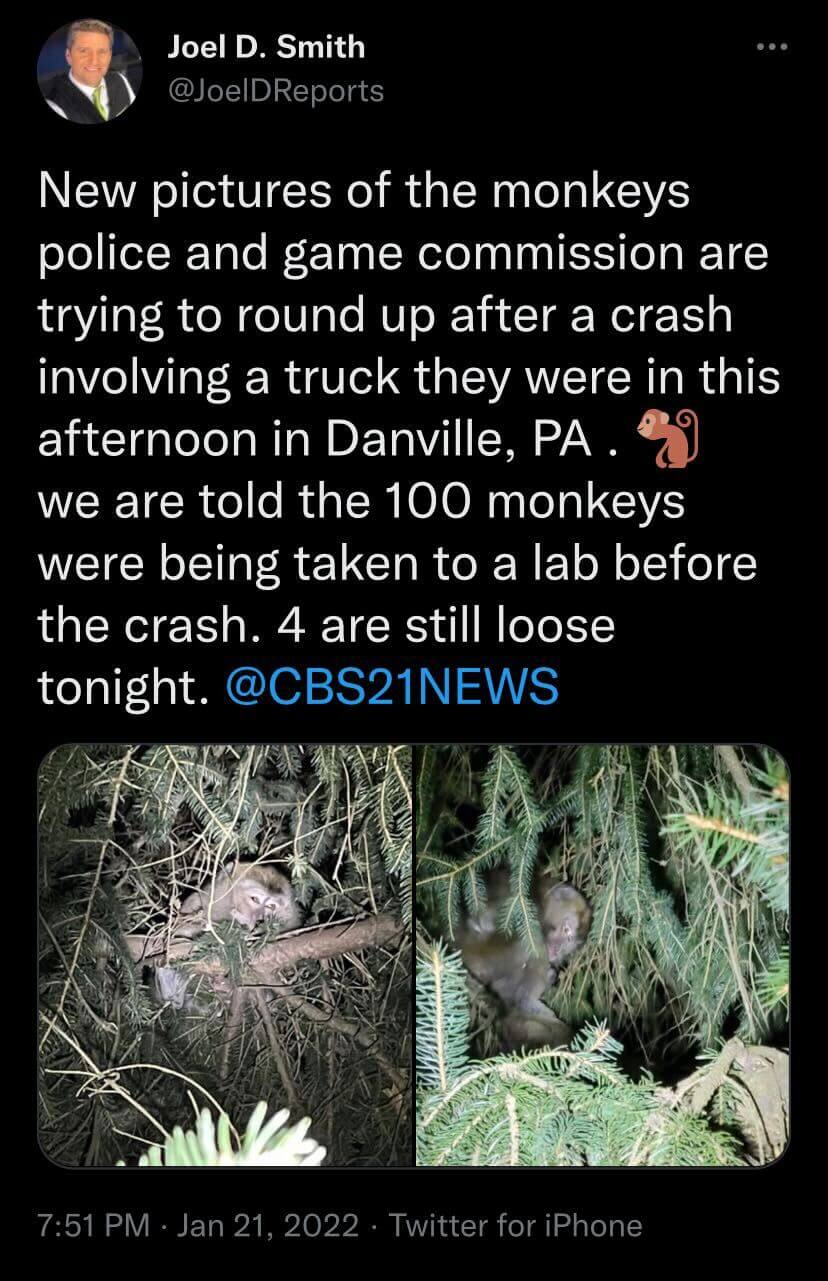 The animals were transported in trucks across the country without the proper veterinary inspections required under the federal Animal Welfare Act, which stipulates that a veterinarian must examine all monkeys transported between laboratories and/or breeding facilities within 10 days before shipment.
PETA discovered that a rogues' gallery of monkey tormentors—including Charles River Laboratories, Labcorp Drug Development, Orient BioResource Center, and PreLabs—had violated this law at least 56 times in the past 17 months alone. That amounts to at least 1,881 monkeys who hadn't been examined within the required time frame but were trucked to and from multiple states, including Florida, Maryland, Massachusetts, Michigan, Nevada, Ohio, Oregon, Texas, Utah, Washington, and Wisconsin. In one particularly egregious violation, the National Institutes of Health examined monkeys to be shipped to Boston and then let an astounding 230 days—more than 7 months—pass before shipping them.
This revelation is particularly disturbing because right now, laboratories all over the U.S. confine monkeys who carry tuberculosis, West Nile virus, malaria, Chagas disease, salmonellosis, herpes B, and other diseases that are transmissible to humans—and they've been transported via truck, according to documents obtained by PETA. This industry isn't just contributing to the countless cruel experiments on our fellow primates. It's also putting the public—whose tax dollars are wasted by the billions on these failed experiments—at risk.
In light of our alarming findings, PETA has urged the U.S. Department of Agriculture to investigate the facilities that flouted the law.
Just how close to disaster these shipments can bring us was starkly demonstrated earlier this year when a collision between a dump truck and a trailer hauling 100 laboratory-bound monkeys made headlines after photos of crates of monkeys strewn across a Pennsylvania highway went viral.
Three monkeys escaped and were shot on orders of the Centers for Disease Control and Prevention, which had determined that they posed a public health risk. The long-tailed macaques, who came from Mauritius, had arrived at John F. Kennedy International Airport in New York that morning and had not yet been quarantined or tested for any pathogens that could endanger humans. Witnesses say that the crates holding the monkeys had no labels warning of potential danger or even indicating that they held monkeys.
Here's How YOU Can Help Our Fellow Primates
PETA and our supporters have persuaded nearly every major airline to stop shipping sensitive, intelligent monkeys to laboratories—but a few cruel outliers remain. Click the buttons below to tell airlines still involved in this sordid trade to get out of it: