In light of the U.S. Department of Agriculture's (USDA) apparent conspiracy to enable the illegal shipments of endangered long-tailed macaques to a monkey importer that owns notorious Envigo, PETA is taking action.
Here are the sordid facts:
Acting on tips from whistleblowers, PETA uncovered evidence that within the past month Inotiv, whose beagle-breeding Envigo facility is shutting down after a PETA undercover investigation, has transported more than 1,000 endangered monkeys into the U.S. on two airlines that weren't registered with the U.S. Department of Agriculture (USDA) in apparent violation of the federal Animal Welfare Act (AWA).
In response, PETA filed complaints with the USDA Animal and Plant Health Inspection Service (APHIS). Inexplicably, APHIS quietly registered one airline after the fact and has apparently taken no action regarding the other.
We fired off complaints to APHIS about the situation. What it did—and what it didn't do—is shady and shameful.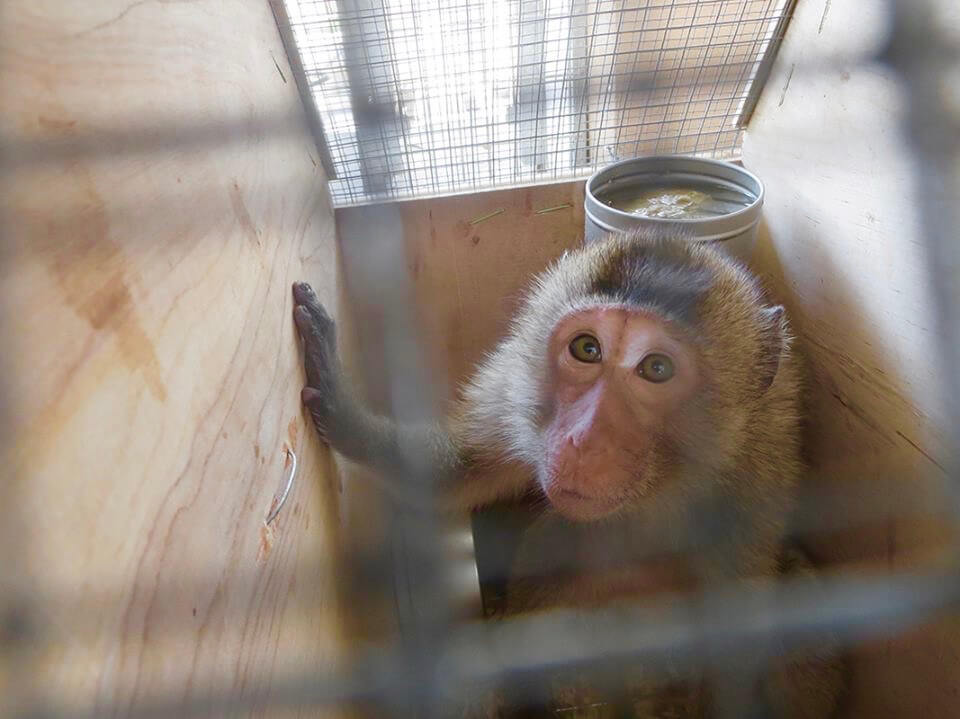 Ignoring Complaints and Covering for Airlines Shipping Unapproved, Dangerous Imports
On September 8, PETA sent a complaint to APHIS about Inotiv's use of the airline Maleth Aero to ship 360 long-tailed macaques—now classified as an endangered species by the International Union for Conservation of Nature, thanks to experimenters' insatiable appetite for them—to one of its monkey-breeding facilities in Alice, Texas. The airline was not registered with the USDA to carry animals, as required under federal law. PETA has discovered that on September 9, the day after our complaint was made, the USDA simply added Maleth Aero as a registered carrier.
This appears to be an extraordinary and inappropriate action that enables monkey importers and the airlines to exploit monkeys and risk public safety.
But APHIS' bad behavior doesn't end there.
APHIS has also failed to act on PETA's August 23 complaint detailing that Hainan Airlines—also not registered with the USDA—imported more than 700 monkeys for an Inotiv-owned Envigo facility in Texas.
To this day, the USDA does not list Hainan Airlines as a registered carrier, and so far no inspection reports or enforcement actions have been released by APHIS.
If Inotiv failed to ensure even the most basic importation requirements for these recent monkey shipments, it begs the question of what other regulations it has ignored.
PETA Takes Action
Inotiv couldn't take care of the beagles it bred and sold to laboratories, so it's no surprise that the company apparently paid airlines that were illegally transporting monkeys. The USDA's apparent failure to uphold the law regarding the importation of monkeys in the wildlife trade poses a major disease risk. Monkeys caught up in the wildlife trade and destined for U.S. laboratories can carry Ebola-Reston virus, tuberculosis, malaria, herpes B, simian hemorrhagic fever virus, deadly diarrheal pathogens, and other pathogens and diseases that can spread to humans.
Today, PETA is calling on the USDA under secretary for Marketing and Regulatory Programs to investigate APHIS' failure to enforce the AWA. We're also urging her to suspend Inotiv's monkey-breeding facility licenses immediately for its role in continuing to import endangered monkeys on airlines operating in violation of the AWA.
Monkeys imprisoned in laboratories are deprived of food and water, mutilated, poisoned, forcibly immobilized in restraint devices, infected with painful and deadly diseases, psychologically tormented, and killed.
You can take action to stop the cruel and dangerous monkey importation pipeline: Tell Maleth Aero's parent company, AELF FlightService, to drop cruel monkey shipments today.