If you've ever passed a truck on the highway and wondered what was inside, you've likely never guessed that it may be full of monkeys. But a January 21 crash on a Pennsylvania highway involving a truck carrying 100 laboratory-bound long-tailed macaques is proof that using primates in experiments is a seedy business that's dangerous for both monkeys and humans.
In the wake of the wreck, PETA fired off a letter to Secretary of Transportation Pete Buttigieg, urging him to investigate possible hazardous material violations associated with transporting monkeys from one laboratory to another and the health risks posed by the importation of monkeys into the U.S. in general. According to the Centers for Disease Control and Prevention (CDC), in 2019 and 2020 alone, 227 shipments brought 60,546 monkeys into the U.S. from other countries—all destined to be tormented and killed in laboratories.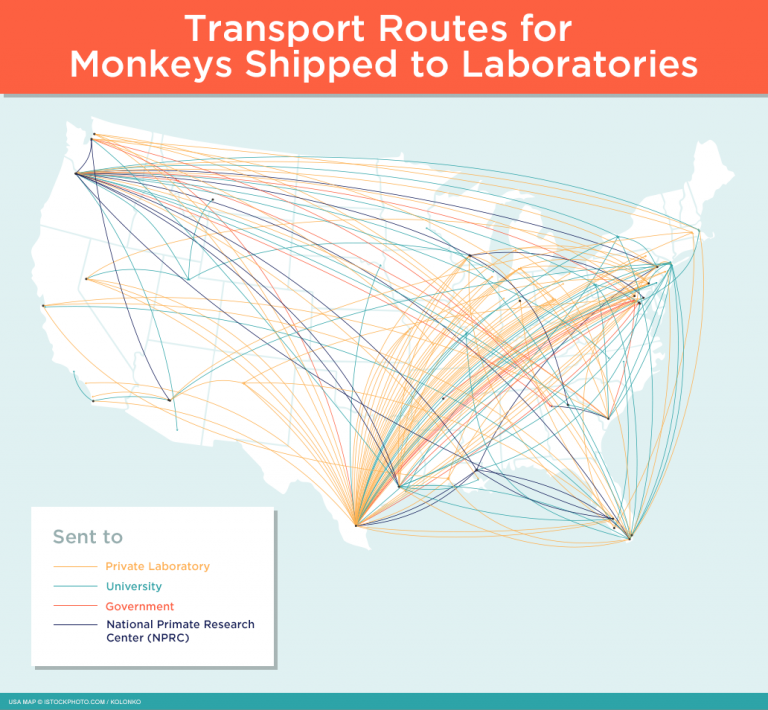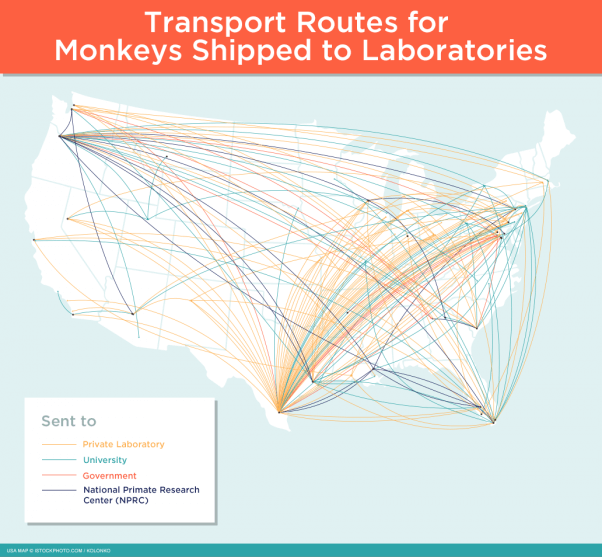 This industry is devastating monkey populations and putting Americans at risk. The only way to eliminate the dangers—for all animals—posed by these shipments is to stop importing and experimenting on monkeys.
The monkeys involved in the crash had been flown from the other side of the world while sitting in their own urine and feces, were transported on a jostling truck, and were then thrown out into the cold before being delivered to a quarantine facility or gunned down (as the three who escaped were). In addition to the undeniable torment the animals endured, the wreck also demonstrates serious issues related to public safety.
A truck carrying about 100 monkeys crashed in central Pennsylvania, state police said, as authorities searched for at least three of the monkeys that apparently escaped. The truck had been on its way to a lab, state police said. https://t.co/pOcFqIUrjb

— The Associated Press (@AP) January 22, 2022
The macaques had arrived at John F. Kennedy International Airport in New York that morning and had not yet be quarantined or tested for any viruses that could endanger humans. Witnesses say that the crates holding the animals had no labels warning of potential dangers or even that the crates held monkeys.
After the crash, bystanders waded through the monkeys' feces and urine, which was smeared across the highway. Three monkeys who escaped on-site following the accident were later shot and killed per orders from the CDC because of the public health risk they posed.
How Dangerous Can Exposure to Monkeys Be?
Monkeys who carry tuberculosis, West Nile virus, malaria, Chagas disease, simian immunodeficiency virus, herpes B, hepatitis, and other infectious agents that are transmissible to humans are in laboratories all over the U.S.—and they've been transported via truck, according to documents obtained by PETA.
Demand an End to Monkey Experiments
The best way to limit harm to monkeys and human exposure to any disease they carry is to close the national primate research centers (NPRC) and all other laboratories that use monkeys. PETA revealed that the University of Washington's NPRC and its breeding facility in Mesa, Arizona, transported diseased monkeys to experimenters across the country, and we promptly demanded an investigation by the National Institutes of Health. Numerous violations of health and veterinary regulations were uncovered along with the fact that the breeding facility sits next to a toxic waste site. Still, NPRCs remain in business—and drive much of the demand for monkeys to be transported in the U.S. For the safety of all primates, these cruel laboratories need to be closed down.