Update (December 16, 2022): NBC News reporter Stephanie Gosk just took viewers into the dark underworld of the nasty international trade in monkey flesh, which nets big money for sellers and new victims for U.S. laboratories. Don't miss seeing PETA primate scientist Dr. Lisa Jones-Engel make the ethical and scientific case for shutting down this despicable pipeline.
The PETA Podcast Episode #254: Illegal Shipments, Crooked Science: Hear How to Help Monkeys Today
Earlier this month, PETA learned that Cambodian imports of monkeys into the U.S. have been suspended! This comes after the U.S. Department of Justice issued indictments of individuals alleged to be involved in the laundering of long-tailed macaques captured in Cambodian forests and passed off as captive-born. (Details are below.)
It's outrageous that U.S. laboratories—including those run by the National Institutes of Health (NIH), pharmaceutical companies, contract research organizations, and public and private universities—are likely filled with the victims of this illegal trade. PETA has fired off letters to almost two dozen of these institutions, including monkey-testing behemoth Charles River Laboratories, NIH, and Washington University in St. Louis, demanding that they immediately suspend any experiments being conducted on long-tailed macaques from Cambodia and determine whether the animals were trafficked or brought legally into the U.S.
Here's what else is outrageous.
Right now, there's nothing stopping Inotiv and Worldwide Primates, the two U.S. companies that PETA believes are likely unindicted co-conspirators in the monkey-smuggling scheme, from continuing to sell any Cambodian monkey in their possession. So these companies can apparently go about the business of profiting from the lives of possible kidnapping victims.
Once these monkeys arrive at laboratories, there will be no going back. They'll face almost certain death.
We've urged the U.S. Fish and Wildlife Service to instruct all monkey importers to immediately suspend the sale or transfer of any monkeys from Cambodia to laboratories while this case is being investigated.
The agency must confiscate all monkeys determined to have been smuggled into the U.S. and send them to reputable sanctuaries. It's the least we can do to make up for the cruelty and injustice that these animals have endured.
Originally published on November 21, 2022:
PETA has been pulling back the curtain on the shady world of laboratory-bound monkey importation, in which adherence to safety, regulations, and laws as well as compassion are in woefully short supply.
Now the U.S. Department of Justice (DOJ) and the U.S. Fish and Wildlife Service have acted.
After a five-year investigation, those agencies just announced the indictment of multiple individuals—including Cambodian government officials—allegedly involved in a monkey-laundering and -smuggling ring that supplied U.S. laboratories with long-tailed macaques captured in their forest homes in Cambodia and falsely identified as captive-born.
One of the companies that imports monkeys from Cambodia is Inotiv, whose beagle-breeding Envigo facility shut down after a chain of events that followed a PETA undercover investigation. In fact, Inotiv has admitted in a U.S. Securities and Exchange Commission filing that a conglomerate known as Vanny, with six employees indicted by the DOJ, is its principal supplier of long-tailed macaques.
Based on information included in the DOJ complaint, PETA believes that Inotiv was not an innocent bystander in this smuggling scheme. In fact, we believe that the company and Worldwide Primates are the two unindicted coconspirators—identified as U.S. primate importers located in Alice, Texas, and Miami, respectively—that allegedly aided the accused individuals.
According to the indictment, the coconspirators knowingly purchased monkeys who had been taken from their forest homes and passed them off as captive-bred.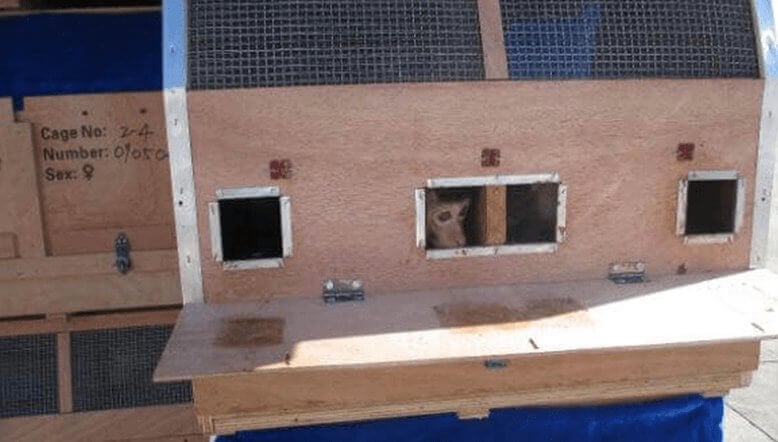 PETA first became aware of Inotiv's possible involvement in alleged illegal activities in July. At that time, we sent a letter to the Centers for Disease Control and Prevention (CDC), the agency with the authority to regulate and halt primate importation, and asked that in recognition of the potential for illegal importation and the risks that this carries not just for primate conservation but also for public health threats inherent in the trafficking of wild monkeys, it immediately suspend all importation of primates for use in laboratory experimentation. The CDC failed to respond to our concerns.
And last month, following the importation of 1,080 long-tailed macaques from Cambodia into the U.S. transported by Hainan and Maleth Aero airlines, neither of which appeared to possess a valid U.S. Department of Agriculture registration to transport monkeys, PETA requested that the U.S. Fish and Wildlife Service investigate whether these airlines and the companies they supply—including Inotiv—had violated the law.
We hope those indicted will be prosecuted to the fullest extent of the law and, if convicted, prevented from ever going near a monkey again.
Since 2017, nearly 75,000 long-tailed macaques have been purchased from Cambodia by U.S. commercial primate importers and made available for sale to the National Institutes of Health (NIH), the Biomedical Advanced Research and Development Authority, contract research organizations, U.S. military research facilities, and many public and private universities.
We can't give back to these animals all that has been taken from them. But any monkey found to be a smuggling victim must be released to a sanctuary, and the importer responsible for their kidnapping must pay for the lifetime care of that animal.
The exploitation of these monkeys has been so catastrophic that recently, the conservation status of long-tailed macaques was elevated to "endangered" by the International Union for Conservation of Nature. The alleged false labeling of these monkeys as "captive-bred" is a crime that appears to be enabled by greedy American animal experimenters who refuse to admit that their studies are killing monkeys, failing to help humans, and decimating wild populations.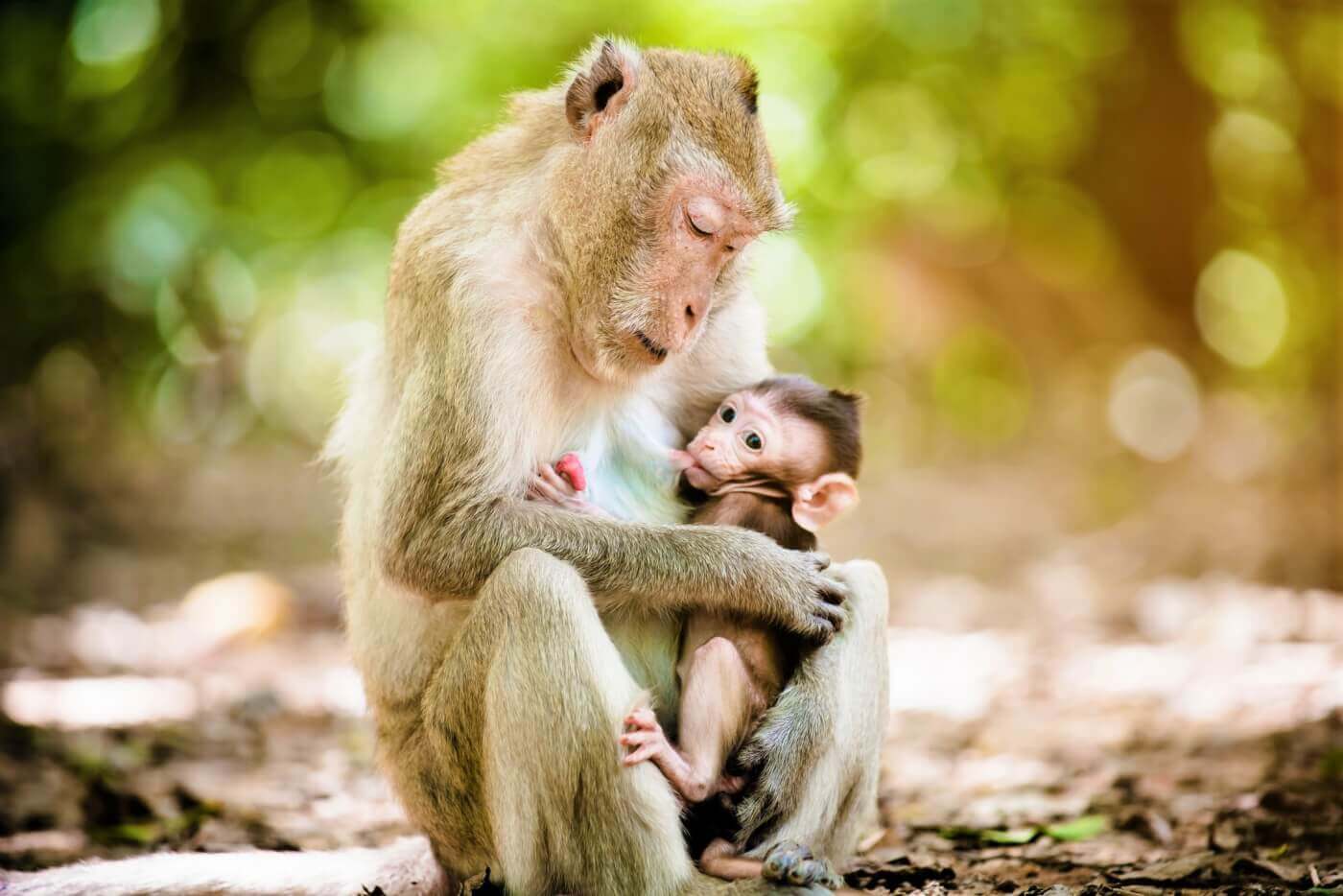 © iStock.com/ittipon2002
What You Can Do
Please take a minute to join the thousands of PETA supporters who have urged the CDC to shut down the monkey abduction pipeline before the animal experimentation industry depletes the world of monkeys entirely.