PETA has rushed a letter to Xavier Becerra, secretary of the U.S. Department of Health and Human Services, and Rochelle Walensky, director of the Centers for Disease Control and Prevention (CDC), detailing an active public health risk that should have everyone scratching their heads and asking why in the midst of a global pandemic—that likely began in animals that are kept in crowded conditions—are we stockpiling and transporting monkeys whose presence increase the risk that humans will get infected with deadly diseases.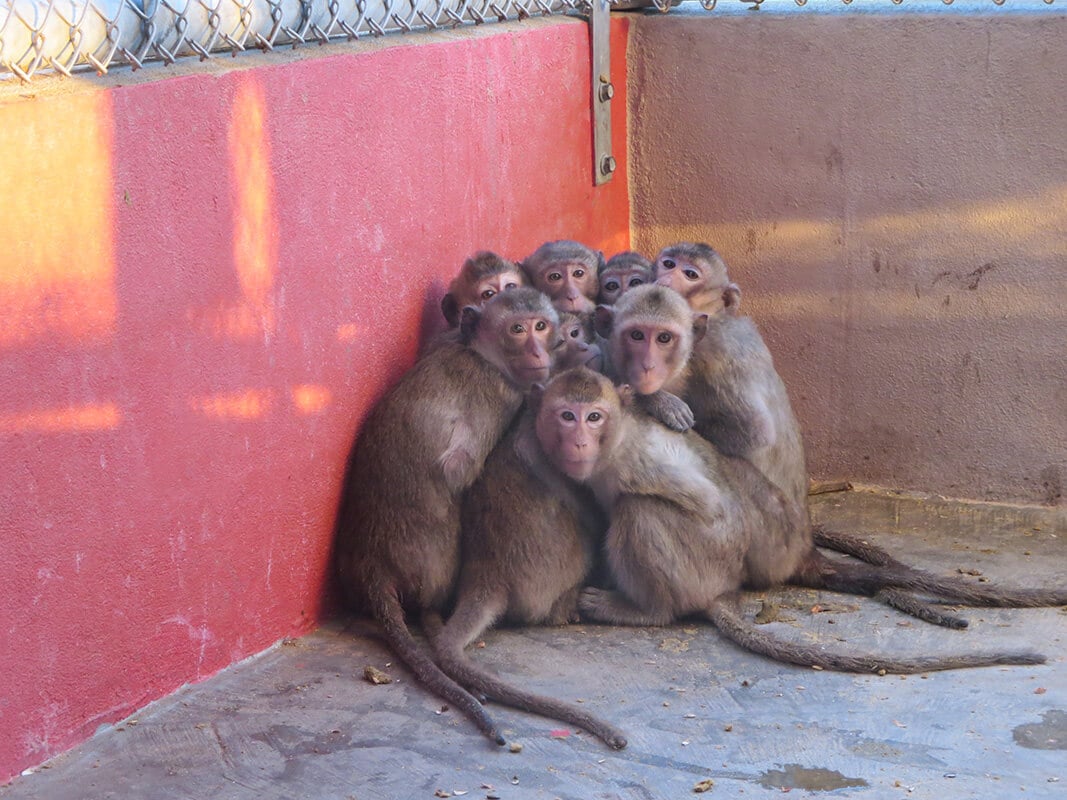 PETA's documentation shows that the tens of thousands of monkeys warehoused at importation, breeding, and experimentation facilities in the U.S.—including the federally funded national primate research centers (NPRCs)—are feeding grounds for the "assassin bug," whose bite transmits the parasite that causes Chagas disease, a life-threatening parasitic infection caused by the protozoan Trypanosoma cruzi (T. cruzi). Chagas disease is called a "silent killer" because humans often don't know that they've been bitten and infected until it's too late to treat the infection. Chagas-infected, immunocompromised individuals are particularly vulnerable to severe heart and central nervous system disease. And health officials warn that individuals with Chagas disease are at an increased risk of severe COVID-19 symptoms.
The assassin bug is attracted and can transmit the infection not just to humans but also to other animals like monkeys and dogs. The large colonies of monkeys in the experimentation industry in the southern U.S. are a rich feeding ground for the insects because thousands of the primates eat and sleep out in the open. There are so many monkeys and so many assassin bugs in Louisiana and Texas that researchers have discovered that the monkeys are playing an active role in the maintenance, diversity, and transmission cycle of this deadly zoonotic pathogen. CDC researchers acknowledged more than a decade ago that primates held in outdoor facilities and used for experiments may be at particular risk for acquiring the Chagas parasite—yet they apparently took no action.
PETA's letter to the feds comes after the Texas Department of State Health Services provided us with documents showing that the state's primate facilities have failed to report this pathogen in their monkey colonies. In our letter, we note that this omission places both public health and scientific integrity in jeopardy—and we urge Sec. Becerra to take the necessary steps to end public funding for the NPRCs. We also asked the CDC to act immediately to close commercial primate facilities in Florida, Georgia, Louisiana, South Carolina, and Texas.
"In addition to being cesspools of suffering, these facilities have failed to address or even come clean about the public health threat posed by the tens of thousands of monkeys in their custody. PETA is calling on Becerra and Walensky to read the writing on the wall and shut down the dangerous, shameful monkey experimentation industry, for everyone's sake."

—PETA science advisor Dr. Lisa Jones-Engel, primatologist and zoonotic disease specialist
Chagas disease is a growing health concern in the Southern regions of the U.S., and media outlets have reported the increased risk of the disease, particularly among individuals who are immunocompromised. Documents uncovered by PETA reveal that several of the seven federally funded NPRCs—which collectively have received hundreds of millions of taxpayer dollars in funding from the National Institutes of Health—as well as multiple private commercial primate facilities have failed to maintain the biosecurity of the monkeys who are used or sold for experimentation. Even more alarmingly, they have failed to report to state health authorities or address the public health threat that their tens of thousands of monkeys pose.
Take Action for Monkeys
Monkeys held prisoner at the seven remaining NPRCs deserve so much more than to be experimented on and killed. Join thousands of PETA supporters in calling for the immediate closure of these facilities and the release of the animals they're using to appropriate sanctuaries, where they would be safe for the rest of their lives and be treated with the dignity that they deserve.