One year ago today, Ringling Bros. and Barnum & Bailey Circus held its final show at the Nassau Veterans Memorial Coliseum in Uniondale, New York. A coalition of animal rights groups, including PETA, Long Island Orchestrating for Nature, and CompassionWorks International, gathered outside the venue to send off the circus in the best way possible—with protest signs still held high and tissues in our hands to catch the tears of victory: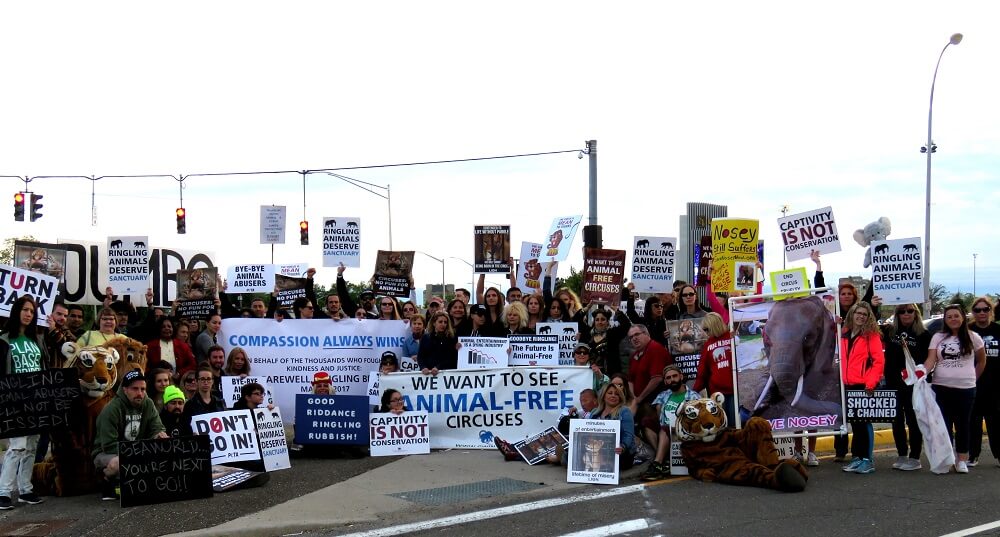 But PETA knew—even while celebrating this demise—that although the show is over for Ringling, other circuses continue to haul elephants, tigers, camels, and others all over the country. So we did what we do best—we got to work saving animals. Read on to discover some of the biggest victories we've scored for animals in circuses in the last year:
In June 2017, Minneapolis and Little Falls, Minnesota, told Garden Bros. Circus that if it wanted to put on its scheduled shows, it would have to perform without animals in tow. This was after PETA had contacted Minneapolis Animal Care & Control, the Minneapolis Police Department, and local authorities in Little Falls, advising them of the long histories of deplorable conduct by Garden Bros. and its animal exhibitors, including endangering the public and engaging in the egregious abuse of animals. Other cities, like Natchez, Mississippi, followed suit shortly after.
In July 2017, New York City Mayor Bill de Blasio signed Intro 1233, which bans wild and exotic animals from circuses in the city.
It's official. Wild and exotic animals will be banned from circuses in New York City. pic.twitter.com/Ha85wZAxGI

— Mayor Bill de Blasio (@NYCMayor) July 28, 2017
In September 2017, Santa Fe, New Mexico, and Portland, Maine, banned the use of wild animals in traveling shows, with support from PETA and its members.
ICYMI: #SantaFe, NM became the largest city to ban wild-animal acts. RT if you wish all cities would do the same! https://t.co/2hyA6ID3Xq pic.twitter.com/ZqOYAruSV9

— PETA (@peta) September 17, 2017
On top of that, two states—Illinois and New York—banned the use of elephants in traveling acts.
BREAKING: #Illinois just became the first US state to ban traveling elephant acts! https://t.co/CBqf3O5p9r

— PETA (@peta) August 12, 2017
Few businesses have caused animals more pain and suffering than notorious breeder, dealer, and exhibitor the Hawthorn Corporation. But in October 2017, it was game over for the longtime PETA target. Its license was canceled, and it's gone out of business.
https://twitter.com/peta/status/936392657122848773
At the end of the 2017 season, following declining ticket sales and public outrage over cruel animal acts, former Kelly Miller Circus owner John Ringling North II was forced to sell the circus and retire. New owner James Kendrick Judkins confirmed to PETA last month that his production won't include any wild animals. And with the launch of its new season, Judkins confirmed that the circus is now completely animal-free!
ICYMI: Victory! After nearly 130K of you helped us tell venues & sponsors not to host Kelly Miller Circus' cruel animal acts, their owner was forced to sell it. The new owner committed to having no exotic animals. Thanks for speaking up! https://t.co/q5RPhRonY3

— PETA (@peta) January 16, 2018
During our campaign for Nosey the elephant's release to an accredited sanctuary, PETA was constantly busy. We persuaded many venues not to host elephant rides, convinced authorities that Hugo Liebel's elephant act should be barred, urged members of Congress to push for action, and enlisted celebrity support—including from Carol Burnett, who appeared in a video pleading for Nosey. We also marshaled the help of hundreds of thousands of kind people who responded to PETA's action alerts by urging venues not to host Liebel and holding protests when Nosey was scheduled to be exploited in their towns. In November 2017, the law finally caught up with Liebel. Thanks to a vigilant animal control officer, Nosey was confiscated …
ICYMI: Nosey, the elephant who has suffered for years has been seized! She was captured in the wild, then chained, threatened with a bullhook, & forced to give rides. PETA will keep fighting until she is permanently safe in a sanctuary ❤️ https://t.co/ARhfzJvLrC pic.twitter.com/9BWqIFJWox

— PETA (@peta) November 11, 2017
… and placed at The Elephant Sanctuary in Tennessee:
Nosey explores The Sanctuary's habitat for the first time. pic.twitter.com/ldbd8ocZsV

— The Elephant Sanctuary (@ElephantsTN) November 11, 2017
A Lawrence County, Alabama, district court judge issued a final order upholding the seizure in January 2018. Although Liebel has appealed it, PETA is working to ensure that he never gets Nosey back and that she can stay at the sanctuary for the rest of her life. Stay tuned!
Nosey the elephant was neglected for decades. PETA is fighting to make sure she stays safe in a sanctuary, far away from her abuser. https://t.co/eIjwQAIYMc

— PETA (@peta) January 9, 2018
In March 2018, on a social media post advertising upcoming shows, Stardust Circus announced that it had removed its elephant acts. "Unfortunately activists make it very difficult to travel with animals today," Stardust wrote. After learning from PETA and a local activist that several Stardust Circus shows were scheduled to bring elephants exhibited by the notoriously cruel Carson & Barnes Circus to Arkansas armories, the major general of that state's National Guard immediately prohibited upcoming performances and implemented a policy banning future animal acts.
PROGRESS! @StardustCircus announces they're dropping elephant acts — but there's still more work to be done. Tell other circuses to end ALL animal acts! https://t.co/IcyQvlPjr9

— PETA (@peta) March 14, 2018
To top it all off, many businesses made the compassionate decision to ban exhibits with wild animals. Now, more than 620 malls nationwide prohibit circuses with animals. Click here to see if your local mall is on the list.
What Now?
While we celebrate the one-year anniversary of Ringling's last show—and all the victories for animals used in circuses accomplished since then—we mustn't forget the animals who still need us. PETA will not rest until every circus is animal-free. Click below to help us: