Update: Today, PETA filed a request urging the U.S. Department of Agriculture (USDA) to terminate notorious elephant exhibitor Hugo Liebel's federal exhibitor's license (before it's up for renewal on January 30) on several grounds, including that Liebel—who was recently charged with cruelty to animals related to his neglect and mistreatment of Nosey the elephant—is unfit to be licensed.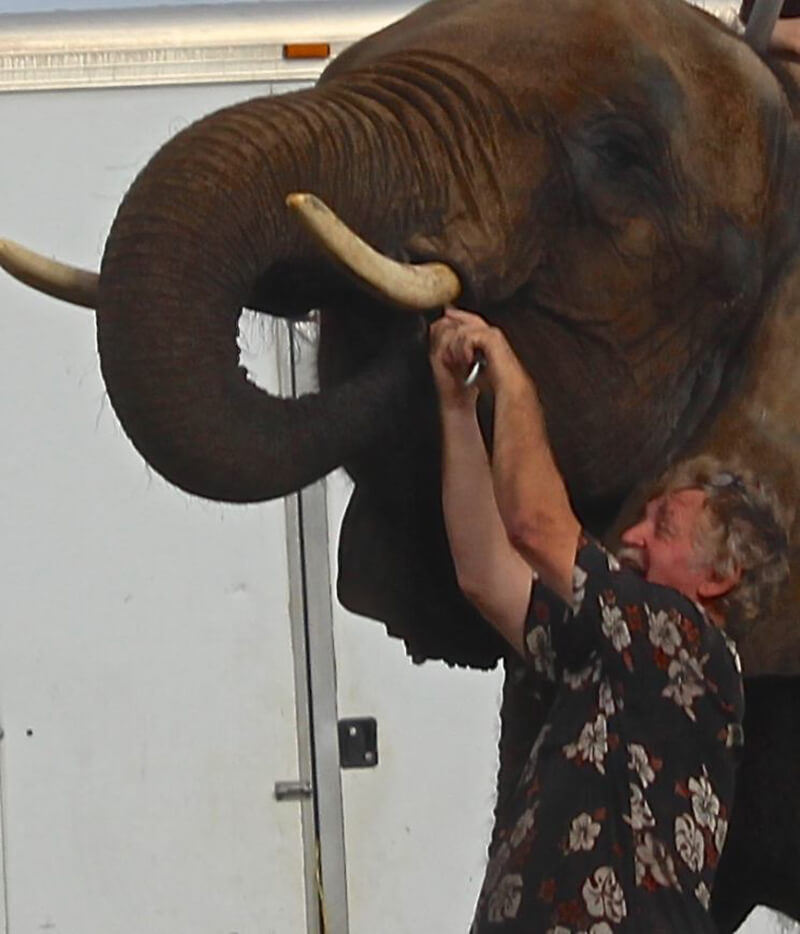 Local authorities in Lawrence County, Alabama, seized Nosey from Liebel in November and placed her at The Elephant Sanctuary in Tennessee pending a final order from a Lawrence County district court judge. PETA's request to the USDA cites testimony given at a December 15 hearing in Lawrence County District Court that Nosey arrived at the sanctuary suffering from numerous grave, painful, and chronic health problems—none of which Liebel or his attending veterinarian had apparently properly diagnosed or treated.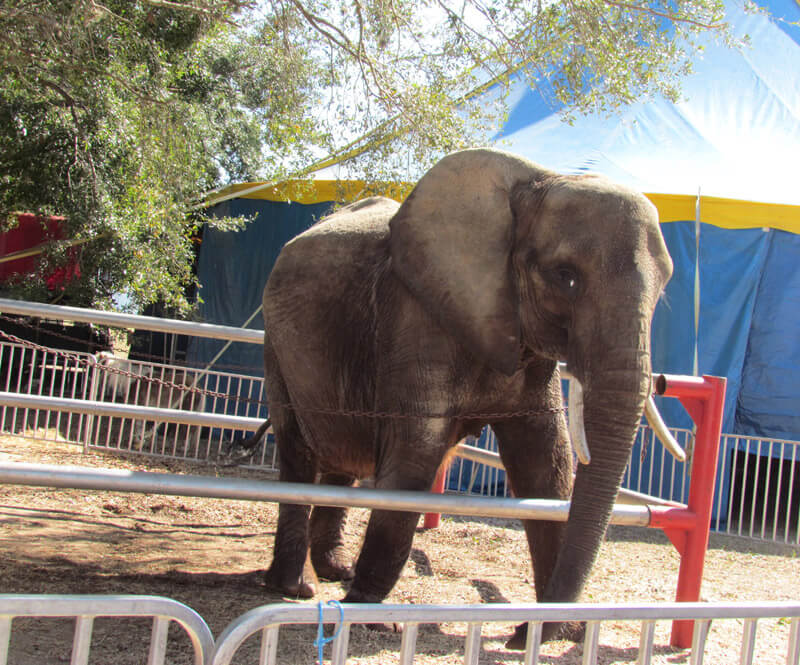 Trial testimony showed that Nosey arrived there suffering from a long-standing condition of overgrown, scaly, dry, and cracked skin called hyperkeratosis. She also had a bacterial skin infection, a urinary tract infection, intestinal parasites, osteoarthritis, and muscle atrophy. In addition, she appeared to have a nearly empty gastrointestinal tract and showed signs of dehydration.
PETA's request notes that Liebel has given false statements to the USDA and other government agencies, including the Florida Fish and Wildlife Conservation Commission, which denied renewal of his permit to possess Nosey in his home state on those grounds.
Originally published on December 16, 2017:
Update: Elephant exhibitors Hugo and Franciszka Liebel were arrested Saturday morning and have been charged with cruelty to animals in relation to Nosey the elephant, according to reports.
Good news! Hugo and Franciszka Liebel have been charged with cruelty to animals in relation to Nosey the elephant. pic.twitter.com/vvxnFE5w4o

— PETA (@peta) December 16, 2017
Cruelty charges are well-deserved for the notorious animal abusers who left Nosey tightly chained, confined in her own waste, and without proper shelter—the very neglect that she's endured in their custody for years, before she was finally confiscated last month by Alabama officials. Local authorities were correct to stand up to cruelty and seize Nosey, whose fate is still to be determined by the court. PETA will continue to fight for her until she's permanently retired to a spacious sanctuary home.
Update: Nosey found a pumpkin treat in her new habitat. Pumpkins are a favorite among elephants.
Update: When Nosey arrived at The Elephant Sanctuary in Hohenwald, Tennessee, late last Thursday night—after having been confiscated from her abusive handler, Hugo Liebel—the staff was waiting for her with welcome presents: fresh produce, bamboo, and banana leaves. The veterinary and husbandry teams carefully monitored her throughout the night and reported that she was calm and already showing interest in her new surroundings at the lush green refuge. A court will soon decide whether or not Liebel can get her back. And PETA will be pushing every step of the way to keep Nosey right where she is.
At The Sanctuary, #Nosey has been given the opportunity to explore her new surroundings at her own pace. Over the past several days, Staff have observed her forage leaves and pine branches and discover how to drink from an automatic waterer whenever she likes. pic.twitter.com/PgHGFClcie

— The Elephant Sanctuary (@ElephantsTN) November 14, 2017
Update: Nosey's owner, Hugo Liebel, has been hit with an animal welfare citation. The report confirms that Hugo Liebel either can't or won't provide this elephant with even the most basic care, said PETA Foundation Associate Director Rachel Mathews. "PETA is working for the day when Nosey will never again be chained and retired permanently to a sanctuary that provides around-the-clock veterinary care and protection from all harm."
The following was originally published on November 9, 2017:
Nosey the elephant is in caring hands after the Lawrence County District Court in Alabama issued a seizure order on her behalf.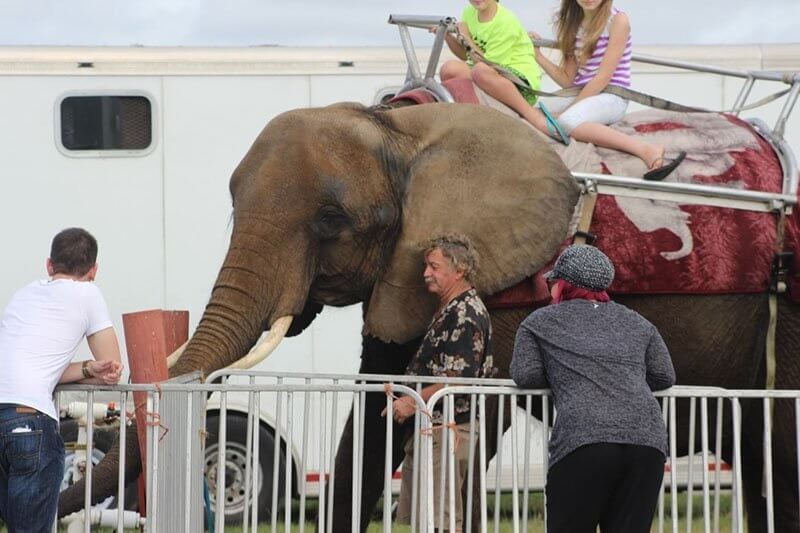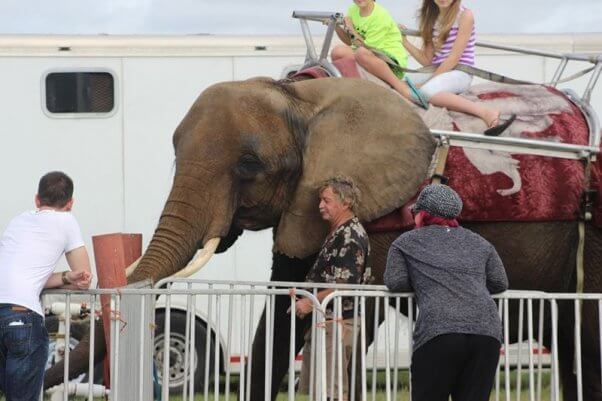 The lame elephant found tightly chained, confined in her own waste, and without proper shelter, was removed from conditions very familiar to all who have tracked her abuse for years. PETA thanks local authorities for seizing Nosey and the court for its decision today to allow the transfer of this long-suffering elephant into caring hands pending a further hearing. PETA pledges to continue working in her behalf until she's finally settled in a spacious sanctuary home for good.
Nosey was held captive by notorious exhibitor Hugo Liebel, who used her for rides and shows. He has been cited by the U.S. Department of Agriculture (USDA) for nearly 200 animal-welfare violations.
Like all animals, Nosey deserves no less than a life as far as possible away from chains and humans who will exploit her for profit. We won't back down until we—and more importantly, other elephants like Nosey—have won.