Update #2: Earlier this year, we shared the wonderful news that the new owner of Kelly Miller Circus, James Kendrick Judkins, had committed to not using wild animals in his production. With the launch of its new season, he has confirmed that the circus is now completely animal-free! He reports that people attending the opening performances said that "it was the best show that they have seen in years."
The success of an animal-free circus isn't surprising, given the public's growing opposition to forcing animals to perform tricks. The previous Kelly Miller Circus owner, John Ringling North II, was forced to sell it at the end of its 2017 season, following declining ticket sales and public outrage over its cruel animal acts.
Please take a look at Kelly Miller's website and support an animal-free show in your area!
---
Update #1: Following declining ticket sales and public outrage over its cruel animal acts, former Kelly Miller Circus owner John Ringling North II was forced to sell the circus and retire at the end of its 2017 season. In a decision consistent with growing public opposition to the use of animals for entertainment, incoming owner James Kendrick Judkins has confirmed to PETA that his production of the circus won't include any wild animals!
Please thank the circus for this compassionate decision on its Facebook and Twitter accounts or by e-mail at [email protected].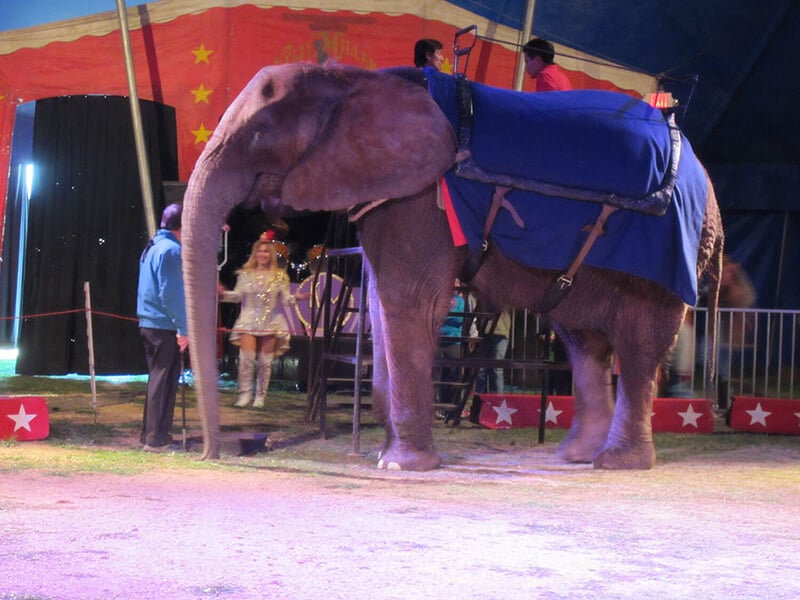 Thanks to you, cruel animal circuses are falling like dominoes. After 128,538 of you contacted more than 50 sponsors of the Kelly Miller Circus and venues where it was set to perform and told them about the outfit's contracts with abusive animal exhibitors, Kelly Miller just couldn't fill seats, so owner John Ringling North II is selling it and retiring. According to North, city officials and circus sponsors were buried in e-mails protesting the tour. And because many states and cities now restrict animal circuses, he wouldn't be able to book the circus's next season unless it appeared without animals . If the circus's new owners are smart, they'll make it animal-free.
This cruelty-on-wheels traveling show has been in PETA's crosshairs for years. We've contacted more than 100 of its sponsors and venues to ask them to support only animal-free entertainment and aided local activists in dozens of demonstrations in the past year alone. Among the many victories, entities like the Lockport Township Park District in Illinois decided not to host an animal circus again, sponsors such as Centro Multicultural La Familia dropped their promotions, and venues such as Michigan's Wisner Memorial Stadium canceled scheduled shows.
Presumably in a bid to stay afloat, the circus finally canceled its own exhibitor license (after racking up federal Animal Welfare Act violations in the past), but it contracted with animal exhibitors who were equally willing to skirt the law. For instance, Kelly Miller's contract elephant trainer, Joe Frisco, was caught on camera smacking elephants and hitting them with bullhooks when he worked for Ringling Bros.
But you keep speaking up, and circuses are hearing you loud and clear. Ringling is shuttered, Cole Bros. was forced to stop touring, and Ramos Bros. has dropped its wild-animal acts because it's not entertaining to watch frightened, abused animals perform confusing and pointless tricks. As cruel exhibitors continue to run out of contracts, they'll have to choose: Go animal-free or go under.