What's one of the only good things to come out of 2020 so far? Disney's The One and Only Ivan!
The latest project from writer, actor, director, and longtime friend to animals Mike White is chock-full of powerful animal rights messaging. Adapted from the award-winning book of the same name, Ivan tells the story of a silverback gorilla (named Ivan, in case that wasn't clear) and his escape from exploitation after being kidnapped from his natural habitat. Along the way, he meets many other animals who also long to be free.
Check out the stunning computer-generated imagery (CGI) in Ivan's trailer, and be sure to stream the film on Disney+ starting August 21:
Below are just a few reasons why Ivan is a must-see for people of all ages who appreciate animals.
It has anti-exploitation messaging: The film's theme is deeply rooted in the idea of "home"—in particular, what home means for animals "living" in roadside attractions and circuses. According to the film's description, when Ivan meets Ruby, a baby elephant recently separated from her family in the wild, he begins to "question his life, where he comes from and where he ultimately wants to be." Wild animals belong in their natural habitat or, if that's not possible, in expansive sanctuaries—not stuck in cramped cages, forced to perform for human entertainment. Ivan explores these themes and paints animals as individuals who have their own wants and needs and deserve respect.
"This is a story about liberation—you can't tell that story by exploiting real animals. CGI is the only humane way to depict animals and one look at Ivan's face proves that we didn't lose an ounce of realism." —The One and Only Ivan screenwriter Mike White
It uses CGI animals: From a gorilla (voiced by Sam Rockwell) to an elephant (voiced by Angelina Jolie) to a seal (voiced by Mike White), the animals portrayed in Ivan are CGI, once again showing the world that technology is both stunningly lifelike and the only humane way to depict animals on screen. When live animals are used in films and television, they are often forced to "live" inside cramped, filthy cages and deprived of exercise and enrichment. Many are even taken from their mothers as babies, which is another theme explored in Ivan.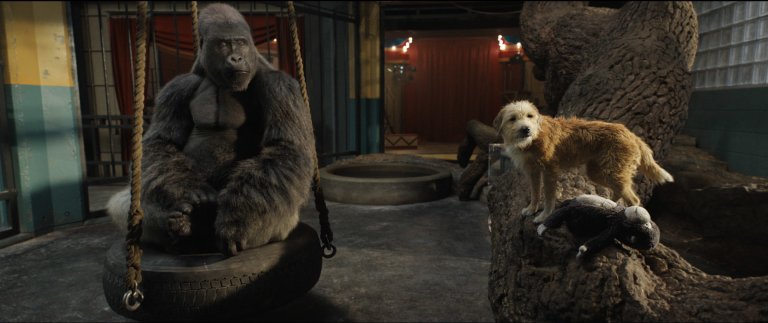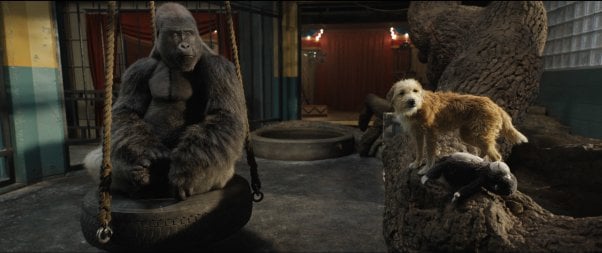 Photo courtesy of Disney. © 2020 Disney Enterprises, Inc.
It highlights the power of protest: PETA loves a good protest, as it's frequently one of the best tactics to inform the public and draw media attention to issues of animal exploitation. In Ivan, activists protest outside the mall to call for Ruby's and Ivan's release and speak out against circuses ("Big Top Must Stop" is a favorite slogan of ours). It reminds us of that time we took down Ringling Bros. and Barnum & Bailey Circus after decades of powerful protests: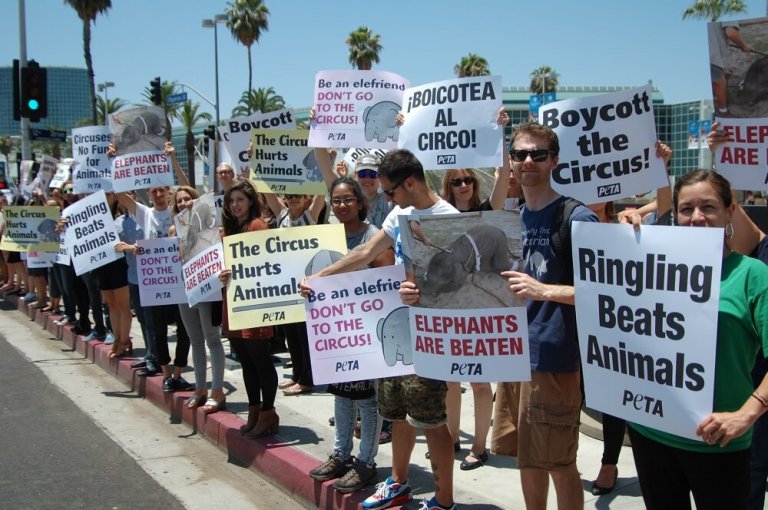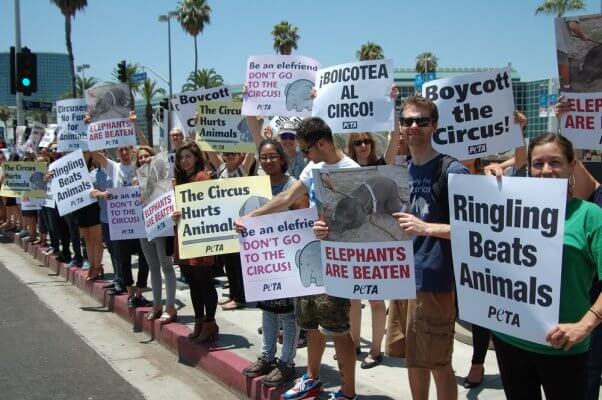 Learn how to organize and lead your very own demo to speak up for animal rights!
There was kindness in the writers' room: We have longtime PETA supporter White to thank for expertly adapting author Katherine Applegate's beautiful story for the silver screen—or is it silver stream?—and amplifying her strong message of animal liberation for millions to enjoy. White has incorporated animal rights themes into many of his past projects, including Beatriz at Dinner and Year of the Dog. The HBO series Enlightened, which White co-created and starred in, also touched on treating animals with kindness and even featured a guest appearance by PETA Senior Vice President Lisa Lange.  
A life being forced to perform in the circus is no life at all.

PETA awarded @Disney's #TheOneAndOnlyIvan a #FreeTheAnimals Award for using CGI instead of wild animals to tell the story of animals escaping exploitation!@IvanMovie is on @disneyplus 8/21. https://t.co/W73mbuGtMI pic.twitter.com/xoFjIzi67m

— PETA (@peta) August 19, 2020
PETA is honoring Disney with a Free the Animals Award for using animal-friendly CGI to tell Ivan and Ruby's story of escape from exploitation. We hope the award will remind Disney and other studios that CGI is the only humane way to tell stories about animals on the big screen.
Hopefully Ivan will inspire kindness to animals suffering in places like roadside zoos, circuses, and training compounds for film and TV—including those like Chance, a chimpanzee used and exploited in The Wolf of Wall Street, advertisements, and other publicity stunts by the Rosaires, a notorious circus family. This 11-year-old chimpanzee has been forced to perform in a circus-style show for years at Big Cat Habitat, a roadside zoo in Florida.
How You Can Help
Support films and TV shows that use CGI instead of real wild animals and avoid ones that exploit them. You can also report that animals are being used and abused in films and on TV at PETA.org/Report.