Screenwriter Mike White is receiving critical accolades for writing some of the most interesting and moving lines in filmmaking in his latest film, Beatriz at Dinner. While Vanity Fair hypes the remarkable cast and Variety touts Salma Hayek's "luminous performance," we can't help adoring the vegan writer for his inclusion—yet again!—of underlying animal rights messaging.
The film is about Beatriz, a holistic healer played by Hayek, who encounters Doug Strutt, a hotel industry billionaire played by John Lithgow, at a dinner party. In one scene, guests of the party discuss their plans to visit South Africa, mentioning that the animals there "would basically be gone if it wasn't for the hunting." Lithgow's character declares that he considers hunting to be not murder but "this original dance of man and beast," passing around a photo of himself next to a rhinoceros he'd slaughtered. Hayek's character is far from impressed, voicing utter disdain and declaring that she thinks the act of killing the animal is "sick." It's in this moment, when Hayek's Beatriz stands up for animals killed for sport, that White's big heart and creative genius shines through.
Preservation is an obligation. #EndangeredSpeciesDay #BeatrizatDinner pic.twitter.com/U2i3Xa6FFk

— Beatriz at Dinner (@beatrizdinner) May 19, 2017
And just like that, White has done it again. This is not the first time that the writer has used the silver screen to spotlight the importance of animal rights. His 2007 film Year of the Dog told the story of Peggy, a woman who finds peace by becoming an animal rights advocate. Enlightened—an HBO series that White both co-created and starred in—not only touched on treating animals with kindness but also featured a guest appearance by PETA Vice President Lisa Lange. During filming, Laura Dern, who co-created Enlightened with White, thanked Lange for the work that PETA does for animals.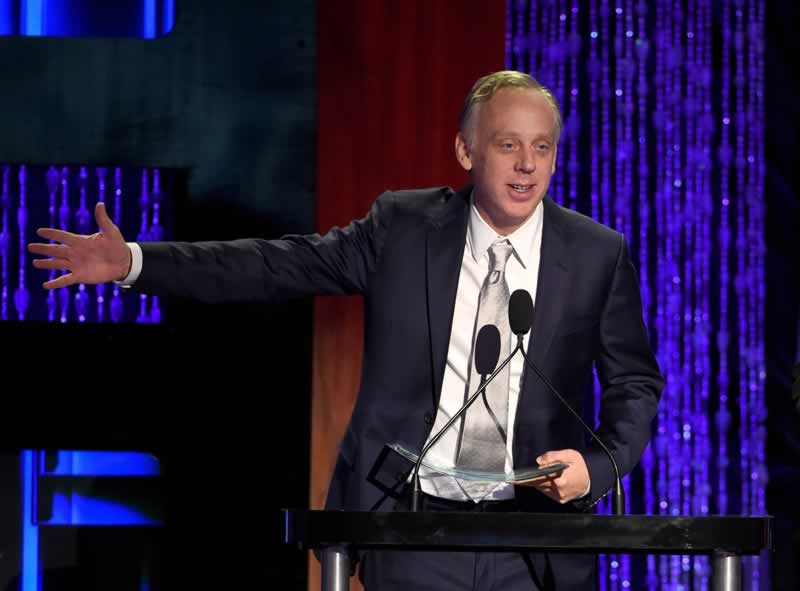 © Getty Images for PETA
When he's not writing screenplays, directing movies, or starring in television shows, White donates some of his time to help PETA remind folks why it's important to love animals, not eat them. In an interview, he explained to PETA how he became interested in animal rights, why he went vegan, and how it's improved his health. In the testimonial below, he also explained to us how his companion canine influenced his decision to stop eating animals.
White and Molly Shannon, who played Peggy in Year of the Dog, even starred in a PETA video that reminds us that we can all do better and that our dogs will love us for it.
Join Mike White—Take a Stand for Animals
Are you inspired by White's animal-loving characters and real-life actions? If so, you're in luck—saving animals has never been easier, thanks to PETA's vegan starter kit. Getting started is easy! Click the button below to order your free kit and find out how easy and affordable it is to start choosing healthy, humane, and environmentally friendly meals.