Update (April 28, 2022): Amid the largest bird flu outbreak in the country in seven years, a highly contagious strain of the virus (H5N1) has been detected in a human—a prison inmate working on a farm in Colorado—for the first time in the U.S. The worker was likely infected after he was involved in slaughtering chickens en masse—a "disease control" measure that's being implemented all over the U.S. on farms where avian flu outbreaks have occurred.
A case of influenza A(H5), also known as H5 bird flu, has been confirmed in a man in Colorado who had direct exposure to poultry and the culling of birds with presumptive H5N1 bird flu, the CDC said in a statement Thursday https://t.co/hZAxFIvPH2

— CNN (@CNN) April 29, 2022
Once an animal on a farm is determined to have the bird flu, the entire population is killed. In the largest mass slaughter on any factory farm in the country, workers at one of the world's largest egg factories were directed to kill more than 5 million chickens after a single case of avian influenza was detected.
"They cooked those birds alive," said one of the workers involved in the killing.
After spending nearly a month dragging dead birds from feces-covered cages, piling their bodies in nearby fields, and burying them in massive pits for 12 to 14 hours a day, about 250 workers—some of whom are undocumented migrants—were fired.
The confirmation of bird flu at another Iowa egg-laying farm will force the killing of more than 5 million chickens, state officials say. https://t.co/LaUC6NxW5l

— ABC News (@ABC) March 20, 2022
Originally posted on April 8, 2022:
Avian influenza—or "bird flu"— is ripping through the U.S., and more than 27 million chickens and turkeys have been killed in cruel ways since February 2022 in a futile attempt to stop the virus from spreading like wildfire across the country.

Outbreaks have been reported on commercial and "backyard" farms in at least 24 states.
In the U.S., farms may slaughter farmed animals en masse for "disease control" in horrific ways: Some companies kill birds with a water-based foam, slowly smothering them to death (sometimes taking up to 14 minutes), and egg farms typically gas the birds to death. Farms shut off all airflow in the sheds in another extremely cruel method known as "ventilation shutdown" (VSD), which often involves raising the heat to as high as 120 degrees and adding carbon dioxide (also known as "VSD Plus")—suffocating and baking the birds alive. The agonizing process can take hours, as the birds writhe, gasp, and desperately thrust themselves against the walls of the enclosure in an attempt to escape, before eventually succumbing to heatstroke and suffocation.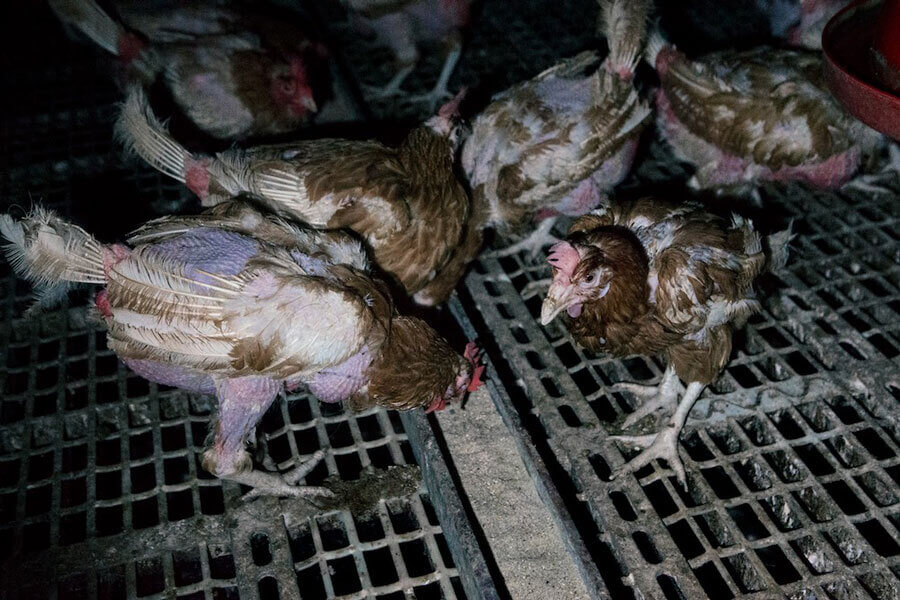 As long as the poultry and egg industries continue to raise sensitive birds for slaughter—typically cramming tens of thousands of chickens into filthy, windowless sheds, which are breeding grounds for disease outbreaks—this will keep happening. The best form of disease control on farms and at other facilities—including ones that falsely label their products as "free-range" or "organic"—is for them to stop raising and killing animals for food.
Whether it's #COVID19, Avian Flu, or Swine Flu, eating animals causes deadly diseases.#FlashbackFriday to when #Pretenders legend @ChrissieHynde and a PETA "chicken" warned folks to stay away from hazardous meat! pic.twitter.com/4ju3eDk2tU

— PETA (@peta) March 27, 2020
You can help spare animals, decrease the risk of future pandemics, protect the environment, and more by going vegan.
Take Action for Our Fellow Animals Killed in Cruel Ways for 'Disease Control'
Our fellow animals don't want to be killed under any circumstance, but the least farms can do is not use extremely cruel and painful methods to slaughter them for "disease control." The American Veterinary Medical Association (AVMA) still lists VSD and VSD Plus as "permitted in constrained circumstances," even though they can cause other animals to suffer in agony for hours. Tell the AVMA that these methods of killing are never acceptable, and urge it to not allow them to be used in the future: