To inspire the stars of Hollywood's most binge-able shows to ditch animal-derived products and go vegan, PETA is treating them to an array of binge-worthy snacks for this year's Best of Quarantainment Nominee Gift Bag, which will be independently distributed to select EMMY® nominees by premier gifting company Distinctive Assets in the lead-up to the show.
The gift bags focus on promoting businesses with owners who are women, indigenous, or people of color, and PETA jumped at the chance to showcase some of our favorite Black-owned vegan brands. Nominees will also receive our "Tofu Never Caused a Pandemic" face mask, and everything will be bundled in a custom PETA "End Speciesism!" tote bag that also reads, "No Place for Speciesism, Homophobia, Xenophobia, Racism, [or] Sexism."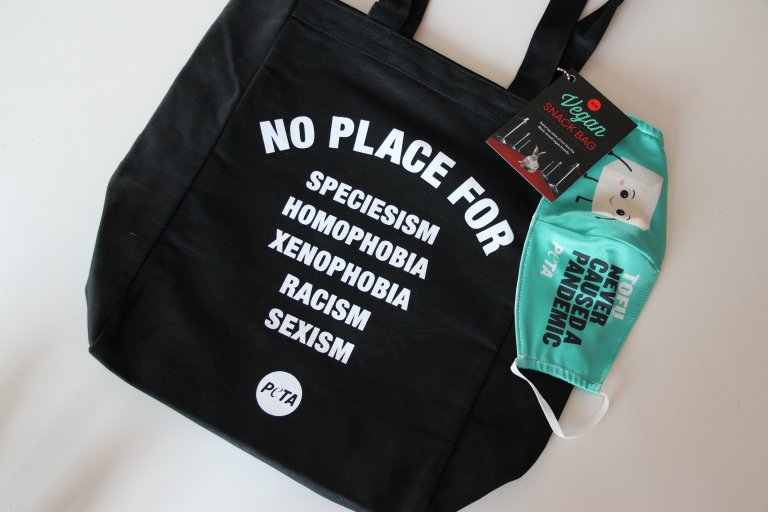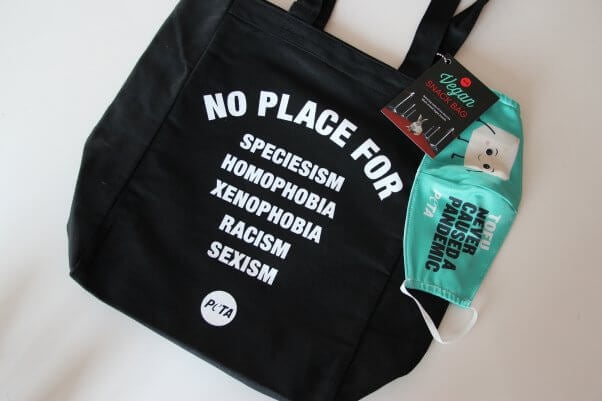 The bags will be filled with sweet and salty treats that show just how easy it is to avoid dairy, eggs, and other animal-derived byproducts like gelatin, which are products of immense suffering. Cows used for dairy are forcibly impregnated and regularly separated from their babies until their bodies give out and they're slaughtered for cheap meat, while hens in the egg industry are crammed by the thousands into dark, filthy sheds, where many lose their feathers because of the high levels of ammonia and the stress of extreme confinement.
The good news is that each person who goes vegan spares the lives of nearly 200 animals every year—we're hoping these snacks inspire you and the nominees to do just that!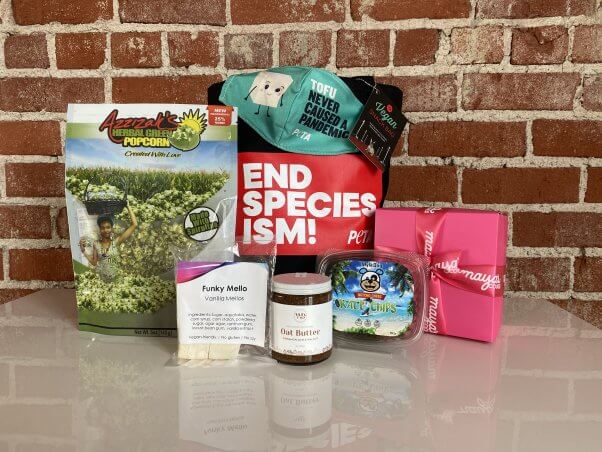 Here are the sweet and salty treats that some of TV's biggest names may be noshing on this awards season:
Founded in 2015 by Maya Madsen, Maya's Cookies is America's number one Black-owned gourmet vegan cookie company. A self-described "vegan with a sweet tooth" (we feel so seen), Maya struggled to find that perfect cookie free from eggs and dairy—you know, that soft but not too soft, melt-in-your-mouth goodness that dreams are made of? So she spent years getting the perfect vegan recipe down, and from there, Maya's Cookies was born! Maya carries more than 15 flavors, from Classic Chocolate Chip and Funfetti to her Famous "Everything" Cookie, which has chocolate chips, pretzels, oatmeal, pecans, caramel chips, and vegan marshmallows. Want even more good news? Maya's ships nationwide! So place an order and get yourself a glass of cow-free milk to wash down these must-try cookies.
Use code PETAFRIENDS for 10% off your purchase of Maya's Cookies!
"My family and I suffered illnesses that were linked to the consumption of cow's milk, therefore my goal was to create an alternative cheese that we could all enjoy," writes MylkDog founder Bethovan Enhancing. And that he did! Made with all plant-derived ingredients, MylkDog Notcho Cheez is dairy-, egg-, soy-, and gluten-free and adds extra flavor to everything from nachos to pizza to chili. The San Diego–based company ships nationwide, but for those of you living in Southern California, it's also available for purchase at Besties Vegan Paradise in Los Angeles and Mission Square Market in San Diego. Also included in PETA's snack bag are MylkDog's Notcho Cheez kale chips, one of the company's newest products.
Jakera Willis wants to change the way we eat, think about, and talk about food. And she's doing just that with her brain-boosting, superfood-packed vegan Oat Butter, the world's first whole grain oat spread that has simple, functional, and raw ingredients to fuel your day. Flavors include Cinnamon Maple Walnut and Cacao Almond, which can be enjoyed on their own or with your favorite vegan snacks like fruit or yogurt, in a smoothie, or on toast. Be sure to grab some jars to take your vegan breakfast (or snack or dessert) game to the next level.
For many of us, marshmallows were a common childhood treat, showing up in everything from s'mores to Rice Krispies Treats. Unfortunately, some marshmallow brands contain gelatin, a substance procured by boiling animal skin, tendons, cartilage, ligaments, or bones in water (ew). However, brands like Funky Mello are here to save the day by creating gelatin-free marshmallows that are 100% vegan (and soy- and gluten-free). With options for either vanilla- or strawberry-flavored marshmallows, this company—based in Austin, Texas—ships nationwide. Be sure to check out its colorful Instagram page for fun baking inspiration!
Azzizah's Herbal Green Popcorn
Our vegan gift bag wouldn't be complete without popcorn, the go-to snack for watching movies or TV. Azzizah's Herbal Green Popcorn takes traditional popcorn to the next level by packing it with healthy herbs and spices like superfood spirulina, nutritional yeast, and turmeric—with no congealed cow secretions (also known as butter) in sight. Azzizah and her family are "on a mission to improve people's health with the power of super plants"—they've without a doubt done just that and improved the lives of animals, too. Use the company's store locator to find a sales location near you, or get deliveries right to your door. Happy snacking!
Order online at www.herbalgreenpopcorn.com and get 10% off on your order when you use the code PETA10!
*****
You can save nearly 200 animals a year by going vegan! This includes animals such as cows, who develop deep bonds with their babies; pigs, who enjoy listening to music, getting massages, and even playing video games; and chickens, who like to sunbathe and talk to their babies while they're still in the egg. They have the same desire to live as any of us.
Need help getting started?
DISCLAIMER: Distinctive Assets has no relationship with the Television Academy® or the EMMYS® ceremony. Neither the Television Academy nor Distinctive Assets wants there to be any association in the media between Distinctive Assets' independent Nominee Gift Bags and the EMMYS® themselves.