Is your alma mater getting away with murder? This is one top 10 list that you hope your school isn't on. These colleges are among the worst offenders for killing animals in laboratories, but you can help stop the cruelty.
The University of Utah's history of violating the federal Animal Welfare Act is appalling. A marmoset monkey died after being used in a grueling 14-hour experimental surgery, a macaque monkey was burned so badly that he or she had to be killed, a neglected kitten died of dehydration, calves were kept restrained and unable to stand up or walk for days at a time, and animals died and then rotted in cages for days before anyone noticed.
An eight-month PETA undercover investigation at the university documented daily suffering of dogs, cats, monkeys, rats, mice, rabbits, and other animals. After we released our video footage, the U.S. Department of Agriculture cited the school for multiple violations of animal protection laws and lawmakers voted to amend the state's pound-seizure law so that animal shelters would no longer be forced to sell dogs and cats to laboratories.
You can help PETA continue our work to prevent other animals from suffering in these death labs by demanding that the University of Utah release its animal experimentation records now:
Johns Hopkins University receives more funding from the National Institutes of Health (NIH) than any other university in the country—$674 million in 2018. But the school wastes much of it on cruel, curiosity-based experiments on animals that are irrelevant to human health. To cite just one example, Johns Hopkins experimenter Shreesh Mysore—who has received more than $800,000 in tax-funded grants from NIH—cuts into barn owls' skulls, inserts electrodes into their brains, restrains the birds in an "experimental rig," and blasts them with noises from earphones. Other experimenters at the school have put octopuses in beakers of water laced with the mood-altering drug MDMA (aka "ecstasy"). Then they watched how the drug affected the animals' behavior toward other octopuses.
In yet another set of cruel and worthless studies, experimenters cut into monkeys' skulls, exposed part of the brain, covered it with a metal plate, and then coerced the monkeys to use a computer game in which they "gambled" for drops of juice. The animals were kept dehydrated so that they would "cooperate" for a sip of water.
Urge Johns Hopkins to end Mysore's torturous experiments on barn owls:
The University of Pittsburgh (Pitt) is the pits for animals. A PETA eyewitness investigation and records obtained by PETA through Freedom of Information Act requests revealed serious oversight issues and widespread animal suffering at the school:
Pitt experimenters sewed living mice together. At least 166 mice used in these experiments weren't given any postoperative pain relief.
Experimenters cut rabbits' knee ligaments, twisted their legs, inserted wires to force their legs to remain in the painful position, and left them that way for two months.
Living mice were thrown into freezers intended to be receptacles for dead animals.
Mice were left inside cages in boxes, on the floor, and in remote parts of the laboratory, where they were forgotten and died.
A mouse with a severe leg and foot lesion and an exposed muscle wasn't euthanized, as the protocol required, and suffered for two weeks.
Mice's toes were cut off without anesthetics.
Experimenter Rajesh Aneja punctured mice's intestines so that harmful bacteria would spill out and cause septic shock, even though a landmark study confirmed that the results of these tests can't be applied to humans.
Urge NIH to cut funding for Pitt's animal experiments:
The University of Pennsylvania's (Penn) history of animal abuse goes back decades—and so does our history of documenting it. In 1984, PETA released a short film called "Unnecessary Fuss" based on video footage shot by Penn experimenters, showing violent head-injury experiments being carried out on baboons in the school's laboratory. In the video, experimenters admit that a monkey is inadequately anesthetized but hold him down and continue cutting into his head anyway as he jerks in pain. They restrain baboons on a table, cement their heads into metal helmets, and use a hydraulic device to thrust them forward with an acceleration of up to 1,000 units of g-force in order to inflict severe head injuries. (Fifteen units of g-force can kill a human.) The animals struggle against their restraints, showing that they're conscious during the procedure. PETA shared the video with members of Congress and the public, resulting in significant amendments to laws governing the treatment of animals in laboratories. The exposé led the U.S. government to cut off all funding for the experiments.
But Penn still imprisons and experiments on dogs, cats, guinea pigs, monkeys, shrews, horses, and other animals. Records obtained by PETA detail pain, injury, misery, and death for animals. A live mouse was found in the carcass refrigerator. And six mice were locked in an irradiator because the machine malfunctioned and couldn't be opened until the next day—one mouse died, and the others had to be killed.
The school also helped fund Texas A&M University's pointless and deadly experiments on dogs. You can take action to help get these dogs out:
Duke University in Durham and Raleigh, North Carolina
This is the stuff of nightmares. Duke University experimenters drilled holes into monkeys' heads, inserted electrodes into their brains, and surgically attached head-restraint devices to immobilize them. The monkeys were deprived of water and kept thirsty so that they would "cooperate" in exchange for a few drops of juice. They were strapped into restraint chairs and forced to perform visual tasks, all to have them select which brand logos they preferred. In some trials, they were given the option of giving a juice reward to another monkey. When given the opportunity, they consistently chose to dole out juice to another monkey—even if they themselves received nothing. If only the experimenters had been as kind as the animals they were tormenting.
In Duke's laboratories, dogs, cats, guinea pigs, rabbits, monkeys, pigs, ferrets, and other animals suffer tremendously when they're used in experiments—and when their tormentors run afoul of the law. A lemur was crushed to death when a door separating two caging units fell on him or her. Mice died of dehydration when a water line to their cage became disconnected and no one bothered to check and see if they had water. In spite of a laundry list of chronic problems in its laboratories, Duke still receives approximately $475 million in NIH funding each year.
Urge the National Institutes of Mental Health—which supplied money for Duke experiments—to fund studies of advertising messages using human volunteers, not abused monkeys:
To add to its long, sordid history of imprisoning and experimenting on dogs, cats, guinea pigs, hamsters, rabbits, monkeys, sheep, pigs, and other animals, Louisiana State University (LSU) hired notorious bird killer Christine Lattin (who was previously at Yale) in 2018. She enjoys experimenting on sparrows and other wild birds whom she traps in nature and cages in her laboratory. She injures their legs, rattles their cages to scare them, and restrains them in cloth bags. She's mixed crude oil into their food and injected them with substances to damage their adrenal glands. After she's done using the birds, she kills them.
PETA was also recently contacted by a whistleblower who informed us that LSU's School of Veterinary Medicine had, for years, purchased dogs from a local animal shelter for use in deadly training exercises. The university bought at least 70 dogs from an animal shelter in 2018 and then killed them in crude veterinary training labs and possibly other experiments. After PETA exposed LSU, Louisiana Gov. John Bel Edwards signed a law banning shelters from selling animals to laboratories for experimentation.
Join PETA supporters around the world in demanding that LSU put a stop to Lattin's cruel and worthless experiments on birds:
If it tells you anything about the University of Michigan, the school invited one of the most notorious animal abusers of all time for a speaking engagement. You may remember the name of Stephen Suomi from his psychological torture experiments on baby monkeys, which PETA successfully stopped. We were out in force protesting his appearance, and we keep winning against cruelty at the university.
PETA exposed the school for using cats—many of whom had been taken from local shelters—in intubation trainings in which students repeatedly shoved hard plastic tubes down their windpipes, causing bleeding, swelling, scarring, collapsed lungs, and other traumatic injuries. The university persisted, even though widely available human-patient simulators could better replicate human anatomy. But after a yearlong campaign by PETA and our supporters, including Michigan natives Lily Tomlin and Iggy Pop, we got the cats out and the simulators in. We also made sure that the University of Michigan had to return $1.4 million in funding to NIH after it "accidentally" used federal grant money for experiments on animals after the approval had lapsed.
You can speak out to help stop animal abuse at the school:
The University of California–San Francisco (UCSF) receives half a billion dollars a year in taxpayer funds to experiment on the more than 1 million animals locked away in its laboratories. But its history of violating federal animal welfare laws and guidelines is long and well documented:
Experimenters failed to provide animals being used in invasive surgeries with sufficient anesthetics.
A pig had to be killed after his or her stomach was perforated.
Two voles were subjected to an experimental brain surgery without approval, and when their heads didn't heal as expected, they were killed.
Newborn mice were put in a freezer meant for dead animals.
Experimenters cut out both of a rabbit's eyes in an unapproved surgery.
Mice's toes were cut off without pain relief, and more mice died from dehydration because no one noticed that they didn't have water.
UCSF was cited for tormenting a monkey named Petra in a cruel brain experiment for nearly two years (despite her deteriorating health) and failing to remove surgically implanted hardware from her skull, as required.
NIH policies require facilities receiving taxpayer money to abide by animal welfare laws and guidelines, which UCSF continually fails miserably to do. The school was already forced to pay one of the largest fines ever incurred by a laboratory—$90,000—for dozens of violations. Call on NIH to revoke the lab's taxpayer funding:
The University of Washington (UW) holds the distinct dishonor of being home to the notorious Washington National Primate Research Center, one of the largest primate laboratories in the world, where more than 1,200 sensitive and intelligent monkeys are trapped in an unending nightmare. Just a few of the experiments carried out in this hellhole include the following:
Cutting into pregnant monkeys one week prior to delivery and intentionally blocking their umbilical cords in order to block the flow of blood and oxygen to the fetuses and induce asphyxia in the babies
Cutting holes in monkeys' skulls, inserting electrodes into their brains, and surgically implanting wire coils in their eyes
Infecting monkeys with the simian form of HIV (which is distinct from human HIV)
Infecting monkeys with Ebola and watching as they succumb to hemorrhagic fever, with symptoms such as severe muscle pain and both internal and external bleeding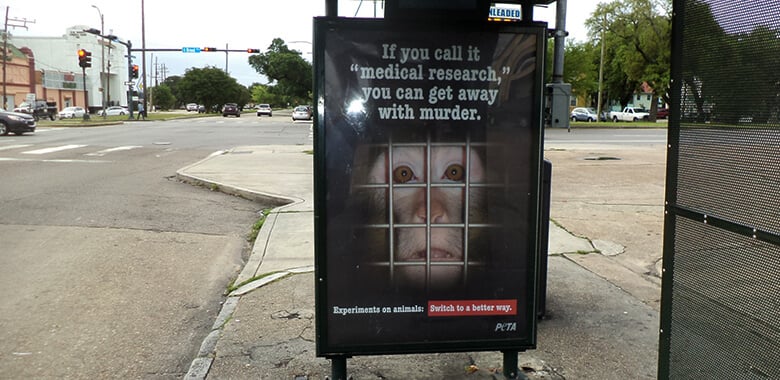 Negligence and incompetence seem to be business as usual at UW. A federal report obtained by PETA earlier this year revealed that apparent incompetence there led to the death of a monkey who'd been used in an experimental surgery. Food hadn't been withheld from him the night before as it should have been in preparation for the surgery, and he went into respiratory arrest, vomited while he was being given CPR and a tube was thrust down his throat, and died. In another incident, a monkey used in a painful procedure was given an opioid that had been diluted, likely resulting in insufficient pain relief, because someone at the center had seemingly been siphoning the drug. Monkeys at the school have suffocated, died of dehydration, and died of trauma. Experimenters there have deviated from protocols, exacerbating the pain and suffering of vulnerable animals.
And now UW wants to spend time and money staging mouse cage fights. Appeal to the school to cancel these abusive and absurd tests today:
Another contender for "Worst Place on Earth to Be a Primate" is Oregon Health & Science University and the Oregon National Primate Research Center.
Here, experimenters fed pregnant monkeys a diet high in fat and then studied and killed their babies, injected pregnant monkeys with nicotine or surgically implanted nicotine pumps into their backs, and administered high doses of vitamin C to pregnant mothers, removed their fetuses via C-section, and performed invasive lung-function tests on the babies before killing and dismembering them.
And here as well, animals suffer and die because of employee incompetence. A monkey got behind wall-mounted cages, where he became trapped and died. Two monkeys were found unresponsive after they were given the wrong dose of insulin. A sick pregnant monkey was denied needed veterinary care, causing her and her baby to die. A surgical sponge was left inside a baboon, causing an abscess. Experimenters performed surgery on the wrong monkey. And the list goes on and on.
Get the word out to help stop the school's acts of cruelty against monkeys:
---
NIH itself has acknowledged that experiments on animals fail to produce human-relevant results. In its most recent five-year plan, the agency stated that "animal models often fail to provide good ways to mimic disease or predict how drugs will work in humans, resulting in much wasted time and money while patients wait for therapies." Yet it continues to fund these dead-end experiments with your tax dollars.
Please ask Congress to cut NIH funding for these cruel experiments and to redirect that money toward modern, human-relevant research methods:
And if you didn't see your school on this list and want to know if it's involved in animal testing, check out PETA's Campus Cruelty Report for information.