The Oregon National Primate Research Center (ONPRC) is one of seven so-called "flagship primate centers" established and funded by the National Institutes of Health (NIH) and one of the largest primate laboratories in the world. Located in Beaverton, Oregon, the ONPRC is affiliated with Oregon Health & Science University (OHSU), which used 1,382 nonhuman primates in experiments in 2021. An additional 4,278 nonhuman primates were imprisoned at the facility for other purposes, including breeding. In 2022, OHSU received more than $284 million in taxpayer funds from NIH, including a $12.75 million base grant for the basic operations of the ONPRC.
Many OHSU faculty members conduct ongoing experiments on monkeys at the ONPRC. The following are a couple of examples:
Paul Kievit, Elinor Sullivan, and Kevin Grove fed pregnant monkeys a diet high in fat and then studied the taste preferences of the babies. The experimenters killed the infants at 13 months of age to study their brains.
For the past 40 years, Eliot Spindel has conducted nicotine studies on rhesus monkeys—injecting pregnant ones with nicotine or surgically implanting nicotine pumps into their backs—to observe its effects on their fetuses. In one study, he administered high doses of vitamin C to one group of monkeys. He then removed the fetuses via C-section and performed invasive "lung function" tests on the babies before killing and dismembering them.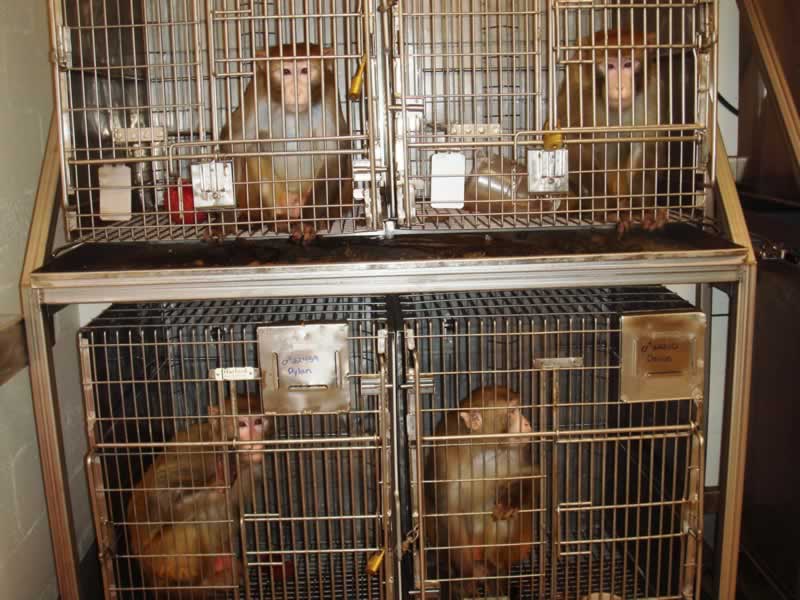 OHSU also confines monkeys for its breeding program. Some of them are kept in outdoor breeding corals that look more or less like a modern zoo. OHSU and the ONPRC like to showcase this part of their facility by releasing photographs and offering field trips, implying that this reflects the life of the monkeys at its facility. But inside their buildings, monkeys who are isolated in small stainless-steel cages live a far more miserable existence.
A monkey known as Milo (#16604) was used as a so-called "breeding monkey" at OHSU—rotating through female cages or subjected to painful electro-ejaculation. Monkeys who are subjected to this procedure are strapped to a restraint chair, a metal band is wrapped around their penis, and bursts of electric shocks are delivered to their penis until they ejaculate.
A monkey known as Billy the Kid (#19822) was forced to endure this procedure at least 48 times. The babies produced through the program are sold to other laboratories or used by experimenters at OHSU.
According to federal inspection reports, the suffering of monkeys at OHSU extends beyond the breeding and experimentation programs. The primates have endured extensive injuries and died as a result of employees' carelessness or incompetence, and experimenters have deviated from approved protocols, exposing monkeys to additional pain and distress. In one incident, a juvenile monkey was able to slip, unnoticed, behind the wall-hung cages, where he became trapped and died. In another, two primates were burned by an electric heating pad that was used during a procedure but not adequately monitored. Two monkeys were found to be unresponsive one morning, and one had to be euthanized after the animals were accidentally given the wrong dose of insulin. One inspection report concluded that more than half the rhesus macaques at OHSU had "significant" hair loss—which indicates that they were suffering from extreme psychological distress.
In 2008, the U.S. Department of Agriculture (USDA) issued an official warning to OHSU following a complaint filed by PETA. Internal documents that we obtained revealed that a sick pregnant monkey had been denied veterinary care, leading to her death and that of her unborn baby; that a surgical sponge had been left inside a baboon (causing an abscess) and discovered only after the primate had been killed for an experiment; and that experimenters mistakenly performed surgery on the wrong monkey. In 2012, OHSU was fined nearly $12,000 by the USDA for repeated violations of the federal Animal Welfare Act—including the escape of nine monkeys and the deaths of five others as a result of dehydration, being injected with unapproved compounds, and improper procedures performed by an inadequately trained employee.
Urge your members of Congress to mandate that the National Institutes of Health stop throwing away taxpayer money on cruel, useless animal experiments and instead focus on modern, non-animal methods of research.