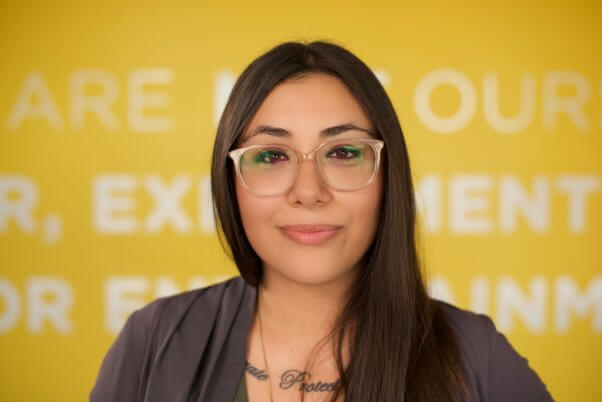 Rachelle Owen
Director of Student Campaigns and Influence
Rachelle Owen credits her late mother with instilling in her a strong compassion for animals. Born in Detroit and raised there and in other Michigan cities, Owen saw firsthand the results of dogfighting and animal abandonment—she once risked her life by running onto a busy freeway to rescue a dog who had been tossed out of a car. Owen was an active volunteer with the Southeastern Michigan Animal Rights Team and with local animal rescue groups, and she rescued many animals from abuse, including a neglected, malnourished dog named Bubba who belonged to a family who lived across the street from Owen's mother. Bubba was kept chained by the snout to the floor of the family's living room, and Owen pleaded with the family for nearly a year before finally persuading them to allow her to find Bubba a new home.
While writing a high school newspaper article on the fur industry, Owen came across PETA's website, which opened her eyes to the many ways that animals are abused. Owen went vegetarian overnight, and she was so impressed by the unique and effective tactics of PETA's youth arm, peta2, that she decided to contact the group and start volunteering with peta2 during its stops in Michigan. A few years later, she became an official peta2 intern and then a peta2 staffer.
Today, Owen works as the Director of Student Campaigns and Influence, overseeing the group's e-mail and mobile marketing and youth initiatives. She manages the group of staffers who coordinate PETA's youth campaigns, who work with young people around the world who help animals through demonstrations, student groups, PETA's youth advisory board, e-mail campaigns, the PETA Points mobile app, efforts to implement dissection-choice policies and vegan cafeteria options at their schools, and more. She also oversees PETA's TeachKind program, which provides teachers with humane-education materials, as well as PETA's work to end animal dissection, which recently included a historic bill that was introduced in California. Owen also manages the PETA Kids program, which aims to reach and support kids 12-and under and their parents.
Owen's work with PETA's young volunteers was instrumental in convincing the Bolivian military to stop conducting trauma-training exercises on animals, getting NASA to cancel its plan to conduct radiation experiments on squirrel monkeys, and persuading Delia's to stop selling a T-shirt that promoted the Ringling Bros. and Barnum & Bailey Circus. Owen also led the effort behind PETA's protests against Ringling's summer performances on Coney Island—and saw Ringling stay off the island the very next year. And, in 2013, Owen assisted PETA in the largest-ever seizure of animals in California after PETA exposed massive animal suffering at a rat and reptile supplier. (The owner of that facility was later charged with more than 100 counts of felony cruelty to animals.)
Owen has taken part in numerous attention-grabbing demonstrations—including one in which she painted her nearly nude body plaid to protest Burberry's use of fur and another in which she stripped down to a bikini and jumped into a tank of "bloody" water to illustrate how chickens are scalded alive for KFC and McDonald's.