The Egg Industry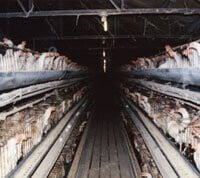 The 305 million chickens used each year for their eggs, called "laying hens" by the industry, endure a nightmare that lasts for two years.
At just a few days old, a large portion of each hen's beak is cut off with a burning-hot blade, and no painkillers are used. Many birds, unable to eat because of the pain, die from dehydration and weakened immune systems.
After enduring these mutilations, hens are shoved into tiny wire "battery" cages, which measure roughly 18 by 20 inches and hold up to 10 hens, each of whom has a wingspan of 32 inches. Even in the best-case scenario, each hen will spend the rest of her life crowded in a space about the size of a file drawer with four other hens, unable to lift even a single wing.
The birds are crammed so closely together that these normally clean animals are forced to urinate and defecate on one another. The stench of ammonia and feces hangs heavy in the air, and disease runs rampant in the filthy, cramped sheds. Many birds die, and survivors are often forced to live with their dead and dying cagemates, who are sometimes left to rot.
The light in the sheds is constantly manipulated in order to maximize egg production. Periodically, for two weeks at a time, the hens are only fed reduced-calorie feed. This process induces an extra laying cycle.
Male chicks are worthless to the egg industry, so every year millions of them are tossed into trash bags to suffocate or are thrown into high-speed grinders called "macerators" while they are still alive.
After two years in these conditions, the hens' bodies are exhausted, and their egg production drops. These "spent" hens are shipped to slaughterhouses, where their fragile legs are forced into shackles and their throats are cut. By the time they are sent to slaughter, roughly 29 percent of the hens are suffering from broken bones resulting from neglect and rough treatment. Their emaciated bodies are so damaged that their flesh can generally be used only for chicken noodle soup, companion animal food, or "canned, boned, and diced" meat, much of which goes to the National School Lunch Program.
The good news is that removing eggs from your diet is easier than ever. Today there is a multitude of delicious and humane egg-free options. Check out a list of our favorite egg-free alternatives and recipes.