This lesson plan is designed to help teachers present animal rights issues to their students. If you're an educator, please feel free to adapt this material to fit your needs, and contact us if you need help incorporating this activity into your curriculum.
Suggested grade levels: Middle and High School
Objectives: Determine central ideas of and rhetorical devices used in Martin Luther King Jr.'s "I Have a Dream" speech; use critical-thinking skills to draw parallels between the civil rights and animal rights movements; write and give a speech using techniques observed in Dr. King's speech
Martin Luther King Jr.'s message of nonviolence is as relevant today as it was during his lifetime. We can pay tribute to his legacy every day by opposing discrimination against anyone—including animals. The animal rights movement draws inspiration from the civil rights movement, and in fact, Dr. King's inspiration for nonviolent actions was Mohandas Gandhi, who was an animal advocate and a vegetarian. Whenever we speak up for people or animals who are being oppressed, abused, or neglected, we are honoring Dr. King's commitment to social justice, peace, and equality. For this activity, you can have students draw parallels between the animal rights movement and human rights movements and write a short speech inspired by Dr. King.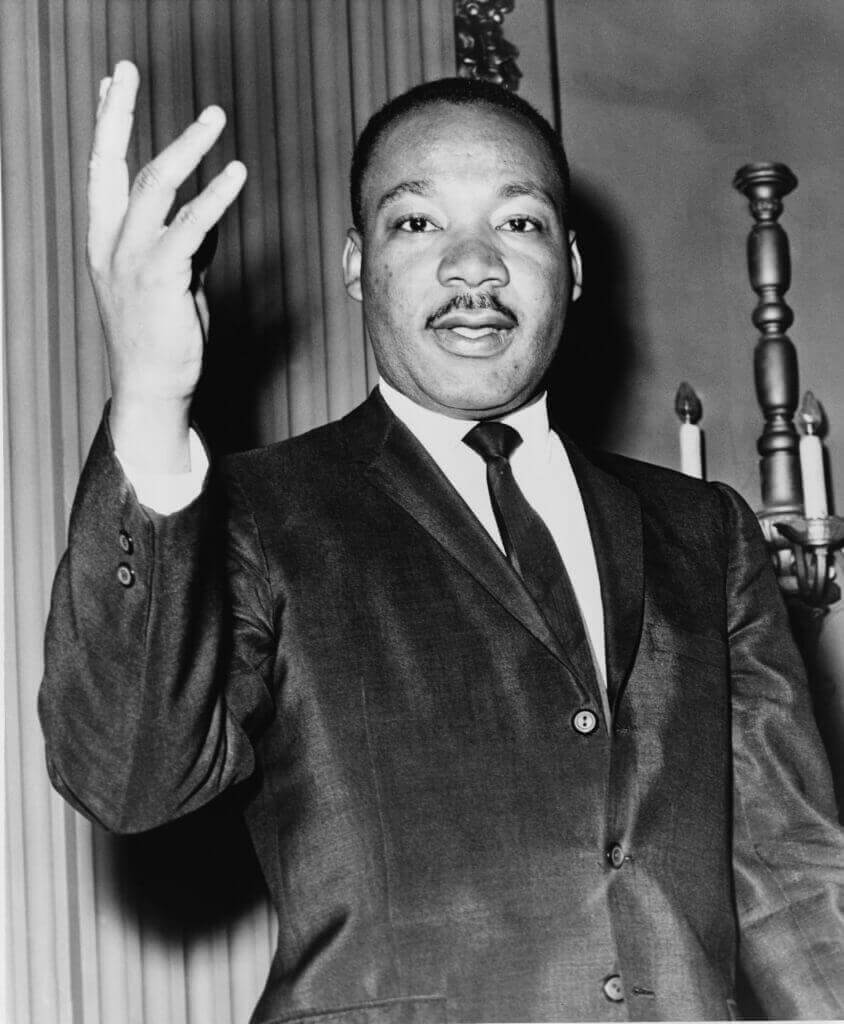 One of Dr. King's many skills was his ability to speak in a way that opened the minds of his audience members to feel empathy and compassion for those who are being oppressed—as well as inspiring them to speak up for what is right. Play Dr. King's "I Have a Dream" speech for your students, and have them read along. Instruct them to pay attention to the imagery, rhetorical devices, and language that he uses to engage his audience. Then as a class do the following:
Determine the central ideas of Dr. King's speech and summarize them. Think about the social justice issues we face in the world today: They still include civil rights, women's rights, and gay rights, and they also include animal rights.
Analyze the structure of the speech and how key sentences, paragraphs, and structure contribute to the effectiveness of the speech as a whole, and consider the following:

How does Dr. King inspire hope for his cause?
How does he create empathy in his audience?
What sorts of patterns and speaking styles does he use throughout the speech? How do they affect his message?

Point out the parallels between the animal rights movement and other social justice issues such as civil rights, and discuss how animals are routinely abused and robbed of their rights through the food, clothing, experimentation, entertainment, and pet trade industries. Ask students to question why society deems certain abuses "acceptable," such as the slaughter of animals for food and clothing, while other cases of animal abuse are considered illegal. Is it fair? Why or why not?
Using the tools and devices that Dr. King uses in his speech and keeping in mind the principles of nonviolence, equality, and hope that he promoted, ask students to write a short speech (a page or less) about animal rights that will inspire others to think about how our society treats animals. Ask students to read their speeches aloud, and have the rest of the class evaluate the speaker's point of view, reasoning, and use of evidence and rhetoric. Ask students to practice using eye contact, adequate volume, and clear pronunciation in order to get their points across.