Thanks to Abby Reiman, a passionate young animal advocate and 11th-grade student, the public schools in Fairfax County, Virginia, will no longer have glue traps on their campuses!
In case you weren't already aware, glue traps are inhumane "pest control" devices that consist of a board coated with a sticky adhesive designed to ensnare any small animal who wanders onto its surface. The victims of these devices aren't limited to mice and rats—birds, frogs, insects, and even kittens are easily caught in these torture traps. Animals stuck on the surface experience slow and agonizing deaths. Many traps are thrown into the trash while still bearing a live and suffering animal. Unfortunately, many institutions—including schools and universities—still use these horrific devices instead of choosing humane methods to keep rodents away.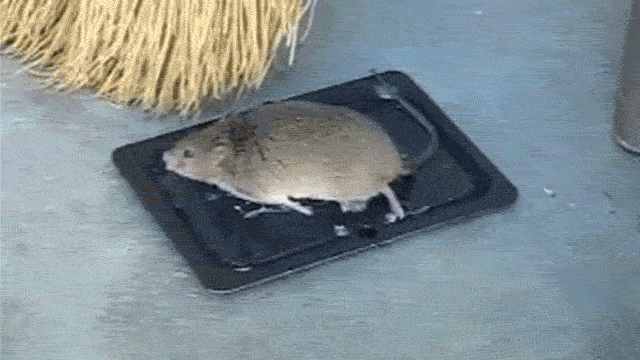 After Abby learned the truth about glue traps, she immediately investigated to find out if these devices were being used at her school—and confirmed that they indeed were. Abby knew she had to speak up, so she worked with PETA to write a letter to the superintendent of her school district, citing the unacceptable cruelty to animals as well as the health risks associated with glue traps. And guess what? That's all it took to get these devices banned from all the schools in the Fairfax County school district.
But Abby isn't stopping there: She's reaching out to all the public school districts in Virginia and asking them to make the same compassionate choice that Fairfax County has. To recognize Abby for her courage, passion, and lifesaving efforts, our youth division gave her a well-deserved Hero to Animals Award.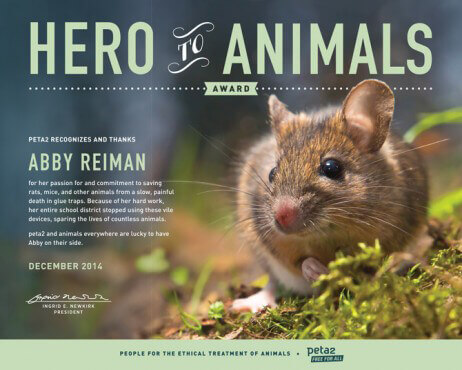 Teachers: Your voice can make a difference, too! Find out if your school or any schools in your district are using glue traps and condemning mice and other small animals to an excruciatingly slow death. If you discover that glue traps are being used, please write a letter to or schedule a meeting with your principal or superintendent and ask that he or she adopt a more humane alternative and join the many educational institutions that have banned these vile devices.
It can be that easy to make a difference in the lives of these little animals!