May was Teacher Appreciation Month, and to show our appreciation for all the kind teachers out there, we asked you to let us know all about the ways that you or an educator you know went above and beyond to speak up for animals. Well, you did. And it was inspiring to read through all the nominations and hear about the ways you're teaching kindness. We're very excited to introduce you to the fabulous teachers we chose as our winner and runners-up.
Meet these terrific TeachKind teachers:
Winner!
April Kearney, Greely Middle School, Cumberland, Maine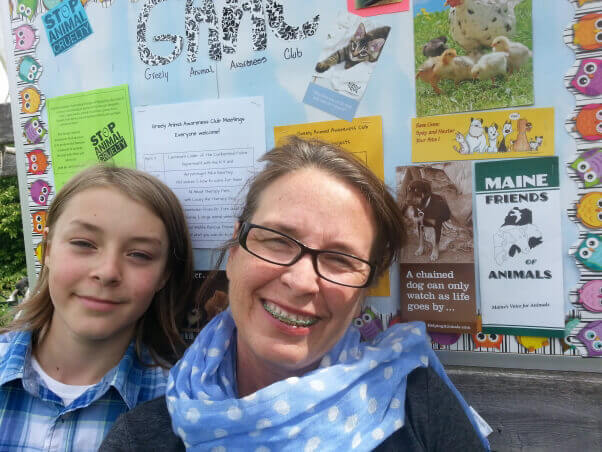 April has always been passionate about animal rights and teaching students to be kind, which is why she started Greely Middle School's Animal Awareness Club—and thanks to her dedication, her club has already become a true force to be reckoned with. April and her group of more than 35 students (many of whom are already vegan) use TeachKind materials and videos to facilitate conversations, think critically, and raise awareness of important animal issues—from the fur industry to factory farming to spaying and neutering of companion animals. In the past year, they've written letters to Congress speaking out against the use of elephants in circuses and campaigned against Linda Bean's Maine Lobster's cruelty (and some students even appeared on the local news). Thanks to April's lessons, students have taken their compassion home with them, talking to their families about staying away from animal-abusing places like SeaWorld.
April has organized club fundraisers to benefit local animal shelters, and students have done everything from making and selling their own crunchy vegan dog treats to selling artwork at school craft fairs. They've also hosted blanket drives. April is currently working on revitalizing the school's greenhouse in order to grow vegetables while emphasizing the health benefits of plant-based foods.
The Greely Animal Awareness Club's success is in large part thanks to April's hard work. She volunteers her time to secure regular guest speakers for the group, puts together the group's newsletter, and even creates informative fliers about subjects such as the students' right to say no to dissection.
We can't wait to see what Greely's Animal Awareness Club has in store for students next school year under April's guidance. Keep up the awesome work, April!
Runners-Up
Barbara Lafaver, California High School, San Ramon, California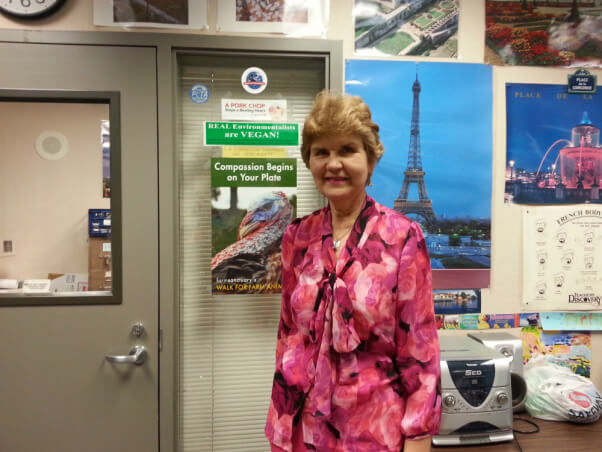 Barbara, a high school English and French teacher, is not at all shy about her vegan lifestyle and passion for animals. She always has a table full of TeachKind materials in the back of her classroom, has been the adviser for her school's animal rights clubs, and has brought animal rights to her classroom in as many creative ways as she can. She uses PETA videos in lesson plans, has had students write and send letters to businesses that exploit animals, lends animal-friendly books and documentaries to students and colleagues, and always offers extra credit if a student chooses to do a project on an animal issue. Her students know that she's the go-to person when it comes to finding out where to get the best vegan meal in town, and thanks to her lessons, she's had several students let her know that they've gone vegan. Barbara is retiring this year, but we know she'll still be doing lots of good work to help animals. Great job, Barbara!
Diane DiGravio, Webster Schroeder High School, Webster, New York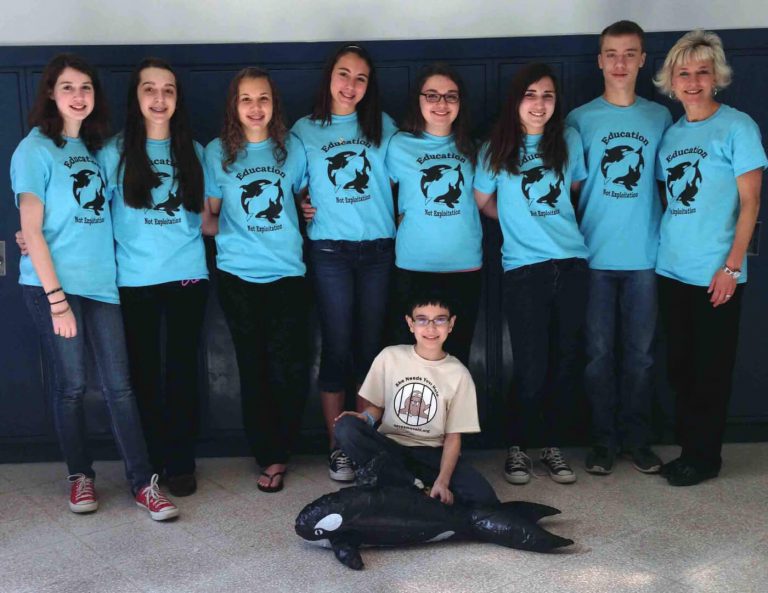 More than 15 years ago, Diane switched careers from science researcher to teacher so she could follow her passion and teach young people how to make a difference for animals. Diane is a mentor to students in her "Education, Not Exploitation" group, and she also incorporates lessons on animal rights into her regular science classes. After she showed Blackfish to her students, they were so moved by the plight of orcas in captivity that Diane decided to organize an entire symposium with her students dedicated to speaking up for orcas—and some people interviewed in Blackfish were even in attendance. In March, Diane was able to reach an even wider audience through her TEDx talk on humane education, and she's currently working on launching a nonprofit through which she can share her humane education lesson plans with other educators—for free. Way to go, Diane!
Stacey Knight, Antonia Middle School, Barnhart, Missouri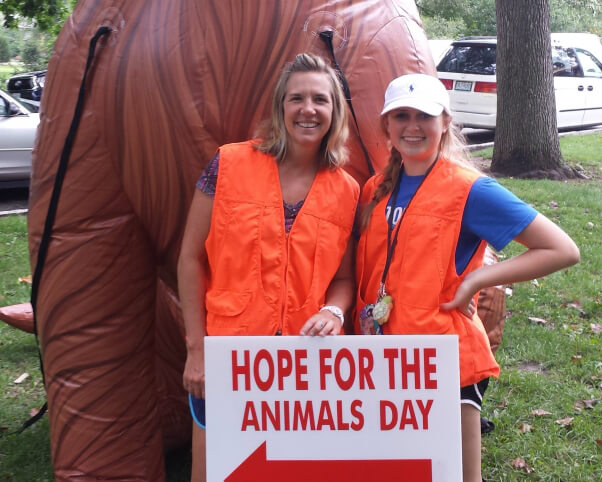 Stacey has been teaching for more than 20 years—and she's been speaking up for animals the whole time. She developed an entire summer-school course about caring for companion animals, and it was very popular with students, so it wasn't long before she founded a campus animal rights club called Providing Animal Welfare Services (PAWS) so that they could focus on animal rights all year long. The group has done a lot to support the local animal shelter, including hosting fundraisers and making cat and dog toys and donating them. Some of Stacey's lesson plans included discussing the plight of chained dogs and hosting fundraisers to help them as well as having students send Valentine's Day cards to the orcas imprisoned at SeaWorld in order to show the abusement park's management that orcas should be free in the wild, not held in small tanks. Stacey is wrapping up her last year of teaching, but she plans to devote her newfound free time to helping to coordinate local spay-and-neuter efforts as well as volunteering with the PAWS club that she founded. Keep up the great work, Stacey!
***
Congratulations to these fabulous teachers for their accomplishments! We hope they inspired you as much as they did us. Want to get a head start on your entry for next year's contest? Join TeachKind's mailing list and start making a difference for animals with your students:
By submitting this form, you're acknowledging that you have read and agree to our privacy policy and agree to receive e-mails from us.