TeachKind staffers are always up for an outreach opportunity—we love helping teachers incorporate compassion for animals and humane education into their classrooms. This school year was particularly busy, filled with outreach, tabling, professional-development training, and more. Check out some of the highlights from the 2017–2018 school year:
August 2017
TeachKind traveled to Vancouver, British Columbia, to participate in an expert-panel meeting on replacing animal dissection in secondary education. Experts from Canada, New Zealand, the U.K., and the U.S. strategized for relegating animal dissection to the history books and committed to participating in an ongoing international working group.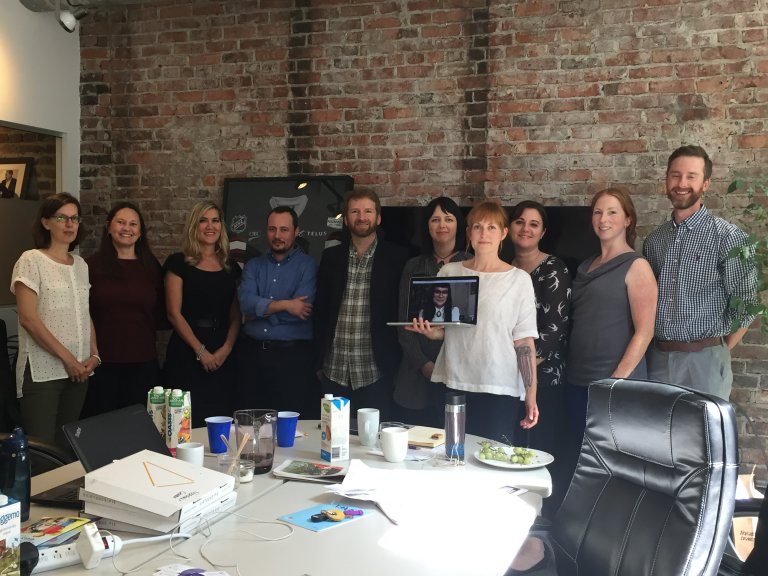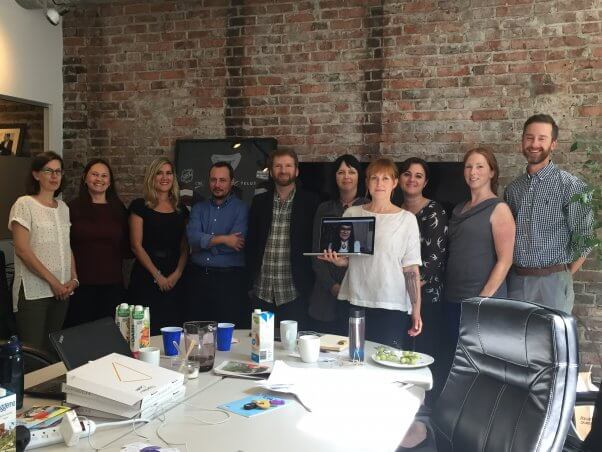 Animals in Science Policy Institute
At the Animal Rights National Conference in Alexandria, Virginia, TeachKind served on an expert panel for humane education. We also held a breakout session just for K–12 teachers, and it was standing room only! We sent teachers home with free materials and let them know that we're here to support their compassionate efforts in the classroom. We continue to help many of the educators we met at the conference.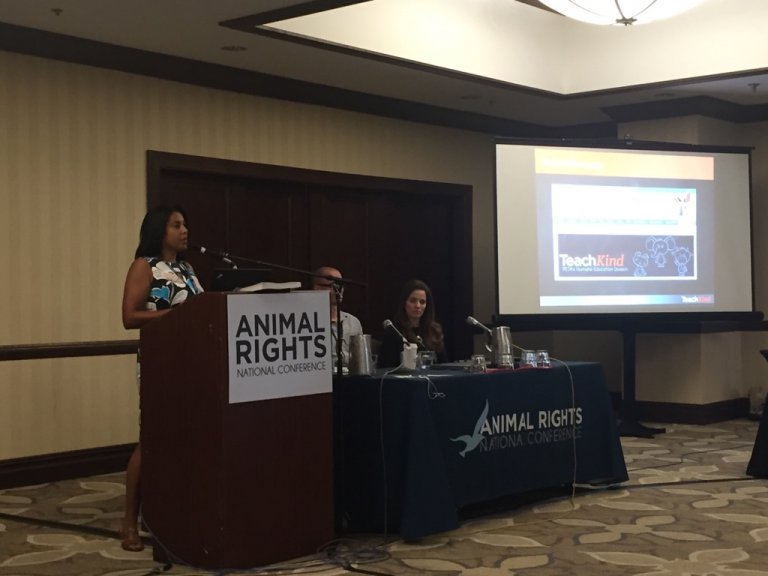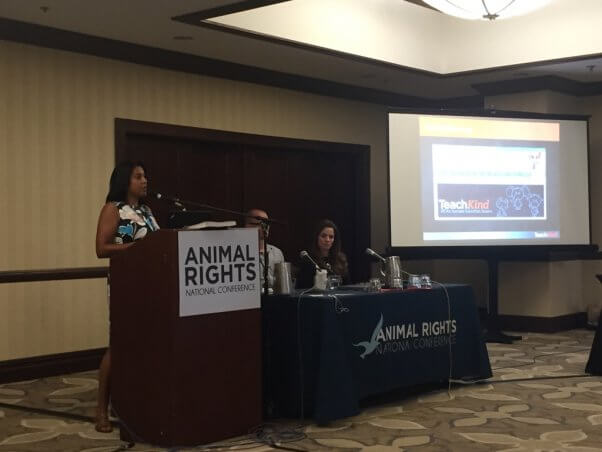 We presented our workshop titled "Share the World: Building Character and Achievement Through Compassion for Animals" at the Rejuvenate! learning conference organized by Hampton City Schools in Virginia. The session focused on integrating compassion for animals into existing curricula. We gave all participants a free Share the World kit and a humane book for the classroom.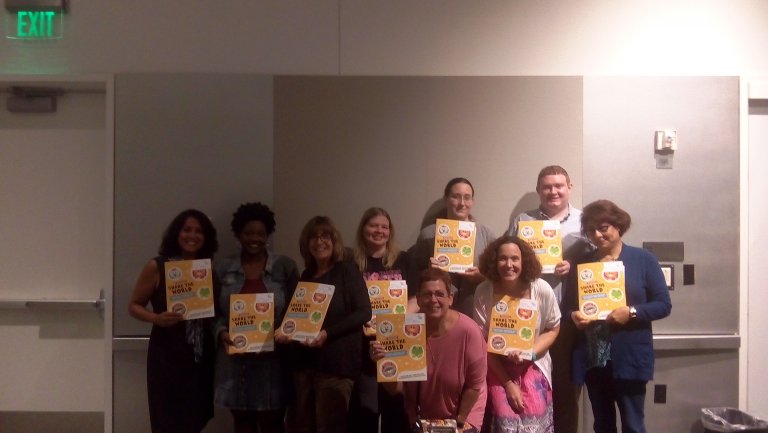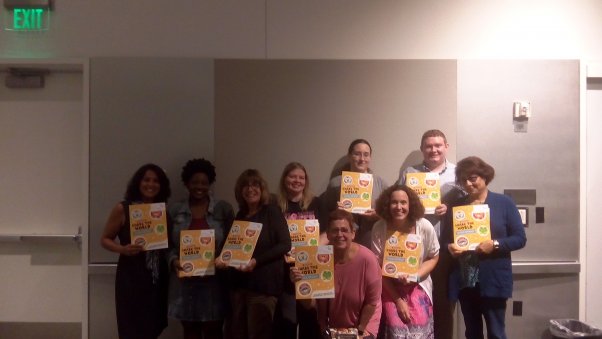 October 2017
Conferences for science educators are at the top of TeachKind's outreach list. Over the years, we've traveled to Arizona, California, Maryland, Minnesota, North Carolina, South Carolina, Utah, Virginia, Washington, Wisconsin, and many other states to demonstrate superior and humane digital dissection software in order to help science teachers replace archaic and cruel animal dissection. This year, we tabled at the Illinois, New Jersey, and Pennsylvania National Science Teachers Association conferences.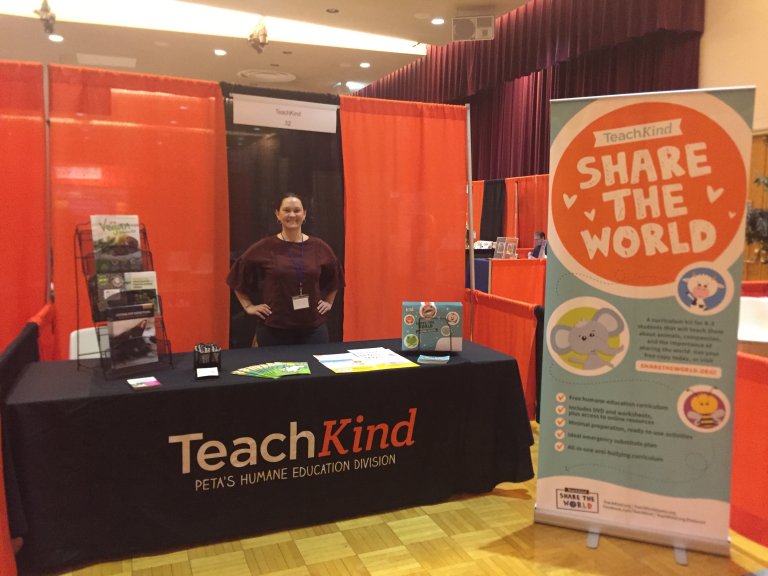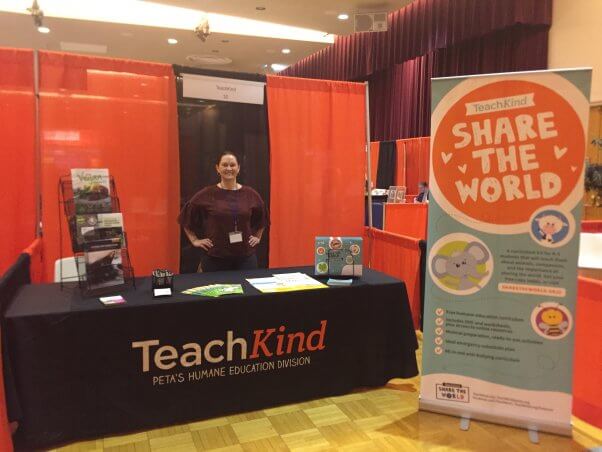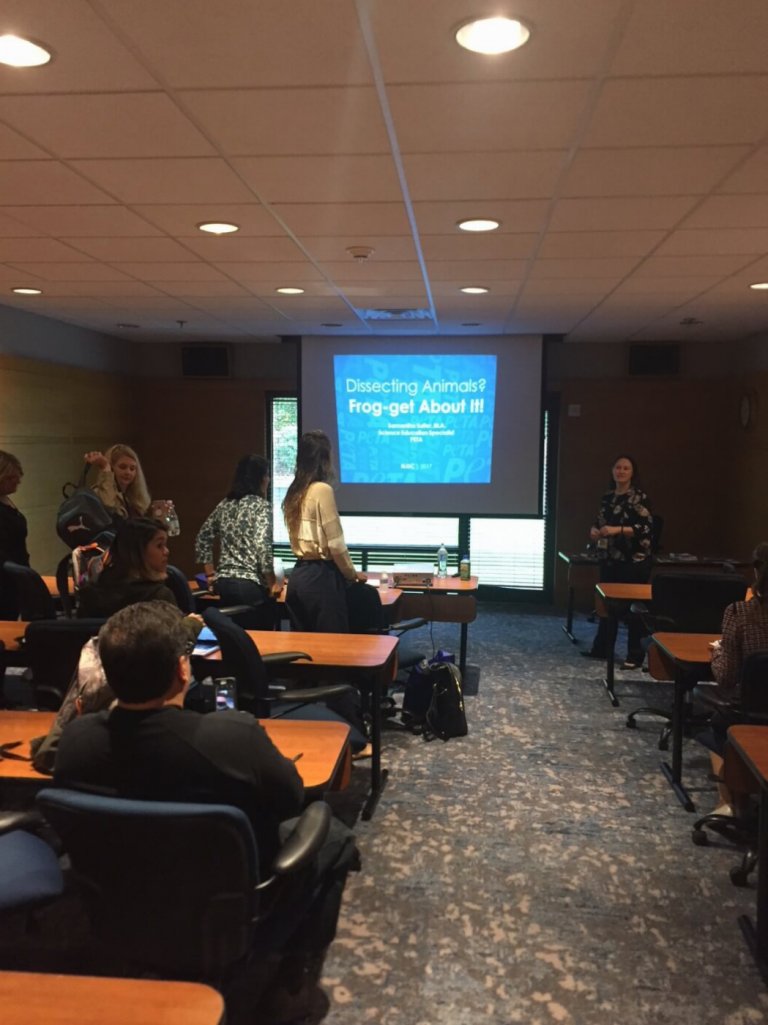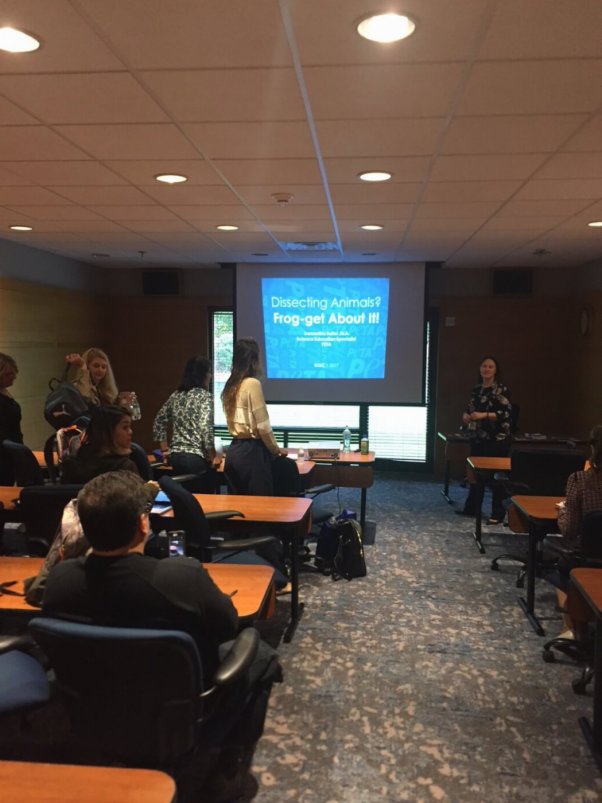 TeachKind also tabled at Hampton Roads VegFest in Virginia, which was attended by about 2,000 people. We were able to connect with lots of local teachers and homeschool families. And our Animal Trivia Wheel was a big hit with kids and adults alike. It's designed to foster empathy by asking people questions that make them think of animals as individuals.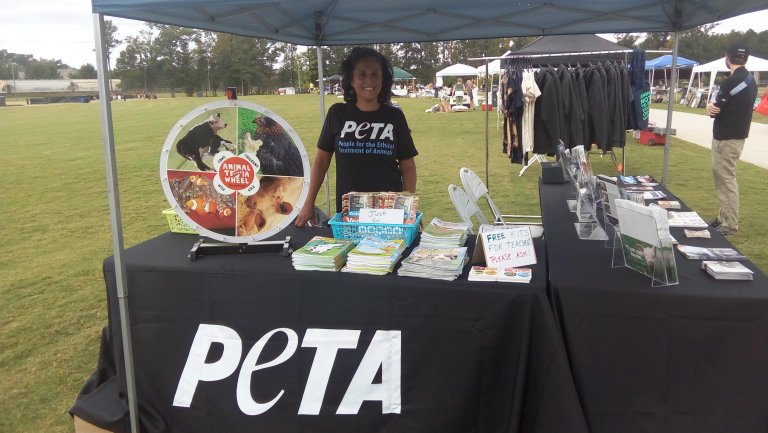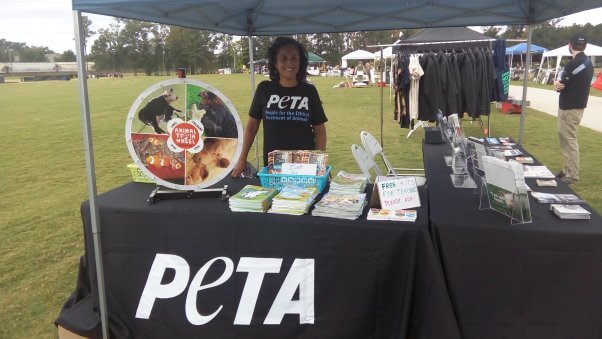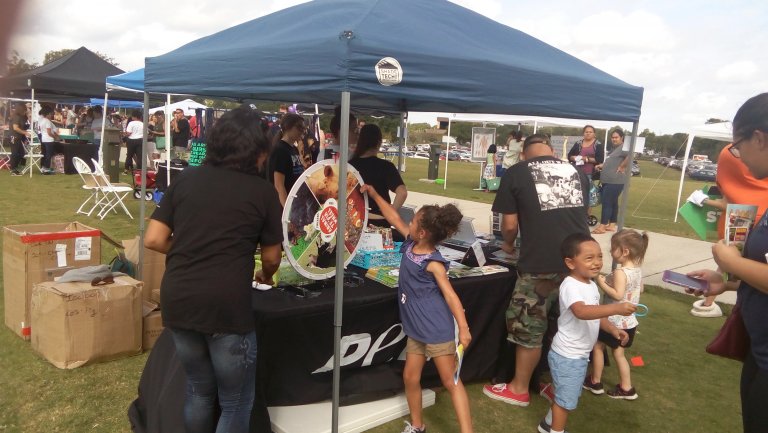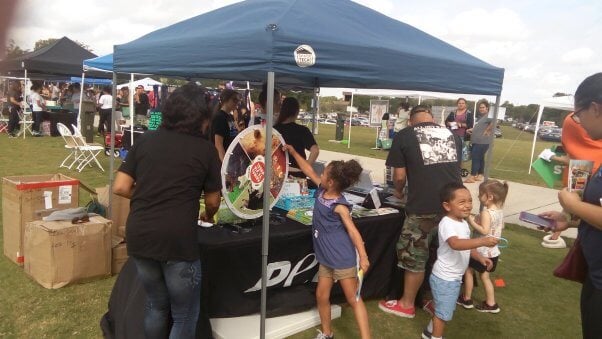 November 2017
TeachKind hosted a meet-the-author event for 300 students at a school in Virginia. We brought author Bruce Zeman and his dog Hobbes to read his humane book, Hobbes Goes Home, and talk about Hobbes' rescue story. We had the students take an anti-bullying pledge that included not bullying animals, and we gave each class a copy of the book and an accompanying TeachKind English language arts activity.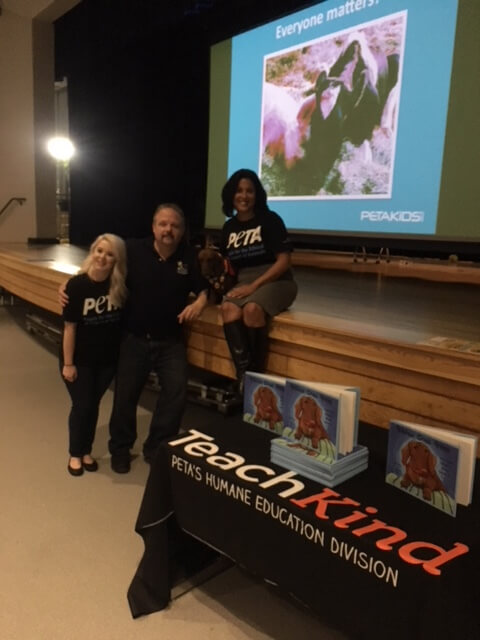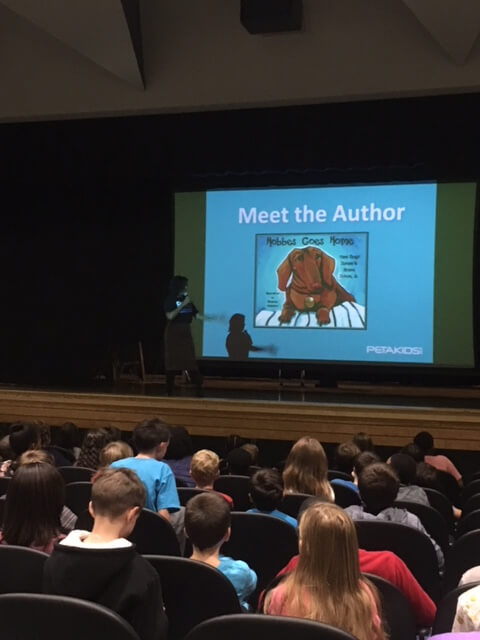 February 2018
At a Virginia elementary school's staff meeting, TeachKind gave a presentation on the importance of including compassion for animals in the curriculum and the best ways to do so. Teachers were so excited about the idea that we worked with them to create materials for their specific curriculum. We've added the materials to our website, so they're now available for free to all educators.
March 2018
TeachKind staffers made a big splash at the National Science Teachers Association conference in Atlanta, Georgia. While distributing literature, showing off a humane chick life cycle kit, and speaking with scores of science teachers, we also screened footage from PETA's investigation into the infamous Bio Corporation, a dissection supplier.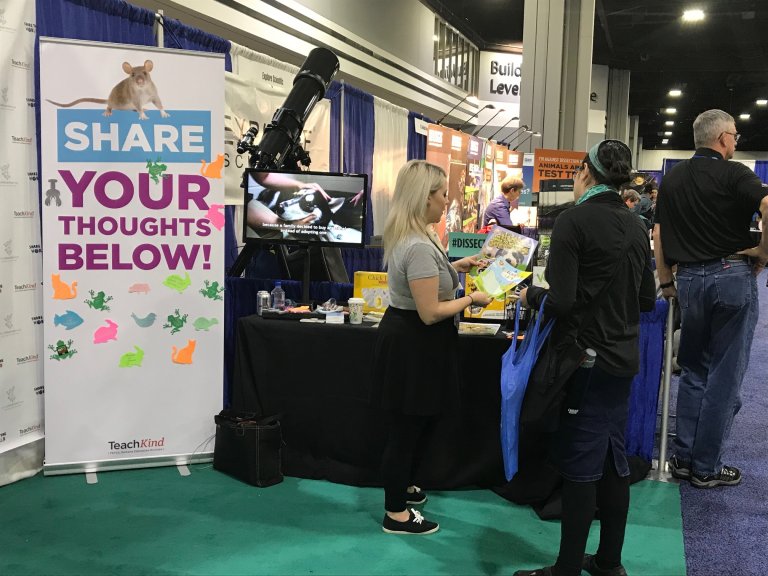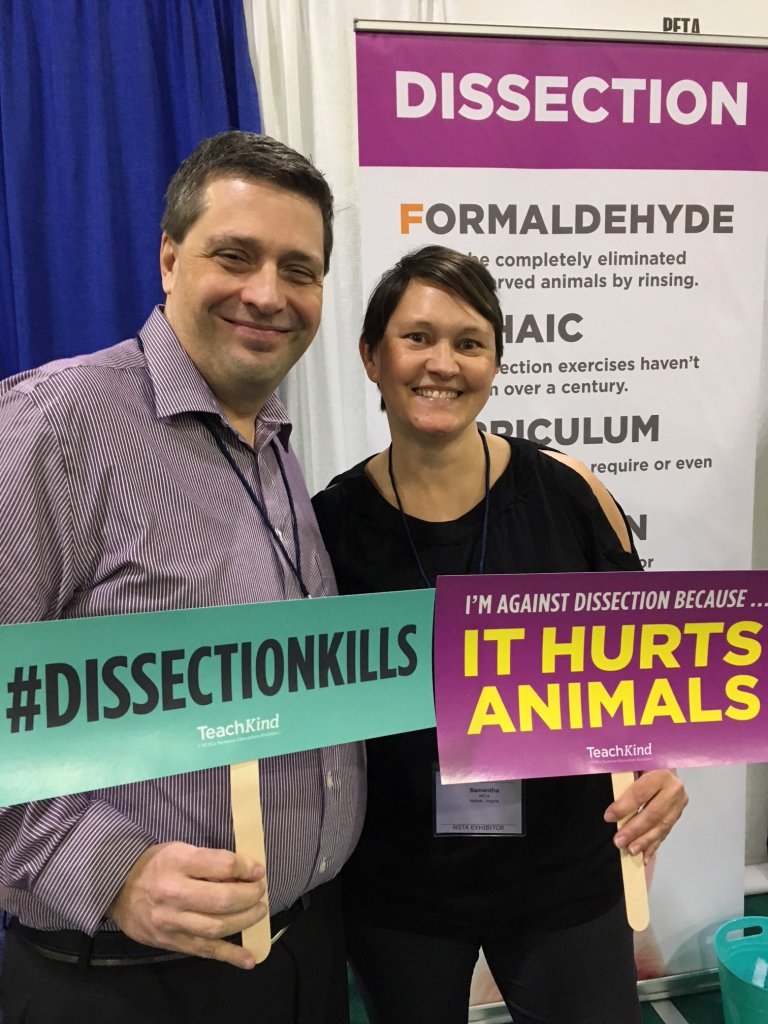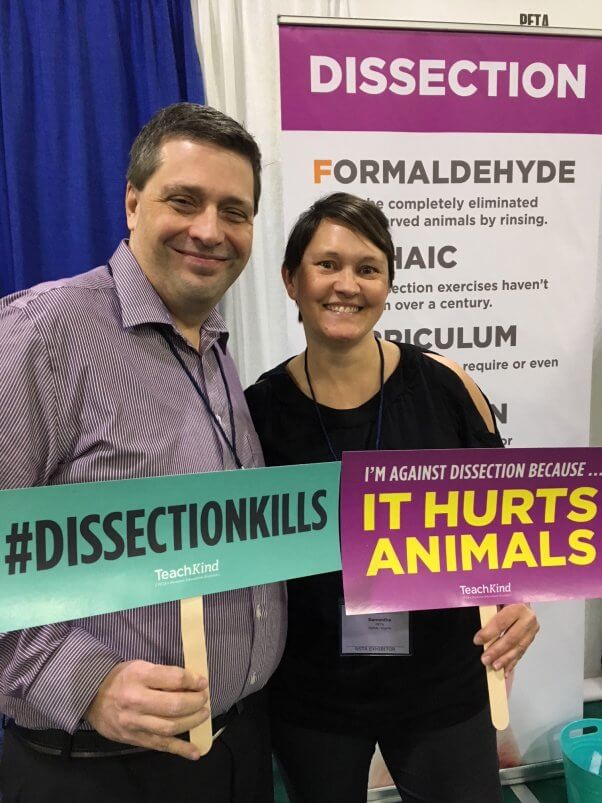 April 2018
Teaming up with peta2, PETA's youth division, we took "The Science of Saving Animals" booth to tens of thousands of people in the Washington, D.C., metro area at the USA Science & Engineering Festival. Featuring organs-on-chips, TraumaMan, digital dissection, "I, Calf," and Ellie the robotic elephant, the exhibit was a huge success!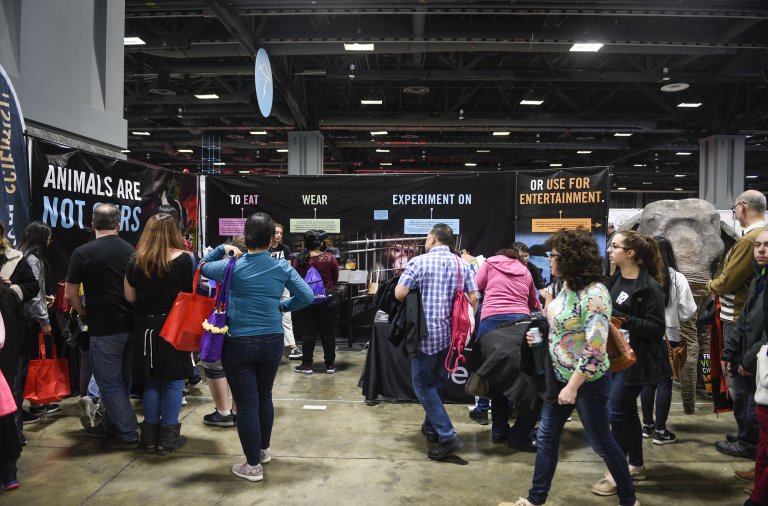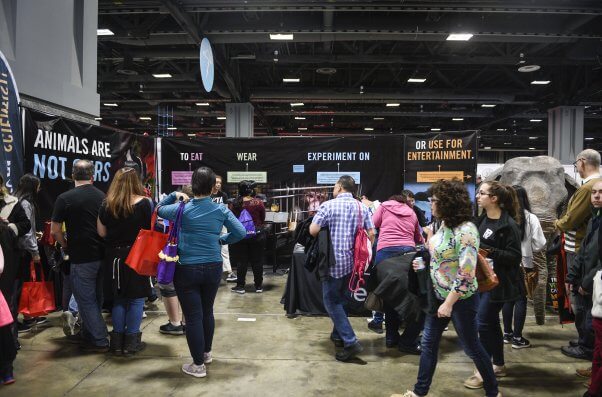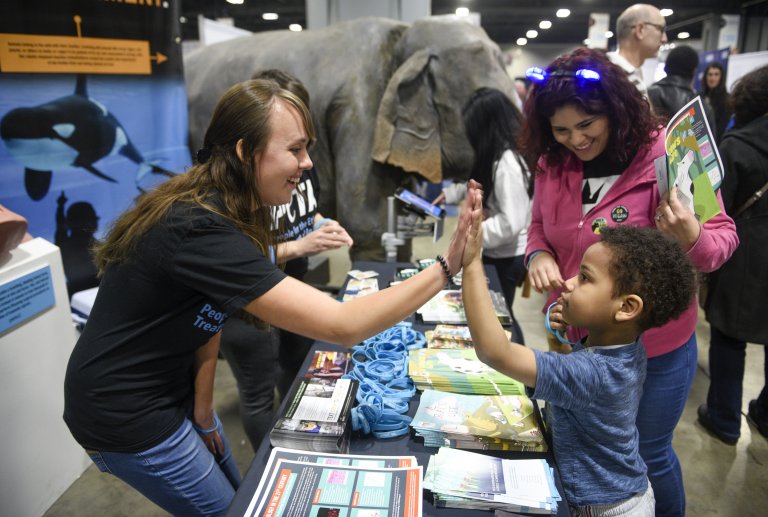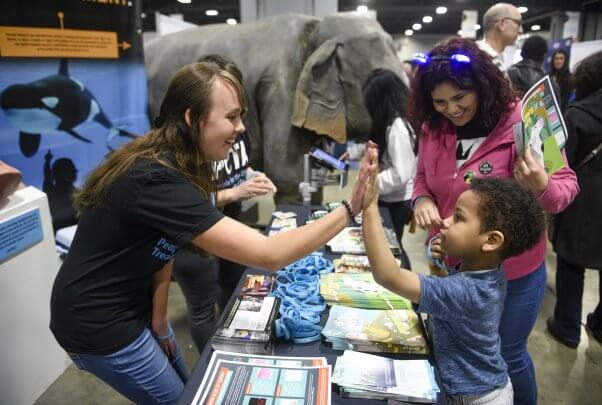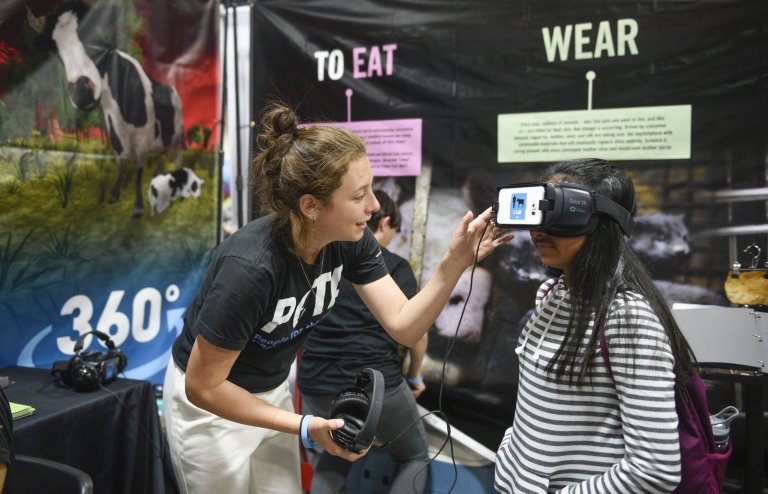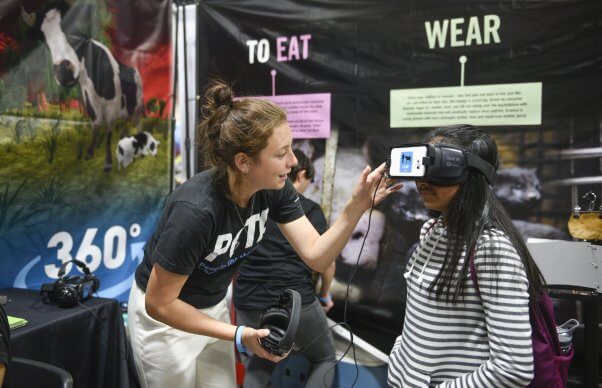 TeachKind tabled at an Earth Day festival in Virginia. We met lots of local teachers, homeschool families, and even a Girl Scout troop. We gave out free Share the World kits and kids' comics and magazines. Our Animal Trivia Wheel was a big hit again. Some kids came back to spin the wheel over and over again.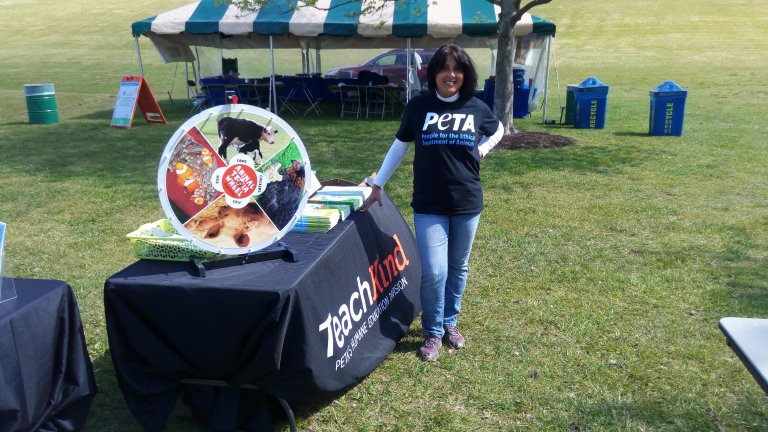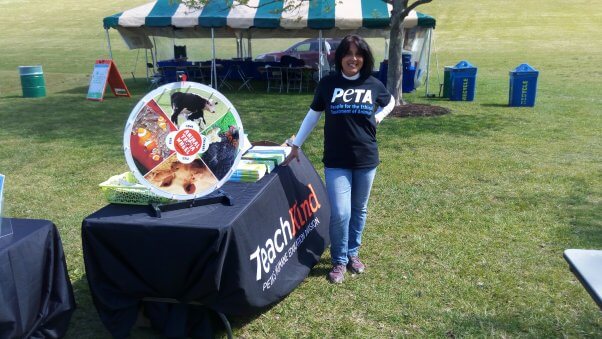 *****
TeachKind is gearing up for another great school year, and we hope to connect with even more teachers through our outreach work. If you'd like to request a speaker or order materials, get in touch!
Fill out the form below to sign up for TeachKind News.
By submitting this form, you're acknowledging that you have read and agree to our privacy policy and agree to receive e-mails from us.