Since TeachKind's very successful "Cut Out Dissection" contest in October, we've continued to make progress for the millions of animals used in archaic and cruel teaching exercises and help spread the word about the many benefits of virtual-dissection software and other humane alternatives to animal dissection—and we've even been able to help some schools transition to completely non-animal teaching methods! Check out some of our recent highlights:
Our science education specialist, Samantha Suiter, has been busy attending conferences to spread the word about the benefits of humane dissection alternatives. She attended the National Science Teachers Association's national conference in Reno, Nevada, where she presented a poster titled "The Prevalence of Student Dissection Choice Policies in United States Schools" and introduced the research to a crowd of educators. Afterward, she shared handout copies of the poster and spoke with educators about their practices and experiences with students who opt out of dissection.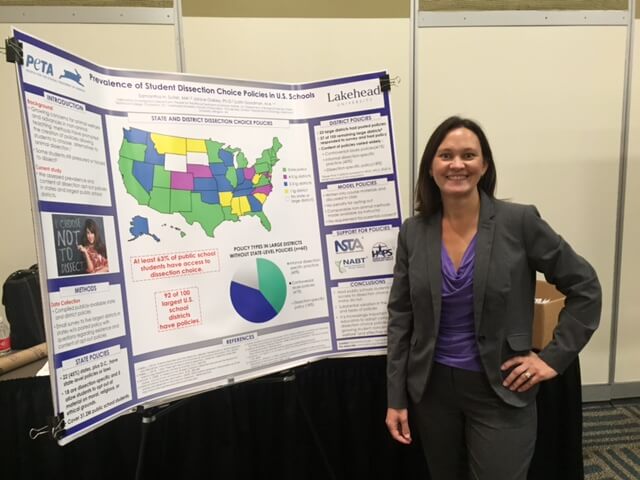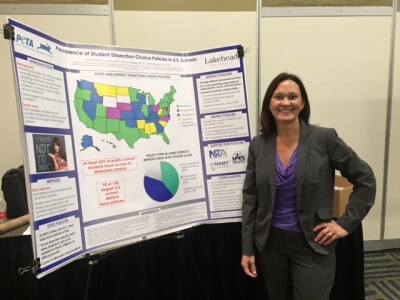 Soon after that, Samantha traveled to the Seattle area for the annual Washington Science Teachers Association conference, which hosted hundreds of educators from around the state. There, she led a professional development training session on dissection alternatives to a group of educators—all of whom signed up to get more information afterward! She spent the rest of the conference at PETA's table handing out our "Cutting Out Dissection" informational briefs, networking with educators who were interested in replacing animal dissection with humane alternatives, and making connections with even more schools.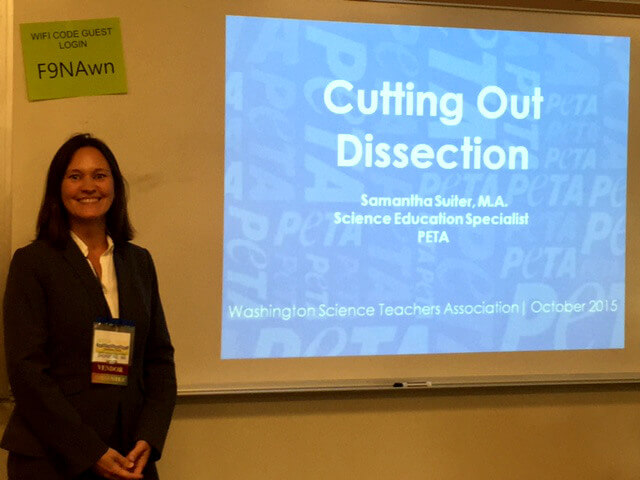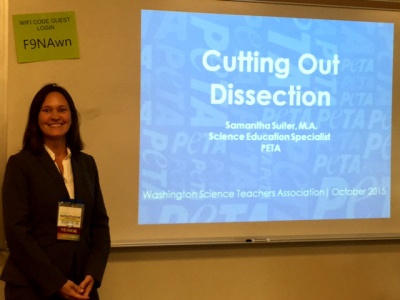 Samantha recently cowrote a study published in The American Biology Teacher that determined that in 95% of the studies reviewed, students who used non-animal methods (NAM) performed as well or better than those who dissected animals and that in 70% of the studies, using non-animal methods was more effective.
PETA also recently teamed up with SynDaver—the world's largest manufacturer of hyper-realistic, synthetic human and animal surgical trainers—to develop SynFrog, a new simulated whole-body frog model. SynFrog and other NAMs, such as eMind digital dissection software, can help cut costs and reduce waste in science classrooms.
And in other news, with the help of PETA, a group of schools in New Mexico is cutting out dissection. Truth or Consequences Municipal Schools recently asked PETA for free dissection software, and the district's request was soon followed by another request for the free software from Bataan Military Academy in Albuquerque. PETA worked with the schools and donated sophisticated Digital Frog software, and we're already hearing wonderful feedback from the schools:
"I have viewed some of the frog dissection lessons offered by PETA and have found them to be outstanding! The diagrams are high-quality and quite realistic-looking. There are many benefits of using a program such as this in the lab. … I would highly recommend the PETA programs for lab use."

—Capt. Jan Zink, principal of Bataan Military Academy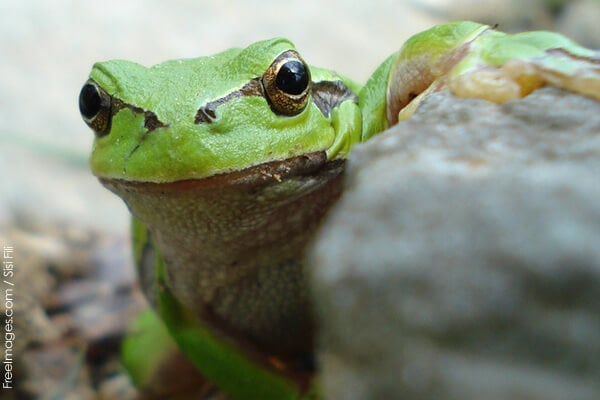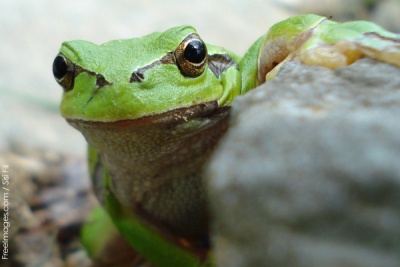 Every day, more educators are realizing that they can prevent animal suffering while improving students' learning experiences by replacing dissection with modern, educationally effective, and economical non-animal methods.