Sometimes, people make superficial judgments about other humans they don't know or understand. The same can be true when they don't know a pig personally. Some humans may see pigs as faceless objects that get turned into food—without a name or a personal story. But they are so much more than that, and Esther's story helps demonstrate this.
The True Adventures of Esther the Wonder Pig is a story about two people who adopt a piglet and how she grows much bigger than they expected. It's a journey of discovery for both Esther and her guardians. She gets into a lot of mischief because of her size, but they accept and love her anyway.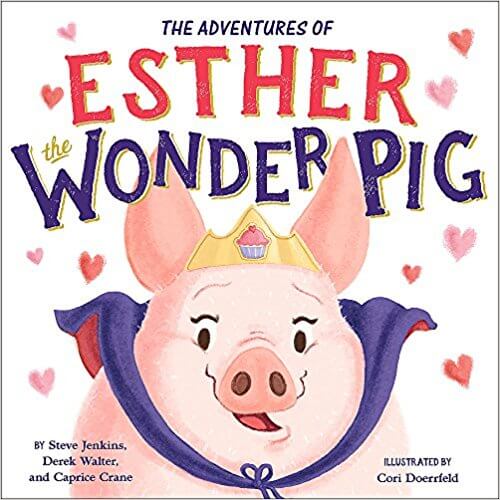 Introduce the Book
Tell students that you're going to read them a true story about a pig named Esther. Show them her photo on the dedication page, and ask them if they've ever met a pig. If they have, invite them to share any stories about their experience. Tell them that Esther is a real pig who was rescued as a piglet and that the book recounts some of her adventures while growing up.
This read aloud is enjoyable for children, because it has the repetitive text "with those eyes and that smile … it was love" that students can have fun repeating every time that it comes up in the story. This passage shows how Esther's dads respond to her antics, and it allows students to participate actively in the reading of the story.
Discussion Questions
Read the book aloud to students, and use the following questions to initiate a class discussion:
How did Esther's dads feel every time that she made a mess (such as when she ate the flowers or broke the oven door), and what did they do? (Possible answers: They were not happy or upset. They looked at Esther's sweet face and continued to love her because they knew she did not make a mess on purpose. They also gave her her own bedroom and moved to a bigger home.)
How do the illustrations help us understand the story? (Possible answers: They help us understand the problems that arise as Esther grows larger. They show us how Esther and her family feel about each other.)
The following questions would be ideal for a Turn and Talk with a partner:
What do the authors want us to feel about Esther? Why?
How is Esther's family similar to yours?
All pigs are like Esther in that they want to feel loved, be with their family, and have the freedom to be who they are. But most pigs don't have these things. (Teachers: See the first link below for background information.) What can you do to help pigs? (Teachers: See the links below for alternatives to ham and bacon.  This information can help you discuss ways to help pigs that children may not be aware of.)
Real World Connection
Ask students if they've ever seen an animal companion make a mess accidentally and, if so, how a parent or guardian reacted to the situation. How did it make the animal feel? Then, compare that to the way Esther's dads reacted when she made a mess. As a class, discuss ways to handle various interactions between humans and animals in a positive way. (For instance, when a dog chews the furniture, you can buy a chew toy to satisfy his or her need to chew.)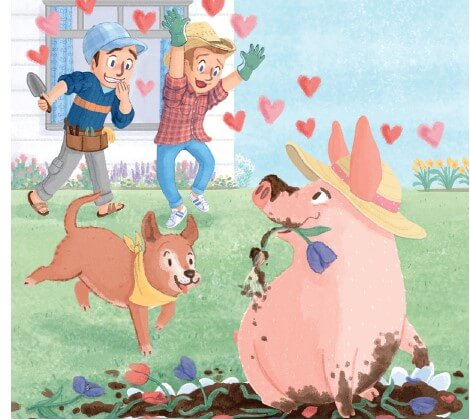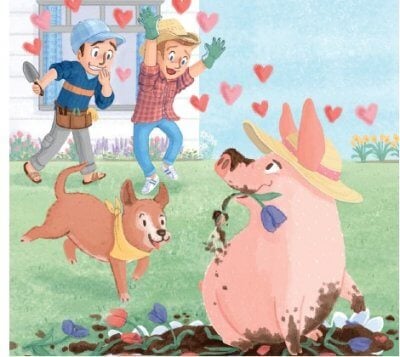 Sequencing
Having students sequence events in a text is an important comprehension strategy. Use this sequencing activity to help students identify the beginning, middle, and end of the story. It will also encourage them to reflect on Esther's adventures and the way her dads still loved her, even though her growing size and appetite caused problems.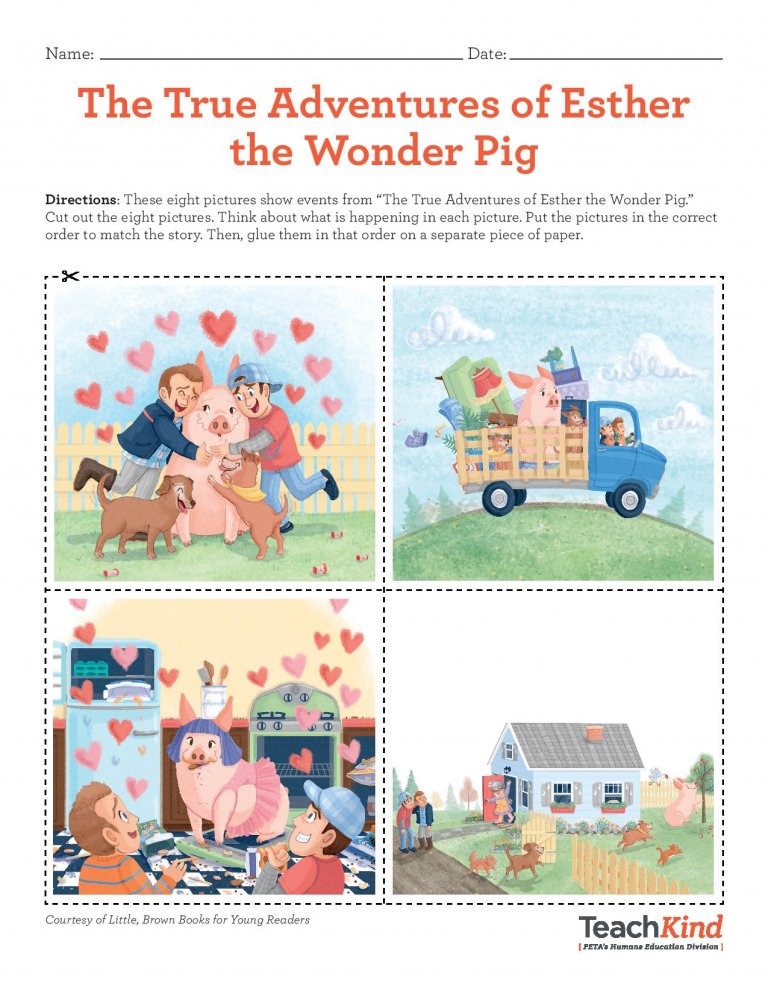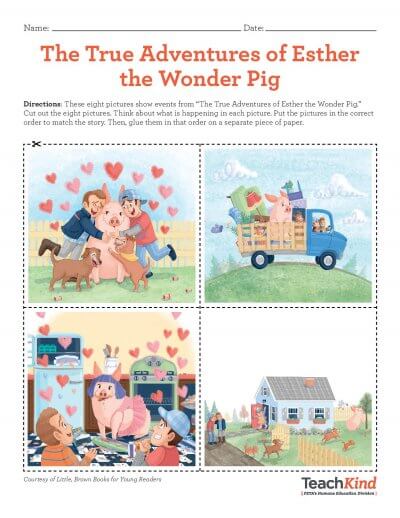 Story Retelling
Story retelling promotes reading comprehension and helps students develop expressive language. Use these puppets to have children retell Esther's heart-warming story again and again. It's perfect for a center activity!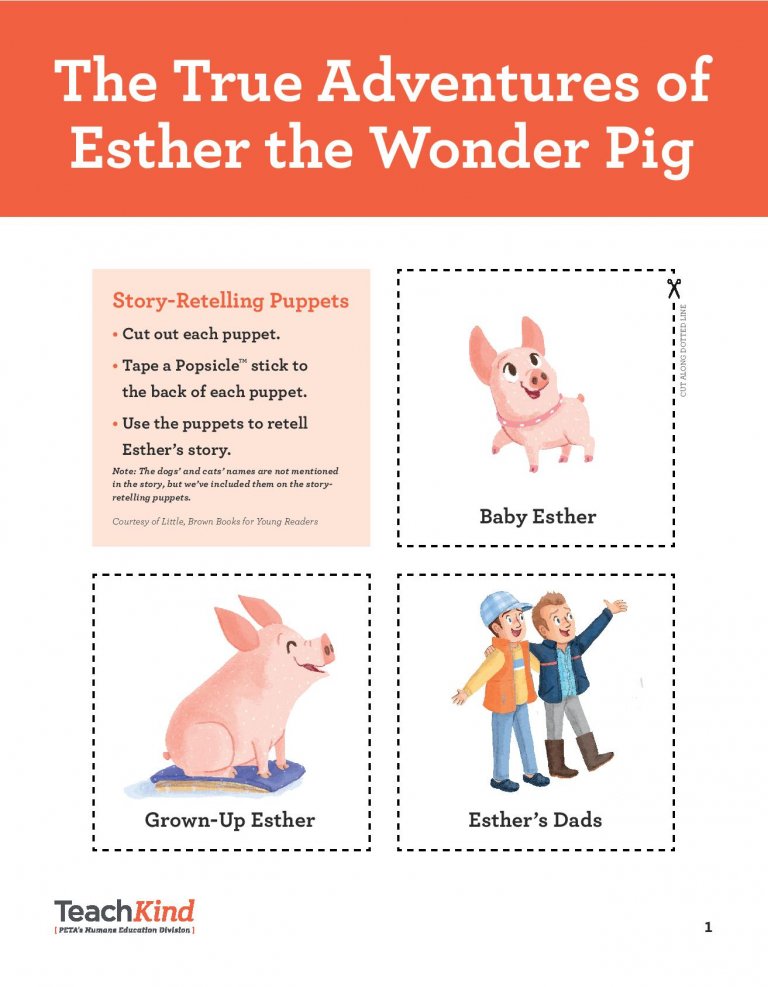 Additional Resources
Like these ideas? Please share them to help inspire other teachers to incorporate compassion for animals into their reading lessons!
Need more classroom inspiration? Fill out the form below to sign up for TeachKind News.
By submitting this form, you're acknowledging that you have read and agree to our privacy policy and agree to receive e-mails from us.