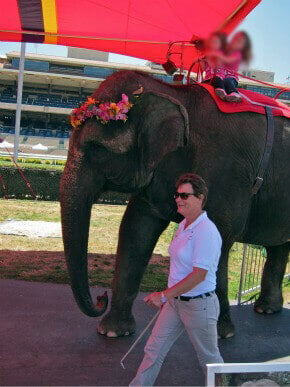 Trainers with Have Trunk Will Travel (HTWT), one of the last companies that provides elephants for the entertainment industry, were filmed by Animal Defenders International repeatedly shocking elephants with electric prods and beating them with bullhooks—cruel instruments resembling fireplace pokers that are designed for one purpose: to inflict pain and punishment on elephants. In the video, a baby elephant cries out every time a handler hooks him in the lip, and another elephant bellows in pain when a handler jabs her on her sensitive belly and genital area to force her to "perform" a headstand. One gruesome scene shows handlers pinning an elephant down with bullhooks while workers saw down her tusks, close to the bone.
HTWT has a long history of exploiting elephants. It uses elephants who as babies were captured in the wild and subjected to intense beatings to break their spirits. In their natural environment, the elephants would walk up to 30 miles per day with their families, but at HTWT, they are chained in place by one front foot and one back foot all night, every night, and for more than half of every day during the winter months.
In addition to abusing their own elephants, the owners of HTWT, Kari and Gary Johnson, have repeatedly opposed legislation to protect elephants. In comments concerning federal policy changes regarding training and handling practices for elephants, HTWT defended the use of cruel electric prods and bullhooks on elephants.
Please help us speak up for elephants who are forced to perform unnatural acts in the entertainment industry.