Following PETA's undercover investigation and an intense year-long campaign, the University of Utah (also known as "the U") has announced that it will no longer purchase dogs and cats from North Utah Valley Animal Shelter (NUVAS)—or any other animal shelter—to be used in invasive and deadly experiments. Since the U was the last Utah purchaser of homeless animals for use in experiments, this victory means the complete end of "pound seizure" in the state of Utah!
PETA's shocking investigation at the U in 2009 has prompted a sea change in the treatment of animals in Utah. Until then, public shelters were forced by law to sell animals to the U. Soon after we broke our case, the U was cited for nine violations of federal animal welfare laws, Utah legislators amended the state's pound-seizure law so that government-run animal shelters could choose not to sell animals for experimentation, and the shelter that was then selling the most animals to the school ended the practice. A PETA lawsuit compelled a city to turn over records of the animals it sold to the U so that the public would know who these betrayed animals were. And who can forget Sheena, the loveable mutt whom PETA helped rescue from the U, where she would have gone under the knife, just in time for Christmas.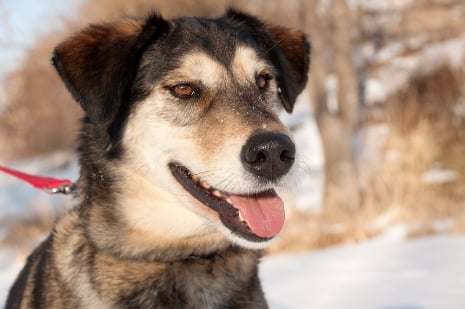 Sheena, outside, enjoying the snow.
The U's decision appears to have already pushed it to find more humane research methods. Instead of repeatedly forcing tubes down shelter cats' throats in a cruel and crude intubation training course, the scheduled animal laboratory was recently canceled after PETA protests, and modern human-infant simulators were used instead.
Now, animals entering the state's animal shelters will no longer be betrayed by those who should help them, and Utah residents with missing dogs or cats can at least know that if their beloved animal companions make it to a shelter, they won't be sold to laboratories, where they would experience lives filled with suffering and grisly deaths.
A huge thank-you to all of you who asked the U and NUVAS to do the right thing by animals. This is a major victory, but there are still too many animals suffering in university laboratories—in Michigan, South Carolina, and Ohio and in both Dallas and Galveston, Texas, just to name a few. So please keep speaking up until every cage is empty. And to help PETA continue to help animals, become a member today!