When did you first hear of PETA? Was it in an exposé that opened your eyes to cruelty, and did you jump in to join other online activists? Perhaps we appeared on your radar with a banned Super Bowl ad—or maybe you caught a TV spot featuring one our many talented celebrity supporters? No matter how you found us, we're thankful that you're here. PETA has been changing minds for the last 40 years, and in that time, we've made a name for ourselves doing things for animals that no one else will do. Here's a look at nine things that are unique to PETA!
1. Donating Fur and Wool to Refugees and Homeless Humans
PETA collects fur and wool clothing donations from people who've decided that they can't bear to harbor cruelty in their closet. We donate these items to homeless shelters and to refugees in other countries—in other words, people who can't just run out and buy a coat. In 2015, after working with PETA, clothing retailer Inditex agreed to ban angora wool and donate its remaining stock to Syrian refugees through the charity Life for Relief and Development. It may seem strange that PETA gives away fur and wool, but we do it because we believe that it creates a conversation about why only those in dire need should be wearing such material. Our giveaways are an act of kindness that benefits both humans and animals. If you still have fur or wool in your closet, find out how to donate it here.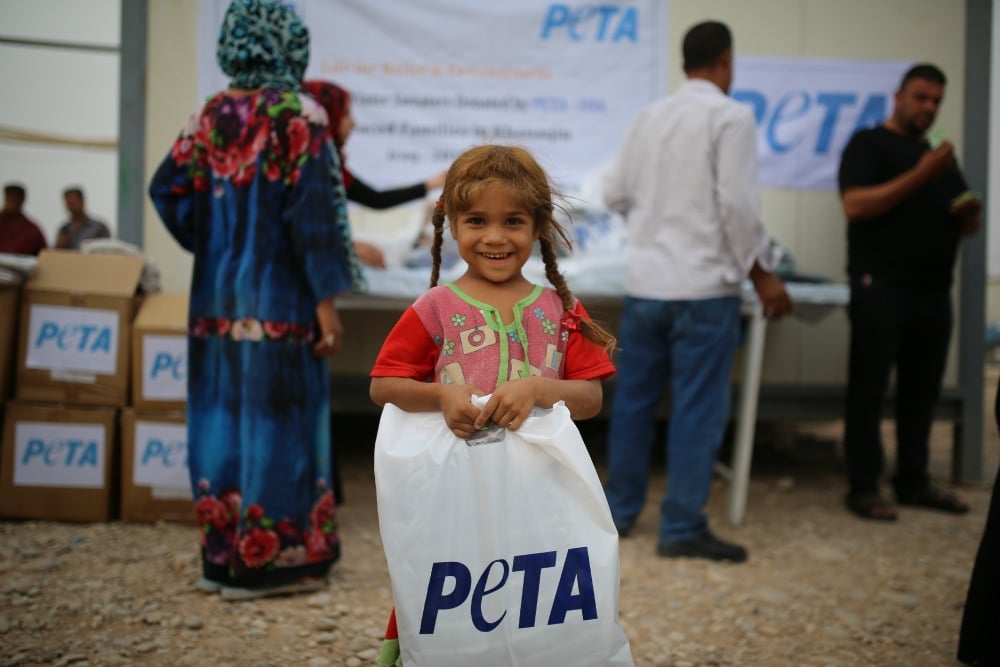 Ahmad Mousa/Demotix
2. Helping Dogs Forced to Live Outdoors in Dangerous Temperatures
Both winter and summer can be deadly for dogs relegated to the outdoors, as they often don't have any protection from the freezing cold or the hot sun. When dogs' guardians can't be persuaded to bring them indoors and authorities can't act, PETA tries to improve their lives as best we can. Our Community Animal Project delivers doghouses, straw bedding, water, and light-weight tie-outs to replace their heavy chains. We also provide them with food, flea and tick treatment, toys, and sorely needed affection, as many have never even heard a kind word. Our fieldworkers go out day and night, in all weather extremes, to help these neglected animals. You can help them by sponsoring a doghouse.
3. Buying Stock in Companies That Are Cruel to Animals
A great way to influence companies is from within. That's why PETA often buys minimum amounts of stock in those that support animal abuse, including SeaWorld, Prada, and some cosmetics and household-product manufacturers. As partial owners of a publicly traded company, shareholders are entitled to bring proposals, or resolutions, to a vote as part of a company's annual meeting process. As a shareholder, PETA can share information on animal issues and bring resolutions to a vote to effect change.
4. Letting You Text to Help Animals
PETA's text list for animals is an award-winning mobile advocacy program. Members are often the first to take action for animals by letting animal abusers know that they need to change their ways—or else! Members receive immediate updates on important campaigns and exciting victories. To join, sign up here.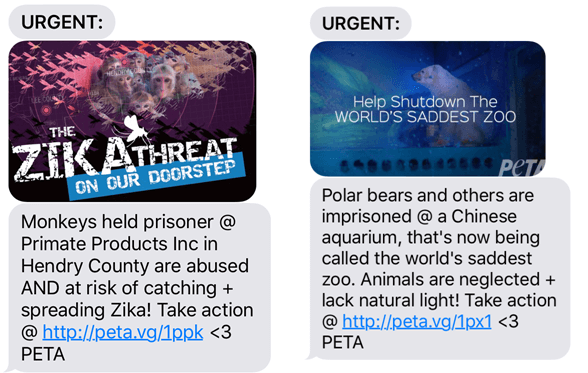 5. Helping Save Bugs and Mice in Your Home
The PETA Shop is well-known for offering apparel, accessories, and mugs with a message, and among the unique items that we sell are devices to trap and release bugs and mice humanely. Many methods of removing these little animals, like glue traps, cause painful deaths and must not be used. PETA also campaigns against companies that use such products, and we offer humane alternatives. Our Humane Bug Catcher and Humane Smart Mousetrap both ensure that uninvited guests are removed from your home without causing them any harm.
6. Helping People Shop Cruelty-Free
PETA's Beauty Without Bunnies program is a super resource for conscientious consumers. It allows companies that don't test on animals or use animal-derived ingredients to add PETA's bunny logo to their products, making it easy for shoppers to spot cruelty-free goods. And with our online database, you can search by company name or product type to learn instantly which products are kind to animals and which aren't.
7. Investing in Computer Models and Laboratory-Grown Skin to Replace Testing on Animals
The PETA International Science Consortium works to advance human-relevant, non-animal test methods and get them approved and into scientists' hands. Some projects funded by the Consortium include getting more than $2 million worth of life-like TraumaMan simulators to replace pigs and goats in painful and deadly trauma training courses, providing financial backing to help validate MatTek's laboratory-grown skin, and supporting the development of advanced computer models that can predict how certain molecules will affect the human body.
8. Encouraging Kids to Skip Dissection
PETA's TeachKind program brings humane education to schools across the United States to help end dissection and teach empathy for animals. We send science education specialists to teachers' conferences across the country to describe the benefits of virtual-dissection software and other non-animal dissection methods, network with educators, and make connections with schools. PETA also releases a yearly Compassionate Classroom Report Card showing which schools have implemented or allow non-animal dissection. Educators can download TeachKind's free curriculum kit here to help teach students about the Golden Rule—or treating others, including animals, the way we'd like to be treated.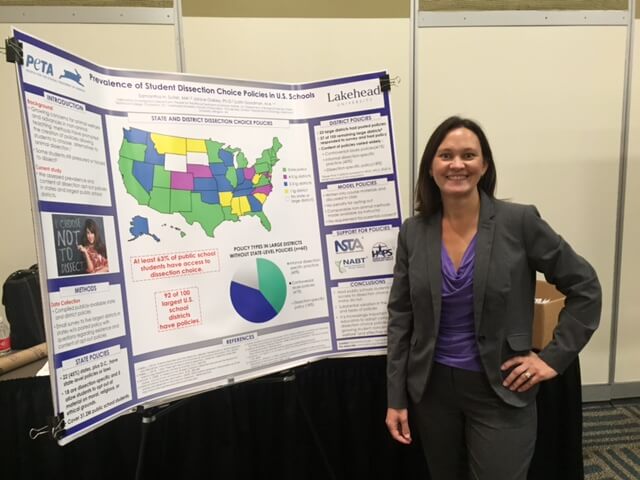 9. Body-painting Naked Activists
If there's one thing that everyone can agree on, it's that PETA knows how to create a scene—and what's more creative and visually appealing than our bodypaint demonstrations? These allow people the unique opportunity to choose to use their bodies to make a statement about issues they're passionate about. Whether it's on a holiday, with a celebrity, or outside a business, these striking demonstrations catch the attention of the public and the media. Recently, PETA held a massive "die-in" in San Diego to represent the 38 orcas who've died prematurely at SeaWorld.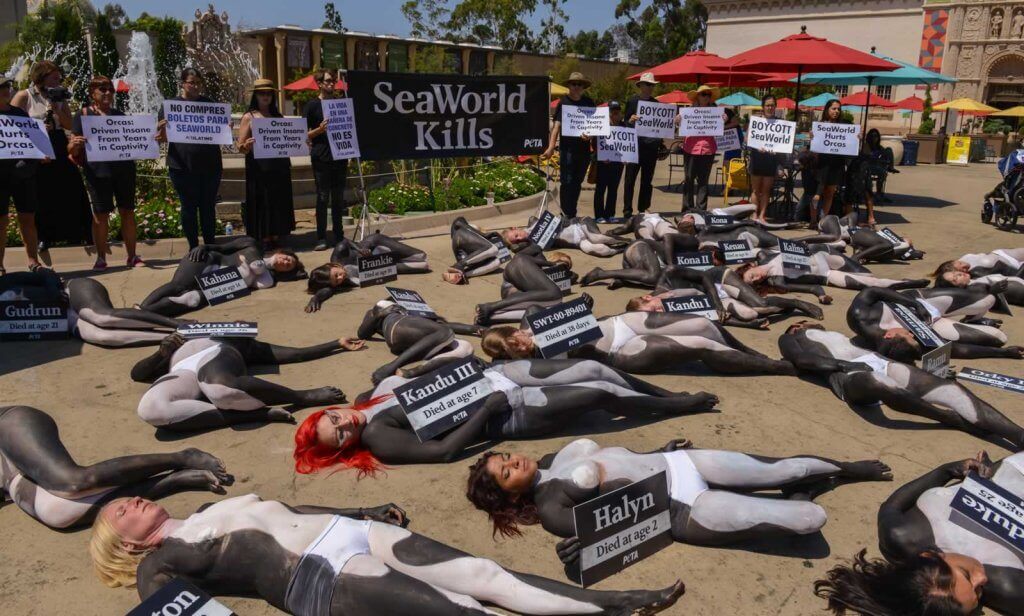 To contribute to the positive, fabulous impact that PETA is making in the world, and to support our lifesaving programs, we hope you'll become a PETA member today!