Shoppers got an eyeful today when a PETA "reptile" lay in a pool of "blood" outside "upscale" Hermès boutiques in New York and Los Angeles. The protests came on the heels of the release of PETA's new investigation into cruel crocodile and alligator farms that supply skins to "luxury" fashion house Hermès for bags, belts, watchbands, and other accessories.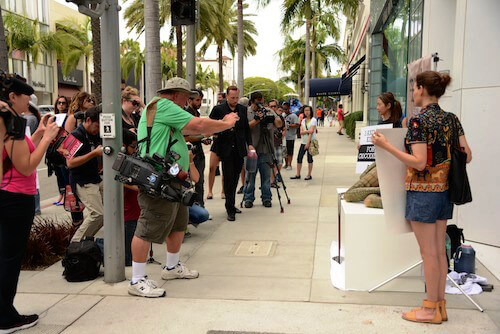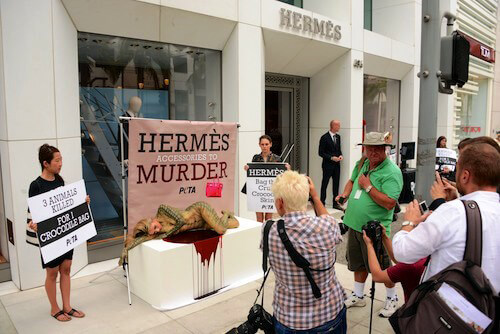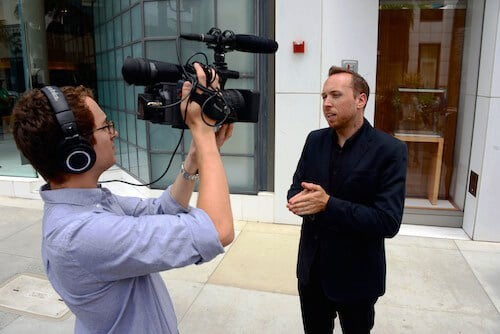 PETA investigators went inside facilities in Texas and Zimbabwe that supply skins to tanneries owned by Hermès. In Texas, groups of up to 125 alligators were confined to putrid, dark pits measuring approximately 8 feet by 12 feet. Workers shot alligators in the head with captive-bolt guns and sawed into the back of their necks with box cutters. One worker stabbed conscious alligators with a knife in an apparent attempt to dislocate their cervical vertebrae as the restrained animals struggled. Many baby alligators were shot repeatedly, but some still survived this ordeal—their legs or tails continued to move even after they were hung upside down or put into bloody bins of ice before being skinned. The alligators are killed when they are just 1 year old, and their skins are made into watchbands that fetch as much as $2,000 on the "luxury" market.
In Zimbabwe, at one of the world's largest exporters of Nile crocodile skins, the investigators saw thousands of crocodiles of different ages and sizes confined to concrete pits. The crocodiles are shocked with an electric stunner before a worker plunges a scalpel into their spines and then rams a flexible rod down their spinal columns to try to destroy the spinal cord. Finally, the worker drives a rod into their skulls in an attempt to "scramble" their brains. Their skins are turned into "luxury" products, such as Birkin and Kelly bags by Hermès, which are sold for $50,000 or more.
Inside every Hermès watchband or Birkin bag is a world of torture. People pay thousands of dollars for these "status symbols," but the reptiles are paying the highest price.
What You Can Do
Write to Hermès and ask the company to stop killing alligators and crocodiles for its products.