"I was sick of talking about my boyfriends and my boobs all the time. But I thought if I can attach it to animal activism or activism for the environment, then it meant something. So I joined forces with PETA," Pamela Anderson says in the new Netflix documentary about her life, Pamela, a Love Story.
Twenty-six years ago, Pamela made her PETA debut with her "Give Fur the Cold Shoulder" billboard in Times Square. Since then, she has become an honorary director of PETA and has been involved in countless campaigns and victories for animals. Whether by writing letters, starring in public service announcements, or traveling around the globe to talk to world leaders, she has been instrumental to PETA's efforts.
Here are 10 highlights from Pamela's advocacy for animals:
On her birthday in 2019, Pamela wrote to SeaWorld's CEO, asking him to free Corky—an orca the same age she was—from a tiny tank. In the beautiful ad, she illustrated her point that an orca's existence in a cramped tank at SeaWorld is comparable to that of a human who spends their entire life in a bathtub.
She sent e-mails to more than 800 Canada Goose employees, urging them to use their insider access to put pressure on the company to stop selling fur from coyotes. And they did!
She penned a letter to the president of Texas A&M University, urging him to end the school's cruel, ineffective muscular dystrophy experiments on golden retrievers. She even offered to adopt all the dogs from the laboratory and give them homes. The lab is closed now, and the remaining dogs are in homes.
Together with Sam Simon, the late producer of The Simpsons and another honorary director of PETA, Pamela traveled to St. John's, Newfoundland and Labrador, to offer the Canadian Sealers Association a million-dollar check on the condition that it would facilitate a government buyout of the country's faltering commercial seal trade.
She garnered quite a bit of attention when she wrote to celebrity chef Gordon Ramsay, asking him to remove foie gras from the menu of his flagship establishment in London—Restaurant Gordon Ramsay—and replace it with faux gras for World Vegan Month.
After the BP oil catastrophe in the Gulf of Mexico in 2010, Pamela jumped at the opportunity to aid PETA in rescuing dozens of dogs from severely crowded shelters in Louisiana and transporting them to the Sam Simon Center, PETA's headquarters in Virginia, where they'd have a chance to be adopted. She even adopted two dogs herself!
Prada committed to no longer using fur in its collections after Pamela wrote to the design house on PETA's behalf.
Following reports of a COVID-19 outbreak at a mink farm in British Columbia, she sent a letter to the premier of British Columbia, urging him to shut down all the fur factory farms in the province immediately.
She sent an urgent letter on PETA's behalf to Russian President Vladimir Putin, asking him to call off the country's plan to capture 13 wild orcas and an untold number of beluga whales in the Sea of Okhotsk and subject them to a lifetime in captivity.
And, of course, Pamela's debut PETA ad urged people never to wear fur: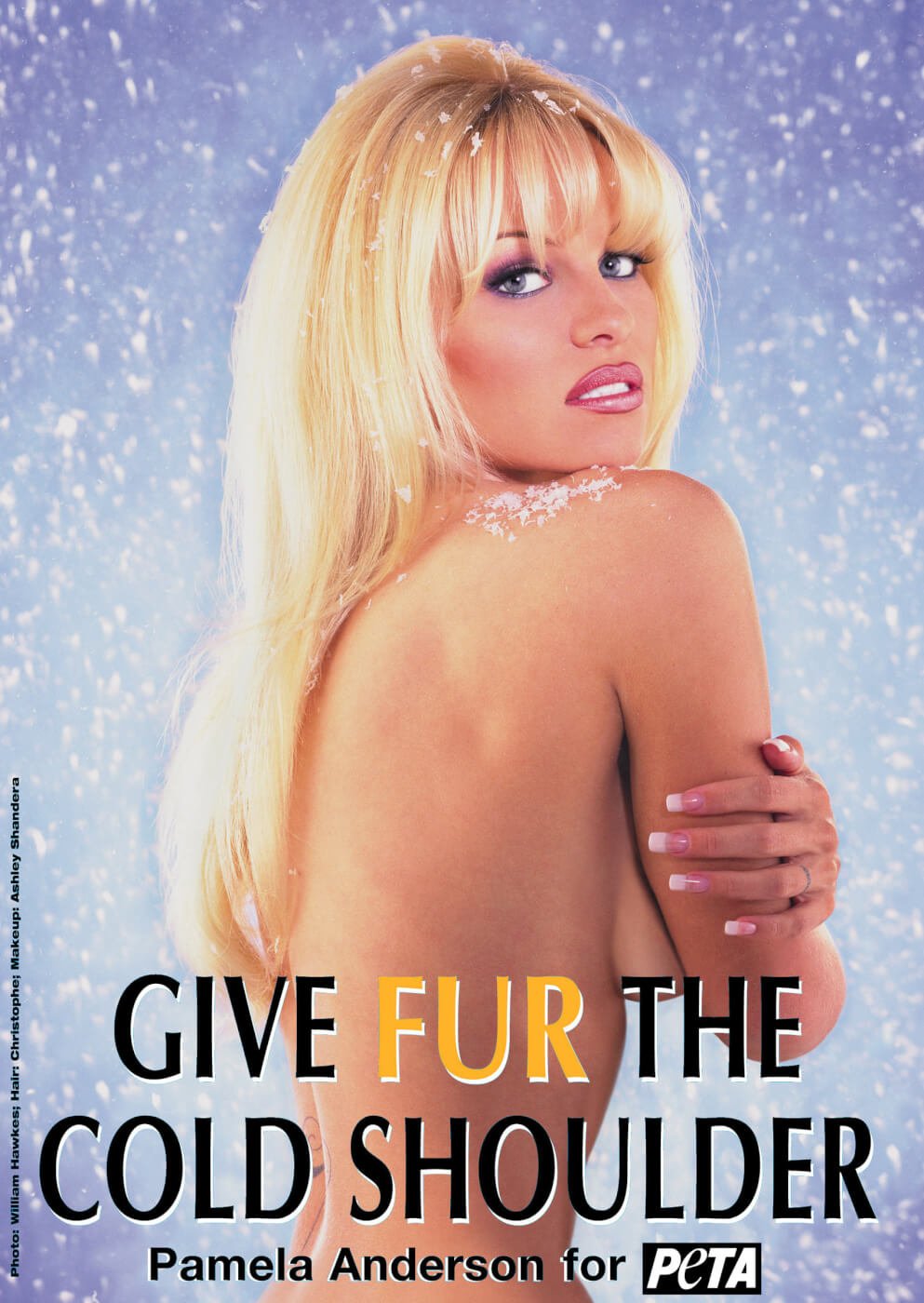 "Activism is sexy, and you have to be brave, and you gotta use what you got!"
We've only scratched the surface of Pamela's phenomenal work—you can check out more here!
Join Pamela Anderson by Starting Your Journey as an Activist Today
Pamela never misses an opportunity to get active for animals. If you feel inspired by her documentary and her outstanding advocacy, consider joining the PETA Action Team. As a member, you'll help defend animals, write letters to local news editors, assist with urgent cases, and attend protests and other events in your area—and that's just the beginning.
Take a stand for animal rights, just as Pamela does. Click the button below to learn more about joining the team: