Pamela Anderson has just one birthday wish: freedom for Corky, an orca who was captured five decades ago and currently lives in a cramped, chemically treated concrete tank at SeaWorld.
In her latest PETA campaign, Pamela puts herself in the place of Corky and other captive orcas, asking, "Could You Live in a Bathtub for Decades?" While the model and activist is a champion for all animals, she has a special affinity for Corky, who shares her age and was captured near her hometown of British Columbia.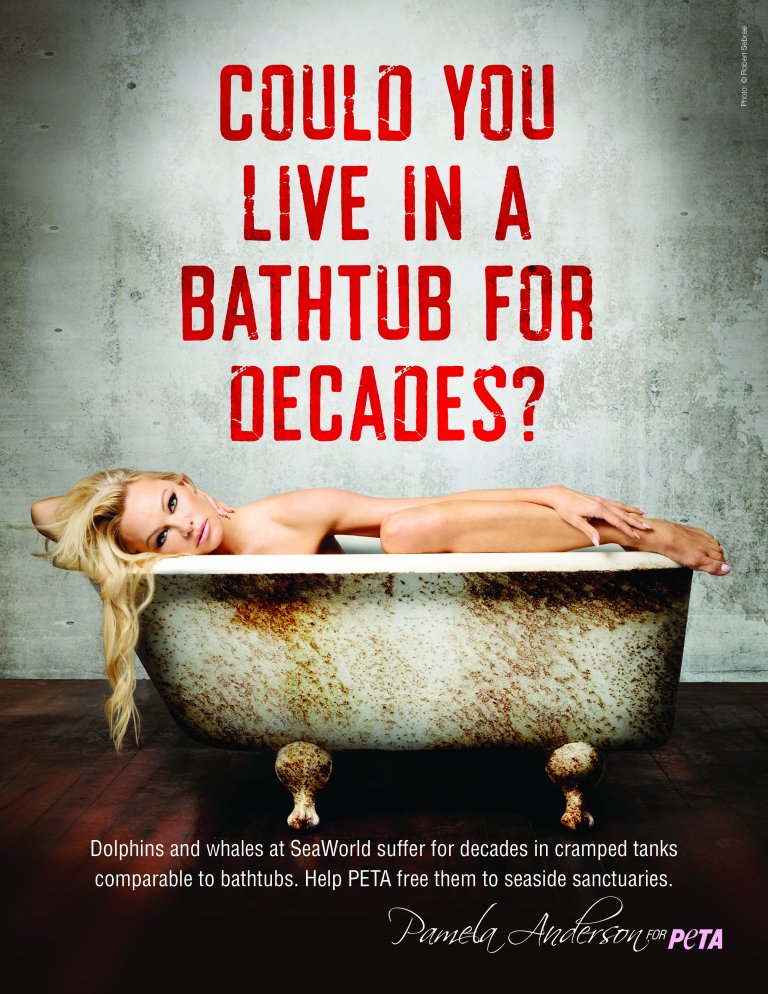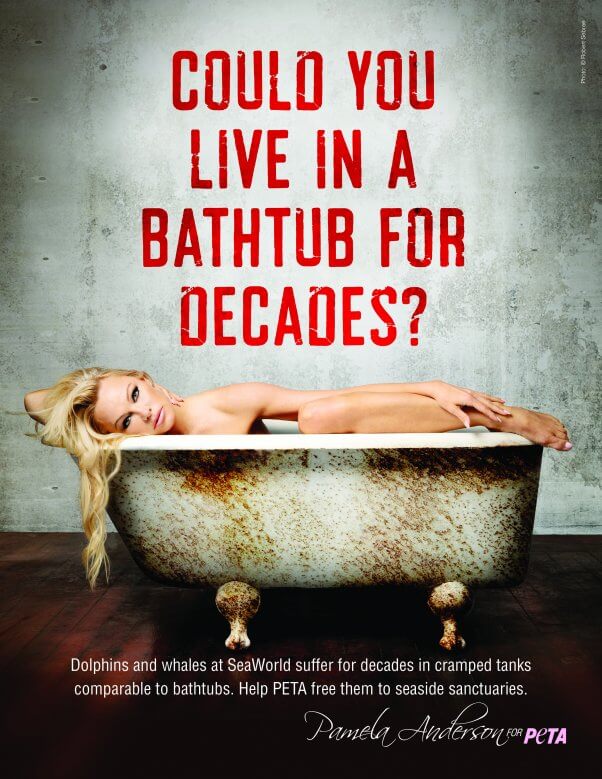 Photo: © Robert Sebree
Pamela also sent a letter to SeaWorld's newly appointed CEO, Gustavo Antorcha, writing the following:
[Corky's] always on my mind when my July 1 birthday approaches. She and I are the same age, but as a baby, she was torn away from her mother in the sea off British Columbia—right near where I grew up on Vancouver Island. I'm launching my new ad campaign for PETA in Corky's honor. Please don't let her die in a tank that, to her, is comparable to the size of a bathtub.
Corky was torn away from her family and sold into the entertainment industry in 1969. Since then, she has lived in a cramped, chemically treated tank and lost all seven of her babies. Her last pregnancy ended in a miscarriage, and her dead baby was found at the bottom of a tank. But her life could have a happy ending if she were released into a seaside sanctuary in her home waters, where she could feel the ocean currents and communicate with her brother and sister, Fife and Ripple, who are her only surviving family members and swim freely nearby.
In a video Q&A, Pamela urges her fans to avoid marine parks like SeaWorld and encourages children to learn about animals through harmless methods such as virtual reality. "We've been fighting against SeaWorld for a long time because obviously captivity is not something that anybody's comfortable in, especially whales that swim a hundred miles a day," she says in the video. "I can't imagine a wild animal being happy in an enclosed environment."
Orcas swim up to 140 miles a day in the wild. In order to swim that far in the largest tank at SeaWorld Orlando in Florida, an orca would need to do 4,280 laps! And they're not the only marine mammals SeaWorld imprisons in concrete tanks for human entertainment. The park continues to cram 140 dolphins into just seven tanks, breeding them—sometimes forcibly after they've been drugged—and abusing them by allowing trainers to stand on their faces during circus-style performances. Their faces.
Pamela has spoken up for other marine mammals, asking Russian Federation President Vladimir Putin to call off his country's plan to capture wild orcas and beluga whales from the Sea of Okhotsk and subject them to a lifetime of captivity. Following public pressure from Pamela and other celebrity activists, Russia agreed to release the nearly 100 orcas and beluga whales back into the wild and started releasing them in June 2019.