Vegan bombshell Pamela Anderson turns 50 tomorrow! As if that isn't reason enough to celebrate, this year also marks the 20th anniversary of the time that she stripped down for her very first PETA campaign—a Times Square billboard featuring the icon posing nude in a snowstorm with a message that read, "Give Fur the Cold Shoulder," which she unveiled on the Late Show With David Letterman.
In the two decades since, the Baywatch beauty has taken part in hundreds of PETA initiatives all over the world. Take a look at 20 of our favorites:
That one time when Anderson …
20. … showed some serious skin and looked as if she'd been tagged by a butcher to show that humans and animals are composed of many of the same parts.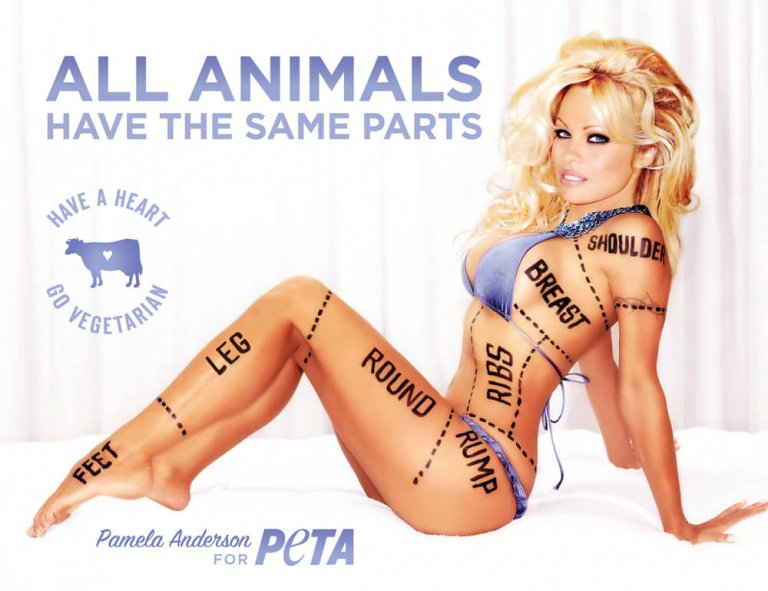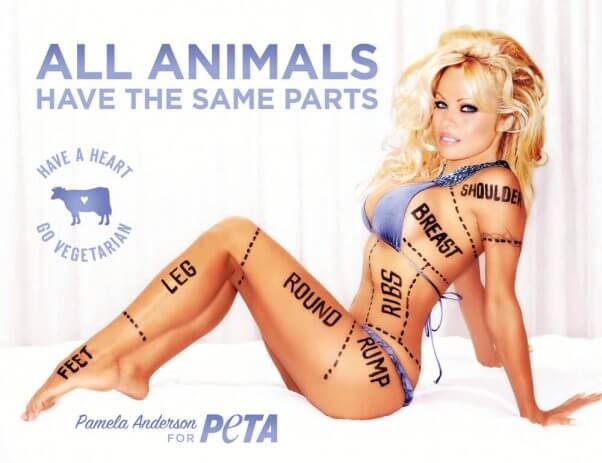 19. … hosted an international media reception at a vegan restaurant in Tel Aviv amid tablets that read, "Thou Shalt Not Kill … Animals," to make the case that meat is murder.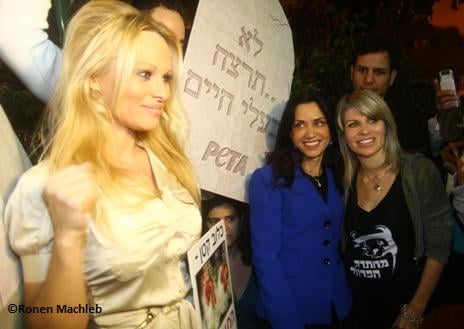 18. … sent Melania Trump a one-of-a-kind thank-you gift for the first lady's fur-free look at the presidential inauguration: a faux "eco-fur" coat that Anderson custom-designed for her with Russian faux-fur manufacturer Only Me. Subsequently, the White House announced that FLOTUS is now fur-free.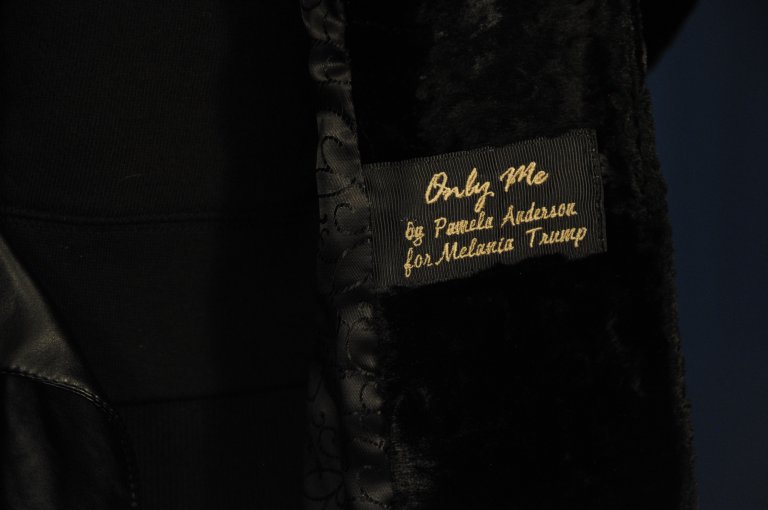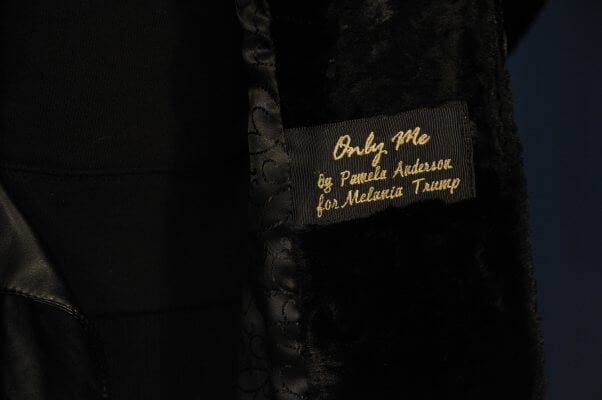 17. … visited a Dunkirk refugee camp to deliver warm cruelty-free hats and gloves, as well as hundreds of animal-themed coloring books and colored pencils, to children who'd been forced to flee their home countries.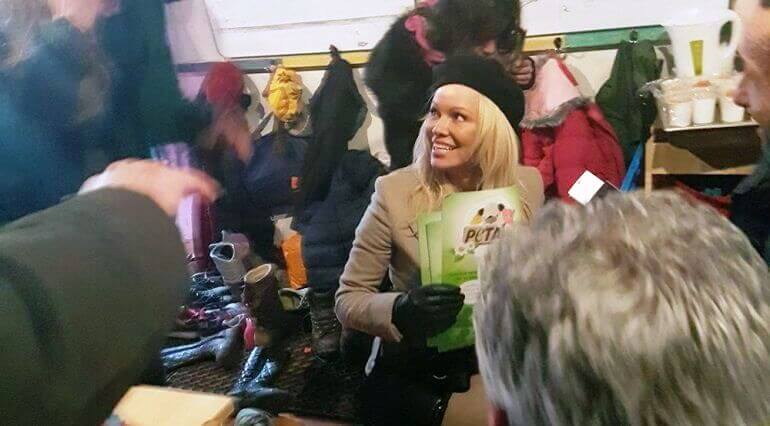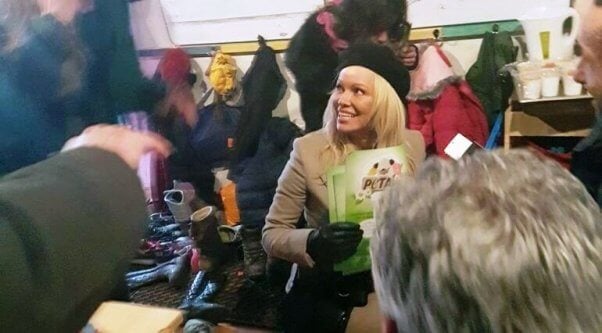 16. … received the first Linda McCartney Memorial Award for her tireless activism, presented to her by Paul McCartney, at PETA's Party of the Century in September 1999.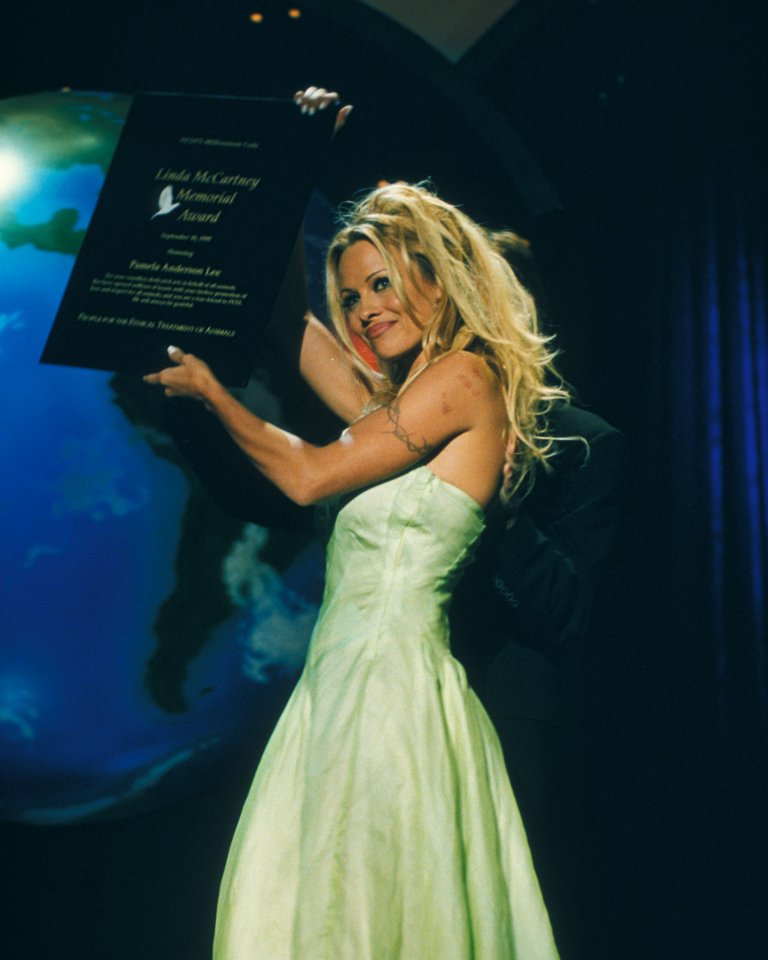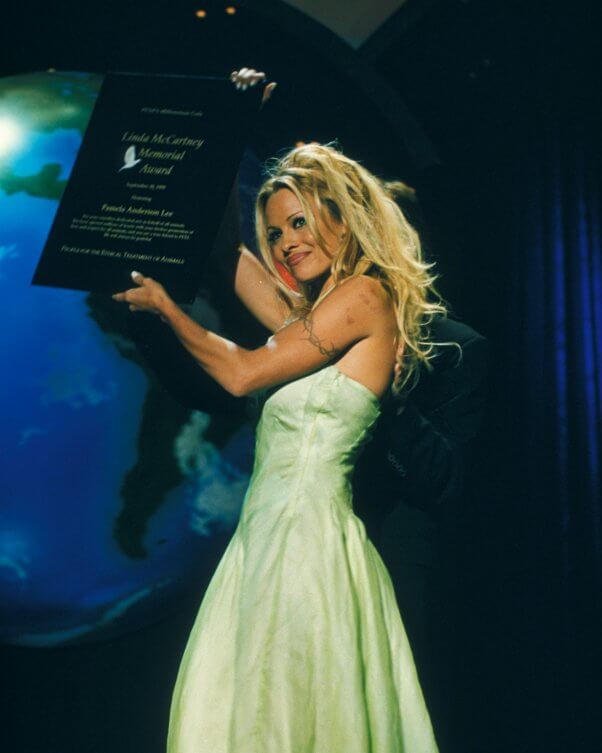 15. … dished out vegetarian Thanksgiving dinners with all the trimmings to homeless families at a Las Vegas, Nevada, shelter.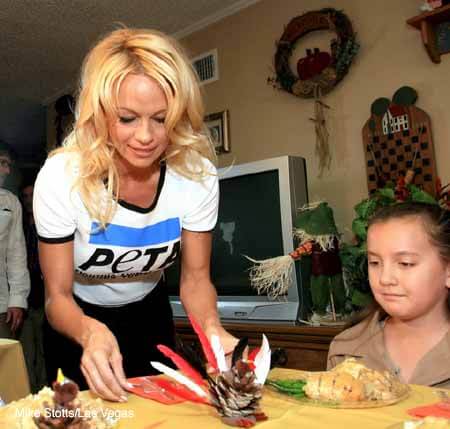 14. … helped PETA evacuate dozens of dogs from severely crowded shelters in Louisiana after the Gulf oil catastrophe in 2010—and launched our caravan with a media blitz that ensured that every animal was adopted upon arrival at PETA's Virginia headquarters.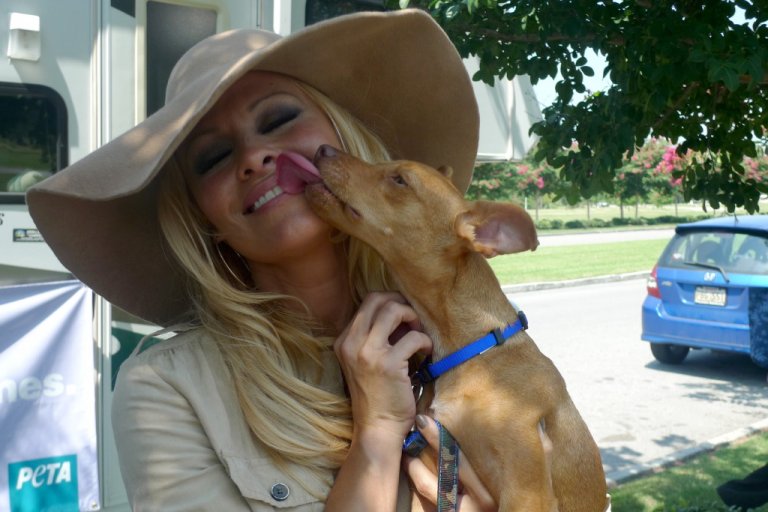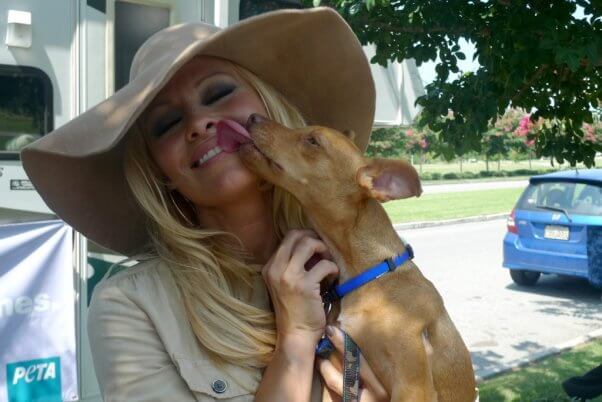 Luca Pizzaroni
13. … helped unveil limited-edition PETA postage stamps at the Hollywood post office, with a little help from Bob Barker. The stamps were designed to honor some of the most influential and recognizable vegetarians throughout history.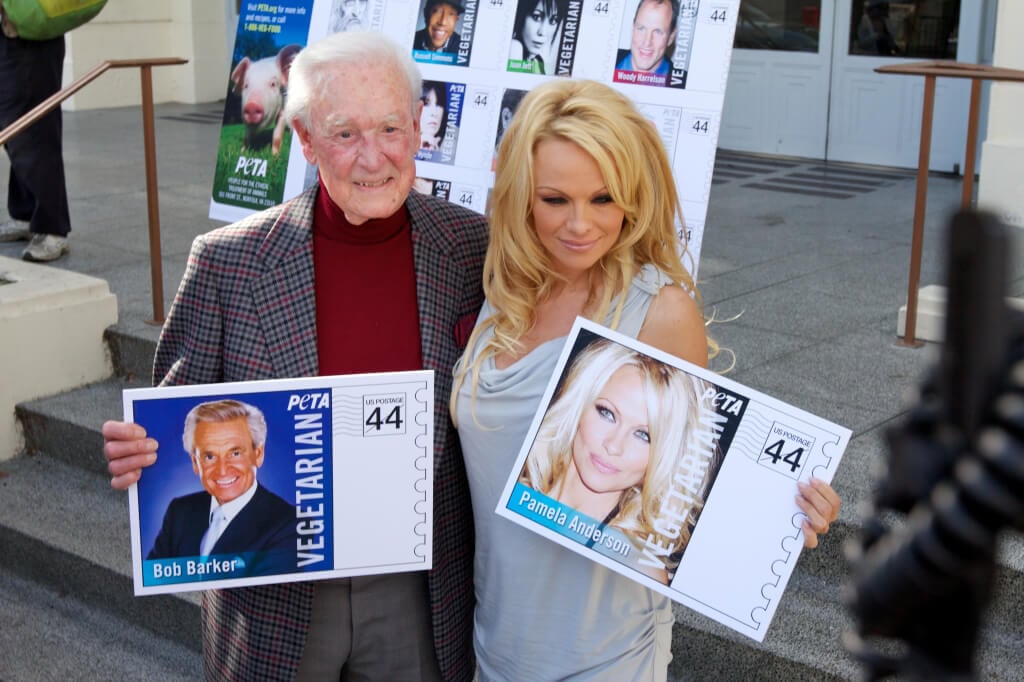 12. … joined hundreds of PETA supporters in successfully urging the California Coastal Commission to vote down SeaWorld's effort to rebrand its marine-mammal exhibits with fancier decor.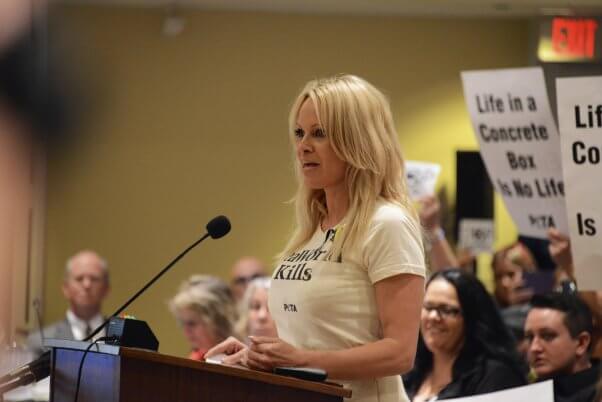 11. … starred in an Alfred Hitchcock–inspired PETA ad to declare that the solution to recurring droughts isn't just shorter showers—it's also turning off the tap that supplies animal agriculture.
10. … became the most iconic PETA "Lettuce Lady" after sporting a lettuce bikini in a campaign that read, "Turn over a new leaf: Try vegetarian."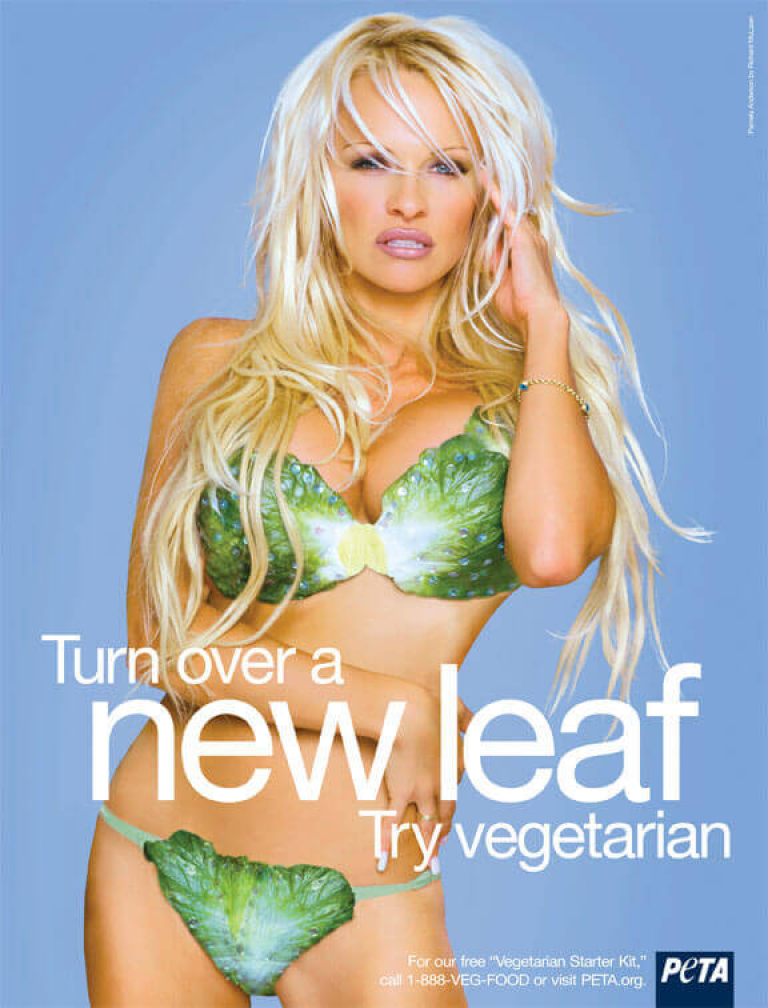 9. … submitted a formal appeal on PETA's behalf urging the World Trade Organization to uphold the E.U.'s ban on seal-fur imports. Spoiler alert: The ban was upheld.
8. … visited Maricopa County Jail to serve lunch to inmates in the first all-vegetarian U.S. jail.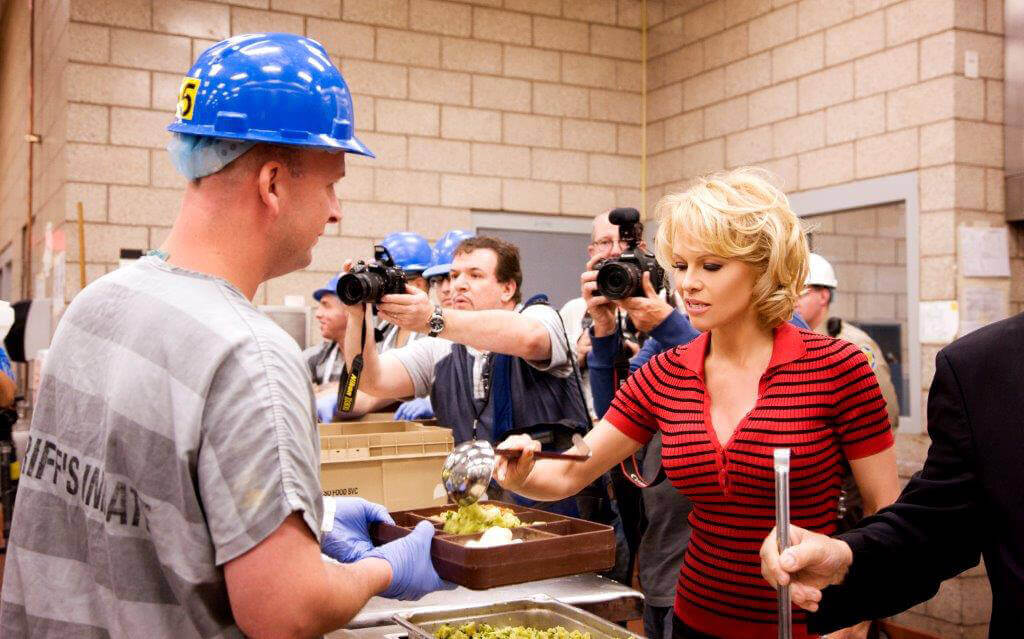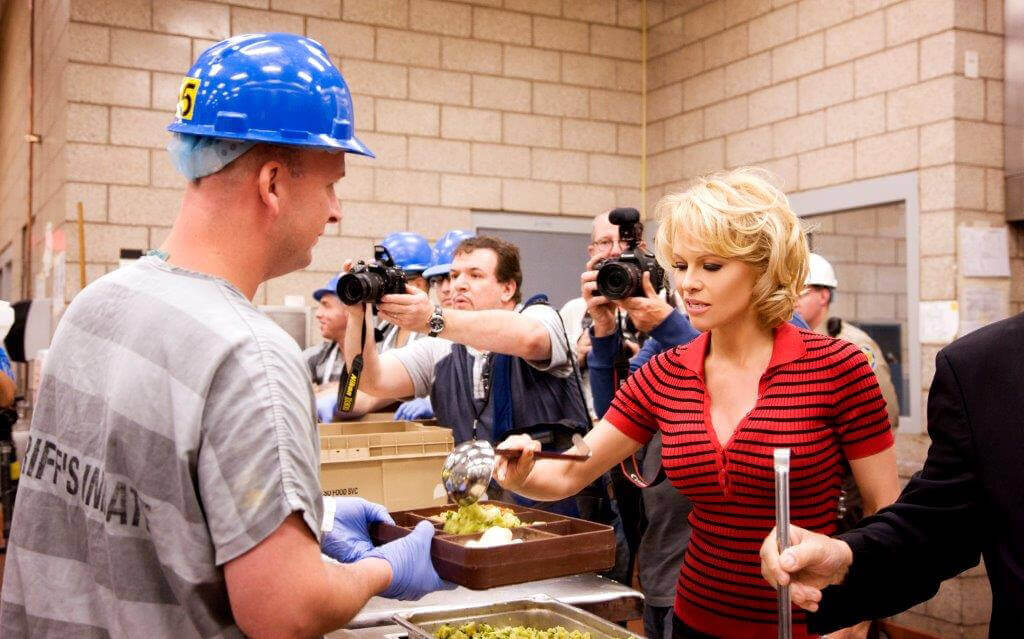 7. … went postal on Kentucky Fried Chicken (KFC). After a new postal stamp that would feature famed chicken torturer Col. Harland Sanders was submitted for consideration by the U.S. Postal Service, Anderson wrote a letter to the postmaster general blasting KFC's request.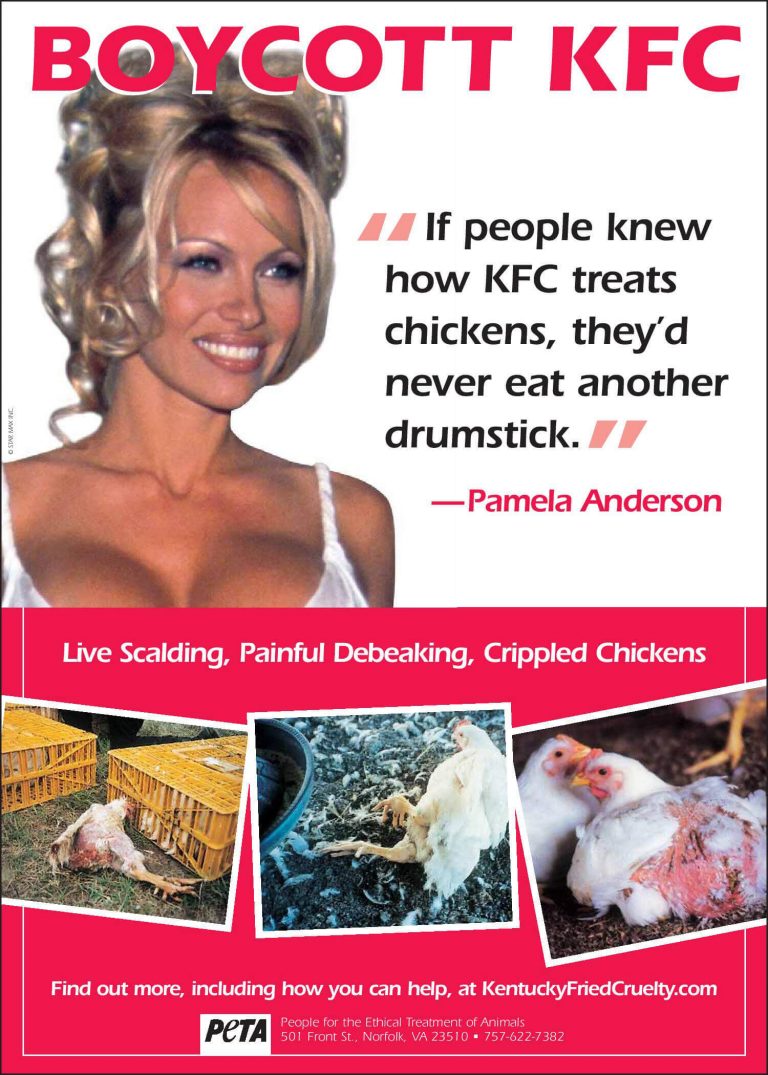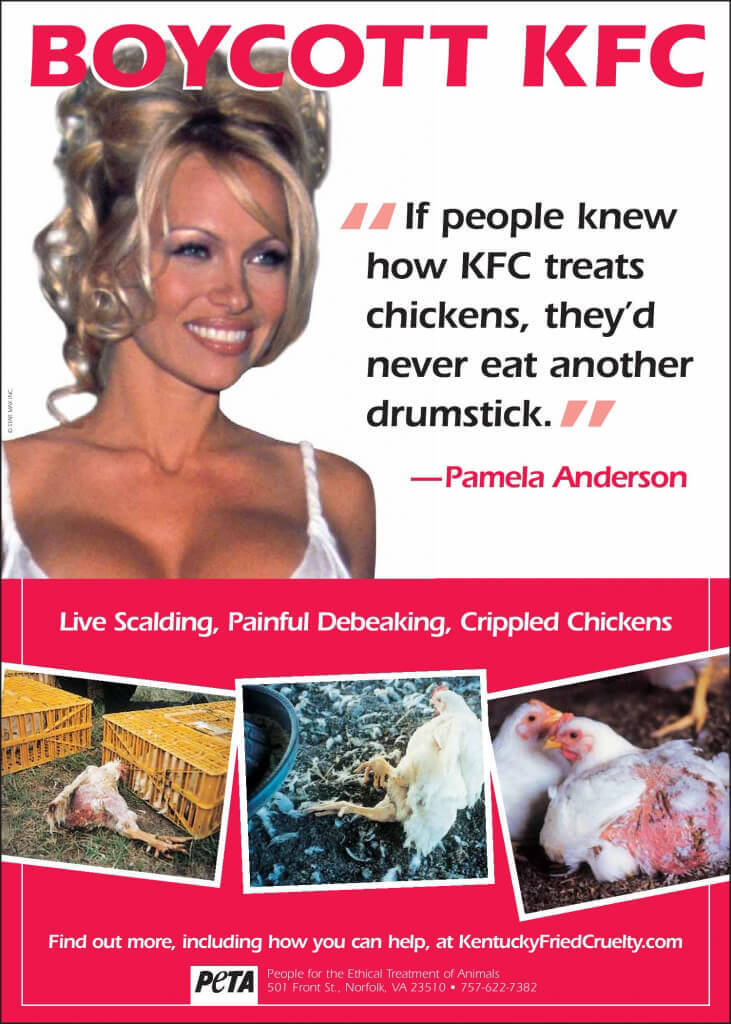 6. … wrote a letter urging M.A.C.—a company Anderson formerly modeled for—and parent company Estée Lauder to resume their cruelty-free policy and stop paying for the animal tests that are required in order to market cosmetics in China.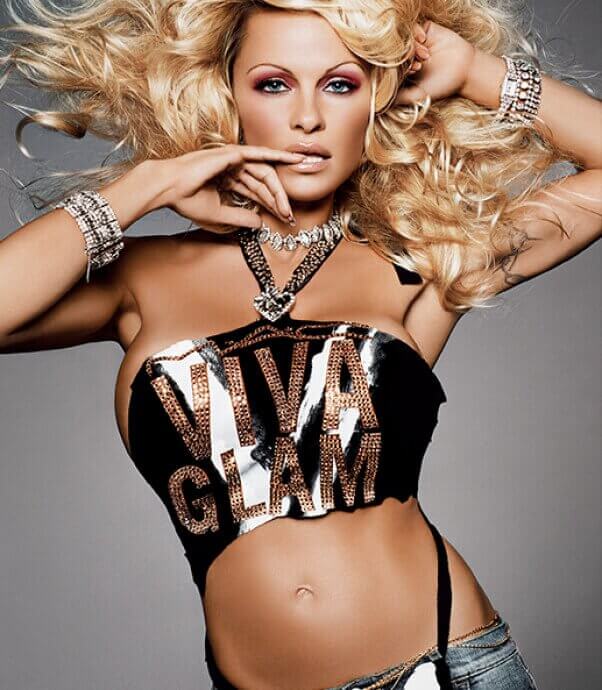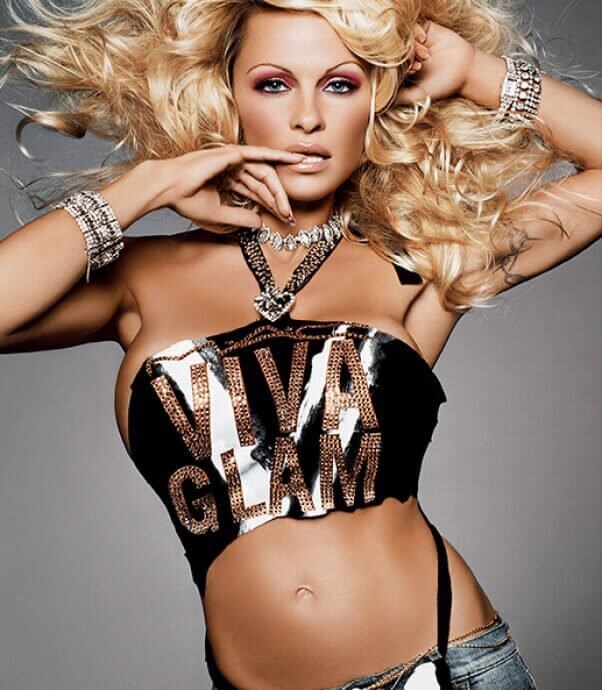 5. … joined PETA Vice President Dan Mathews at the Russian consulate in New York City, where they met with trade officials to urge them to bolster Russia's ban on seal fur from Pamela's native Canada.
4. … turned down the opportunity to represent Axe Body Spray. The blonde bombshell penned a polite but pointed letter to Unilever—Axe's parent company—explaining that she couldn't promote a company that still conducts cruel animal testing.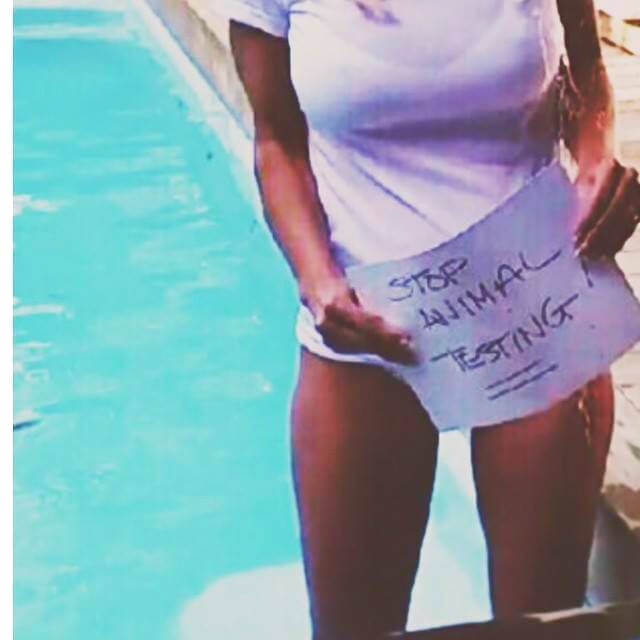 3. … prepared unsuspecting travelers for takeoff in PETA's "Cruelty Doesn't Fly" video. Click here to watch as she strips passengers—of fur, leather, and all animal skins!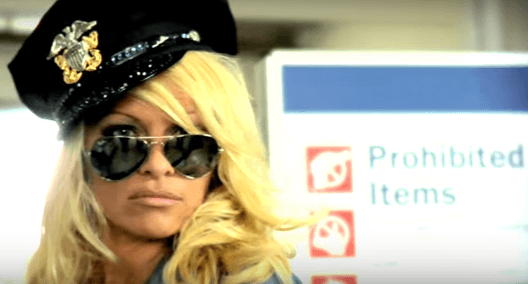 2. … jetted to frosty St. John's, Newfoundland, with The Simpsons' Sam Simon to offer the Canadian Sealers Association a colossal million-dollar check on the condition that it would facilitate a government buyout of the faltering commercial seal trade.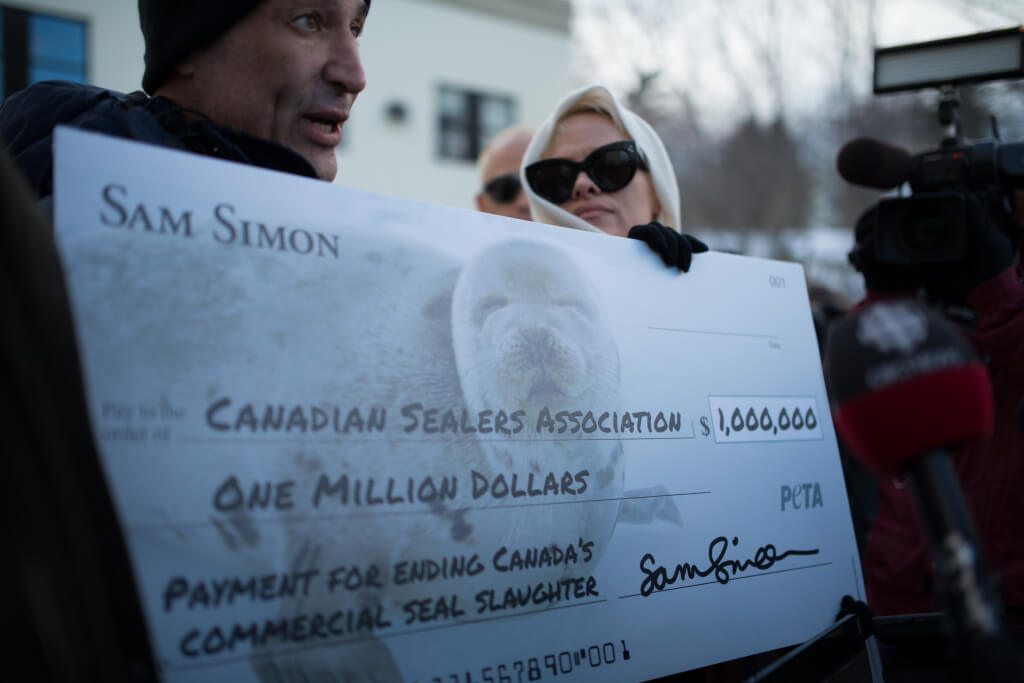 © Sandra Lee
1. … stripped down for her very first PETA campaign—"Give Fur the Cold Shoulder"—to urge folks in New York City to say "no" to fur.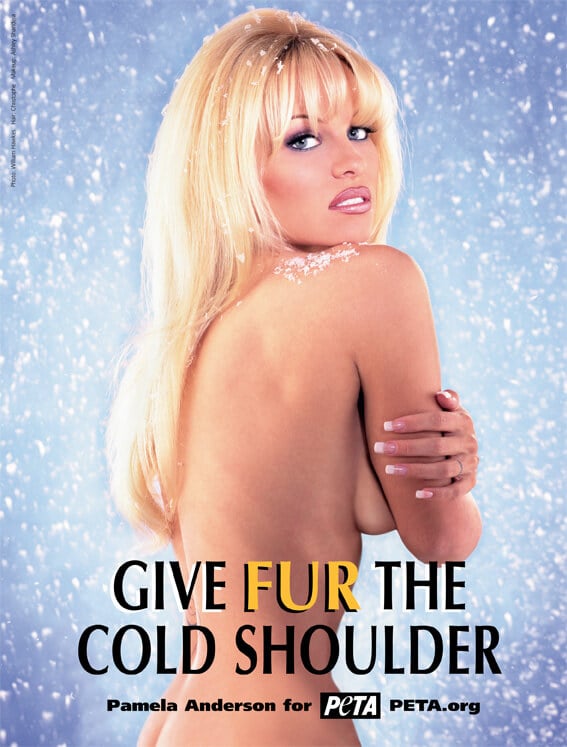 *****
Become an animal rights activist, just like Pamela!
Anderson works tirelessly to help bring about the peace and justice that all living beings deserve. She's a hero to all animals, and we couldn't love her more for it. If you're inspired by the icon's more than 20 years of PETA partnerships, consider joining the PETA Action Team. As a member, you'll speak up for animals, write letters to local news editors, assist with urgent cases in your local area, and attend protests, movie screenings, and other events being held in your region—and that's just the beginning. Click the button below to learn more about joining the team and take a stand for animal rights, just as Pamela does: