If you're contemplating buying a Canada Goose coat for yourself or as a holiday gift for a friend or family member this year, you need to turn the sound on and watch the video below. You won't be able to forget this terrible noise anytime soon:
https://www.youtube.com/watch?v=f4FST39BZ-s
A PETA eyewitness exposé of a Canada Goose down supplier reveals that workers rounded up panicked geese, grabbing and carrying them by the neck, and crammed them into densely packed cages for transport to slaughter. To make the process go faster, geese were herded into small wire pens, where they visibly panicked and trampled each other. Geese on the bottom of the pile were crushed. At least one died, and a worker tossed the dead bird over the fence.
Some geese were left in feces-covered crates for up to 24 hours without food or water, including during a trip to the slaughterhouse that lasted over five hours. A PETA observer documented that about half of the birds from Canada Goose's supplier had bruises on their wings—or even broken bones or dislocated joints—when they were being butchered. When the observer asked why the birds had "red elbows," a supervisor at the slaughterhouse responded, "from putting them in the cages."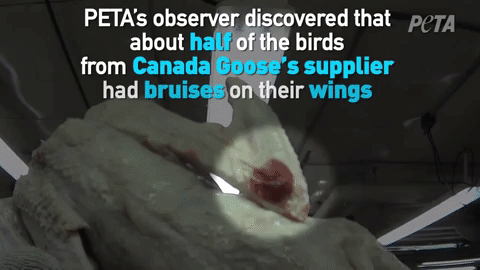 As you can plainly see and hear in the video footage, birds used for their down are subjected to fear, pain, distress, and physical discomfort.
Don't be down with Canada Goose and its cruelty to animals.
Every time people purchase a Canada Goose down-filled jacket—or any down-filled item—they could be supporting the horrors that you see in this video and worse. The best way to help geese suffering right now is never to buy anything containing down. Canada Goose could easily ditch down today—urge the company to do just that!
Tell Canada Goose to stop selling down immediately, and let the company know that you won't buy any of its products until it does so. With so many humane, warm materials available today—including PrimaLoft, Thinsulate, ThermoBall, and Plumtech—there's no excuse for using down.