"It's like a diabolical mad scientist at work in a horror movie."
That's precisely how one member of Congress described the perverse actions of John Hagmann, the alleged sexual predator and apparent twisted mind behind the military's cruel trauma training program, in which thousands of live goats and pigs are shot, stabbed, dismembered, and killed each year.
PETA has been spearheading the effort to put an end to these barbaric drills– in which supposedly anesthetized animals have been heard moaning– that do not effectively teach troops how to save the lives of human beings, whose anatomy differs significantly from that of goats and pigs.
What kind of individual would come up with ideas like cutting off goats' limbs with tree trimmers, ramming metal rods through pigs' legs, and pulling out animals' internal organs?
Those barbaric practices are exactly what Hagmann created in the 1980s as "training" for our troops in a program called "Tactical Combat Casualty Care." He later formed a company called Deployment Medicine International INC (DMI), which became the self-proclaimed "single largest trainer of US military forces in operational medicine" and has raked in millions of taxpayer dollars in military contracts.
PETA Exposes Sickening Procedures and Weird Goings-On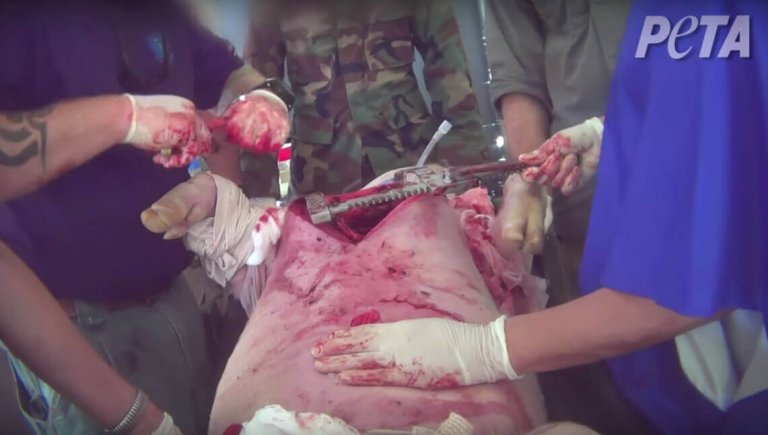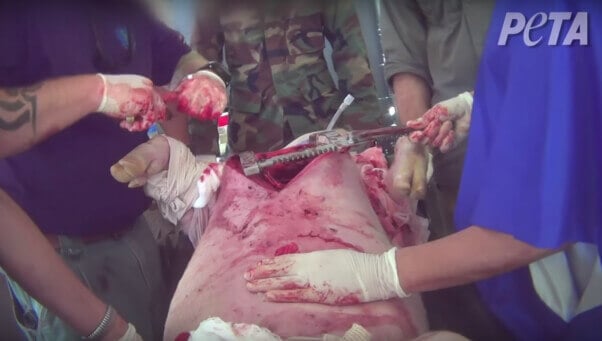 In 2015, PETA released an eyewitness video of this barbaric training and uncovered documents that revealed not only DMI's shocking mutilations of live animals but also racism, homophobia, the reported drugging and sexual assault of military service members, apparent illegal invasive human experimentation, and other alleged gross misconduct by Hagmann.
The disturbing footage was obtained during a DMI course attended by civilians and members of the Air Force and Navy. In the video, a participant can be heard commenting that a pig was not adequately anesthetized, and DMI staff said that another pig started to regain consciousness during invasive procedures.
In the video, one DMI instructor told a room full of students that using "Hajis"—referring to Muslims who have made pilgrimages to Islam's holiest city, Mecca—"would be even better" than using pigs for the deadly training. Hagmann himself made inappropriate sexual remarks, such as telling students that the best way to know if a blood bag is full enough is to squeeze it to see if it feels like a "boob"—not a "soft boob," but a "nice, firm boob," and not as hard as a "fake boob." During an orientation, he jokingly showed a photograph of a symbol that depicted male homosexual sex with a red line drawn through the image to indicate that the behavior is not permitted. But read on—it gets far worse.
Sexual Assault and Drugging of Military Service Members
PETA also uncovered previously unreleased documents revealing that in 2015, the Virginia Board of Medicine suspended and later revoked Hagmann's medical license for allegedly physically and sexually assaulting military service members, as well as drugging them, during other DMI courses around the same time. The Virginia Board of Medicine made the following disturbing findings regarding Hagmann:
He retaliated against a female student who was critical of live-animal use during a DMI course by intentionally withholding the necessary instructions that she needed to practice inserting a tube into a male student's penis.
He exploited course participants for sexual gratification by performing an inappropriate rectal exam on a student, instructing the student to perform a penis and rectal exam on him that he videotaped, and manipulating and photographing a student's penis in a warehouse while the student was drunk.
He demonstrated how to administer local anesthetics to a student's penis to block pain sensation while the student was under the influence of alcohol and unable to consent.
He dispensed a long list of controlled substances (including Viagra, ketamine, lorazepam, and others) without the proper license or medical justification, and he instructed, authorized, or allowed unlicensed students to administer or inject each other or themselves with the substances.
He directed, authorized, or allowed students to engage in so-called "ketamine labs" and "alcohol labs"—without proper oversight approval—which involved injecting students with a ketamine anesthetic and instructing them to consume excessive amounts of alcohol (such as rum, bourbon, beer, etc.) so that he could assess the cognitive effects of these substances.
He instructed and allowed course participants to perform invasive procedures on each other—such as cutting down to the connective tissue surrounding the bone and then suturing the incision (a procedure during which the board noted that Hagmann left the area since "he could not bear to watch"), withdrawing and reinjecting blood, and inserting tubes into their penises. These procedures were apparently undocumented, not medically justified, and not performed in sterile conditions.
Thanks to the efforts of PETA and PETA Germany, DMI was repeatedly denied permission to conduct trauma training drills on animals for U.S. Army personnel stationed in Germany on the grounds that "such tests on animals are not necessary … especially as alternative methods of training are available."
In 2015, following a PETA complaint to the Department of Defense (DOD), the agency barred Hagmann and his companies from receiving any federal contracts for the next 15 years, including for cruel trauma training on animals.
That same year, after PETA informed officials in Washington state that Hagmann had lost his medical license in Virginia, the Washington Medical Commission also suspended his medical license. In 2016, PETA filed complaints with government officials in that state calling for the dissolution of DMI. In a huge victory for animals, the company was administratively dissolved by Washington in 2018, as were several additional trauma training companies affiliated with Hagmann.
In 2017, following a PETA complaint, the North Carolina Medical Board informed Hagmann that he and his company could no longer practice medicine or provide medical training involving invasive procedures on humans anywhere in that state.
Putting an End to This Shameful Practice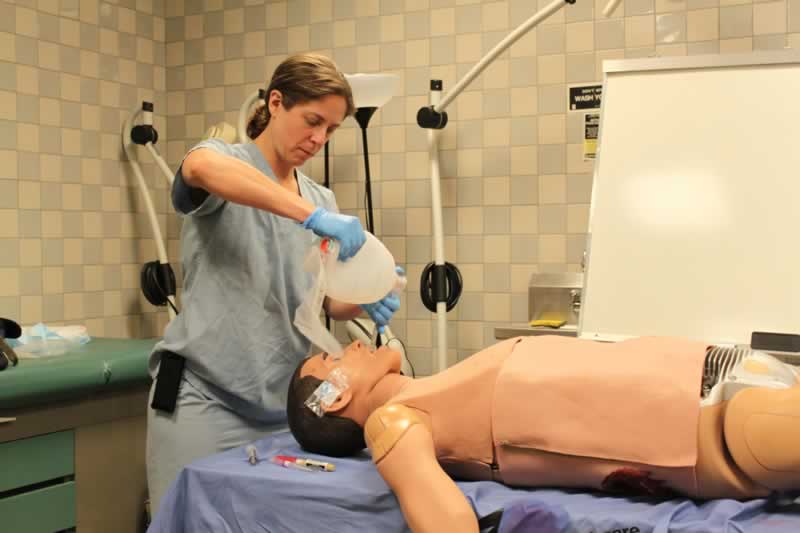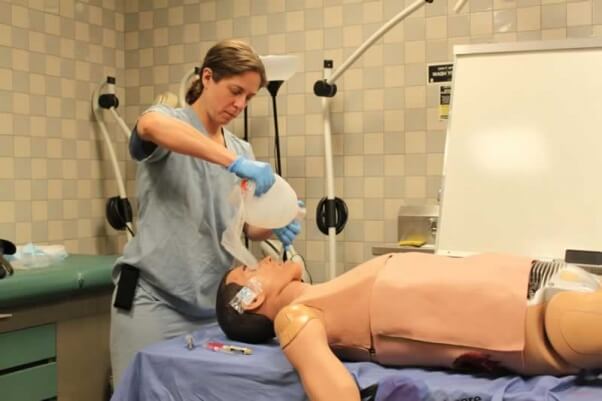 Hagmann's company, DMI, has left behind a gruesome legacy of more than 18,000 pigs maimed and killed. Because of Hagmann, there are now other contractors who stab, shoot, and dismember animals in military training courses. PETA won't stop until the military modernizes its medical training program and our troops are taught life-saving training techniques using superior human-patient simulators that accurately mimic severe bleeding, breathing difficulties, responses to medications, and even death.
To that end, we've made great progress.
Pressure from PETA and members of Congress got the military to reduce the number of live animals used in trauma training substantially, and the U.S. Coast Guard has become the first branch of the armed forces to end all use of animals in these exercises.
On March 20, 2019, following a PETA push and support from members of Congress that resulted in passage of the John S. McCain National Defense Authorization Act, the DOD issued historic new instructions, including a PETA-backed provision that animal-free medical simulation technology must be prioritized over trauma training drills on animals.
Now we need your help to end this senseless mutilation of animals entirely. Please urge the DOD to stop using animals in military trauma training and to use superior human-simulation technology instead.