Updated March 22, 2017:
PETA's response to the Virginia Court of Appeals decision to uphold the VA Medical Board's revocation of John Hagmann's license, attributed to PETA Senior Vice President Kathy Guillermo:
Animals and members of the military in Virginia are safer this morning since John Hagmann—the sexual predator and twisted mind behind the military's cruel trauma training program, in which thousands of live animals are shot, stabbed, dismembered, and killed each year—will not be allowed to reinstate his medical license. Both the Virginia Board of Medicine and the U.S. Department of Defense found that in addition to mutilating animals, he sexually abused troops and encouraged them to use alcohol and dangerous drugs. Following these revelations and the release of PETA's eyewitness investigation documenting that live pigs were stabbed and shot, Hagmann's company—Deployment Medicine International—was barred from receiving any federal contracts for 15 years. The Pentagon should distance itself entirely from Hagmann by ending all violent and archaic trauma training on animals.
Posted November 30, 2015:
Update: Victory! After PETA broke its eyewitness investigation documenting that live pigs were mutilated and that service members were abused during trauma training courses held by Deployment Medicine International (DMI), the company has been barred from receiving any federal contracts for the next 15 years, including for its cruel trauma training on animals. This is significant because DMI was a leading provider of this cruel training for the military, and the federal government was DMI's largest client, awarding it more than $10 million in contracts in recent years.
DMI has also faced other sanctions:
The Virginia Board of Medicine has unanimously voted to revoke the medical license of DMI's president, John Hagmann, for allegedly drugging and sexually assaulting soldiers. The revocation proceedings were first publicized by PETA. After PETA informed officials in Washington state of this development, the Washington State Medical Commission suspended Hagmann's medical license.
A leading industry association also withdrew DMI's coveted medical education accreditation following a PETA complaint.
Rep. Hank Johnson, a member of the House Armed Services Committee and a main sponsor of the Battlefield Excellence through Superior Training Practices Act, which would phase out the use of animals in these cruel military medical training drills, has asked the secretary of defense for a full investigation into the evidence of abuse released by PETA and documented by the Virginia Board of Medicine.
Leading Military Contractor Abuses Animals and Service Members
A damning new PETA eyewitness investigation and related documents reveal shocking mutilations of animals, racism, homophobia, and reported drugging and sexual assault of military service members, apparent illegal invasive human experimentation, and other alleged gross misconduct by a military contractor called Deployment Medicine International (DMI).
DMI is the self-proclaimed "largest trainer of US military forces in operational medicine" and leads courses in which live animals are drug out into woods and shot and stabbed for crude and cruel training drills. In recent years, DMI has maimed and killed more than 14,000 pigs and received more than 200 federal training contracts worth nearly $10 million.
Pigs Shot and Ripped Open
PETA's disturbing eyewitness video was obtained during a DMI Operational and Emergency Medical Skills (OEMS) course attended by members of the Air Force, Navy, and civilians. The footage shows live pigs shot with shotguns and cut into with knives to cause massive bleeding. DMI staff also rammed a metal rod through one pig's leg, cut into his abdomen, pulled out part of his intestines, and shot him in the face, blowing off his jaw.
In the video, a DMI instructor also asked whether one pig, whose arteries had been severed, was dead or alive, and when he was told that the pig was alive, he replied, "Cool. Vivisection." This instructor then slashed open the live pig's chest and used large metal rib cutters to break through the pig's ribs. Upon hearing the pig's ribs crack and crunch under the pressure, a trainee reportedly asked the instructor if he had been a butcher in a former life, to which he replied, "No—I watch a lot of Dexter."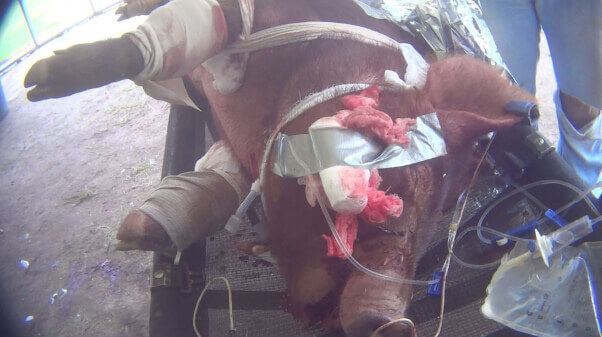 Mutilated Pigs Apparently Still Conscious
In PETA's eyewitness video, one course participant said that a pig whose arteries had been severed was apparently inadequately anesthetized. DMI staff said another pig—who was cut open repeatedly on the limbs, chest, face, and head—kept starting to regain consciousness.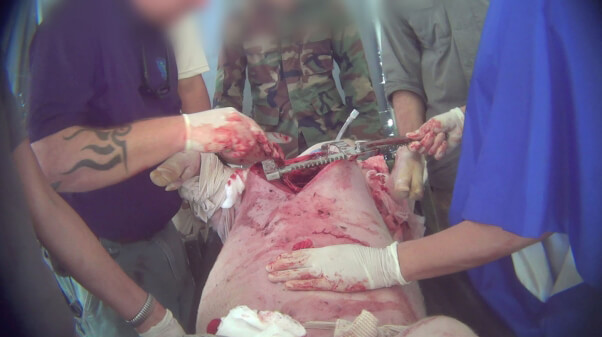 Shocking Racism
Discussing the controversial nature of the animal laboratories, one DMI instructor tells a room full of students that "Hajis"—referring to Muslims who have made pilgrimages to Islam's holiest city, Mecca—"would be even better" than using pigs for DMI's deadly training.
Sexual Harassment
One DMI instructor joked that pigs who had been shot, stabbed and otherwise maimed in the woods had "tripped in a sex shop and … all [had] impaled objects." According to PETA's eyewitness, DMI's president, John Hagmann, also made inappropriate sexual remarks, telling the students that the best way to know if a blood bag is full enough is to squeeze it and that the bag should feel like a "boob"—not a "soft boob" but a "nice, firm boob," not as hard as a "fake boob." He said that if students spoke to "the gal with the nice boobs" at a local Hooters restaurant about shooting pigs, she would not sleep with them, but her boyfriend might be affiliated with PETA.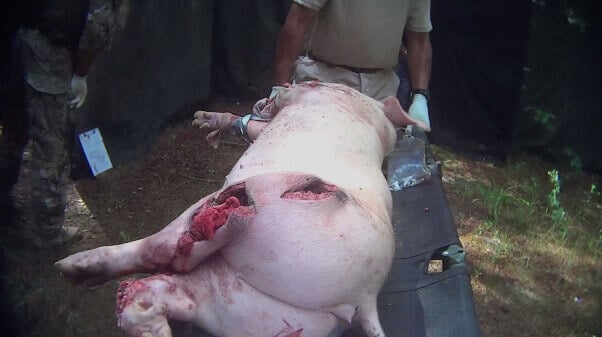 Homophobia
During an orientation, DMI's president jokingly showed a photograph of a symbol that depicted male homosexual sex with a red line drawn through the image to indicate that the behavior was not permitted.
Sexual Assault and Drugging of Military Service Members
Consistent with the cruel and inappropriate behavior documented by PETA's eyewitness, we uncovered previously unreleased documents revealing that the Virginia Board of Medicine recently suspended the medical license of DMI president John Hagmann for abuses in other DMI courses during the same time period, concluding that his behavior is a "substantial danger to the public health or safety."
Hagmann— a former medical director of the Federal Bureau of Investigation's Hostage Rescue Team—allegedly physically and sexually assaulted military service members, drugged them and violated a host of other regulations.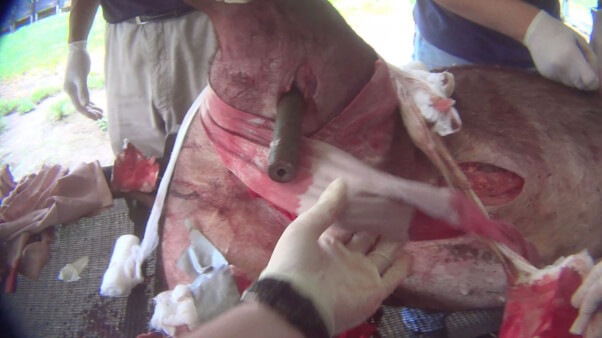 Some of the disturbing findings alleged in the Virginia Medical Board's investigation of DMI's Hagmann include the following:
He retaliated against a female student who was critical of live animal use during a DMI course by intentionally withholding the necessary instructions that she needed to practice inserting a tube into a male student's penis.
 He exploited course participants for possible sexual gratification by performing an allegedly inappropriate rectal exam on a student, instructing another student to perform a penis and rectal exam on him that he also videotaped, and manipulating and photographing a student's penis in a warehouse while the student was drunk.
He demonstrated how to administer local anesthetics to a student's penis to block pain sensation while the student was under the influence of alcohol and likely unable to give informed consent.
He dispensed a long list of controlled substances without the proper license or medical justification, and he instructed, authorized, or allowed unlicensed students to administer or inject each other or themselves with the substances and/or prescription drugs (including Viagra, ketamine, lorazepam, and others)
He directed, authorized, or allowed students to engage in so-called "ketamine labs" and "alcohol labs"—without proper oversight approval—which involved injecting students with a ketamine anesthetic and instructing them to consume excessive amounts of alcohol (such as rum, bourbon, beer, etc.) so that he could assess the cognitive effects of these substances.
He instructed and allowed course participants to perform invasive procedures on each other—such as cutting down to the connective tissue surrounding the bone and then suturing the incision (a procedure for which the board noted that Hagmann left the area since "he could not bear to watch"), withdrawing and reinjecting blood, and inserting tubes into penises. These procedures were apparently undocumented, not medically justified, and not performed in sterile conditions.
Culture of Cruelty
DMI is not an isolated case. A PETA video exposé in 2012 also documented cruel and callous behavior in a similar course led by a U.S. Coast Guard contractor, in which some participants joked and laughed while using tree trimmers to cut off the legs of inadequately sedated goats. Pressure from PETA and members of Congress was a critical factor in the Coast Guard's humane decision to suspend all use of animals in these trauma training drills.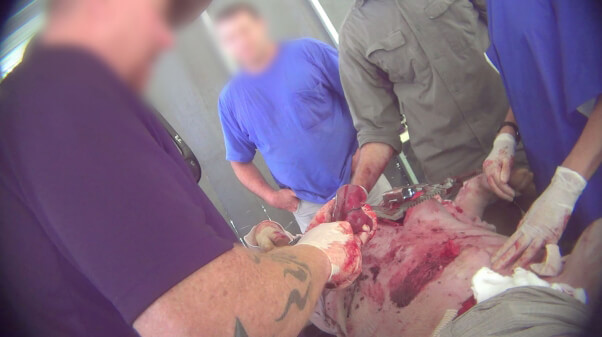 No Justification for Animal Use and Abuse
Beyond the abusive behavior documented above, military and other authorities agree that the use of animals in these courses is altogether inexcusable given the superior simulation methods available. Partly as a result of the efforts of PETA and PETA Germany, DMI has repeatedly been denied permission to conduct animal laboratories for U.S. Army personnel stationed in Germany on the grounds that "such tests on animals are not necessary … especially as alternative methods of training are available."
What You Can Do
Please send a polite e-mail urging the Department of Defense to end the use of animals in all military trauma training and to use superior human-simulation technology instead.