Victory! John Hagmann, the alleged sexual predator who abused military service members and developed the Department of Defense's (DOD) cruel trauma training program, in which pigs and goats are stabbed and shot, has shut down the companies he founded that provided this violent training and has been barred from practicing medicine in North Carolina, Virginia, and Washington state.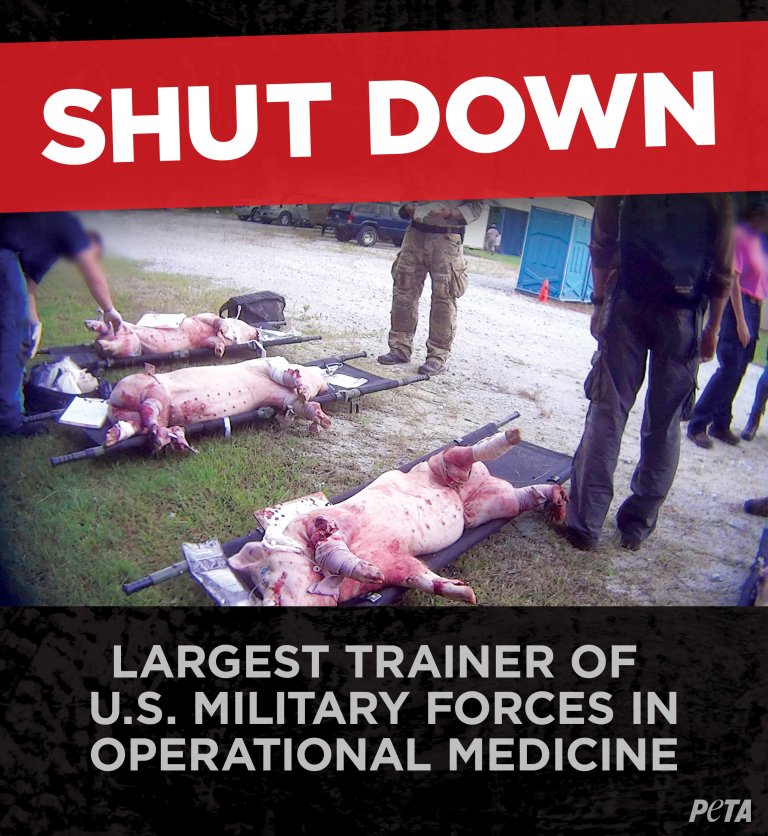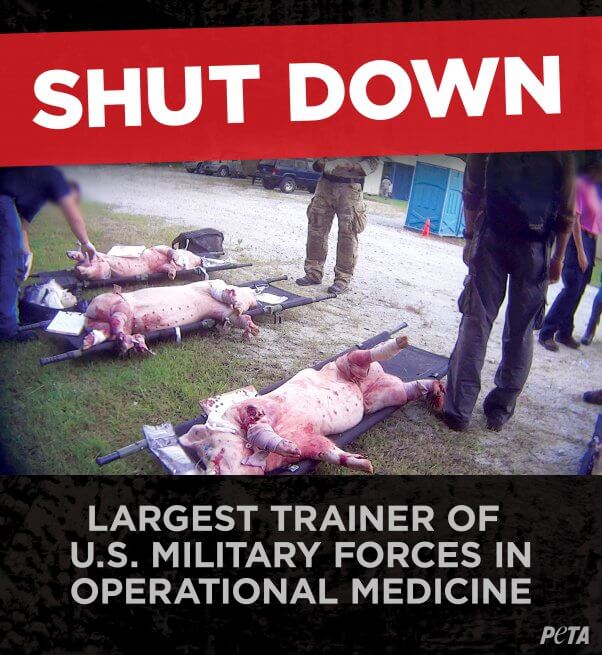 A 2015 PETA exposé had revealed that instructors from one of Hagmann's companies, Deployment Medicine International, Inc. (DMI)—which was at one point the self-proclaimed "largest trainer of U.S. military forces in operational medicine," killing more than 14,000 pigs and receiving federal trauma training contracts worth nearly $10 million in taxpayer money—stabbed and shot animals in a trauma training course, a practice that Hagmann devised for the military in the 1980s. The instructors were shown cutting into live pigs who had been shot to induce bleeding, as well as making racist, sexual, and homophobic remarks.
That same year, PETA also uncovered previously unreleased documents revealing that the Virginia Board of Medicine had suspended Hagmann's medical license for allegedly physically and sexually assaulting military service members, as well as drugging them, during other DMI courses. After PETA informed Washington state officials in 2015 that Hagmann had lost his medical license in Virginia, the Washington State Medical Commission suspended his medical license in 2018. Furthermore, in 2016, PETA filed complaints with Washington state government officials calling for the dissolution of DMI. In a huge victory for animals and troops, DMI was administratively dissolved by Washington state in 2018, as were several additional trauma training companies affiliated with Hagmann, following PETA's complaints.
In 2015, following a PETA complaint to the DOD, the agency barred Hagmann and his companies from receiving any federal contracts for the next 15 years, including for cruel trauma training on animals. That same year, PETA also filed a complaint with the North Carolina Medical Board regarding Hagmann's apparent practicing of medical procedures during trauma training courses without a valid medical license, and in 2017, the Board prohibited him from engaging in such activities in the future.
"John Hagmann's callous abuse of animals and military troops is now officially over. His companies made millions in taxpayer-funded trauma training contracts while animals were killed and service members were assaulted—this can't be undone, but at least, it has stopped."

—PETA Vice President Shalin Gala
On March 20, 2019, following a PETA push and support from members of Congress that resulted in the passage of the John S. McCain National Defense Authorization Act, the DOD issued new instructions, including a PETA-backed provision that animal-free medical simulation technology be prioritized over the type of trauma training drills on animals that Hagmann and DMI had previously performed for decades. The Coast Guard banned all use of animals for trauma training following a 2012 PETA exposé showing service members cutting the legs off inadequately anesthetized goats.
Tell the military to end animal abuse in trauma training drills!