Presidential debate moderator Candy Crowley likes getting into meaty issues—but not into meat. Maybe it was her vegetarian diet that gave her enough energy to keep the candidates in line?
Newly vegan Kristen Bell doesn't miss an opportunity to advocate for animals—and she doesn't miss dairy products, either. "[H]onestly, there are so many good substitutes available now that I really don't miss anything," she told Shape magazine. Kristen also mentioned that as much as she loves sloths, she would never keep one because, she says, "I don't support the exotic animal trade."
Salma Hayek agrees. She told Jimmy Fallon, "I am completely against people having exotic animals as pets. This is completely, completely wrong." Gushing about her passion for rescue, she rattled off all the animals who inhabit her estate, adding, "See, I had no husband, no children. I only had my animals, and I'm not going to get rid of them just because I fell in love, and, you know, motherhood. "
Ben Stiller realizes that exotic animals don't belong behind bars, either. The funnyman got serious when asked how he feels about zoos, saying, "I used to be for it. Now I'm against it. I don't love zoos; I've taken my kids to them but I saw that documentary a couple of years ago, The Cove, and that affected me in terms of knowing how these dolphins get into these dolphin parks. So I stopped supporting them." What else have Stiller and his family stopped supporting? The meat and dairy industries—Stiller and his wife, Christine Taylor, are vegan and are helping their kids embrace veganism, too.
The winner of RuPaul's Drag Race, Sharon Needles, embraced flesh of the human variety for her Halloween-themed pro-vegetarian ad for PETA. Drag royalty Lady Bunny was one of the multitude of folks speaking up for animals on Twitter this week, posting her excitement about the new ad: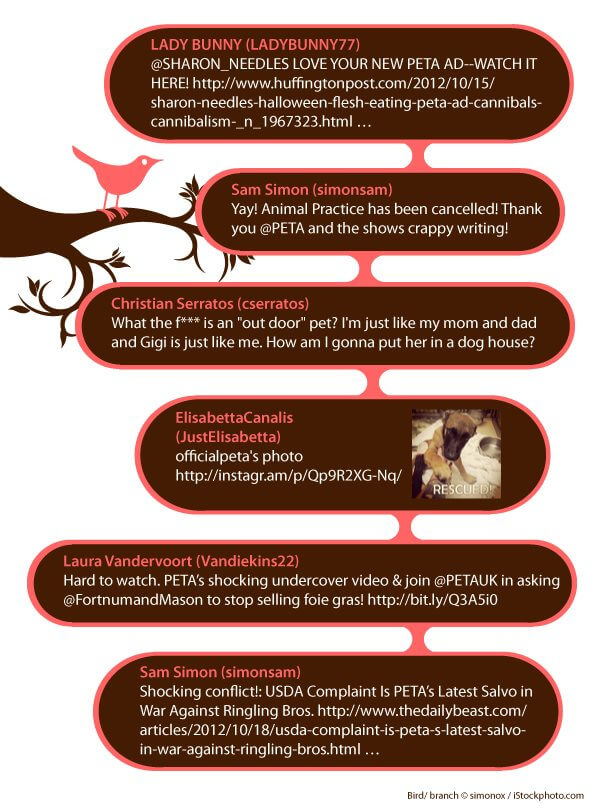 Leonardo DiCaprio knows that sometimes you need a little more than 140 characters, so he is devoting his Facebook page to the protection of whales, orcas, seals, and penguins. The actor asked for support for the Antarctic Ocean Alliance, which aims to create "the world's largest network of marine protected areas."
Pamela Anderson is ready to take her advocacy for horses face to face: She invited New York City Council Speaker Christine Quinn on a date! Pam is set to host a gala that will benefit the campaign to replace horse-drawn carriages with eco-friendly replicas of classic cars, and she thinks that if Quinn attends, the speaker will reconsider her support of the horse-drawn carriage industry.
To keep up with what your favorite stars are doing for animals, follow @PETA on Twitter.