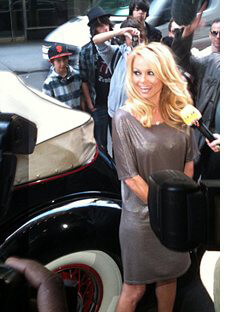 PETA Honorary Director Pamela Anderson was in New York City this weekend asking people to choose cool cars over cruel carriages. Pam posed in a beautiful 1936 Lincoln convertible, promoting Intro. 86, a New York City Council bill that would replace controversial horse-drawn carriages with charming eco-friendly classic cars.
Unlike horses, cars don't suffer when they are forced to work in all weather extremes. At the end of the day, cars don't mind being parked in a garage, while horses mind very much being crammed into tiny stalls, unable even to lie down comfortably.
Glee star Lea Michele, a vocal opponent of horse-drawn carriages, tweeted to Pam her support for Intro. 86: "I'm in NY (New York) right now and it is devastating to see these horses on these busy streets at all hours. Wish this would end…."
If Intro. 86 passes, carriage drivers will get first dibs on jobs as drivers of the romantic classic cars. And long-suffering horses will get first dibs on a well-deserved retirement. Sign PETA's petition asking the New York City Council to ban horse-drawn carriages.
Written by Michelle Kretzer