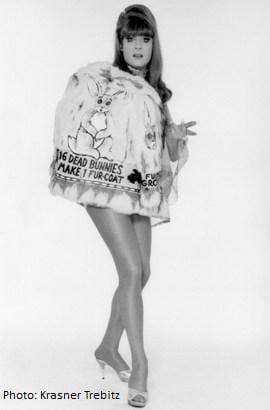 We know that you love to talk about how much you love PETA (we love you too!), but if some jealous type ever responds, "Dude, PETA's soooo gay," don't get offended, 'cause it's totally true! Here are a half-dozen reasons why:
1.      Cruelty is a drag. Long before the current flock of RuPaul wannabes ruled the airwaves, PETA enlisted drag divas—including Lady Bunny, Lypsinka, and Flotilla DeBarge—to shed some light (and throw some shade) on animal abuse.
2.      Give a gal a break. PETA has always been a lesbian haven—from Ellen DeGeneres to k.d. lang to Sara Gilbert—even before they come out!

3.      Can you make out our message? PETA's famous make-out tours have not only been girl-on-girl but also guy-on-guy, because all vegetarians make better lovers—no matter whom you love.

4.      Pride in our work. PETA's Oakland office is a fixture in San Francisco's legendary annual Pride Parade, but instead of tossing beads (which wouldn't go with what you're wearing, anyway), they toss literature about the benefits of a vegan diet.

5.      You can hear a name drop. With apologies to Logo, our famous friends include the crème de la crème of the real gay A-list. (Reichen and Rodiney? Girl, please.) Perez Hilton, Martina Navratilova, Lance Bass, and Tim Gunn are just a few of the celebs whose love—of justice for animals—dare speak its name.

6.      Closets are for clothes—as long as they're not made from fur, leather, or wool. The staffs of PETA and the PETA Foundation include plenty of out-and-proud LGBT folks, from yours truly to PETA's senior (but eternally young) V.P. of campaigns, Dan Mathews, who was named one of Out magazine's "Power 50" and whose exploits—including an attempt to turn leather men into pleather men—are detailed in his witty memoir, Committed.
Let's face it: Animals don't care whether people are GLBTQ or none of the above—they just need us to help them. To learn how, take a look at this.
Written by Jeff Mackey