The Hollywood baby boom is still going, but now it seems that everyone has found something new to go gaga over: cruelty-free food. 
The original Focker, Ben Stiller, and his wife, Christine Taylor, are now vegan and are helping their kids embrace cruelty-free eating, too. "It really has changed our energy level," says Taylor. "Sometimes you don't realize it until someone says it to you, like, 'Your skin looks amazing.'"
Christie Brinkley already knew that. Still stunning at 58, she credits what she eats with giving her supermodel good looks—she's been vegetarian since age 13.
Fellow model and Sexiest Vegetarian alum Lauren Bush Lauren doesn't mince words when talking about her feelings on factory farms. When asked who her mortal enemy was, she responded, "Factory farms, because I am a vegetarian and the thought of innocent animals being raised in poor conditions and then systematically slaughtered is just horrifying to me."
Brad Pitt had some strong words to say about animal slaughter, too. "Ever seen them butcher a cow for hamburger?" he asked reporters at the Cannes Film Festival. "It's incredibly brutal and violent. We live in a very violent world." And Billy Bob Thornton, separated from Brad by only one degree of Kevin Bacon, told Craig Ferguson that he is now mostly vegan. When the stars weren't going vegan this week, they were tweeting for animal rights: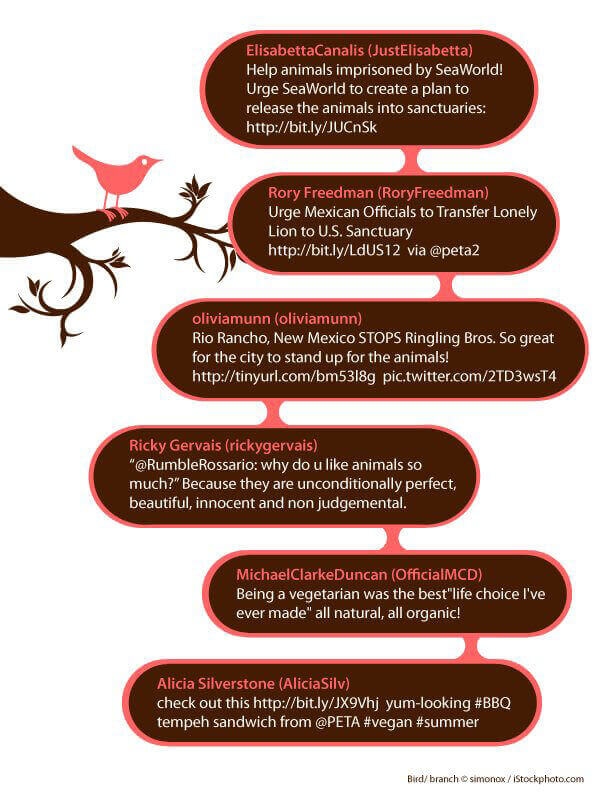 To keep up with what your favorite celebs are doing for animals, follow @PETA on Twitter.