Are Tyson slaughterhouse workers being hit hard by COVID-19? You bet. In fact, Tyson Foods management actually bet on it. The company just suspended managers after they were caught placing bets on the number of workers who would contract the novel coronavirus at a pig slaughterhouse!
Even though state officials and lawmakers urged the facility to shut down months ago, not only did the corporation keep the Waterloo, Iowa, plant open, but its managers were also reportedly partaking in a "winner takes all" betting ring, guessing how many workers would get sick. This is just one of many recent allegations filed against Tyson.
It's worth noting that only one week after it was recommended that this plant shut down back in April, more than 620 people in the county had tested positive for the coronavirus—seven are now dead, and 90% of those deaths are said to be linked to the Tyson plant. More recently, Black Hawk County reported over 9,600 cases and 120 deaths.
Since the early stages of the pandemic, 1,000 of the slaughterhouse's employees have contracted COVID-19, five of whom have died. The plant gave workers a $500 bonus for not missing any shifts for a three-month period, turning a blind eye as workers manipulated their thermometer readings. It even allowed one worker who vomited right on the kill floor to continue working.
Tyson has suspended the individuals reportedly involved in the bets, and CEO and President Dean Banks stated, "We expect every team member at Tyson Foods to operate with the utmost integrity and care in everything we do."
But it's hard to believe that the apparent systemic indifference to worker safety among management is of genuine concern to executive staff, as JBS (the world's largest meat producer) and Tyson—the world's second-largest processor and marketer of chicken, beef, and pork—have both been accused of discrimination and are facing backlash from worker advocates. Organizations including the Food Chain Workers Alliance and Forward Latino have filed a civil rights complaint with the U.S. Department of Agriculture, stating that the companies put minority workers at risk of contracting COVID-19 by not letting them distance properly in slaughterhouses.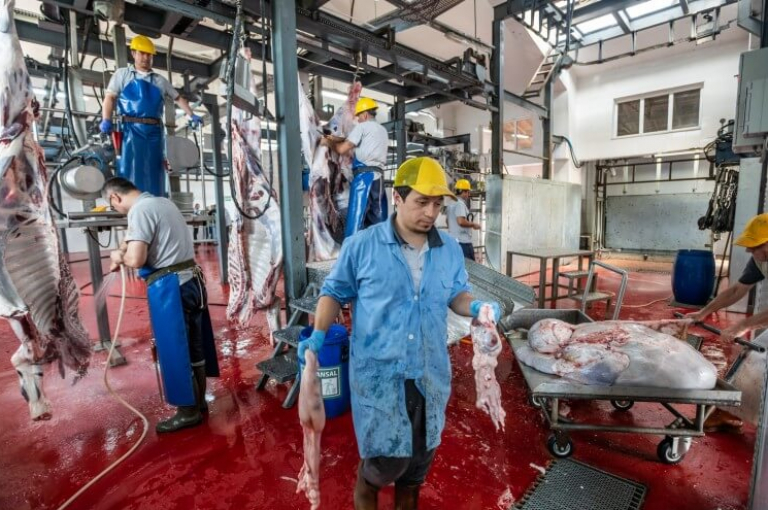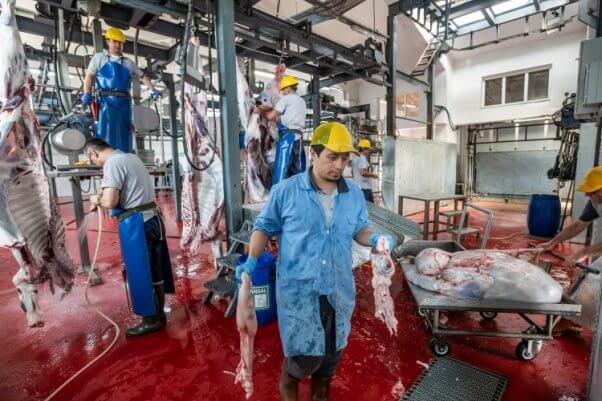 © Jo-Anne McArthur / We Animals
Most of the affected Tyson and JBS employees are Black, Asian, and Latinx. More than 32,000 workers—87% of whom are people of color—have tested positive across 291 facilities, and 122 have died as of July 2020.
The Latest News Follows a Pattern of Racism in the Meat Industry
Prompted by an ad warning of "disruptions" in the supply of animal flesh by mega meat purveyor Tyson, President Donald Trump signed an executive order to allow slaughterhouses to remain open. Not only is this decision costing countless animals their lives, but the order also erases the liability that the plants face if workers get sick or hurt. This is a recipe for disaster since slaughterhouses are already COVID-19 hotspots and among the least safe workplaces in the world even when there's not a pandemic raging.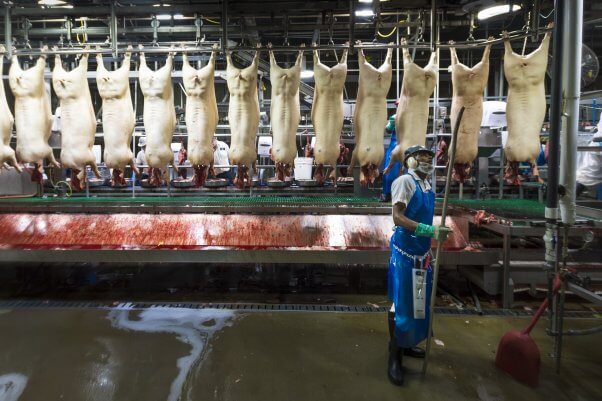 In solidarity with all the migrant workers and other employees who are treated like disposable equipment as well as with animals, who don't want to die, PETA is descending on the White House—while observing social distancing practices—to demand that the killing factories remain closed.
No one needs meat. Cows, chickens, pigs, turkeys, sheep, and other animals are living, feeling, thinking beings who value their lives. Kicked and prodded when ill or injured and jammed into crowded trucks, these animals' last journey is to a blood-soaked killing floor. They are terrified at the sights, sounds, and smells of the slaughterhouse and don't want their throat slit or their brain shot through with a captive-bolt gun.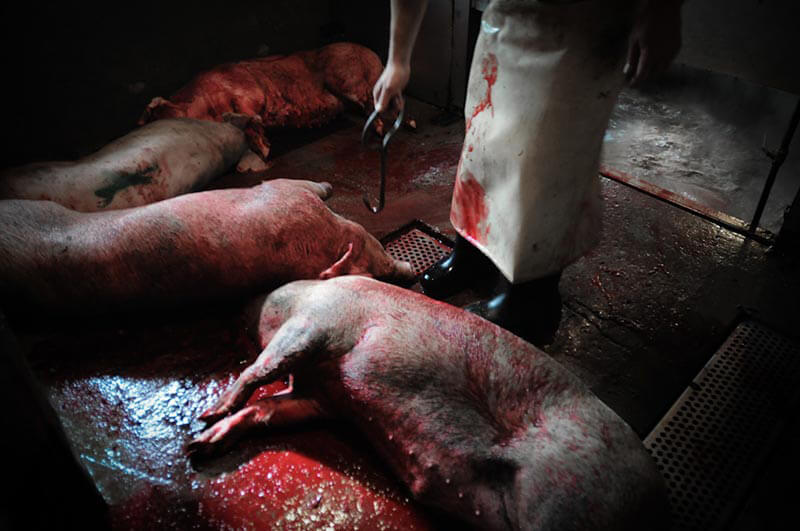 The Other Victims
Slaughterhouse workers are treated like dirt. Some resort to wearing diapers on the kill line, since they're rarely allowed bathroom breaks. They must come to work when ill, because they aren't given any paid sick time, putting coworkers, themselves, and their families at risk. They're victims just as much as the animals are. It's time for everyone to remember that buying meat supports this merciless and mercenary industry.
Filthy slaughterhouses are—like "wet markets"—well-established breeding grounds for disease. They must remain closed.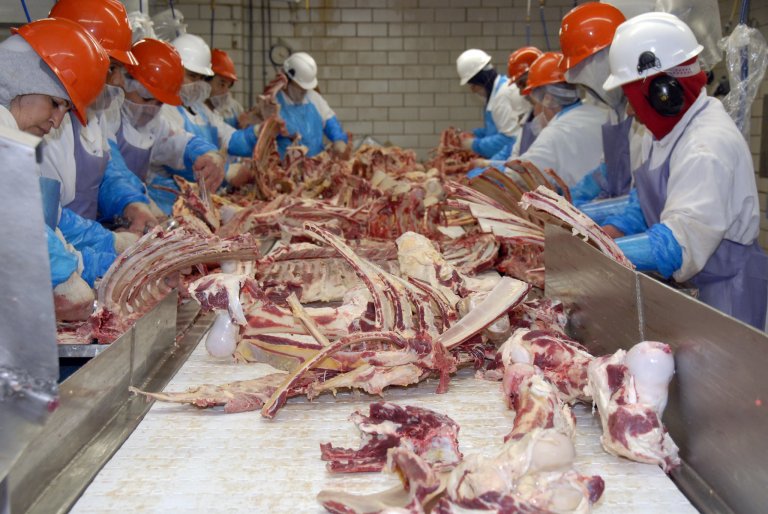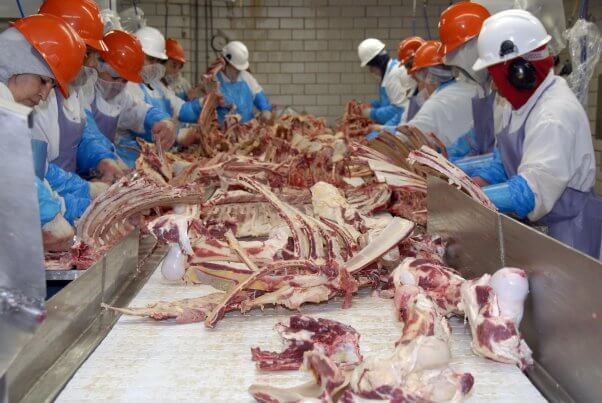 You Can Help Stop This
Boycott meat, for workers and animals. Order a free vegan starter kit and make a difference!
Note: PETA supports animal rights, opposes all forms of animal exploitation, and provides the public with information on those issues. PETA does not directly or indirectly participate or intervene in any political campaign on behalf of or in opposition to any candidate for public office or any political party.